There is an order for 1 million units on "BlackBerry 10 smartphone", manufacturer stock price soared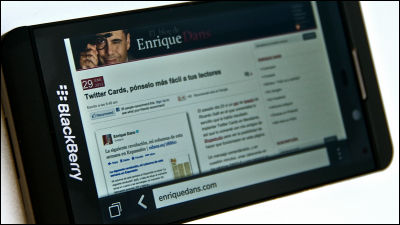 ByEdans

According to the BlackBerry official blog, the BlackBerry 10 smartphone, which was launched on January 30, has revealed that there was an order of 1 million units as the largest ever volume as one order. Following this, the stock price of the manufacturer, BlackBerry (former name: RIM), has soared. The above picture is popular BlackBerry Z10.

BlackBerry Partner Purchases One Million BlackBerry 10 Smartphones «Inside BlackBerry - The Official BlackBerry Blog
http://blogs.blackberry.com/2013/03/one-million-blackberry-10-sold/



Rick Costanzo, Global Sales Officer, kept his mind on this mass order, "It can be said that having a large order of one million units is a tremendous" confidence card "for BlackBerry 10".

Reserch In Motion announced that it will change the company name to BlackBerry, which is also a brand name, in line with the launch of the new OS and new models. The smartphone BlackBerry Z10 and Black Berry Q10 equipped with the new OS "Black Berry 10" sent out with a spirit are getting more positive opinions from users.

Yahoo! Looking at the data of finance, you can see that the stock price of BlackBerry is rising with Gun.

BB.TO: 16.04 +1.21 (+ 8.16%): RESEARCH IN MOTION LIMITED - Yahoo! Finance
http://finance.yahoo.com/q?s=bb.to



Looking at the last 5 days, there seemed to be movement on March 11, as if it were a two stage rocket like graph.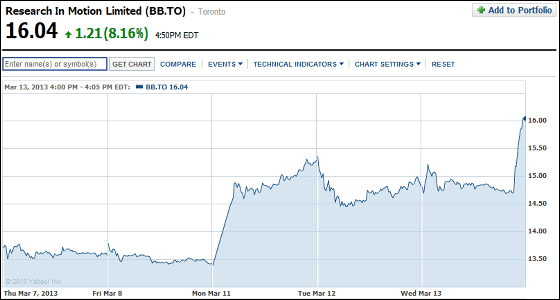 However, if you spread to three months, there was a mountain higher than now at the end of January, so it's not "a record high!"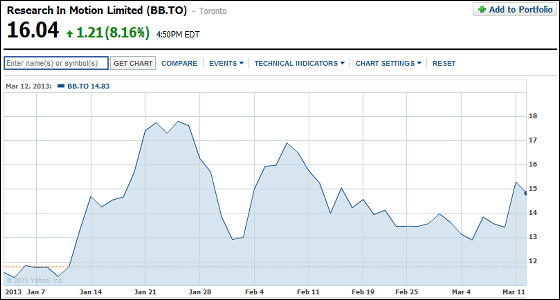 In addition, it is unknown where the mass order was made. The BlackBerry Z10 will begin selling in the United States from March 22nd, so shipments will increase further apart from this mass order. Is there something in Japan where some career does not appear as "freedom to choose" ....