Jojo + When the site of a memo-like informal game "Tokimeki Jojo Real Girl's Side" appears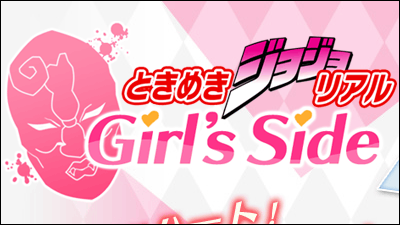 As for the popular manga "JoJo's Bizarre Adventure" game which transferred series from weekly Shonen Jump to Ultra Jump and the series continues, Hirohiko Araki's game "JoJo's Bizarre Adventure" is said as a fighting fight game on August 29JoJo's Bizarre Adventure All Star BattleAs an informal unrelated to this, as a women's game "Tokimeki Memorial Girl's Side" and Jojo coalesced as "a long-awaited Jojo Otome Gay" as "Tokimeki JoJo Real Girl's Side"The site of a mysterious game is established.

【Informal】 Tokimeki Jojo Real Girl's Side
http://orange-star.under.jp/tokijojo/top.html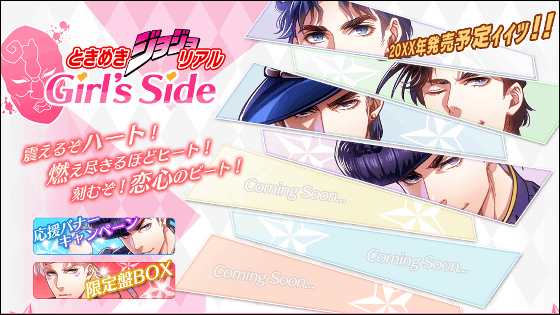 The organization that develops this informal game is an organization / SPW (Speedwagon) Foundation. Because Jojo is expressed as "human praise", the genre is "romance hymn song simulation", and the catch phrase is "Shivering heart Heart! Heat as burned out! I will cut it! Beat of love!"It is set to feel the love of the author's Jojo.

It seems that the story is that it is a school thing in the game, and it meets the unique students who have star shaped aza at the place where the hero was transferred. This is the main character of the appearance characters, the main part is from the first part to the fourth part, and the sub character has Caesar of the second part, in addition? Is it? Is it? The figure of a silhouette of the enemy who appeared in the first part is.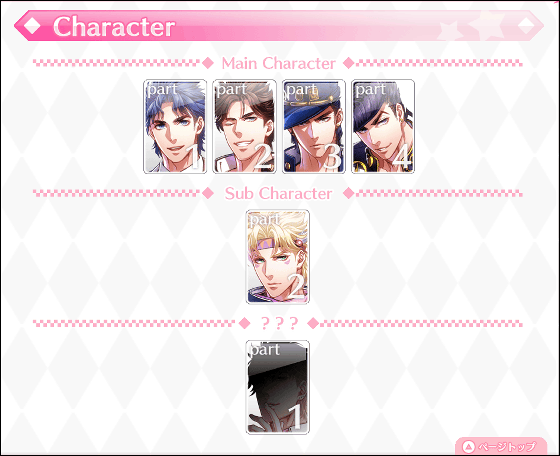 The part of the specification is also like that, limited edition and regular edition are prepared. Is the limited edition bonus an original drama CD or something?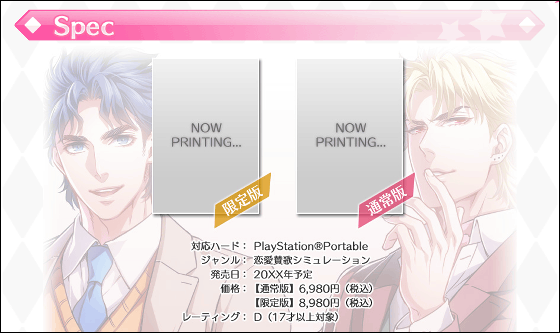 The production blog was about to start from today.

When Jojo Production Blog
http://tokijojo-blog.orange-star.under.jp/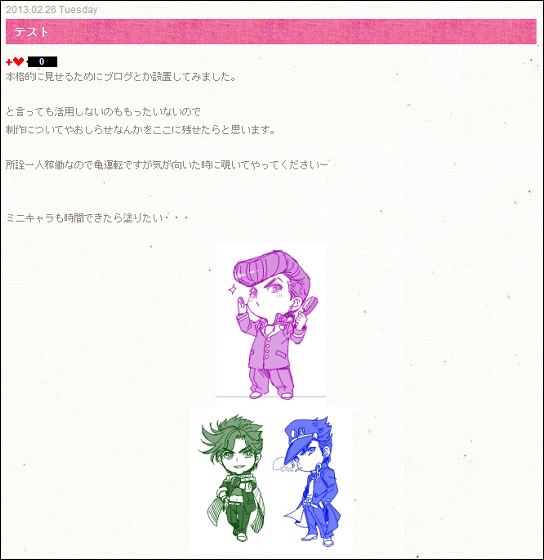 According to the site "20XX launch schedule !!", it is said that it did not mean that April Fool's Neta was released, but rather it was made into a hard work.

This game, title is "Girl's Side", but spending school life with Joseph and Seitaro and others seems to be interesting even if men play.

When it says JoJo's game, it is now under developmentJoJo's Bizarre Adventure All Star BattleAs opposed to competition things or action items, like play games like RPG released in the age of Super Nintendo, enjoy entertaining by joining the world of JoJo, there is a game like this game can communicate with characters I do not feel like it ....