"Iesys.exe" Remote control virus incident caused Metropolitan Police Department to arrest a man in Tokyo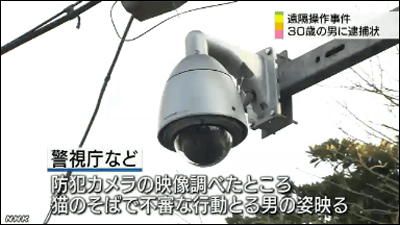 In October 2012, a remote control case of PC using 'iesys.exe', which had been making noise since October 2012, the Metropolitan Police Department took the arrest warrant of a man (30) living in Koto Ward, Tokyo, for allegedly interrupting powerful business It became clear. He said that he will arrest as soon as the allegations are resolved, seeking voluntary accompanying during February 10.

To the criminal of this caseReward of 3 million yen from the National Police AgencyIt took.

Remote control virus 30-year-old man in Tokyo arrested NHK News
http://www3.nhk.or.jp/news/html/20130210/t10015420371000.html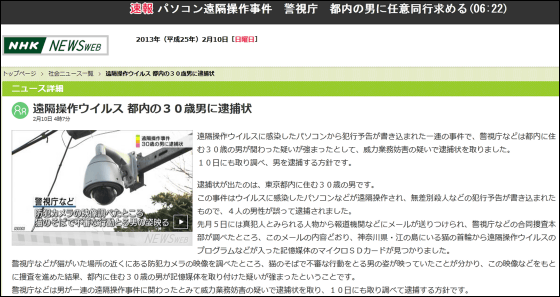 FNN News: PC remote control case Metropolitan Police Department arrest warrant for men in their 30s in Koto Ward, Tokyo
http://www.fnn-news.com/news/headlines/articles/CONN00240258.html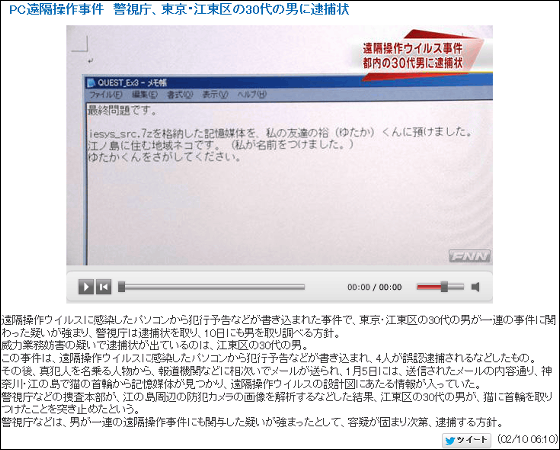 PC remote control, arrest warrant power arrest warrants suspicion of 30-year-old man - 47 NEWS (Yona no News)
http://www.47news.jp/CN/201302/CN2013021001001231.html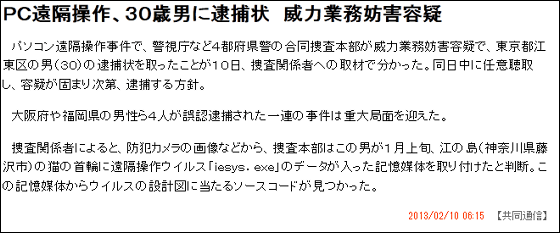 Remote control Viral incident Case of NHK News
http://www3.nhk.or.jp/news/html/20130210/k10015420591000.html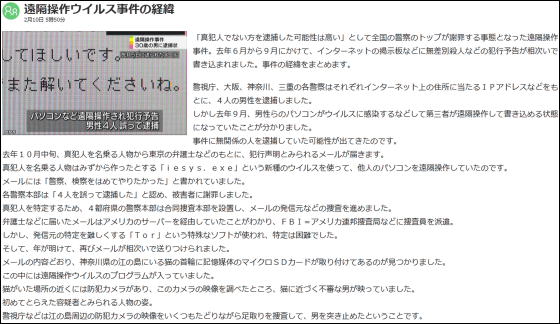 The case was arrested as four men were arrested as "a criminal notice was made from a PC", one of which was discovered from the fact that a remotely controlled virus was set up on one PC. At this time, before the police were found to be due to remotely operated virus"Prove what you are not doing yourself, try proving innocence" forced confessionsThen I had "resolved" the case once in a way that confessed to those who were completely unrelated to the incident.

On the other hand, the criminal of the incidentElegantly to the press and experts that this is due to the virus you madeI was taking an attitude that provokes the police as much as possible.

In that trend, there was a message to the police that "I inserted a microSD card containing a virus program on a cat collar on Enoshima." As a result of examination, the microSD card was actually found from the collar, and a police camera advanced the analysis because the security camera was near the place where the cat was, but found a suspicious person approaching the cat. Together with the images of other security cameras, we focused on the man in Koto ward (30), and this time we took an arrest warrant on suspicion of powerful business disturbance.

2013/02/10 10:38 Addendum
The names and photos of the criminal are beginning to be reported as follows.

PC remote control: arresting a 30-year-old man in Tokyo ... suspicion of power interruption - every day jp (Mainichi Shimbun)

Yuusuke Katayama (30), part of a joint investigation headquarters such as the Metropolitan Police Department, who was sent a crime notice from a PC or other computer infected with remote control virus, unknown job in Koto Ward, Tokyo He was arrested on suspicion of interfering with the power business as suspected involvement in the case of the case was strengthened. In a series of incidents, four people were arrested misidentified, and a person claiming "real culprits" was sending an e-mail revealing their involvement in a total of 13 cases. The joint investigation headquarters pursued Katayama as the real culprit and aims to elucidate the whole matter.

[Impersonation virus] 30-year-old man arrested, suspicion of murder of the record company president major arrested in 2005 also - MSN Sankei News

According to an investigative official, Katayama was arrested on suspicion of intimidating the Miyagi prefectural police in October 2005, saying he wrote a preliminary announcement of the girls in Sendai City on the Internet bulletin board "2channel". Likewise, he was arrested again in November of the same year by the Metropolitan Police Department, saying he made a preliminary notice of murder to the president of a major record company.

Apparently the preliminary announcement of killing to the president of this major record company apparently is "a preliminary announcement of murder stopping the use of bear cats, re-arresting vocational school students". And it is touched below.

【Katayama Yusuke】 The reason arrested for the remote operation incident is Yuusu Katayama (former name / Yusuke Oda) arrested for "Muneko incident" is a motive for police? Concomitant preliminary murder of power to disturb powerful business! New speed VIP base · · · ゚ · (Д `) · ゚ ·.

Tamaki cat requested to stop using it, preliminary announcement of murder, re-arrest vocational college student
Internet bulletin board "2 chan"
The Metropolitan Police Department Investigation 1 Division announced on November 22, 2006 that he wrote sentences to predict the killing of employees of major record company "Avex" (Tokyo)
Shirakawa 4, Koto-ku, Tokyo, Yusuke Oda, vocational school student (23) (indicted for another intimidation case)
Was arrested again on suspicion of forced duress.


According to the investigation, Mr. Oda said the character "Tamako" used for the promotion of the company's song "Love's Maiahi"
It resisted that it resembles the character "Mona" which 2 chan channel users freely use.
In the early September 30, 2 Channels suspiciously stop using cat cats on the same day, killing employees with a knife "and suspected that they stopped using bean cats.


In response to the investigation, Mr. Oda said that he said that "writing was exciting to have excitement" and so on.


In the middle of September, Miyagi was arrested Miyagi prefectural police on Monday, 19 October, on charges of intimidation and was charged with the same crime, accusing him of writing a preliminary announcement of the girl's child in Sendai City in the middle of September.

(Yomiuri Shimbun on 18 No 42 November 22, 2005)


I changed the name from Yuda to Katayama
in Note, Posted by logc_nt