Anime strategy of niconico, a huge video service that about 90% of people in their 20s have an account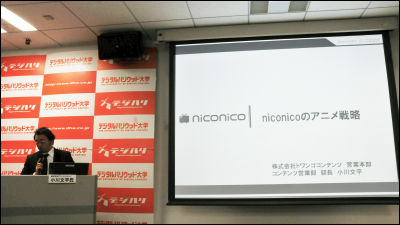 Japan's largest video service '
niconico
' with more than 30 million members.
We provide services such as 'Nico Nico Douga
', a video sharing site where you can add comments to the video being played,
and 'Nico Nico Live Broadcast
', which allows you to add comments to live broadcast programs in real time. Immediately after that, we will distribute it, and we will broadcast all the stories at once. At the end of December 2012,
an unusual effort was made to simultaneously broadcast 'Nekomonogatari (Black)
' on 3 channels together with TOKYO MX and BS11.
A lecture by Mr. Bunpei Ogawa, General Manager of Content Sales Department, Dwango Contents Sales Headquarters, is in the Anime Business Forum + 2013 sponsored by Digital Hollywood University International Animation Research Institute. It was held in. The title of the lecture is '
niconico's Anime Strategy
'.
[Digital Hollywood University] Anime Business Forum + 2013
http://www.dhw.ac.jp/e/anime_business2013/
There are various services that allow you to watch videos, but the feature of niconico's service is that you can add comments to videos. This allows users to experience the video as if they were watching it with others, and share the fun and enjoyment of it.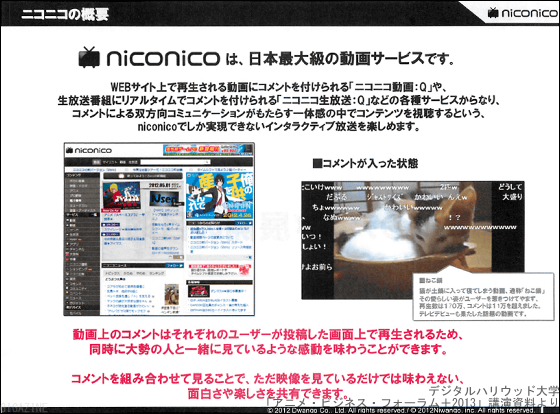 According to Mr. Ogawa's data, the number of registered members as of the end of December 2012 is about 30.78 million. Of these, about 1.81 million premium members can get various benefits for 525 yen per month. In addition, there are 7.82 million mobile members. Looking at the male-female ratio, 67.1% are male and 32.9% are female, and the number of female members is about 10.12 million. There are many young people in the age group, especially in their 20s, accounting for 42.5%. The number is 13.08 million, and according to the Ministry of Internal Affairs and Communications statistics, the population in their 20s is about 14.9 million, so about 90% of those in their 20s are niconico users . Recently, the number of accounts for people in their 40s and 50s is increasing.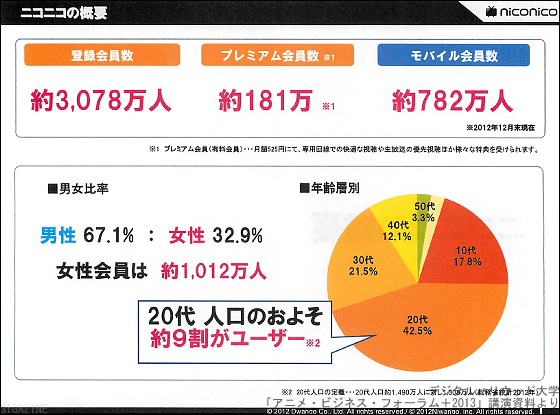 In niconico, Mr. Ogawa is in charge of the 'Nico Nico Live Broadcast' part. Nico Nico Live Broadcasting is not limited to anime, but also includes programs such as dramas, sports, games, Go shogi, and mahjong, but it was about anime because it was 'Anime Business Forum + 2013'.

Regarding the purpose of developing anime, Mr. Ogawa said that it was a return to the anime industry and the development of the anime business . It's not without big titles, but the anime business is in a slump, and Ogawa cites illegal videos as one of the reasons.

Currently, if there is no subtitles as they are broadcast in Japan, it will be uploaded in about 30 minutes after broadcasting, and even with subtitles, it will be uploaded in about 1 hour. This pirated version (illegal video) may be useful for those who can't watch it on TV, but it's not licensed and will not be returned to the creators or creators. However, it is uploaded from 'There is nothing else to see, nothing to see', and if the official video can be uploaded at the earliest possible timing, the meaning of illegal videos should disappear. Therefore, it is niconico's idea that by creating an environment that can be uploaded as an official video immediately after broadcasting, it will be possible for people to watch the official video rather than illegal video and give back.



So what kind of things are you developing with the current niconico? Nico Nico Live Broadcasting has been broadcasting 600-800 programs in the last 3 months including all genres, of which about 150-160 are related to anime.

There are 18 animations on Nico Nico Live Broadcasting and Nico Nico Channel in the January 2013 period. Since there are 6 continuing works, a total of 24 works have been developed. The transition of the distribution title is like this, the bar graph is the one that the person in niconico investigated the total number of animations being broadcast, and the line graph is the number that is actually developed by niconico.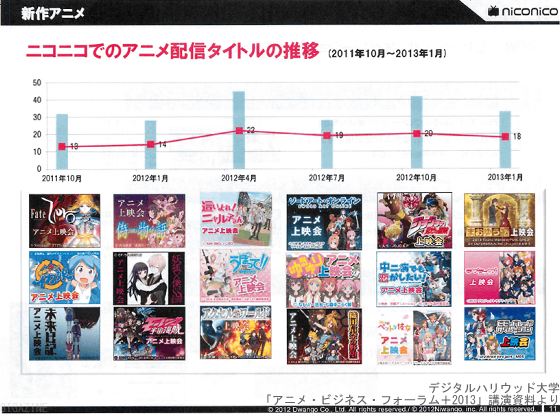 What we are doing on the development of the new work is the promotion of the program before broadcasting. And live broadcasting on Nico Nico linked to TV broadcasting. Furthermore, it is said that it is consistently promoting CDs and DVDs. For example, we create a special program for the requested work, give the program outline to the voice actors who appear in the work, and have them have a habit of watching on niconico.

'Vividred Operation ' is a program that started in January 2013. In the case of this work, the previous program will be broadcast live on December 14th to coincide with the start from January. The cast appeared and told the program happily, the user watching the live broadcast posted a comment, and the cast proceeded while picking up the comment and shared the information in real time. During the New Year holidays, the special program produced by Aniplex was distributed after the TV broadcast was over, and it was connected to the live broadcast on Nico Nico to increase the viewer's desire to watch. Every Sunday, after the live broadcast, there is a program called 'Nico Nama Talk Operation ', and the voice actors appear as guests and share their impressions after watching the main story. We are working to raise awareness of viewing the following week.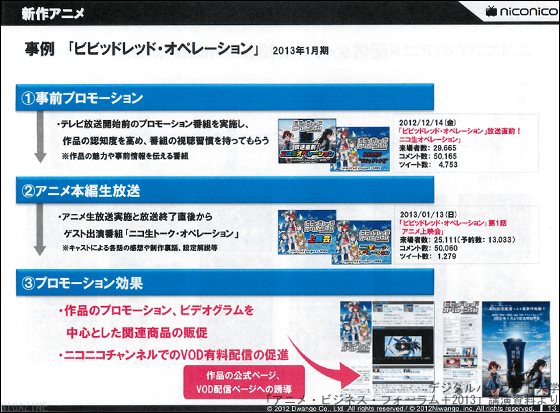 According to Mr. Ogawa, 'Niconico sells more comments.' This is because people who see the work without comments do not come to see it so much, so people who are looking forward to the excitement with comments think 'I want to buy and comment myself'. Therefore, in addition to the promotion of live broadcasting, the aim is to have people watch the live broadcasting and make a lot of comments before VOD (Video on Demand) distribution, and sell it with those comments. going.

The old animation distributed on niconico has 'about 500 works' in the material, but according to Mr. Ogawa, it is not less than that, and it is a little more.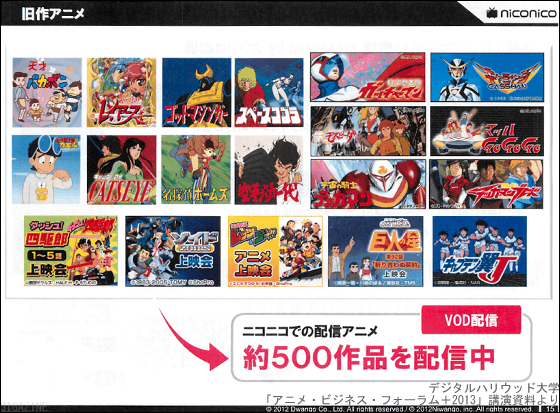 While distributing on VOD, we are positioning live broadcasting as a promotion, and we will ask people in their 20s and 30s who were watching at that time to watch it for free, add comments, and then bring it to paid sales. doing.



An example is 'Nico Nico Masterpiece Theater presented by Tatsunoko Theater, ' which features works by Tatsunoko Production. Here, two episodes of Tatsunoko animation are taken up every day, and as a regular program on weekdays, the viewers are made aware of it, which leads to the sale of old works. From May to June 2012, a promotion was carried out to announce the start of free distribution of all 14 works or more after collaborating with Nico Nico Headquarters at Tatsunoko Production and changing the name of the head office to ' Tatsunoko Headquarters'. rice field.

From the latter half of last year, 10 episodes out of all 51 episodes of 'Bakusou Brothers Let's & Go !!' will be broadcast live for free. After getting comments, we will sell it for a fee from the 11th episode. It seems that it does not sell suddenly on a normal site, but 'I was able to sell a considerable amount of money because the user base and Let's & Go !! matched,' says Mr. Ogawa. Right now , I'm broadcasting live Zoids, and I'm connecting to paid distribution from the point of 'nostalgic, I want to see the next one'.

Another initiative from the distribution of new and old works is 'animation broadcast'. There are 12 to 13 episodes in one cool work and 24 to 26 episodes in two cool works, but this is broadcast in one day as a guide. Examples that have been implemented so far include the 2011 New Year's 'Lucky Star' broadcast and 'Puella Magi Madoka Magica' Japan / Taiwan broadcast. Madoka Magi's is an attempt to have Taiwanese subtitles added and viewed at the same time in Japan and Taiwan, and of course comments will be mixed not only in Japanese but also in Taiwanese.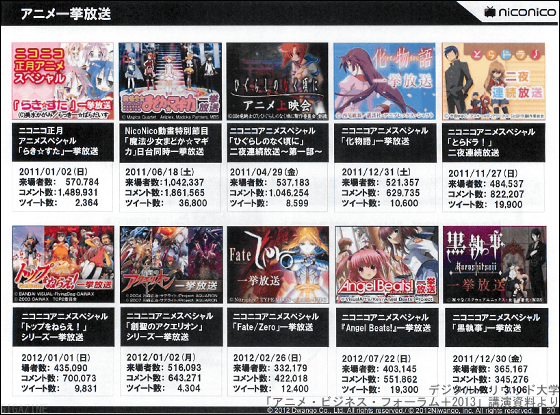 These projects are organized around places with many users, such as weekends and holidays. 80% to 90% of this organization is done at the request of the animation maker, and it is the timing just before the sale of BD and DVD, or the previous season is swept away before the sequel broadcast such as the second season starts. It is carried out in the form of encouraging viewing. In addition, it seems that there are some that have acquired rights with niconico in order to stream them during the long holidays. Since it will be shown in a long length of about 6 hours at the shortest and about 12 hours at the longest, when many users gather, we will insert related products and PR of the next work and promote it.

For example, during the summer vacation of 2012, a total of 11 titles were broadcast at once for 16 consecutive days. The total number of visitors was 2.9 million and the total number of comments was 3.5 million. It is strong by itself, but by concentrating it, the effect is further enhanced and it has an impact.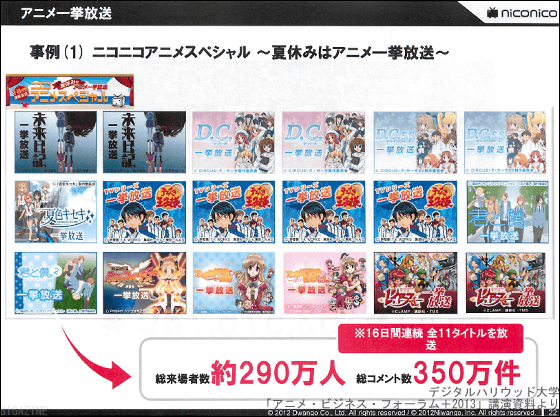 At the end of 2012, 15 titles will be broadcast in two weeks. At this time, the total number of visitors was 4 million and the total number of comments was 4.3 million. The work is a mixture of those requested by the manufacturer and those played on niconico. There should be few examples of such things in NHK animation, for example, with the aim of strengthening the viewing habits of one-shot broadcasts, but for the third term of 'Bakuman.' Was expanded.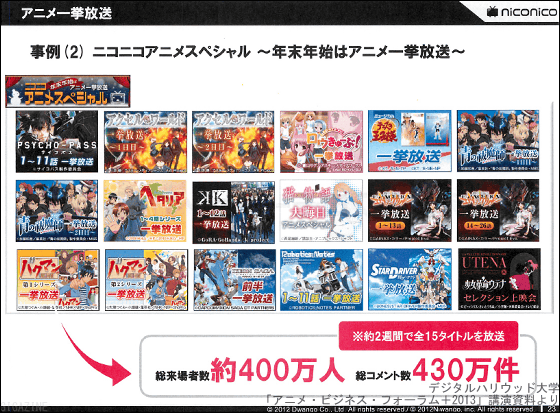 So far, 'animation broadcast' has been carried out more than 200 times, and the total number of visitors is 41 million and the total number of comments is more than 63 million. At the moment, it has been announced that 8 works will be broadcast 11 times by March 24, such as School Days broadcast to commemorate the release of BD-BOX this Saturday and Medaka Box Abnormal broadcast on Sunday. According to Mr. Ogawa, it is scheduled to be broadcast all at once during the spring break.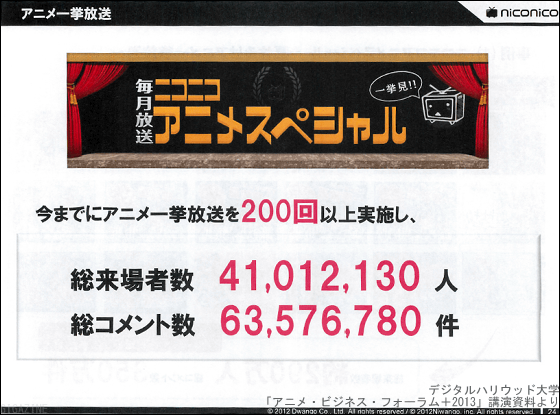 The fourth development is 'Anime Promotion Program'. Basically, it is made with products, that is, CDs, DVDs, event announcements, etc. In the case of music promotion, the artist himself will appear, and in order to enhance the viewing, past live images and PV images will be added, and it will be connected to the talk of the artist himself. If it's a video promotion, we will put out the cast appearance video after the broadcast at once, and have them watch it at the timing when the number of viewers is large. If it's a new promotion, you can broadcast the recital or broadcast the previous season all at once. According to Mr. Ogawa, 'We are organizing so that people can see as much as possible.' The merit of broadcasting live on niconico is that the number of people is limited at the event venue, but since there is no need to think about capacity on the Internet, it can be delivered to more people and can be known in real time. Unlike TV, it is not an environment where tens of millions of people can be seen, but it is possible to circulate information to lighter users through Twitter and so on.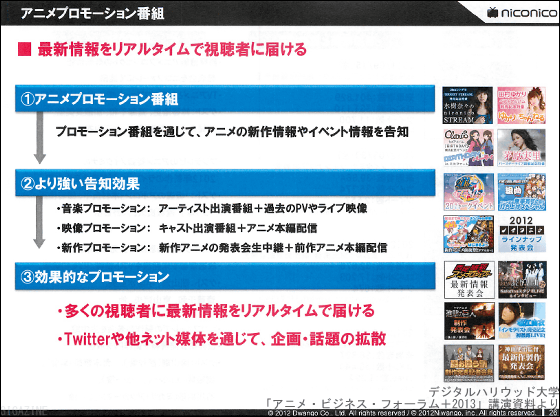 A past example is the ClariS CD launch event. It was thought that it would normally be done in a special program format, but since ClariS is a unit that does not show up, we will hold an event to invite customers to Nicofarre and have them DJ play all songs of the pre-release album. There were 115,000 visitors.

In July, at the 20th anniversary event of Sailor Moon, while holding a talk event at Nicofarre in Roppongi, we will broadcast to the venue of Japan Expo held in Paris and have Momoiro Clover Z sing the theme song. implementation. At this time, 115,000 people visited the venue. Immediately after this broadcast, Sailor Moon's official website was accessed much more than usual.

Nana Mizuki's single release commemorative special program has attracted more than 140,000 visitors, partly because it is popular nationwide.

In October, Kalafina will sing at SONY Studios, 'live song / live broadcast'. Many users want live songs, so people naturally gather.

In addition, the presentation of the Nisio Isin animation project exceeded 400,000 visitors with the total appearance of voice actors, and broadcasted the Noitamina lineup presentation, Maoyu Maoyu brave production presentation, Attack on Titan production presentation, etc. In the case of Attack on Titan, the recital was held at Nicofarre, and PV was also released for the first time.

The fifth development is an event / LIVE live broadcast. The main purpose is to 'tell people who are not at the event venue in real time'. This is not only free, but also paid. As for free events, there were Niwango booths and event broadcasts at the 2012 Anime Contents Expo, the Momokuro Japan Expo live concert, and the live broadcast of Jump Festa on stage. There aren't many paid broadcasts for anime, but at the 20th anniversary event of Visual Arts, we sell paid online tickets. There is demand for general live concerts and events, and in addition to live broadcasting according to the purpose and expansion of the promotion field for those who cannot go, it is also possible to monetize by selling online tickets.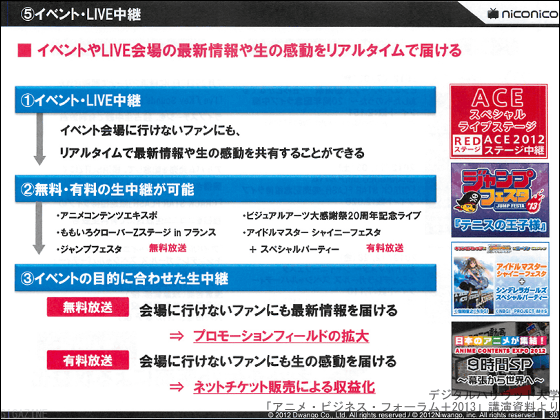 Specific examples were also given as examples of promotion of works.

The first is 'Student Council's Discretion Lv.2'. It was broadcast on TV from October 2012, but three months before that, it was broadcast on niconico. In addition, we implemented an initiative to distribute all episodes of the previous series as a promotion for TV broadcasting. Normally, anime works have a promotion period of about half a year, but by delivering it three months earlier, that period is utilized. The same effort was done in 'Upotte !!'. Also, one week before the live broadcast starts, the in-store event will be broadcast live like a countdown. As a result, 53,000 people visited in the first episode. Usually, the number of visitors to anime is about 10,000 to 30,000, so it can be said that it is quite large.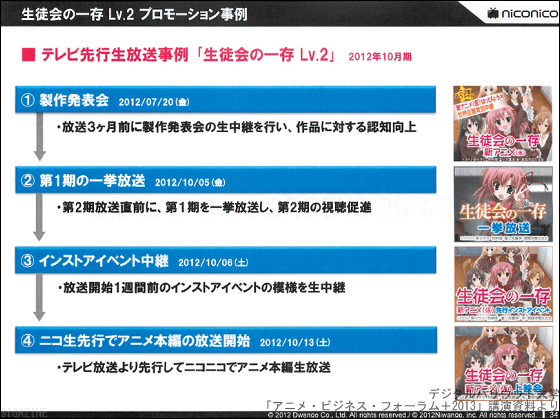 The second is the movie '009 RE: CYBORG'. Not only live broadcasting, but also Nico Nico original benefits were created. Regarding the privilege, as 'Advance sale privilege I made it together! Live broadcast', a program was held in which director Kenji Kamiyama and the viewer think about the plan together. While asking the director to talk about the highlights of his work, the fact that what he thinks in the program is sold leads to ticket sales promotion. In addition, after this live broadcast, under the title of 'RE: IG', Eden of the East, Ghost in the Shell, Patlabor of the Mobile Police, etc. were broadcast all at once. We also broadcast live at the preview just before the release, and had the director and the main staff appear on the live broadcast, and held a roundtable discussion while showing the main story and making, which led to the theatrical release.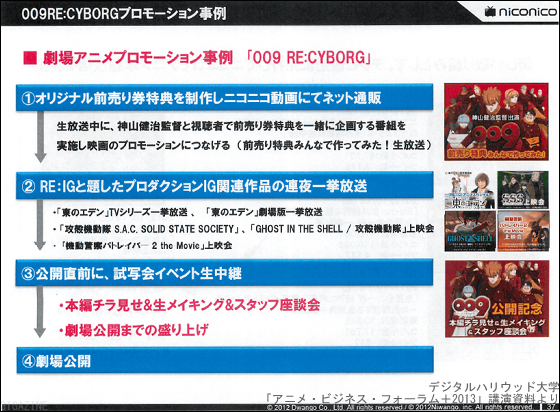 The last case is 'Nekomonogatari (black)'. This was broadcast live on New Year's Eve, and was broadcast on TOKYO MX and BS11 at the same time. It is difficult to make a special program for this program on TV, but since niconico has an infinite number of slots, the 'Latest Information Presentation' will be broadcast live from Solamachi on December 7th as a promotion. It was a surprise that the interviewers also learned about the broadcast at the same timing as the users. In addition, the person in charge of each station will also appear and talk about their enthusiasm for the 31st, add 'Nekodaisuki' to the Niconico News category and put the news of the recital, and also announce each time on the top page. , Mr. Yui Horie is in charge of the voice of the time signal, etc. The day before the broadcast, the Bakemonogatari 'Tsubasa Cat' was broadcast all at once, and the day before, the character commentary version of the 'Tsubasa Cat' BD bonus was broadcast.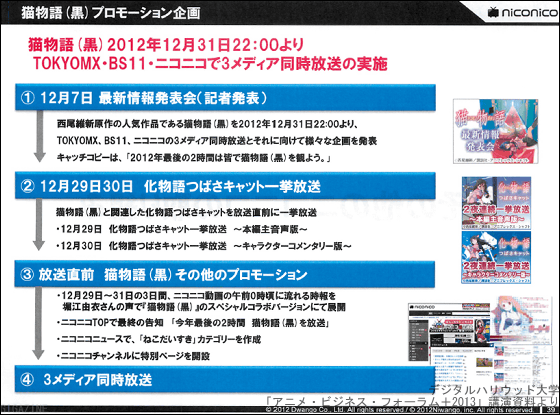 Normally, the number of people increases steadily over 6 to 7 hours in a single broadcast, so in the case of 'Mado Magi', it was released as having exceeded 1 million people, but the cat story is 1 hour 30 minutes. It seems that there were 990,000 visitors during the broadcast time.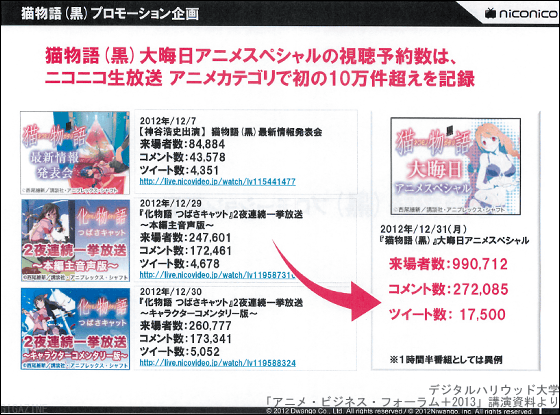 At niconico, we are also engaged in initiatives other than live broadcasting. For example, Niconico Channel is one example. VOD sales are sold by acquiring the rights for each work, but since it may not be possible to receive it due to the convenience of the right holder if it is Nico Nico Live Broadcasting, manufacturers and publishers set up their own channels and sell it. You can manage it. This makes it possible for the right holder to broadcast on their own channel according to each situation such as the work and cast.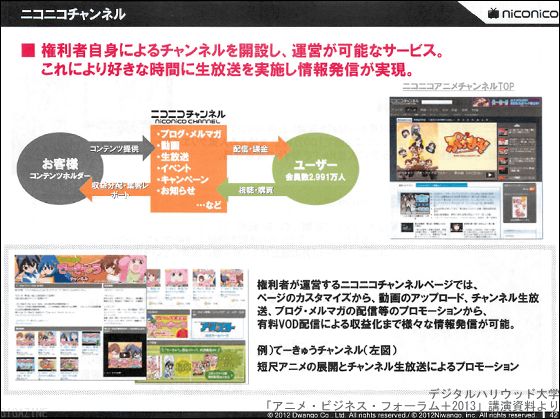 'Bromaga' is a new service that allows you to develop a blog while broadcasting live, and this is also possible for both paid and free. Registered users will receive an email so they can come to see it when they update. In addition, since it is possible to make profits with Bromaga, it will be possible to give guarantees to live broadcast guests, and if the number of members increases, it will also become profits for registrants. In addition to Gackt, Ichiro Ozawa, and Takeshi Natsuno of Dwango, there are quite a few that have started up and are now open to the general public.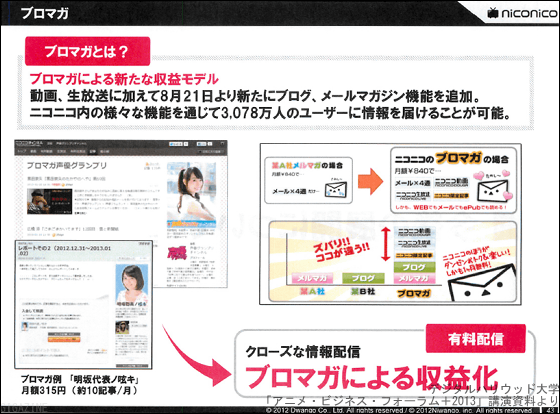 In terms of development from Nico Nico, there is a work called 'Senyu.' This is a work originally posted on Nico Nico Manga . After that, serialization began with Shueisha's Jump SQ, and from January 2013, TV animation has also been broadcast .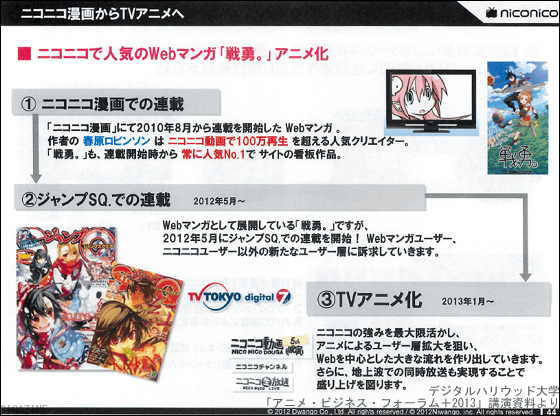 And finally, regarding the future development of niconico, while doing business from promotion to monetization, Mr. Ogawa has consistently carried out the business style of distributing official videos with permission to the right holder at an early timing. Said that. In addition, although the number is not large, we have opened an English version and a Taiwanese version because we are expanding niconico overseas, and we are distributing those that have been officially licensed as in Japan. In the case of Nekomonogatari (black), it will be officially distributed in Taiwan 30 minutes after the broadcast. He said that he would like to increase the development of encouraging people to come to see the official video before the illegal ones are up.

Niconico may look like a mysterious site from the outside, but Mr. Ogawa says that employees are serious about it. He may not be in a position to lead the anime business, but he talked about his contribution to the development of the industry if he could help.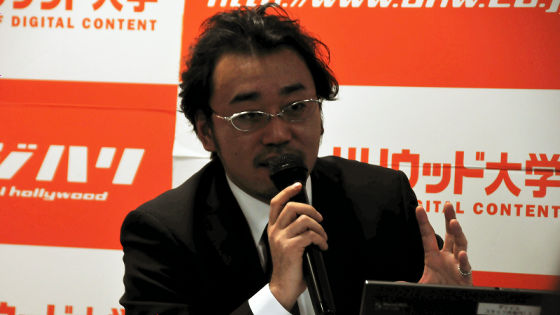 At the beginning of the service, the mainstream format was to add comments to YouTube movies, but now niconico is showing a presence alongside that YouTube. It was said that 'helping the animation industry', but there are quite a few people who are watching new animation on TV because the schedule does not fit, so it is wrong that it is already one of the leading roles. There is none.