Docomo tablet "dtab" starts selling for 9975 yen, home wireless LAN router is available for free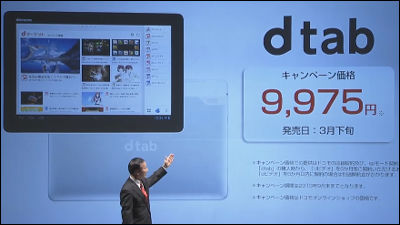 NTT Docomo announced the release of tablets "dtab" and "Smart TV d stick" as an initiative of "docomo Smart Home". The tablet will be offered as a campaign price at 9975 yen. Moreover, it seems that we offer rental wireless LAN router for free for home without Wi-Fi environment.

2013 Spring Model New Product / New Service Presentation | Products | NTT DoCoMo
http://www.nttdocomo.co.jp/product/2013_spring_feature/index.html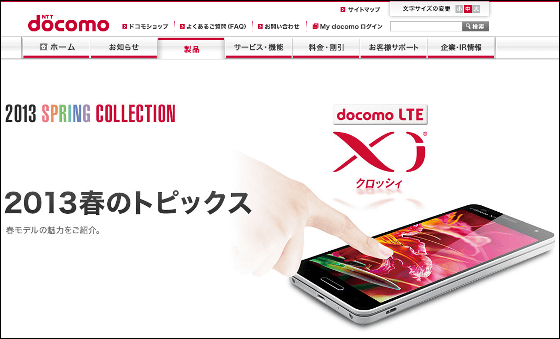 NTT DoCoMo 2013 Spring Model New Product / New Service Presentation - Nico Nico Live Broadcasting
http://live.nicovideo.jp/watch/lv121985481

USTREAM: NTT docomo official Ustream channel: NTT docomo official Ustream channel. From 21:30 on Tuesday, January 22, 2013, we will relay the 2013 Spring Model New Product / New Service Presentation. From the exhibition hall, we will also deliver the fastest reviews of spring models by Mr. Satoshi Endo and Ms. Sayako Ishida. ...
http://www.ustream.tv/channel/docomoofficial

About the new model About the new policy "docomo Smart Home"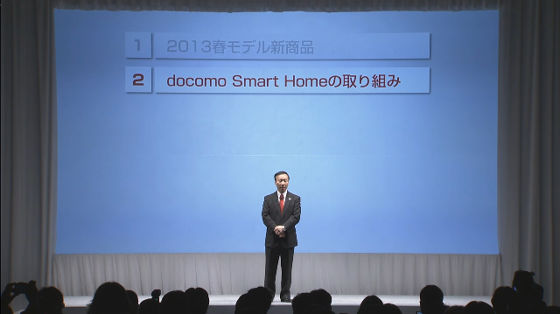 Docomo Smart Home is "to enjoy contents of smartphone at home", "enjoy content at home at smartphone"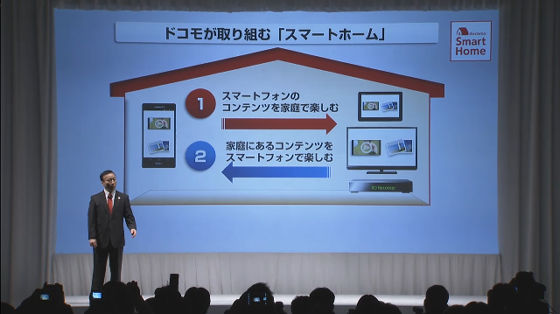 The terminal for that is "dtab" and "SmartTV d stick"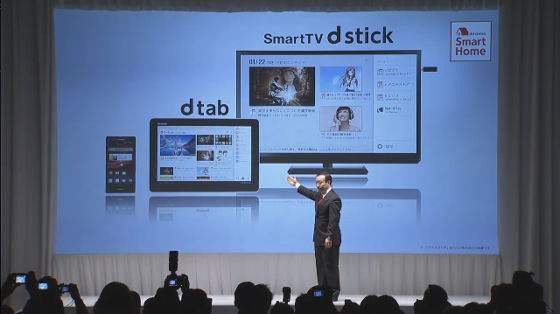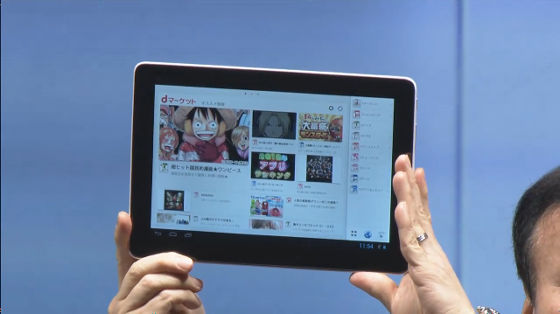 Dtab is available with the same domoco ID as smartphone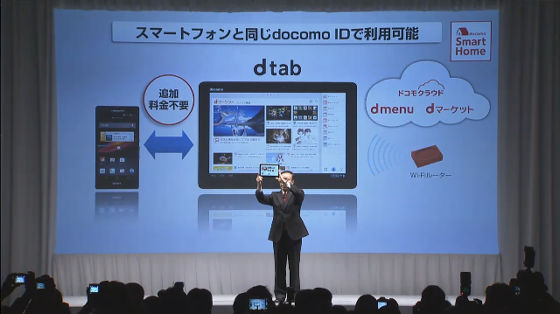 UI is easy for d market to use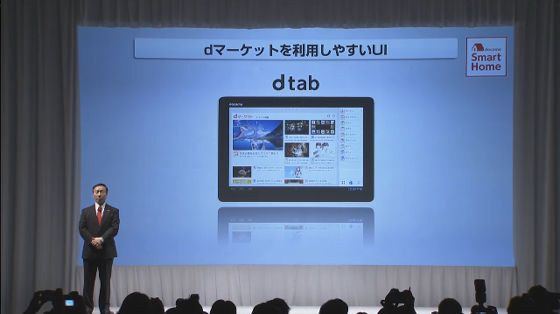 Usage scene of dtab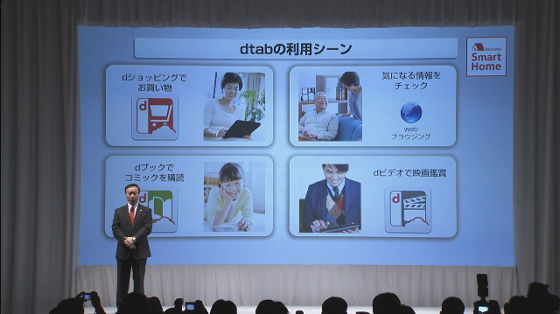 Release is late March, campaign price 9975 yen.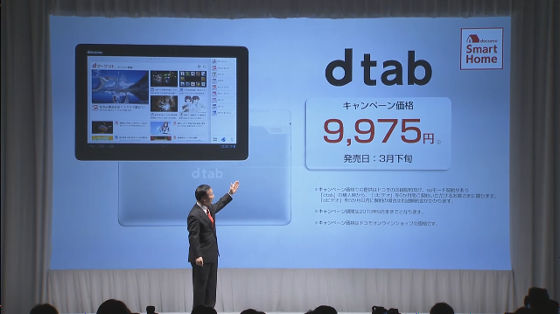 This is SmartTV d stick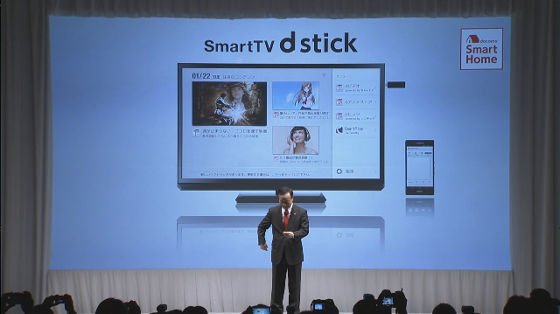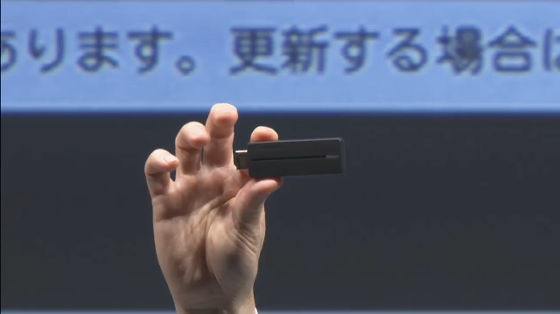 Smart television by connecting d stick to TV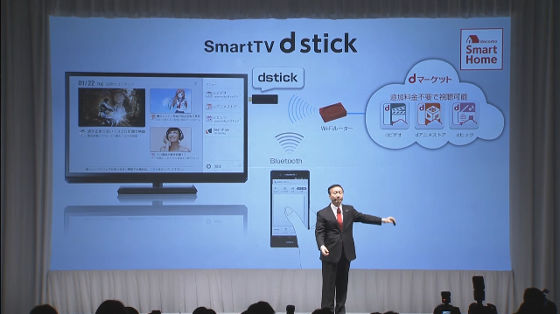 Usage image looks like this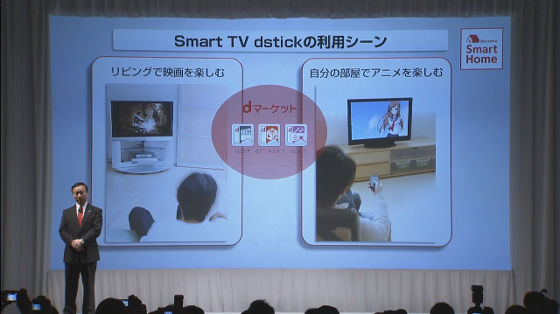 For this purpose, we plan to offer rental for wireless LAN router from March 1 at monthly charge of 0 yen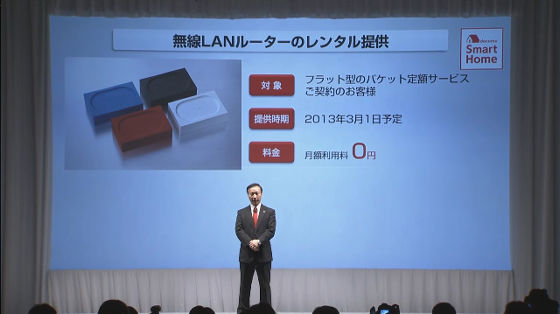 About using 'TWONKY BEAM' for "home content with smartphone"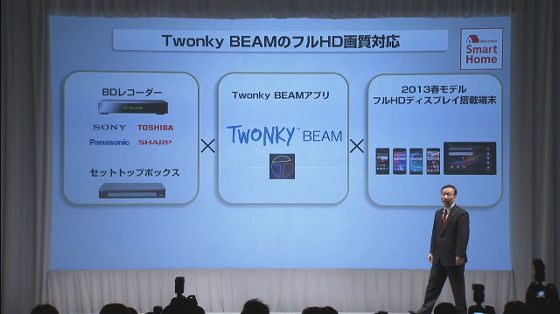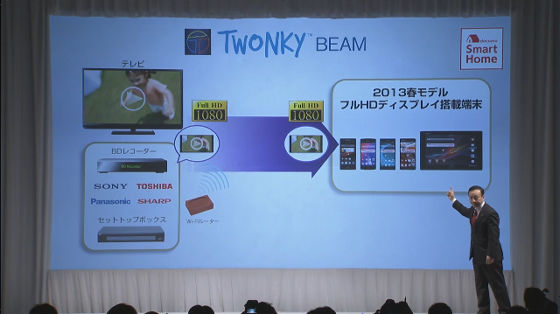 ◆ Q & A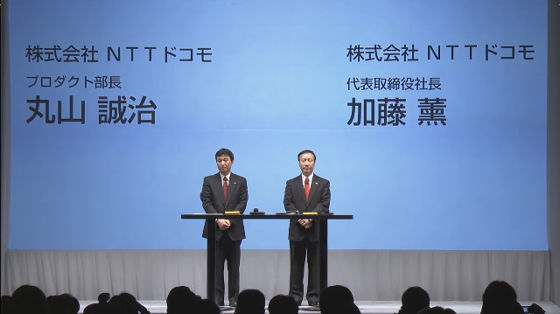 Freelance Kamio:
Is it possible to think that dtab is to activate DoCoMo's service business and is positioned like Amazon's Kindle Fire? Also, what kind of prospects do you have in how much the d market will expand as a Wi - Fi dedicated terminal?

A:
Regarding the positioning, we have placed the market as pointed out on the initial screen on Wi-Fi dedicated terminal. In addition to using the d market on smartphones, it is a terminal that we prepared to expand the convenience if it is better to have a larger screen if it is at home. I am thinking that prices are also campaign prices, which is somewhat more affordable than Kindle Fire. It will be the same place as the aim.

I hope to activate the d market, we will enrich the content, but I hope that use will progress. Since last year we have mentioned sales of 1 trillion yen in the area of ​​new areas and comprehensive services, but we are hoping to further improve as we are considering levels of 100 billion yen including digital contents and d shopping.

NHK Yasui:
Although smartphones are showing off mainly because Xperia is the mainstay, I think that your expectations for iPhone have also increased in your company. If you are emphasizing that Xperia rather than the iPhone at the moment will compete as your mainstay, how is it positioned?

A:
I think that it is a question about the positional relationship between iPhone and Xperia, but Xperia is also improving performance considerably. On the other hand, the operability has also increased and the service has also been enhanced, so Xperia as the position, Z as the smartphone, and Tablet as the tablet, we are pushing a world view with unity. In terms of performance, I think that it is becoming increasingly difficult to be dominated by its superiority, so in that sense, I can compete sufficiently. Regarding whether it opposes completely, the iPhone has been released in Japan for about a year and a half and I recognize it as an attractive terminal. Each vendor has caught up with it and has reached it now. We believe that mutual friendship with each other will further refine with smartphones and mobile Internet will diversify.

Freelance Inoue:
For Osaifu-Keitai and NFC, I suspect that the winter model Xperia AX did not respond to Osaifu-Keitai when using it, but has been tested and solved in the spring model?

A:
I am sorry that some trouble was caused to everyone. Since Maruyama here is checking thoroughly, we will respond with speed even if something happens.

Freelance Hidaka:
Although it is a new strategy to prepare a tablet for the Smart Home, it is a new strategy to distribute content in the home rather than mobile, the same concepts are also issued from home appliance manufacturers as well as players of the Internet such as Google and Apple Also comes out. For users, it seems more convenient to use an existing tablet etc than a service that can not be used without a dedicated terminal or network, and I think that it would be more convenient if the world wide service like Google or Apple could be used However, how are you planning to appeal where DoCoMo is better?

A:
We prepare a dedicated Wi - Fi tablet, which makes it so that we can use the d - market which we are developing more in the home. Since the launch screen is like that, it is easy to access our service. On the other hand, if it is a tablet with an existing Wi-Fi interface, it is not pre-installed, but it can be set by setting. In the sense that DoCoMo will issue a dedicated Wi - Fi terminal, it makes sense to deliver it to your home on the first screen in relation to the d - market. It is not that there is superiority, but the contents will be diversified and advanced more and more.

Freelance Suzuki:
Three models out of six NFC-compatible terminals correspond to NFC's 3 modes this time, will the number of such terminals increase?

A:
Since NFC's momentum is increasing worldwide, such terminals will increase. Please think that it has NFC in its original meaning, with NFC installed as well as Felica.

AppComing:
It is not in a situation where you can experience high speed in the downtown area, but what kind of positive measures do you use different bandwidth?

A:
As for the correspondence of the fastest 112.5 Mbps, it comes from the periphery, but of course it will speed up. There are various frequencies, so we plan to deal with that as well. As frequency correspondence of terminals becomes a prerequisite, global frequency correspondence becomes faster, but I would like to introduce it as soon as possible. Since the number of Xi subscribers has reached 10 million, we will respond to not to inconvenience this customer.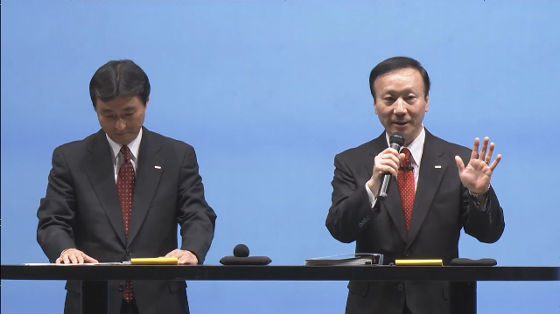 · Next article
DoCoMo 2013 Spring Model All models All images Summary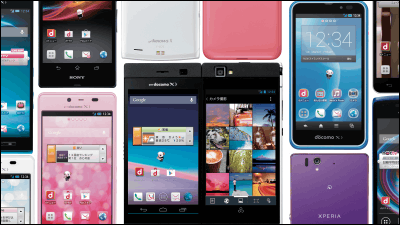 · Previous article
NTT DoCoMo's 2013 Spring Model New model launch was like this