The application of which Kyoto University cooperative's byte information can be confirmed with a smartphone Attention of the university authorities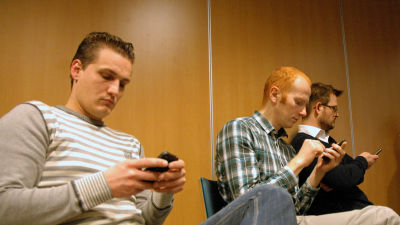 ByMenno van der Horst

Kyoto University calls attention to "Applications that can check byte information provided by Kyoto University College of Cooperation with handheld smartphones" Kyoto University is unrelated to universities and co-op. "

【Caution】 Kyoto University Bye, About the posting named Co-op Byte Information - Kyoto University
http://www.kyoto-u.ac.jp/ja/news_data/h/h1/news5/2012/130111_2.htm

This is a presentation phrase "Confirmation of co-op's byte information with hand-held smartphone" on the campus bulletin board of Kyoto UniversityKyoto University Part-timer Information LeaderA villa advertising the application "Kyoto University and the Kyoto University Co-op Cooperative" has nothing to do with it, so that it calls attention to not carelessly access it.

The applicable flyer looks something like this.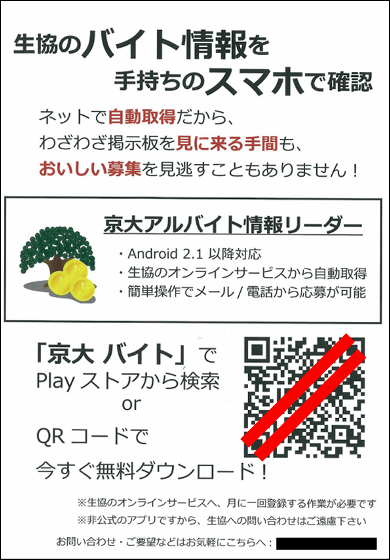 In the villa, it is guided by "Searching from the Play Store with" Kyoto University byte "or free download now with QR code!" And it is a text that can be read as if there is a fake market named "Play Store", but properly When you examine it on Google Play, the application will come up.

Kyoto University Part-timer Information Leader - Google Play's Android application
https://play.google.com/store/apps/details?id=net.menew.android.KyotoUnivArbeitNotifier

According to the explanation, this application is for confirming the part-time job placement information of university co-op provided by the university cooperative on the Android terminal, and there is no need to go to the bulletin board and copy it by hand if there is this. Information is acquired from cooperative online service and new arrival is automatically acquired so even if it is a part-time job with a small number of recruitment, it can be noticed immediately.

However,Mail account of Kyoto University's in-campus system is necessary when using.

There is no need to wait for the bulletin on the university sideUnofficial applicationIt has been made clear that it is "We will not accept inquiries about this at Kyoto University College. In addition, Kyoto University co-op and developers are not responsible for any damage caused by this application.It is written.

The sample content of the application looks something like this. Company name, period, industry type, wage and entry period are displayed as a part-time job list.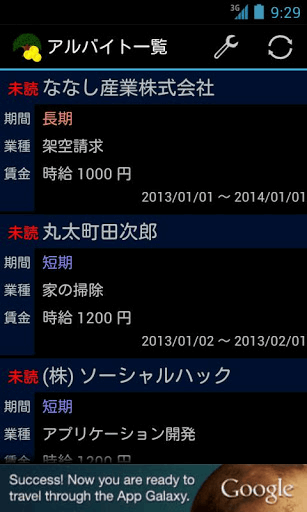 In the detailed information, you can see the person in charge of the company, the recruitment personnel, the place of work etc.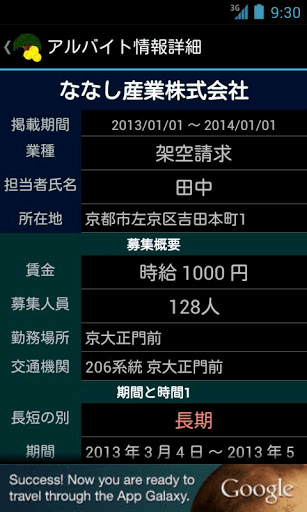 In addition to being able to go to see the company's site from this screen, you can access e-mail address and telephone number, so you can apply by email or phone as soon as you find a good deal.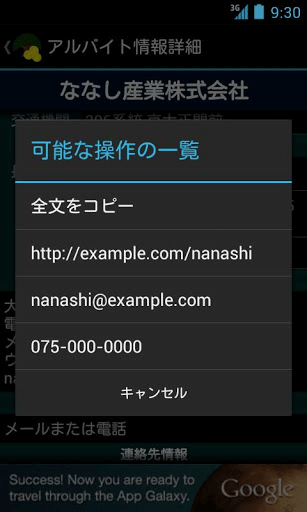 For a moment"The Movie" application where a lot of personal information leaked outYaDangerous QR CodeI caught my head, but when I speak of Kyoto UniversityWhen the entrance examination season comes a mysterious cosplay bronze statue "Professor Orikata"Is also the place to appear, is it the truth that it was developed by students or related persons pursuing convenience?