A provider implements an update for users to forcibly hide advertisements on the Internet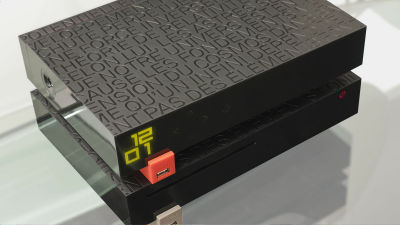 By weweje

French telecommunications operator "Free" users always use when connecting to the InternetFreeboxThe firmware has been updated and ads are now blocked forcibly from January 2. Since this feature is turned on by default, news sites that earn revenue from banner advertisements and the like are rebounding strongly. Originally this feature is thought to have been attached because Free is conflicting with Google and seems to be temporarily turned off from 7th January to talk with Google.

Blocage des pubs: Free pète un câble!
http://www.numerama.com/magazine/24665-blocage-des-pubs-free-pete-un-cable.html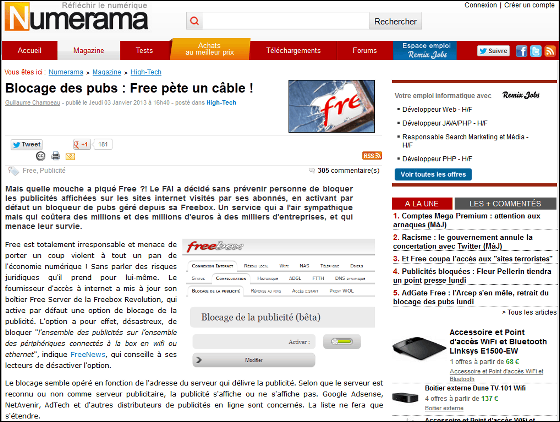 Comment (et pourquoi) désactiver le blocage des publicités sur Freebox Server - Freenews: L'actualité des Freenautes - Toute l'actualité pour votre Freebox Revolution
http://www.freenews.fr/spip.php?article12949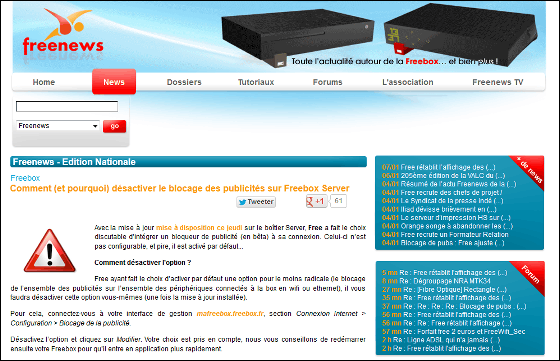 Over the past few months, the conflict between Google and Free was deepening due to traffic problems. This is a suspicion that when a user using Modem · Freebox provided by Free is connected to YouTube, it is obviously restricted traffic (communication speed has been lowered), Free I asked to keep communication speed properly, but Google refused this. Ultimately Google accepted this request as ARCEP (French Independent Communication Regulatory Authority) launched surveillance, but as for the agreement, the talk failed before Christmas.

For this reason, Free will implement firmware update for Freebox as soon as 2013. By default, we turned on the ability to block ads on the web. Because there is no whitelist in this function, not only Internet users not only advertisements you do not want to see, but also concerns about giving damage to your favorite sites, as well as news dealing with Free news In the site Freenews, it is said that the banner ad block which the user can not select is "dangerous and irresponsible" and that ad blocking by default without a whitelist is an act of risking thousands of content publishers on the Internet Pointed out. "Many free sites like Freenews rely on advertisements for revenue, they can not exist without advertising, and we will not be able to survive Freenews."

Économie: Free arrête de bloquer la pub cé lundi matin - BFMTV.com
http://www.bfmtv.com/economie/free-arrete-bloquer-pub-lundi-matin-418004.html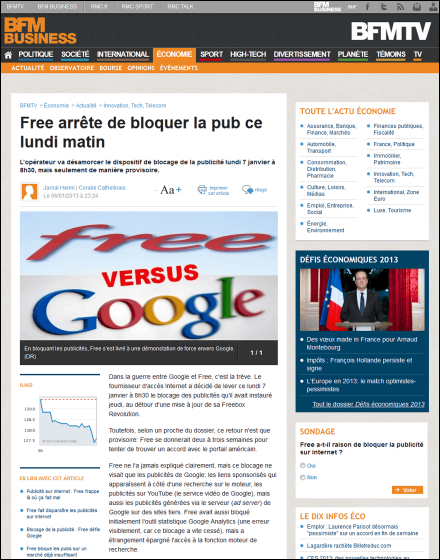 BFMTV.com believes that advertisement blocking by Free is a demonstration act showing that it has an attack means against Google. Google has sold 1.6 billion euros a year in France (about 184.2 billion yen), but if you activate the ad block, it is expected to hit 500 million euros annually (about 57.6 billion yen).

By the way, while this blocking function was activated, according to Free users some advertisements were surely blocked at some sites, but some sites seem to have no ad blocking, so Google's search results Advertisements such as Sponsored Links and YouTube that were displayed also remained.

It should be noted that ISP only blocks specific traffic (advertisements)Secret of communicationThere is also a view that I may be infringing on the situation in France, where I'm concerned about where I will land.
in Note, Posted by logc_nt