Comparison verification review on "kobo glo" and "Kindle Paperwhite 3G" size, reaction speed etc.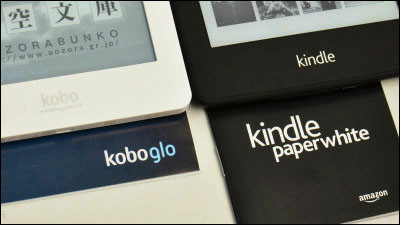 Rakuten's e-book reader "kobo glo"Amazon's"Kindle Paperwhite 3G"We compared the size, thickness, weight, display brightness, characters, startup time from power off, startup time from sleep state, reaction speed to turn pages, etc. Details are as below.

Ebook Rakuten [kobo]: Electric book reader equipped with front lights appeared kobo glo
http://kobo.rakuten.co.jp/ereaders/koboglo/

Kindle Paperwhite 3G - built-in e-book reader
http://www.amazon.co.jp/gp/product/B007OZNYMU/

The left is Rakuten's kobo glo, the right is Amazon's Kindle Paperwhite 3G. The display is 6 inches and there is no difference, but the body is slightly bigger for Kindle Paperwhite 3G.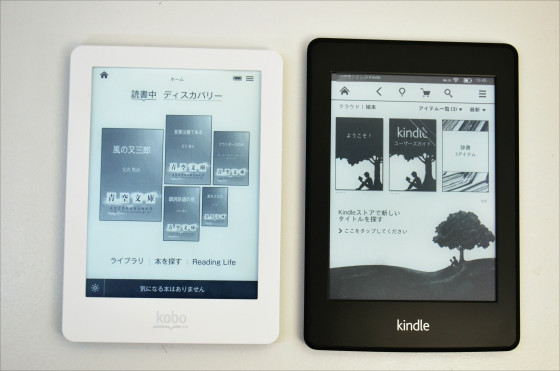 Placing kobo glo on Kindle Paperwhite 3G makes it clear that Kindle Paperwhite 3G is somewhat bigger.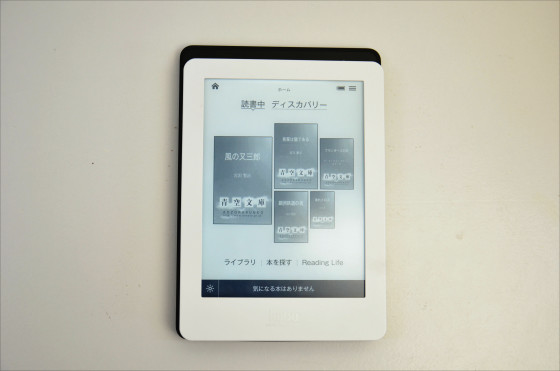 Comparing the thickness, kobo glo is about 0.9 mm thicker.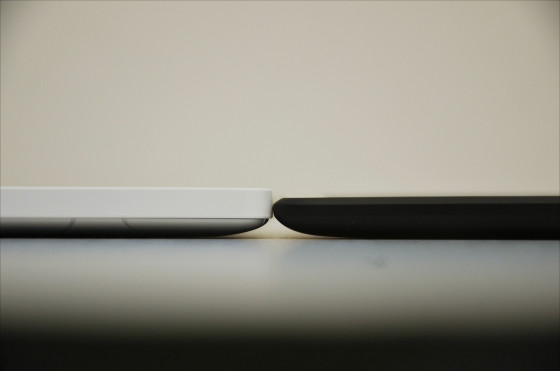 Comparing the weight, kobo glo weighs about 183 g.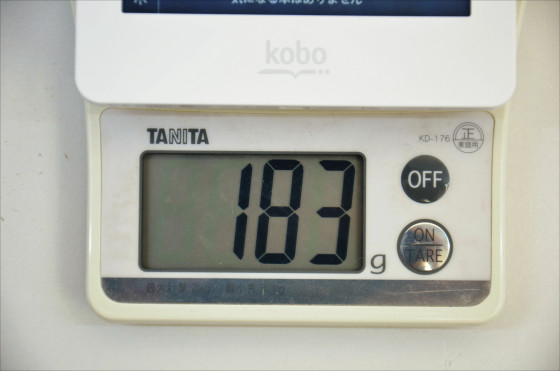 The weight of Kindle Paperwhite 3G is 218 g, which is about 35 g heavier than kobo glo, the difference in weight can be felt when comparing with the main body as well.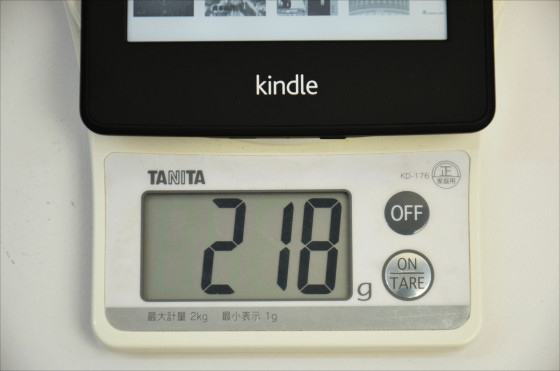 When you display the size of standard characters, it becomes the size of each of the following characters. Especially, it was not easy for both to read. However, when you change the size of a character with kobo glo it takes time to reflect, so I feel a little stress.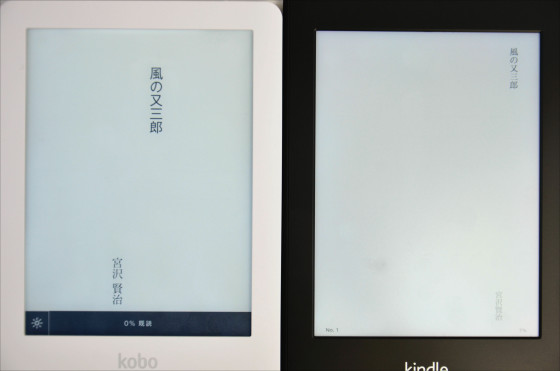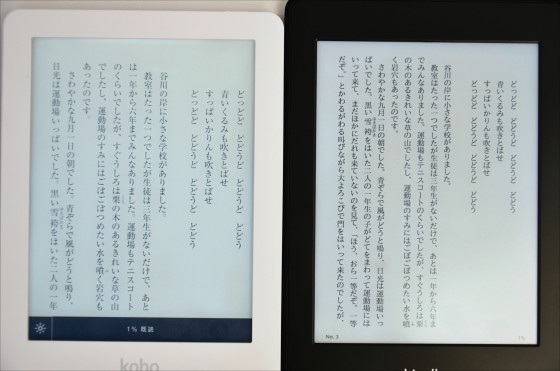 It will be about this if you maximize the size of the letters.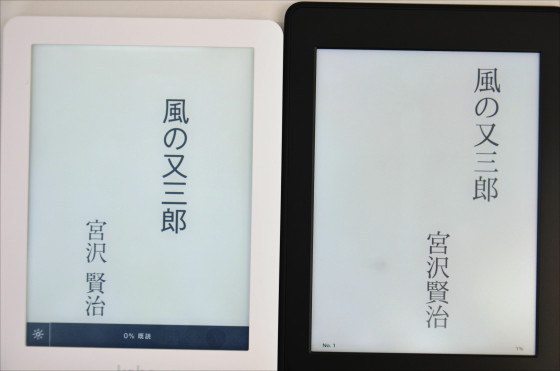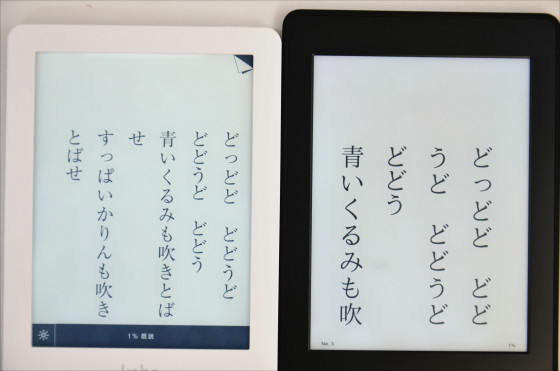 If you turn on the display light in a bright room, there is no big difference in the brightness of the display.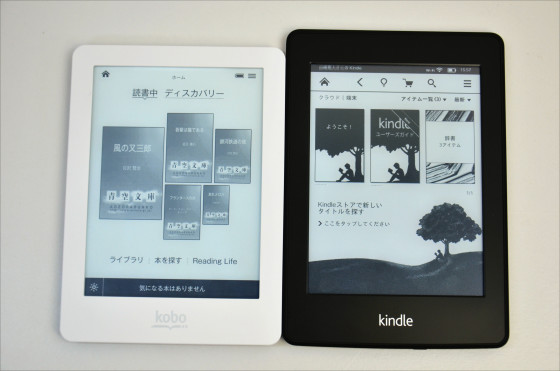 Next time I turned off the light on the display, I did not feel a big difference in this case either.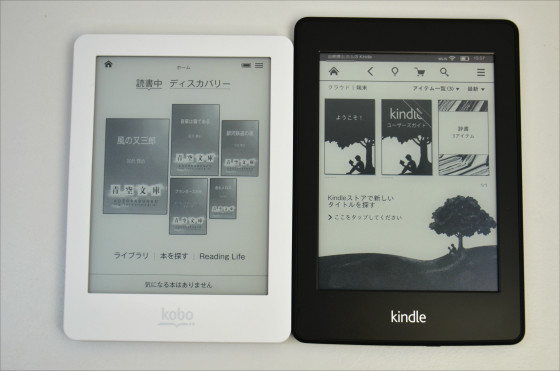 When the room was darkened and the brightness of the display was maximized, the display of kobo glo became bright enough to feel bright.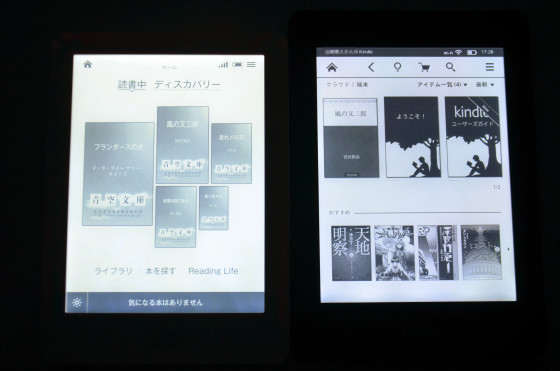 From a little far away you can see that kobo glo is more bright.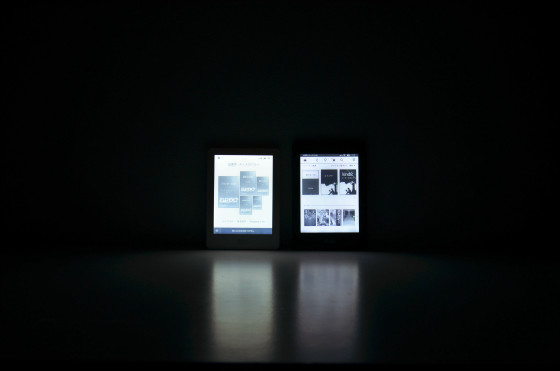 When turning on the display light of kobo glo, it is necessary to press the front light switch on the top of the main unit ... ...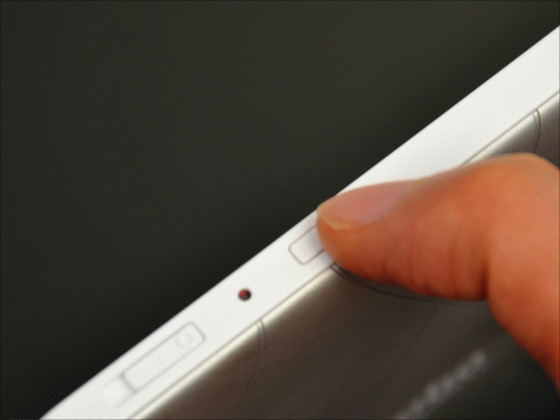 Kindle Paperwhite 3G display lights need to be set from the toolbar.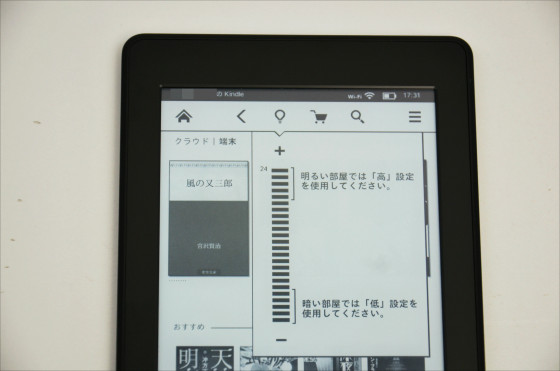 Both kobo glo and Kindle Paperwhite 3G have a moist texture on the back of the main unit.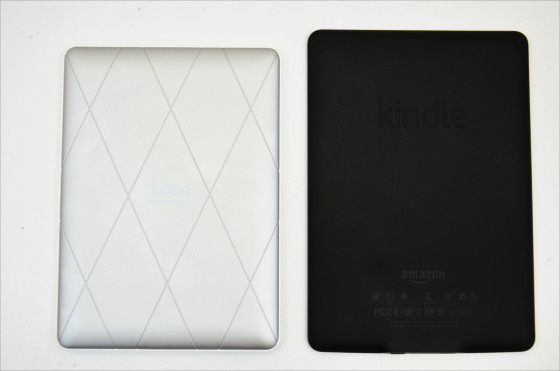 In the following movie, we compared the time from turning off the power to turning on the power and starting up the e-book.

"Kobo glo" and "Kindle Paperwhite 3G" startup time from the power off state - YouTube


Since kobo glo is doing something at startup, it seems that it takes time.

Next, a movie that compares the time from turning on the power to sleep and starting up and opening the e-book.

"Kobo glo" and "Kindle Paperwhite 3G" startup time from sleep - YouTube


It seems that there is hardly any difference in startup time from the sleep state.

In the last movie, we compared the reaction speed which turns pages of 5 pages.

Reaction speed over pages "kobo glo" and "Kindle Paperwhite 3G" - YouTube


I do not feel a big difference in movies, but sometimes kobo glo's response is not good. Kindle Paperwhite 3G was unlikely to have any reaction, so I was able to turn over the crisp page.

As for the other difference, all contents of Kindle Paperwhite 3G can be stored in the cloud for free, and contents of kobo glo can be saved with microSD or microSDHC.

◆ Kindle Paperwhite 3G Product Details
Display: Display size 6 inches, resolution 212 ppi, patented built-in light, font optimization technology, 16 tone grayscale
Size: 169 mm × 117 mm × 9.1 mm
Weight: 222 g
Capacity: 2 GB (usable area about 1.25 GB)
Cloud: All Amazon content can be stored in the cloud for free
Battery: When you use brightness setting 10, wireless connection off for 30 minutes a day, you can use up to 8 weeks with one charge.
Charging time: Approx 4 hours by charging from PC via USB
3G connection: HSDPA modem (3G), EDGE / GPRS fallback: Domomo Docomo 3G high-speed data network using Amazon Whispernet service.
Wi-Fi connection: Supports WEP, WPA and WPA 2 security with public and private networks or wireless LAN spots, password authentication using 802.11b, 802.11g, or 802.11n (b or g compatible mode) standard.
Supported file formats: Kindle (AZW 3), TXT, PDF, unprotected MOBI, PRC compatible. Convert HTML, DOC, DOCX, JPEG, GIF, PNG, BMP
User Help: Getting Started Guide (included), Kindle User's Guide (pre-installed on the terminal). Other information is available on the help page.
Warranty and service: 1 year limited warranty included. In the case of domestic, optional optional extension guarantee is possible.
Included contents: Kindle Paperwhite 3G, USB 2.0 charging cable, warranty card, start guide

◆ kobo glo Product Details
Display: 6 inch touch screen electronic paper (16 gray scale gray scale)
Resolution: 758 x 1024
Supported file formats: EPUB, PDF (Only PDF books sold at kobo e book store are subject to support)
Built-in memory capacity / usable area: about 2 GB / about 1 GB (text base book: about 1000 points, comics: about 20 to 50 points)
Memory expansion: microSD (maximum 2GB) / microSDHC (maximum 32GB) ※ Memory card sold separately
Wi-Fi (wireless LAN): 802.11 b / g / n (WEP / WPA / WPA 2)
PC connection method: USB (one microUSB cable included)
Size: 114 mm × 157 mm × 10 mm
Weight: 185 g
Light: Built-in front light
Estimated duration of charging: Up to about 30,000 pages of page turning are possible with one full charge, up to about 1 month
Font: European font, Japanese font (made by Morisawa), size adjustable