NTT DoCoMo has developed the ultra small base station "Xi Femtocell" that is compatible with both the world's first LTE / 3G system, and the communication situation can be improved even indoors where radio waves can not reach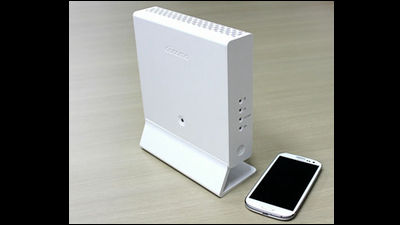 In December 2012 NTT DoCoMo began installing to residential, shops, offices, etc. to accelerate efforts to expand the area of ​​Xi (Crossy) · FOMA and improve quality, and NTT DoCoMo launched a new type of ultra small base station "Femtocell" It is now possible to construct a communication area of ​​about several tens of meters in radius by installing and introducing it inside the building such as development, houses, shops, offices, etc. Simultaneously to correspond to both LTE and 3G formulas In addition to voice calling, both Xi and FOMA data communication services can be used more comfortably.

Press release presentation: Development of ultra-compact base station for LTE compatibility "Xi Femtocell" | News | NTT DoCoMo
http://www.nttdocomo.co.jp/info/news_release/2012/11/16_01.html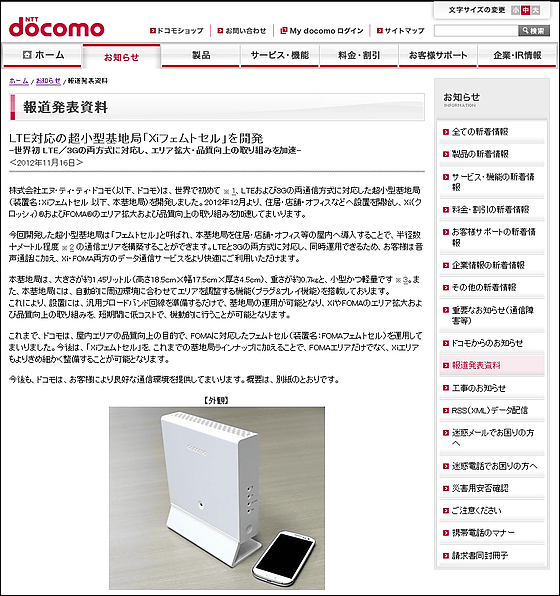 The new femtocell of this time is small and lightweight with a size of height 18.5 cm × width 17.5 cm × thickness 4.5 cm, weight is about 0.7 kg, and the area is automatically adjusted according to the surrounding environment Equipped with plug & play function. Uplifting is easy when setting up by simply preparing a general-purpose broadband line.

Mobile WatchAccording to research,

In DoCoMo, we offer visiting surveys within 48 hours in principle when offering such as difficult radio waves to reach. Here, it is set as one of improvement measures after confirming the radio wave condition. Also, if necessary for outdoor or indoor areaization, it is introduced sequentially. It is impossible for individuals to apply and use.
It seems that it can not be applied individually, but in the case of offices and buildings in strange areas of the building, it may be possible to apply in the name of a corporation.

Also,Sankei Bizaccording to,

DoCoMo utilizes femtocell for LTE and actively adds to places where radio wave conditions are not good in urban areas and so on. Expand the area where LTE can be used.

Apart from this, the number of antennas of major base stations such as crowded urban areas has been increased from the current three (covering 120 degrees for each antenna) to six (covering 60 degrees at the same time) Prevent deterioration of radio wave condition accompanying increase.
In order to improve the 7 GB regulation and speed regulation per month, which started from October this year, the situation that it is difficult to connect, and more than anything in terms of the number of contracts in October 2012NTT DoCoMo alone exceeded the record maximum of about 190,000, On the other hand, the best au (KDDI) by iPhone 5 has exceeded about 150 thousand, and at present it is clear that even one person has become a loser group, even if it is the current situation, NTT DoCoMo's largest uri It is a reasonable idea to go to the game with "communication quality" which is becoming a big success.

The editorial department uses a company-wide data communication card as a matter of necessity for going on business trips here and there, but it is overwhelmingly connected with high probability even in a very remote environment or in a very harsh environment NTT docomo It is only certain that the high reliability is out of the group. However, it is obvious that it alone will not beat other companies, so here is one where I want you to beat Doukan and one surprise surprise.
in Mobile, Posted by darkhorse