Every time one HTC smartphone is sold, Apple makes a profit from 500 yen to 600 yen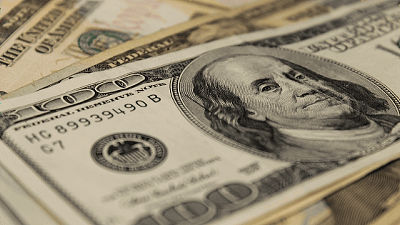 ByThomasjphotos

About Apple and HTC smartphones on 10th November 2012Patent disputeIt was reported that the solution was reached by concluding a license agreement for 10 years. Although the contents of the contract were not disclosed,Sterne AgeeAccording to Shaw Wu, an analyst, the license fee seems to be 6 to 8 dollars (about 480 yen to 640 yen) per smartphone.

Apple predicted to generate up to $ 280 million a year in HTC deal | Apple - CNET News
http://news.cnet.com/8301-13579_3-57548302-37/apple-predicted-to-generate-up-to-$280-million-a-year-in-htc-deal/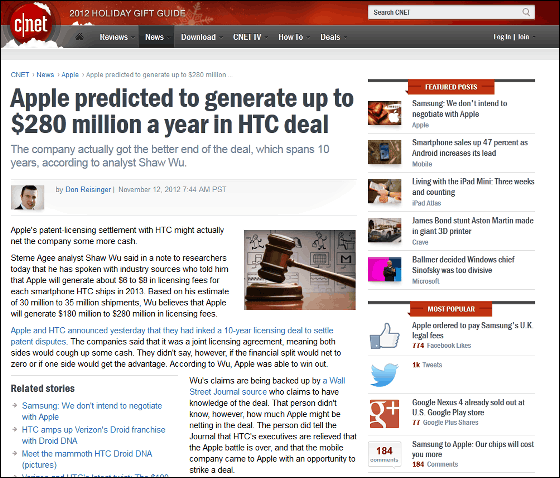 Apple - Press Info - HTC and Apple Settle Patent Dispute
http://www.apple.com/pr/library/2012/11/11HTC-and-Apple-Settle-Patent-Dispute.html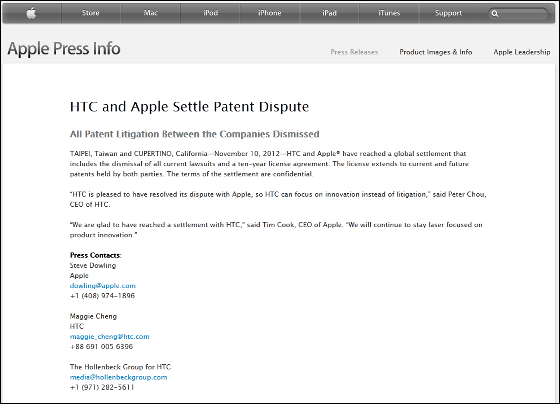 Report: HTC Paying Apple up to $ 8 per Phone | Gadget Lab | Wired.com
http://www.wired.com/gadgetlab/2012/11/report-htc-paying-apple-8/

HTC settlement may pay Apple $ 8 per phone, act as blueprint for Samsung & amp; Motorola
http://appleinsider.com/articles/12/11/12/htc-settlement-may-pay-apple-8-per-phone-act-as-blueprint-for-samsung-motorola

Wall Street JournalAccording to Wu's information based on Wu's information based on the license agreement HTC will pay Apple for 6 to 8 dollars (480 yen to 640 yen) per smartphone, the number of smartphone shipments in 2013 will be 30 million ~ Because it is expected to be 35 million, Apple's license fee will be between 180 and 280 million dollars (140 to 22 billion yen). The price of 6 to 8 dollars per car is lower than the price initially presented by Apple, but as HTC sells one Android smartphone$ 5 paid to MicrosoftIt is higher than the price (about 400 yen).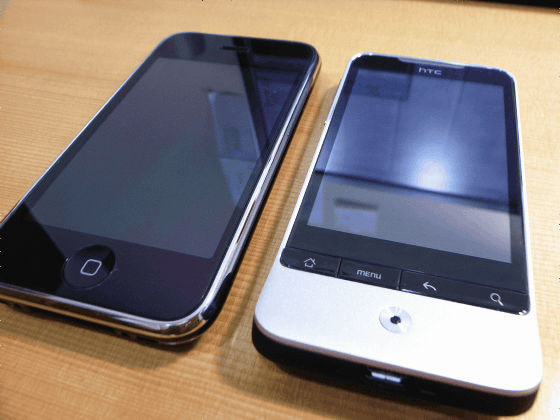 ByIzensun

Apple has also filed patent disputes with Samsung and Motorola, but Wu says that if it can be solved as well as a license agreement with HTC, it will be able to dominate again in the smartphone market. "It is not funny for Apple that developed a touch screen smartphone or tablet to earn a license fee based on intellectual property rights, since there were no similar items until the iPhone or iPad was born." is.
in Note, Posted by darkhorse_log