I went to the National Museum of Emerging Science and Innovation to see the real things of the cars, bicycles and hand-picked cars running around in Google Street View shooting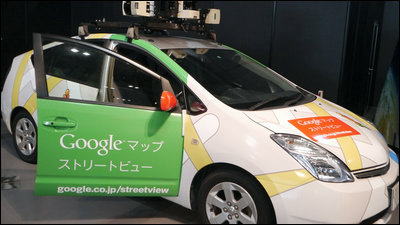 The eight-year history since Google handled the map service was "National Museum of Emerging Science and InnovationIt is on display at. Cars, bicycles, handcarts etc. actually shooting street view are on display and you can see the technology that supports Street View in the near future. It was my first time to do such exhibitions in Japan, and it was free, so I decided to actually go there.

Google Maps History and Street View / Doodle 4 Google "The Future of 100 Years Ahead" | Miraikan, National Museum of Emerging Science and Innovation (Miraikan)
http://www.miraikan.jst.go.jp/event/121026117381.html

Google Japan Blog: History of Google Maps and Street View Exhibited at National Museum of Emerging Science and Innovation
http://googlejapan.blogspot.jp/2012/10/google_29.html

Location"2-3-6 Aoyama, Koto Ward, TokyoThe detailed access method withHereIt is described in.

View Larger Map

When I got off the "Ship's Science Center Station" and walked for about 5 minutes, the National Museum of Emerging Science and Innovation Miraikan came into sight.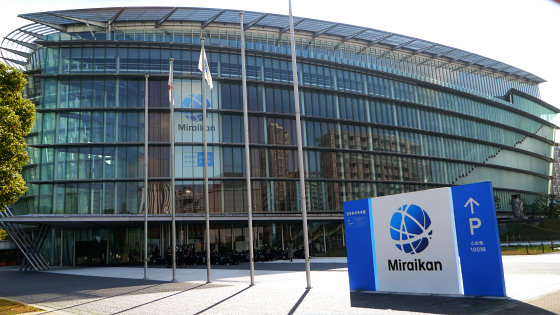 Arrived at the exhibition hall. You can see many students who visited society.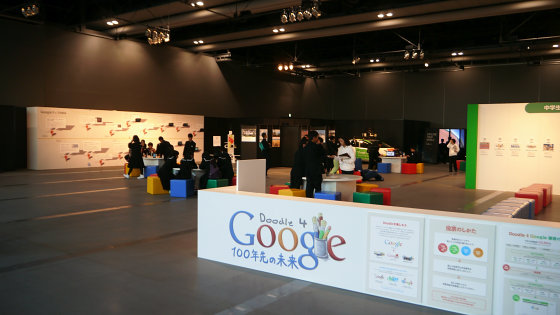 This is a street view shooting car.



The part of the camera that is shooting is like this. It is possible to shoot 360 degrees in all directions using 15 lenses. In addition, it tracks the position of the photographer with a motion sensor, it acquires 3D data using a hard disk, a small personal computer, a laser that saves data, and it can measure the distance in the street view image is.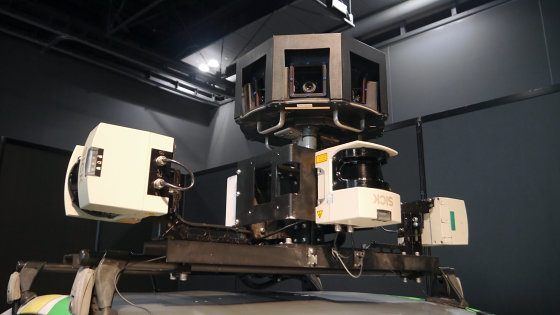 It is fixed to the car body firmly by the frame as follows.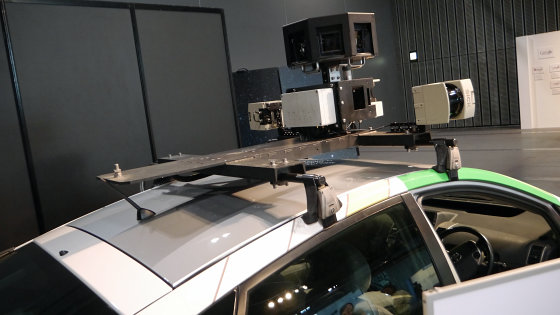 The interior of the car is much simpler than I imagined. Originally we had a lot of PCs loaded, but now it is enough to have one PC installed, and with the further improvement of the shooting system it is now possible to shoot high resolution panoramic view about.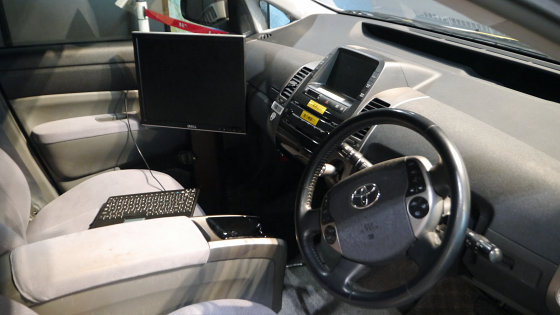 In the center console part is "Overhead Caution! Vehicle height 2.5 m"pause! It is!"Backwards confirmation! It is!"Are attached with a sticker, etc., and you can feel the various difficulties that existed at the time of shooting.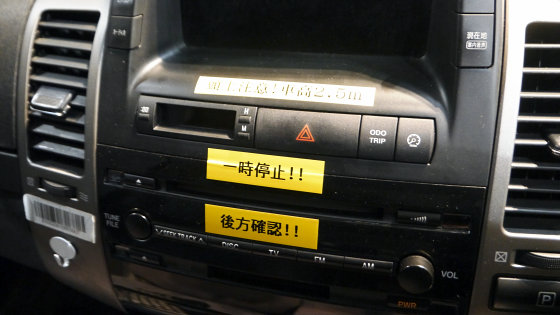 Next is a bicycle called "Street View Trike" whose frame structure is special. This is a great success in parks, trails, university campuses, stadiums and other places where cars can not enter.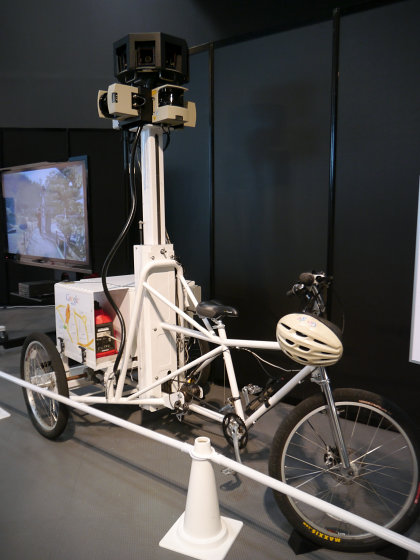 Looking from behind, it is like this.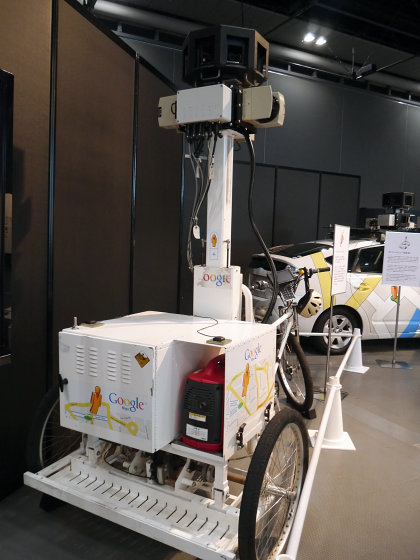 Monitor and so on part of the handle.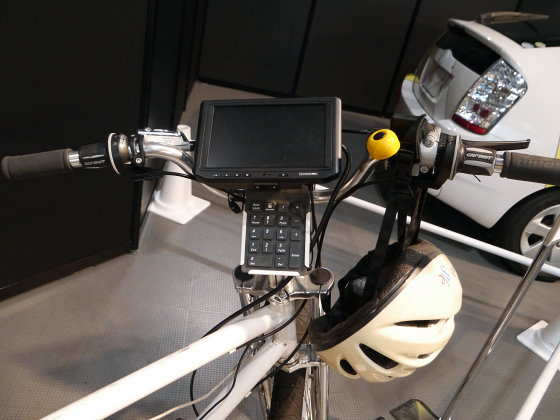 Also installing an air pocket.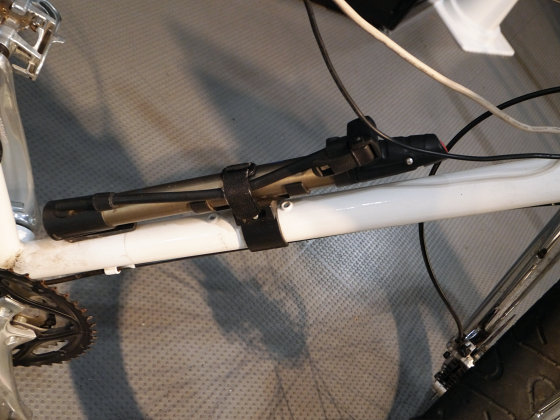 Part of the camera. It seems to be essential that you sit down because you get stuck when you standing.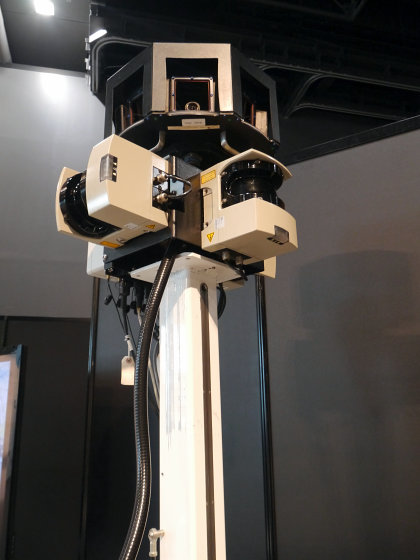 On the back side of the camera you can see a box of cables for various sensors.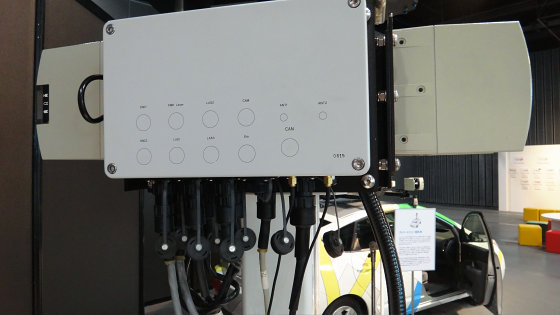 Honda made generators were stacked in the rear part.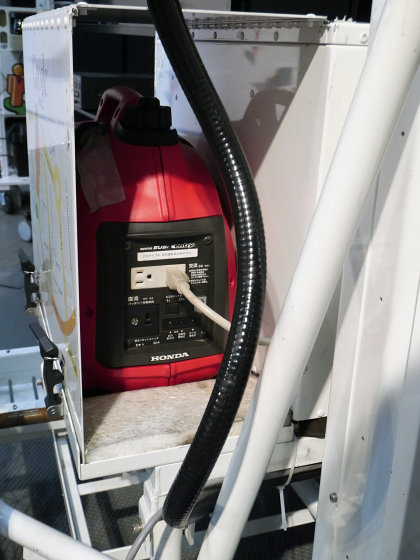 An antenna on the battery.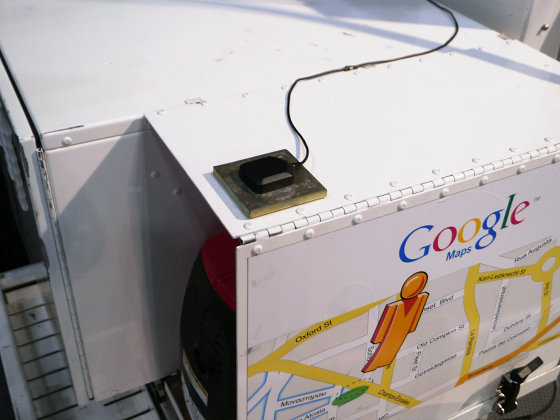 Part of the gear can also be seen quite closely and can be observed firmly unless you know the real thing.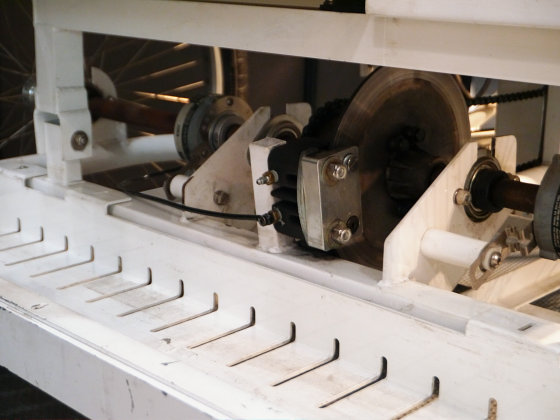 This is a barrow type called street view trolley. It was invented to photograph museums around the world.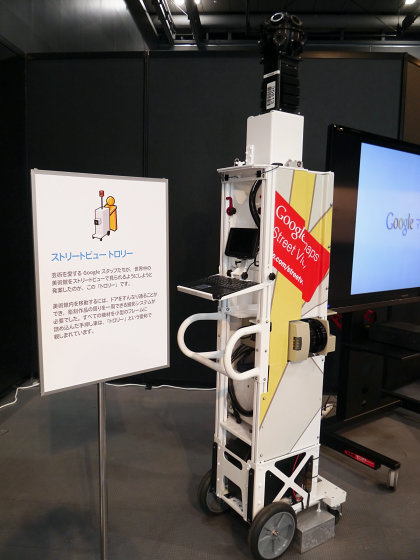 It's like a small planetarium camera.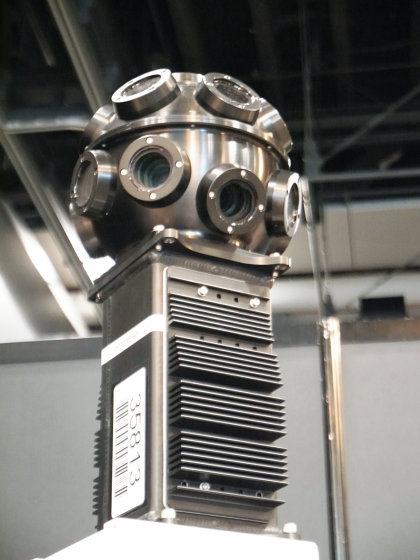 What is stacked is "NetgearLAN hub "is quite funny. It is made by combining commonly available network equipment.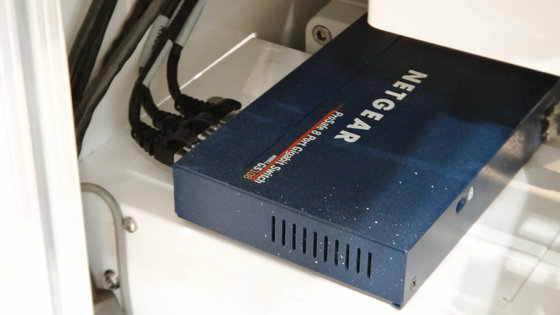 Battery at the bottom.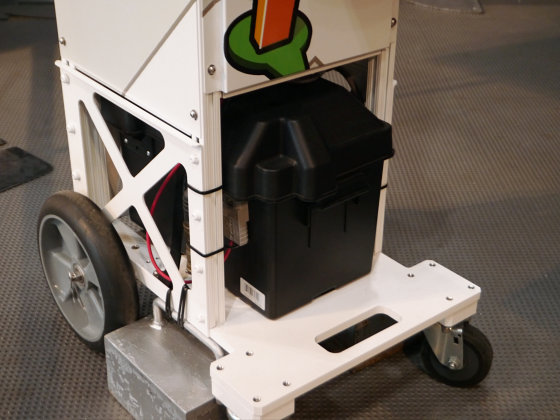 Panels that explain the history of Google Street View in an easy-to-understand manner are also on display.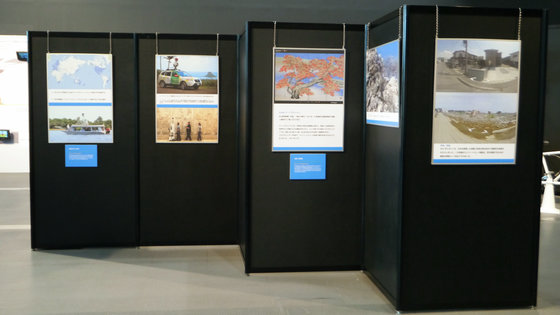 This is an early Street View shooting car. In the past you needed to load a lot of equipment, shooting was done with a van type car.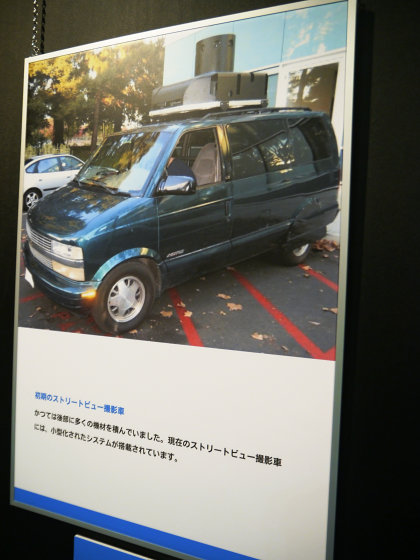 You can also see screenshots of the initial Street View. It is along the Embarcadero near the ferry wharf in San Francisco, California.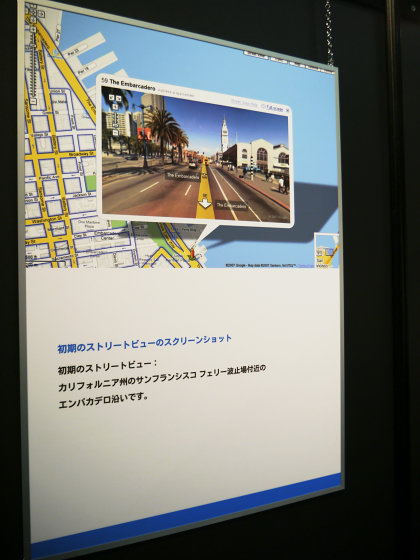 Photos of Aspen's movie maps made with state-of-the-art computer controlled video disc players, which became the base technology of Google Street View, are also on display.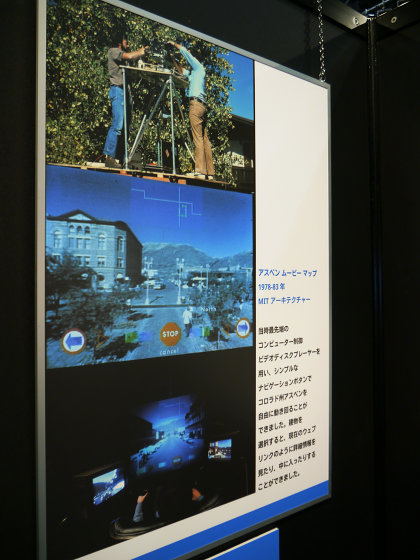 This is "Liquid Galaxy" that you can experience Google Earth at 360 degrees connecting multiple screens. You can freely operate and enjoy various places with realistic images.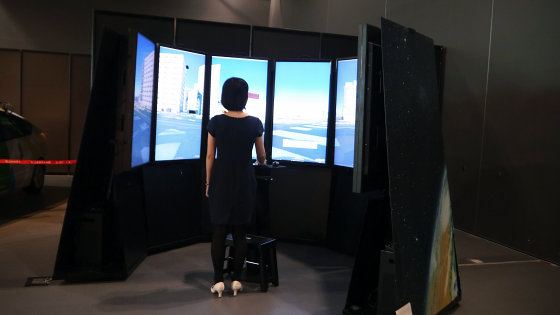 I tried movie shooting where I actually operated.

"Liquid Galaxy" to experience GoogleEarth at 360 degrees - YouTube


It seems that inside of Miraikan can be seen also in Street View, so it may be interesting to look at using it.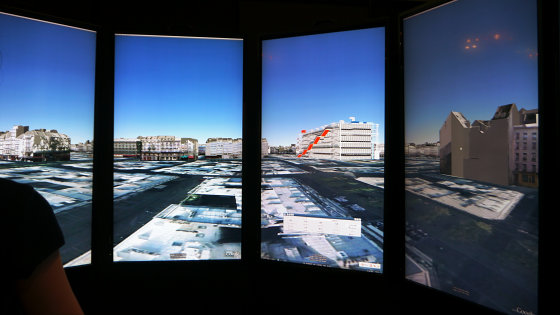 Other than this, the design of the logo of the Google top page is also being exhibited and recently released "Nexus 7There are zones where you can freely touch Petapeta, and you can enjoy many things. The exhibition will end once on Wednesday, November 7, but will be restarted between November 15 (Thursday) and November 29 (Thursday (closed on Tuesdays)) Because it is free, it is good to go.