Web fonts of 826 kinds of emoticons which can also be used for commercial purposes "Emoji font"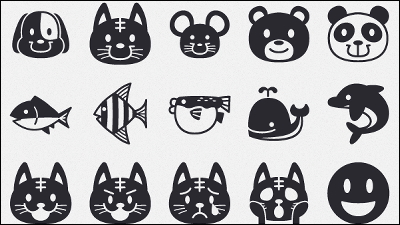 The web font in which 826 kinds of emoticons are set is "Emoji font"is. It is specialized for use on the Internet, and if it is used on the web, it can be used for commercial use free of charge. There are two types of files, AI format and WOFF format, and can be displayed on PC, tablet, mobile device, etc.

Emoji font - EmojiSymbols Font
http://emojisymbols.com/jp/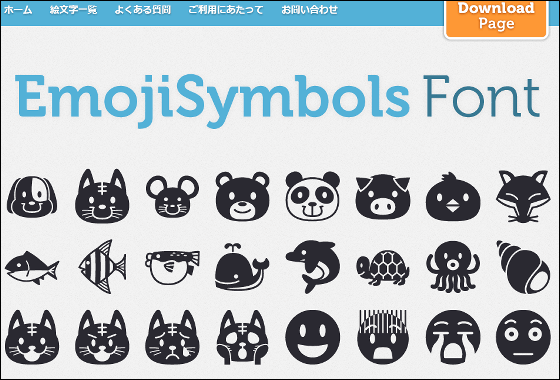 There are 826 emoji in all.




When you click "Download Page" at the bottom of the top page ... ...



The page of "Terms of use" in which prohibited items / disclaimers etc are stated is displayed.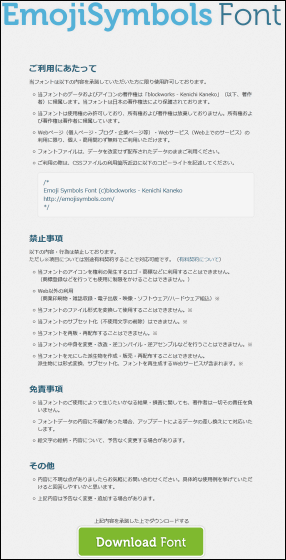 Download the font from the green "Download Font" at the bottom of the page.




Also, when you click "Frequently Asked Questions" at the top of the browser ... ...




There is a page on which compatible browsers and how to use Web fonts are written. WOFF font is not confirmed in all versions, but on Mac it confirms display of Google Chrome 22, Firefox 16, Opera 12.0.2, Safari 5.1.7, IE 9 (Windows 7) on Windows, iOS 5 on iOS, iOS The display of 6 has been confirmed.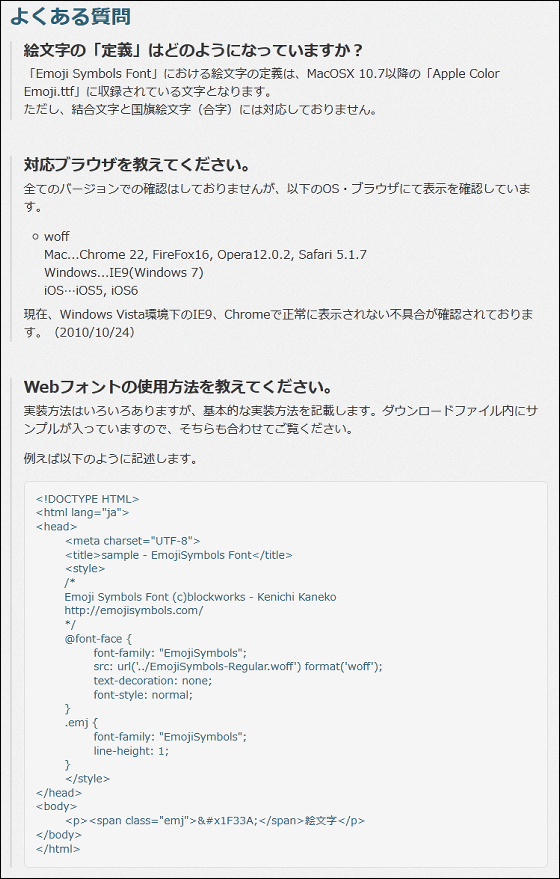 The font looks a little different depending on the Internet situation you are using. Below is the font in the pictograph list.




When using Firefox 16.0.1, Windows 7, the same font is displayed like this.




In addition, the following points are cited as prohibited items. For items with * attached at the end of the sentence, separatelyPaid contractIt is possible to correspond by doing.


· This font icon can not be used for trademarks and logos where rights occur.
· (You can not limit the use even if you register trademark etc)
· Non-Web use
· (Commercial printed matter · magazine recording · electronic publication · video · software / hardware embedded)
· It is not possible to convert the file format of this font and use it. ※
· It is not possible to subset this font (delete unused character). ※
· This font can not be resold · redistributed. ※
· You can not change, modify, decompile, disassemble, etc. the contents of this font. ※
· It is not possible to create, sell, redistribute derivative works based on this font.
· Derivatives include format conversion, subsetting, and web services that regenerate fonts. ※
in Design, Posted by darkhorse_log