"Fiction and reality have to be mixed", Kei Sugi Hirota Freeranager talks hotly from "captain of my captain" to "gun head"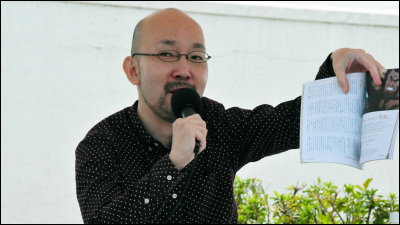 Free Writer'sKeisuke HirotaSan talks with the captains who appear in anime with a talk show "My captain(Provisional) will be released in late November. To celebrate this at Machi ★ Asobi vol.9, a talk event was held by Mr. Hirota and Mr. Ikusa Kokonoki of the editor in charge. Contents were broad, deep and dense from the part that touched the contents of the book, from writer and writer to "self realization", reality and fiction, and "gun head".

The place where the talk event was held is called Pagoda Plaza at the summit of Mount Meiyama, a little away from the main stage. Kondo producer also showed up.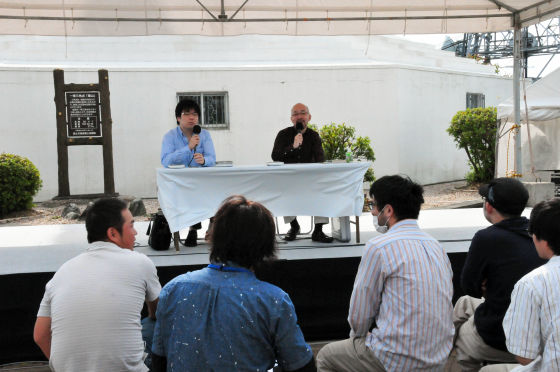 Keisuke Hirota(Hirota):
Well then it will be about time so let's begin.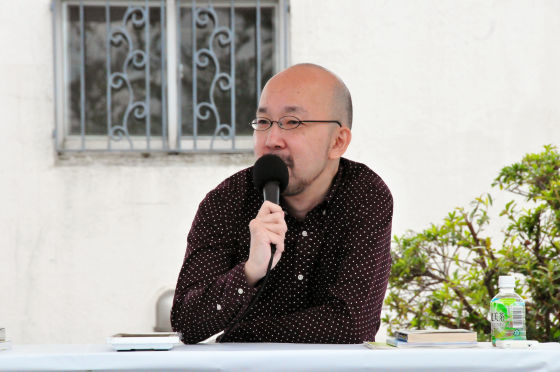 audience:
It is terrible to put "Yamatoku" which is overlapped in time in the guide book opposite the page where this event is written!

Euphor table Kondo Hikaru Producer:
Oh, it is true.

Hirota:
Some say that the fryer will do yesterday (October 7) and there are people who went there, so that they are losing in that respect. After this, when Mr. Kondo and Yamakan play the game suddenly say it, do not be silly (laugh)

Kondo:
I do not want to tell you (lol) There is such a trend at the industry stakeholder talk event, when I noticed it was planning.

Hirota:
We can only talk for 30 minutes.

Kondo:
Please do not talk to me separately, because we play games here.

I Kunishige Post Media Editorial DepartmentTetsuro Kokoni(Hereinafter referred to as Kokonoki):
Here?

Hirota:
That's why today's guest, Tetsuro Kokonagi of Ikusha. What is your position?

Kokonagi:
In terms of the position of the company, he is also the chief of staff.

Hirota:
Character ☆ Mel Febriof.

Kokonagi:
Yes, I am doing a magazine called Chara Mel Febri, and I am doing the deputy chief editor while there is no editor in chief.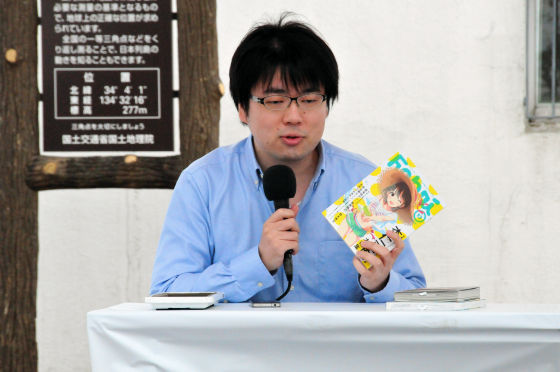 Hirota:
If it says a proxy, it is good to be like "captain agent." The editor-in-chief is cooler than the editor-in-chie. Other than that?

Kokonagi:
At Shinsha, basically it is publishing manga, and for girls, Mr. Kazuya Minekura and Mr. Takagawa Yuzu serialize on "Comic ZERO-SUMOr, I was doing animation till recently "Yuruyuri"Is serialized in"Comic Yurihime"And,"Daughter of a man"Featuring"Wow!Or, it is anything unlike ordinary Moe system.

I belong to is to make a book, Director Akiyuki Shinobu's "New wordsI am doing "Mook book of animation" etc. From such Ikusa, Mr. Hirota will publish a book that collects captains of battleships from the ancient works of the author, "my captain" of the author and will learn from that view of life, so that we can have such a seat became.

Hirota:
I decided as I could do, I decided to do it, then I told who I would call, I thought that if I was in charge of editing, I could wonder if I could listen to various stories. I did not know anything, and I was told who the cover was decided at the drinking party yesterday.

Kokonagi:
Actually the illustration on the cover was asked by Professor Kena Asamiya. Because I am busy, I thought it was impossible, so I bought it in reply.

Hirota:
I have not heard of that, do not say it at the drinking party 's seat (laugh) Cover Asamiya Kia, have you just got a little value?

Kokonagi:
Although I have not yet made arrangements, I will certainly announce it in such a place.

Hirota:
Far from meeting, roughly I am not contracting, I do not know any royalties because I have not signed a contract.

Kokonagi:
I usually have contracts made at the end all the time.

Hirota:
Today I would like to talk about my experiences and failures. "Super robot complexIt was supposed to be sold for 1000 yen and the royalty was 800,000 yen. It is a book about ten years ago, but I have decided to leave on the 25th and clearly remember it. Publisher goes bankrupt on 25th that the book comes out, it is zero yen, write down a whole book. There is such a trap in the publisher, so I should talk about that kind of thing.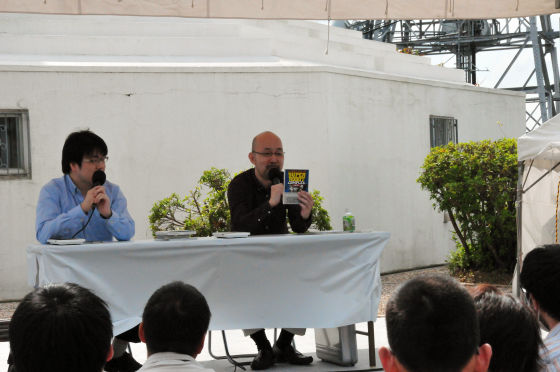 In the first place, "Captain of myself" is one that Febri issued as a serial series when Febri renewed. If it is Yamato, you call Okita Jozo, Ancient Sue, Gundam Speaking Bright Noah or Captain one by one to a drinking shop, "How was it when you fought the Pluto planet?" "How about Bright, Bukkake Amuro? If it is serial series saying that it is possible to proceed with such a conversation, if it says that it is impossible, if it is noticed, it is becoming a bookbook, how did this go?

Kokonagi:
At our planning meeting, we talked about whether editing members brought ideas rather than hypothetical things and talked about what it's like to do with this, in the trend of otaku people also hated on animation / games from their teens recently I am in an era where I do not have to graduate from geeks and I think that there are more people who are continuing geeks even in their thirties and forties. When people are young, I think that they sympathized with the main character or the character who is doing a good job, but as you get older, as if you sympathize with the intermediate manager who is struggling just like you, the captain Whether it is going to be, just as Mr. Hirota got up and planned, Febri and I have serialized stories that spotted a spot on a fiance even if it is not a captain.

Hirota:
The sixth is a rider of Fate / Zero. Mr. Ikusha sends a scenario of the work so that it is easier to write every time, but the main part and the dialogue are different, and the work is reviewed every time. So I will write out the name scene, the point of the character, the key word etc. As I wrote the rider, it was not completed yet, so I read the scenario and cried, I cried and imagined the image and probably it would be like this when I wrote while delicious ......

Kokonagi:
"I write too much and become spoiled".

Hirota:
It is told that "Rider dies" can not be written, but the original is out? If it says that it is already out, it is a completely rewritten last page.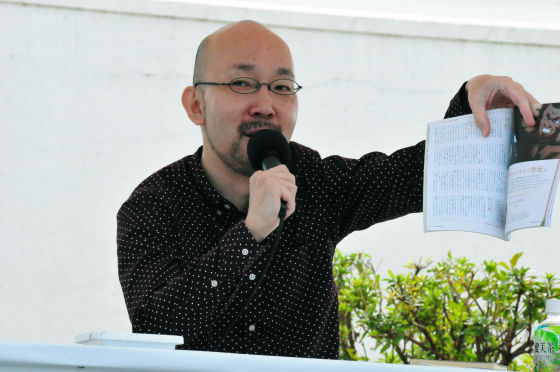 Kokonagi:
I really am sorry at that time.

Hirota:
This is how Oyajineta comes to me. Other than that, I am a father.

Kokonagi:
No, if you do get inadvertently you will only become Gyuneta, so if you think that you want to make a corner that says occasionally male characters are also good, it seems that female readers are willing to "be that?"

Hirota:
Huh? Is this page? I heard it for the first time. I have to tell you all that.

Kokonagi:
I said what I said.

Hirota:
When I thought why I was a father, I was a freelance writer for about fourteen years at the age of 45, but maybe he is getting fucked up. Work is coming to come, but this is as I come to control it. But when I look around, I have to work in forty-seven professions after passing for my 40's, do you have a job? I was consulted with you. Although I can send work introductions and reviews to other people that you can not write even without me, there are things like "This can not be written unless it is an osan". As with "captain", if there is no experience to some extent, young people suddenly learn "how to live the captain's capabilities" is difficult, so it is better for people of our generation to read it, I have devised and wrote it. It is written not in the captain catalog, nominal lines are written in the sentences, and if it is Bright, there are "barrage thin", but if you go there, it will not be fun, so you can write only to me, say I am planning to write what I want to do with the captain's way of living.

During this time,Match the evening of AsobiE-mail was coming to me, but my title was "Keisuke Hirota (author)", it is tough to go out as a writer. The writer and writer are still different. A writer is a person who wants to express what he wants to say, express things and fits it well to a commercial book. Writers have more clear roles, for example "Anime The TelevisionTo "Mahou Shoujo Madoka ☆ Magica First Part · The Second Part The MovieAlthough I'm writing a comment on the subject, I do not have a preview so I have not seen it. So, because it is good to comment on quoting from TV, how many letters and how many letters are buried. There is no point of view there and my purpose is to fill in the page. For those who do not know Madokaga please write clearly, the writer is strongly requested by the editor. I think that writer is another.

Kokonagi:
Mr. Hirota is an author because it is a talk show of "Captain of my captain" this time, but when I call it a writer, if I go forward without using the word of a writer as I call it a writer (lol Speaking of writers, author of the book and manga artists are also writers widely, but although I brought out the book, if Director Shinba is a writer, it is an image writer but not a paper writer. Writing a novel, light novel in a familiar place is a writer, but there are a lot of people who write sentences in animation magazines and game magazines, and those people do not say the writers as the writers There are most people who are named, and there are few people who say such things as "scribble" or "writer".

Hirota:
"Writer" said in the meaning of a person who wants to express, but I can do it also in doujinshi. I sold 200 doujinshi in 2009, sold out, but since I also write novels it is also writer ... ... But else "history of pants of plastic model", pants with a good tone in the 1980s Although I have molded it, since there was no history of it, the picture book of animation, nobody studied, it is drawn by a famous animator, but I interviewed an actress of an independent production movie I liked it freely or selfishly. This is not what we ordered but what I liked, and it happens to be a person who is doing graphics, a designer or something, or whatever the merit is in that sense, I like what I like I did not have an order because I wanted to do it.

This time, "Captain of myself" wrote because there was an order from Ikusuka, if I had no order I did not write it. Because it is kitsui (haha) That being eaten in the usual writer industry is that there is work. There are not a lot of people saying Febri and so on making money every month while eating rice, paying taxes, going cabbare and still saving money. There are side-job writers, but those who go to cabaret club by writer only ... ...

Kokonagi:
Cabaret club, is it an important point? (Lol)

Hirota:
It is important! (Laugh) Because I use about 100,000 yen if I stay in cabaretry overnight. The next day I think that I used it spiritually myself, but since I am doing something every month and have been doing for 14 years, there is still some know-how. How to adjust when three jobs overlap. Even though there is a very heavy work, I have "Please do it in the middle today", but I can not eat it if I refuse this. Well then, how do you do without compromising quality? The survival know-how is rolling like a mountain, but no one wants to hear it.

Because the young lighter now is "I only need to write once". If it is a misunderstanding, you can get angry, but I do not think I will survive as a writer, who only seems to be satisfied if I write "ONE writer" like Otona animation or something like that. Not saying negative, even if that person is satisfied, that's fine. Where to place satisfaction points. In the story of writers and writers, some people say "I am not a writer but a writer." While doing the writer, I think that I would like to become a writer potentially one day. Actually, some people write a book. Where is your satisfaction point?

This time, "Captain of my captain" said "We are one captain in week".

Kokonagi:
Please write one by one in the week.

Hirota:
I write it on Saturdays and Sundays. When I can not write it is very tight to adjust while I try to write two people in the next week, because that does not cost me that. Even if I write it, it is quite rugged that I have to go over 800,000 yen like the story of the previous book, so I can not go without it if I survive. But some people say that "the purpose is to put out books." In my acquaintance, I save 4 million yen for my family trip, and there are some stupid people who spend their own money publications. I think that it is a matter of life that I am older than me and that novels are given to that person.

Kokonagi:
In the world there is a publisher "I will publish books for you if I make money." It becomes a problem frequently, but as long as it takes only 1 million yen or 2 million yen to talk about it for the first time, it becomes a story that it is necessary to talk about it first and how much it is necessary for publication again from there, so many things Money is needed.

Hirota:
I am not assuming a reader, but I am doing business to an author. The author also says, "If you put out my book, you can pile as much as you want". If that person is satisfied, is that okay? I guess.

Kokonagi:
There were so many people who wanted to create their own history when they were retired by baby-boomer generation, and such a plan publishing company was badly operating to open up retirement age.

Hirota:
I think that it is also good for doujinshi. Even if it is not a coterie magazine, it seems that people who are currently making songs with vocaloids want to sell one million CDs. They do not want to make money. They are going to play 500,000 with Nico Nico Douga and it would be nice to have more comments. I think now that it is a little new way of satisfaction, how to self-fulfill, and it does not matter how much you draw a picture with pixiv, so it is easier for you to realize your self as if you do not mind business I guess.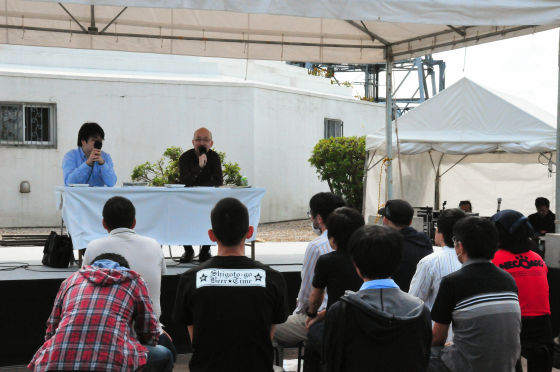 "Black ★ RockshooterWhat a beautiful way of establishment,HukeDraws a picture and thereRyoSan put on a song, but there was no money exchange, and it was not that I did two and doing "do not make money." But, being supported so much, I eventually became an animation, but I was trying to make it anime. I think that purity is very high or I think that it is pure as a self expression. I feel there is a trap waiting if I do not think there. As the road narrows down when I am middle-aged like me, it's getting fucked up. There is no other way to do, we have to put out the book. Actually it is not such a thing.

Since young people are more flexible, they should be played with Nico Nico video, it would be nice to ask everyone to ask, do not you think? Such, do you show himself to his grandfather 's history or ...? I guess it is not the purpose of making things to return to the people of the world. I think that what to do with returning to myself.

Even "my captain", I think that it will be for those who read as much as possible. Why is Osassu making animation like New Yori, or who is making something useful for the world like Tomino, but the man gradually gets worth living. Where to find the value to live becomes a theme. To live for yourself is the worst. If it is worth living, it's not just for yourself but for younger people than yourself, what to do for the generations that follow. Captains are older than their subordinates, and the captains of the older subordinates are not there. The captain makes the best of young people. I will pick up those captains positively as much as possible. The intention of the work is irrelevant. Some young captains also have a young captain who can enjoy now and enjoy the position that he is the captain. That's because I think that young people want to have fun. You can live in your twenties for yourself. In my forties, and in the middle of my 40s I can not live for myself, although there are many people like that. It makes for young people to make use of young people. I want books to come out because I want people of the world to be useful. I do not want to put out a book because I want to publish it.

Is it such a book?

Kokonagi:
As Mr. Hirota told me, a message to Hirota's young man who is in the middle managers, who said that he is obsessed with himself too much and living for himself is a little ... .... I think.

Hirota:
If you are watching about the same age people now, it is commonplace to preach to young people, if young people are not asking questions or abandoning, for example, if you are an opponent for Kokonoki, you are the first person to meet, but "Kokonoki-kun" It's ugly. There is absolutely no such stupid way to be great just by having been a year. The more you eat the older you become foolish. I have to think seriously about what to do in order not to be foolish.

I do not know for a moment what I am talking about (laugh), but I'm beginning to think that it is faster to write this way than to write a book.

Kokonagi:
that? (Lol)

Hirota:
So how recently did you do a talk show and this year? I do not remember, but at this Wonder Festival I also chair the party and finally talking about my thoughts and saying "It is not a moderator" (laugh) But, if you talk like this, There is, there is a reaction, I can see ...... The book is a bit roundabout. Can you carry it, can you read it over and over?

Kokonagi:
It is the main function of the book that you can save.

Hirota:
So, as for me, it is not the goal to put out the book, nor was it the purpose, so if you are told that "my captain" is glad, it would be nice if the reader would be pleased, I am not happy about it. When thinking about not selling ...... The moment when many people say that it was fun to watch was not self-actualization.

Kokonagi:
There is a story saying that it can not be sold, but there are two types of contracts roughly divided into royalties. One is making royalties for 1000 copies, making 1000 copies, even if you can sell only one copy, you pay the same royalties even if you sell 1000 copies, and on the contrary, real selling royalty paying as much as you sell There is something called.

Hirota:
I see, I have not heard anything.

Kokonagi:
Normally printed copies are royalties, I talked about talk of royalties long before this (laugh). By the way, if you handled copyright works, Gundam, Macross, Yamato like "Captain", you may have to borrow some material and have to pay it there, There are ways to change the percentage of royalty in a similar way. For example, we are going to issue an anthology, but when you put out an anthology of Super Robot Taisen series it is serious, I'd like to divide by 20 companies.

Hirota:
Er

Kokonagi:
Because, the bottom half of the screen is Marsee notation when you do CM. So, there is probably a banprest san who is taking a note and it is supposed to be broken and rounded.

Hirota:
"Captain of myself" is basically Yamato, Gundam, Macross, that I really want to put inBlue No. 6,Wrinkle at the top!,afterGalaxy Drifting BifamThere is also a slightly irregular part of saying, but I only have the captain that I am really good. "whyMartian Battleship NadesicoWhy is not the captain in because the captain is clearly the protagonist? ""Irresponsible captain TylerIs not it? Because I did not get it.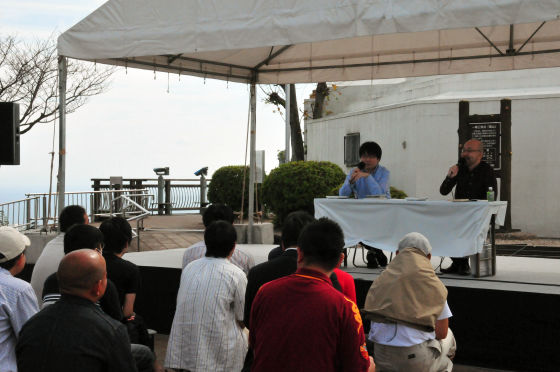 Kokonagi:
It is said that the autographer's own selfish is reflected around that.

Hirota:
If it was a captain catalog that someone did not want to catalog it would be good.

Kokonagi:
That is exactly what I am talking about from moment Hirota says that I want to do something I can only do, is not it?

Hirota:
so. For example, when writing captain BrightGundam UCI thought that I wanted to enter. Because I do not want to make it nostalgic for generations that only saw the first Gundam. I went to see the latest talk to the cinema and I made a note of the dialogue. After all, it was decided to review all the works, because it is not good faith to write with fault. Because it is rude to the reader to say, "It is definitely saying that barrage is over," so I reviewed ZZ and so on. There are various ZZ works, but if you are watching Bright, the captain of a woman Emalie Ounces has become a favorite of Bright without permission, and that is also cute. I did not care at that time and I thought Emeralie ounce had such a character, whatever I wanted to do with the captain of a woman, I was pretty cute, so let's put Emalie in there.

Kokonagi:
Whether or not to put it in, it was a place on the brink.

Hirota:
Emery is on behalf of the captain of the dock ship Ravian Roose, but in me it is "Club · Lavian Roose". If Mr. Bright is exhausted from battle, it seems that it returns to Lavian rose and heals tiredness. "Club · ravian rose" went on the verge of writing.

Kokonagi:
It was written in the e-mail that I went to stop (laugh)

Hirota:
I was writing a little more. But I feel like writing "club · ravianrose". Even though I write any captains, my feelings ran and the sentences at that time should be knocking. Although it is not a love scene, there is a scene to hug Bright, but drawing is not good, but in my head it is like this. When I wrote that Mr. Bright 's body temperature is transmitted through the military uniform, Emarie already possessed in me ... ... If there is no such moment, I can not write it. At one point, I became Okita Juzo. I wrote that "The floor of the bridge is cold" thinking how it felt when stood by the Funi bridge called Okita ship, becoming Okita Juzo. I do not know if it was cold, but I write it thinking that it would have been cold. I could not write it unless it entered it, and I should not write it. I think that it is becoming a mysterious book that I am using my spaceborn battleship Yamato to tell my life.

But everyone should see it like that, "Noya Hirota, Mr. Hirota, I should not confuse fiction and reality" has been written on my blog, but it is not funny. Then, what is it for watching animation? If it does not mix animation and my life, it is not fun, why do you split it. Rather, I do not know the idea of ​​trying to separate reality from fiction. Is everyone doing that? You should mix fiction and reality, you must see yourself inside animation. If I do not do that, it should not be interesting, but I thought it was strange. Am I strange? When watching animation, thinking of seeing animation because there is such feeling, such as crying while watching more animation, becoming angry with a character, etc.

During this period,Macross The Musical CharI went there, but it was very funny. It is so fun to wish to go to see if you can make it in time after the talk show is over, so it makes me feel like a character. What I'm talking about is very stale if I told my friends that "you've got such a line." Also in the story, musicals are very stale, enemies and ally are in conflict, but at the end they sing a song and end with the feeling of "you can sing." Even Lion King. I am addicted to that pattern ... It is not a pattern, I think that it is good, so the director would have said that story. Serifs are also very embarrassing. It is amazing that a theater that can say simple things such as "I want you to sing once more" or "I want you to dance well". In animation, "What is this sort of dialogue?", And it gets worse if it is a live action. But the hero is obsessive if I explain that I came because I want to help you, but it is live attraction that people who can tell straight if I like are there. Even words that you've heard dozens of times will echo when the actor tells you there. It is confusing reality and fiction, because it smokes the same air. I want to tell it. The musical chars and the stage equipment are not spending money, so they do not hang out, so we sing and dance. There are 2 stages in the stage, the 2nd tier is in a mechanism that becomes double tone open and you can see human power. So we have to compete with young children dancing and singing. I applauded from the middle and thought of dancing with me. I came to the conclusion that the power that the theater originally had, the sequel of Macross was actually a theater. Macross F did not have to be CG, the living body was easy to be transmitted.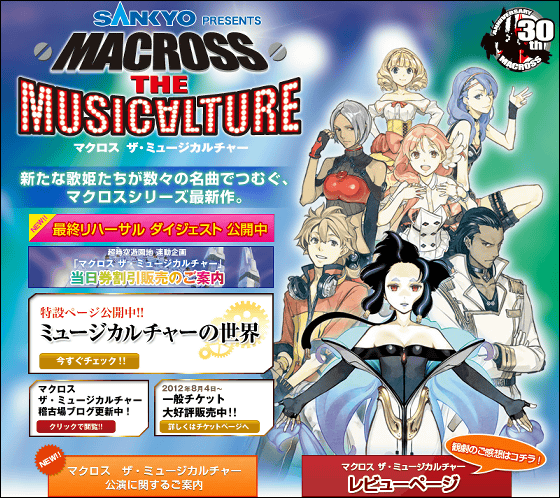 Kokonagi:
But as we are fighting with books that are not real, ... .... (laugh)

Hirota:
After all, if it says a book, it is a blot of letters, is not it stains of ink? But it is a pleasure to have something to say about this guy, feelings, like the things why hotness has been transmitted.

During this period,KotobukiyaButGun headThere was a story saying to put out a plastic model of a piece that was rumbling, which I had not been totally alive at all, I love it including that part. It was tingling, you know what I could not doModel graphicsEveryone sympathized with "I wrote well," when I wrote it. So, although there is a rival magazine, it is written that Gunhead is a masterpiece, and it is "lie down". It is not a masterpiece! Because I am not a masterpiece, I wrote it to be honest with my heart as if I did not like it. The meaning of writing in a sentence is that kind of thing.

Kotobukiya GUNHED 1/35 scale gun head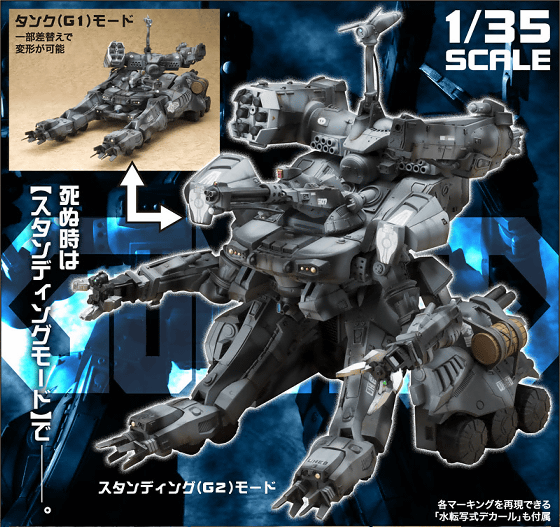 If you do propaganda this month, I'm interviewing Mr. Masahiro Takashima, who is starring, but it's an exclusive interview, so rivals are waiting behind. Do not be silly, this is not monopoly (laugh) Apparently the maker called, but I thought "I can win". Because, "I did not take the gun head, I heard it from the viewpoint that I did not receive it but it is wonderful." Takashima said, "Gunhead was the lowest toho in that year" (meeting hall laugh)

First place isFlower AfternoonSo, he told me that "I was the only one and the lowest, both of them went out to both," I wrote on the manuscript as it is. It usually disappears by check, but it remained. With this, "I won." I think I probably won. I do not understand because I have not read rivals.

After all, are there many people who have obsession that should praise when such new products come out or new works come out?

Kokonagi:
Well ... well, when publishing companies are making article introduction articles, basically they say that they are "borrowed". It is different from writing somewhat stomped, and what you are doing is to step in and write. But, it is probably more strict than animation magazine or something more like home appliances or cameras like materials, "It's weak" is absolutely unlikely to be written, and articles that praise the product become disappointing. Animation thrusts "I liked this though it was this way, but I can say that, but I can not write in household electrical appliances" I like it. " Some may be able to write such as "Form here" or "This feature, I can not use it but I love it." The animation which is made to tell something is easy, is not it?

Hirota:
That's right. Something, I think it is really boring. I do not have any basis, I praise it, if you think it is good you can praise it, but I do not know the spiritual structure praising without grounds.

Kokonagi:
Certainly, I think that I started writing "that masterpiece suddenly".

Hirota:
"Long-awaited" or something. It is not long-awaited. There is something wrong with Gunhead 's plastic model, it' s strange, if somehow it is (laugh), if someone says that part of 'That is crazy'. I have to write that it is "long-awaited" or "finally released" .... "I do not know, at last or suddenly". Otherwise, it does not mean that the value of the product came out. In a way like Temples, the word gets thinner. Is not the word "long-awaited" empty?

Kokonagi:
It is not more than ornamental words. There are only letters on it. It does not mean "long-awaited".

Hirota:
I can not describe "long-awaited" in words. It is strange that the gun head comes out, it is crazy. I did not hit that much and I was angry when I took a plan to write something to Animation for Sunrise, "I can not understand the nerve of Hirota you bring this" (laugh) That's the only title What is it? I heard that when it is good to have a drink with drinking personally with the producer of Gunhead, "If you tell me about the story of Ganhead soon", "Noi Hirota, only that title is released Please do not have it "(Venue haha) It is already strange that a plastic model of such a work comes out, obviously. I can not say it in words like 'long-awaited'. That's a lie. I have no conscience with words. It is said that it is magic of words, but it is too meaningful, it makes no sense. I have to write "why" (laugh). "Why is plastic modeling." I think that such a thing is interesting in culture.

If it says "long-awaited" or "everyone was waiting", it will not be funny. Why this is going to be animated right now, why are you putting kore into a plastic model now? If you do not have anything to buy, culture gets thinner. Even if everyone is doing whatever they want, is not it boring? Even if popular manga is animated only, it is boring, is not it? Culture will enrich because things that did not even predict will occur, this will only make things that you know will sell,K-ON!Because it sold it! People who want to publish books are in the world of publication, but it would not be fun. Even from the viewpoint of buying, you know that "Oh, now that K - ON! Is on sale so you made it on the cover". Is not it visible? It looks, it's not funny, what you are doing. The one like "Why now?" Is more interesting.

"Why now is the captain?" It is written on the flyer of Machi ★ Asobi, but I also do not know. Now, if the captain is popular, there is not one cartoon captain's out, or rather it has not appeared. I guess that is more interesting. Now it's Madoka ☆ Magika's movie version is there, but "Please write Madoka ☆ Magica!" Because I do not have to be me.