"Machi ★ Asobi vol.9" All articles summary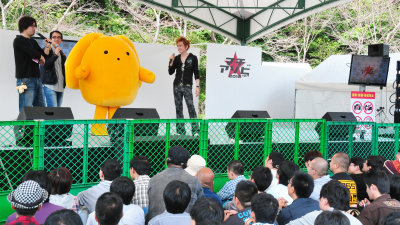 Anime event to be held in Tokushima "Machi ★ Asobi vol.9"Will have a climax run which is the greatest excitement from October 6th to 8th.Tokushima Awa Odori airport as animated colorOr,"Tales of Xillia 2" wrapping bus was madeHowever, for these three days various variety events such as artist live, writer signature, animation cast & staff talk show will be held.

Machi ★ Asobi vol.9 2012.09.22 ~ 10.8 held
http://www.machiasobi.com/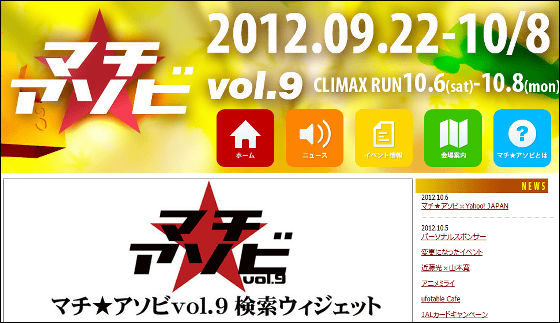 ◆ September 22, 2012 21:00:34
Tokushima Awa Odori airport becomes an animated cartoon color "Machi ★ Asobi Airport Jack" The whole story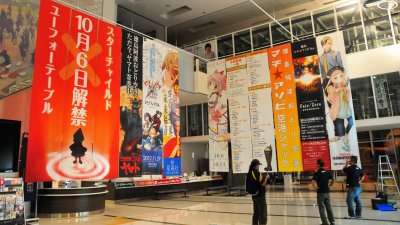 ◆ October 02, 2012 22:15:30
"Tales of Xillia 2" Wrapping bus All working scenery Photo review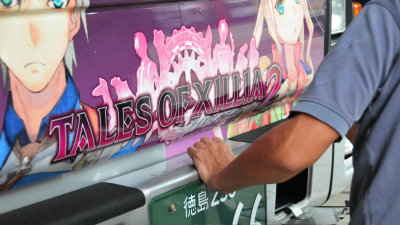 ◆ October 03, 2012 23:00:41
I tried to make a round-trip between Tokushima and Wakayama with a Nankai ferry not affected by congestion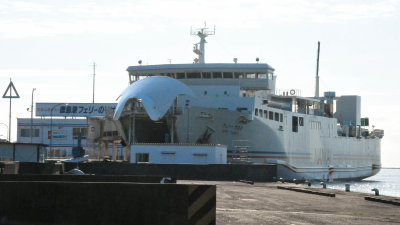 ◆ October 05, 2012 06: 00: 16 seconds
Illustrated drawing, I tried all seven kinds of collaboration of animation character × candy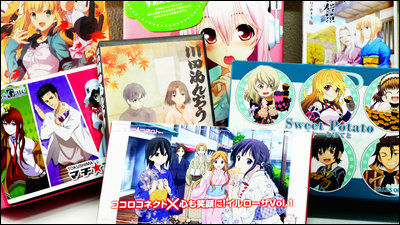 ◆ October 06, 2012 16:18:52
UFO TABLE announces the creation of a new theater anime "Witch girl classical (temporary)"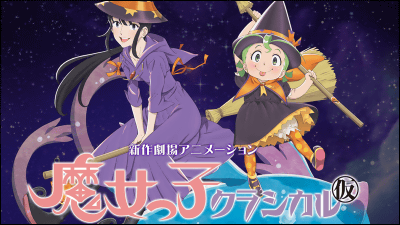 ◆ October 06, 2012 23:00:08 seconds
Life-size large Saber figures appeared Various viewing of exhibits of "Machi ★ Asobi Ver" of "Fate / Zero - Fourth Holy Grail War Exhibition -"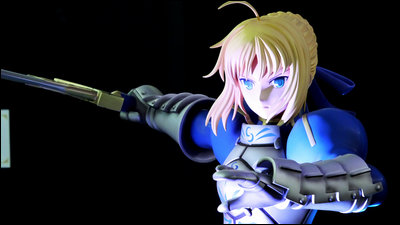 ◆ October 07, 2012 00:09 minutes 30 seconds
I went to MF Bunko J "Collection Illustration" panel exhibition which displayed the original image of CUTEG etc. which handles "Kokoro Connect" and 1 person in this one!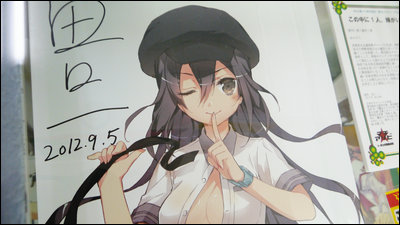 ◆ October 07, 2012 01:00:02
Various types of pain cars that appeal to love for characters and works and lined up at Mount Bizan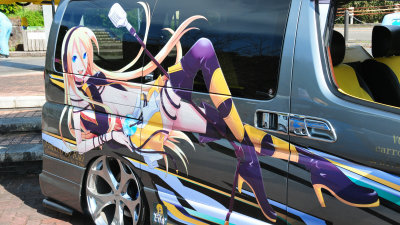 ◆ October 07, 2012 12:00:42
I ate the Tokushima Ramen of sweet spicy meat that suits soup + raw eggs at "Ginza Ikusa"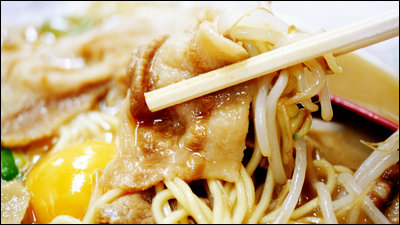 ◆ October 07, 2012 17:15 minutes 00 seconds
Eleven people were stabbed in wasps in Tokushima, climbing street was blocked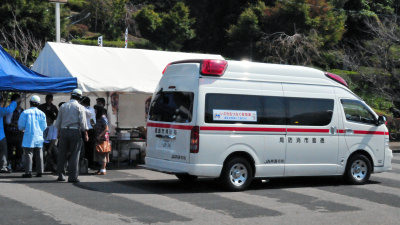 ◆ October 08, 2012 10: 06: 18 seconds
Evangelion New Theatrical Version x Fate / Zero staff tells digital age cartoon production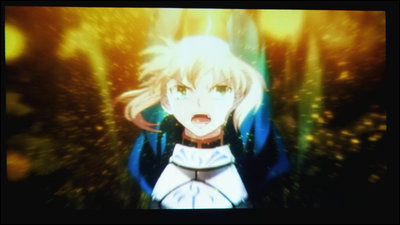 ◆ October 08, 2012 12:54:32
"New Type Anime Awards 2012" is a fight between idolmaster and Fate / Zero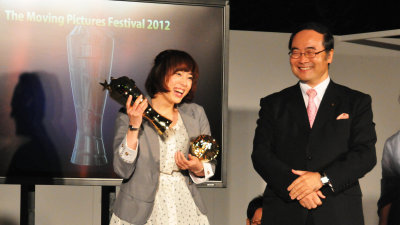 ◆ October 08, 2012 19:51:42
A cosplay fashion show where a daughterless girl and Saber VS Gill appeared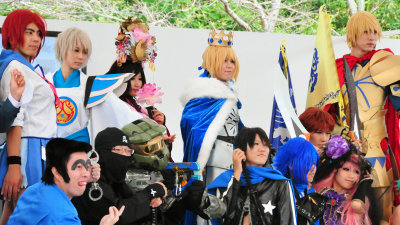 ◆ October 15, 2012 17:10:59
"Fiction and reality have to be mixed", Kei Sugi Hirota Freeranager talks hotly from "captain of my captain" to "gun head"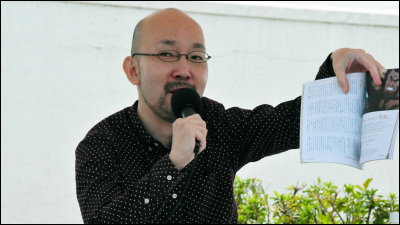 ◆ Mountain Ropeway Guidance
The ropeway is tying the foot of the mountain called Mt. Bizan which is a 5-minute walk from Tokushima Station and the summit of the mountain. During the period of gore ★ Assovi, it is an annual event that the tour guide guidance of this ropeway is changed to a special version by a voice actor or a singer, this time from September 22 to October 5Announcement by Maaya Sakamoto made at Machi ★ Asobi vol.1Revival, from October 6 "from"Magical Girl Madoka ☆ MagicaIn commemoration of the opening of "Kaname Madoka" (voice: Yuki Aki) and Akemi Homura (voice: Chiwa Saito) will show us the characters in action.

Arrived at Awaodori Kaikan with a ropeway stop.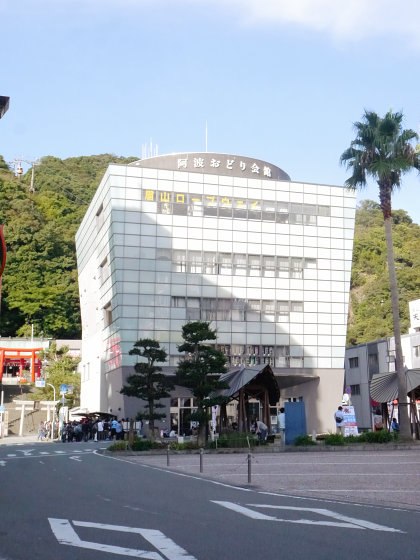 Already after 8 o'clock long long rows were made.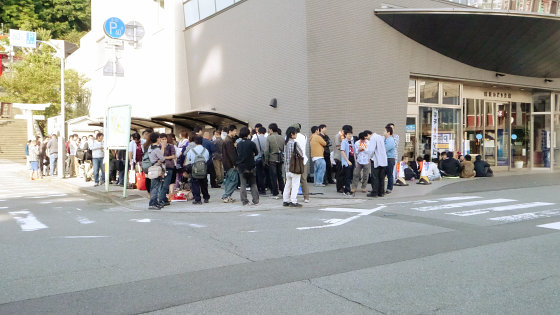 Wait until 8:40 where the ropeway starts to move.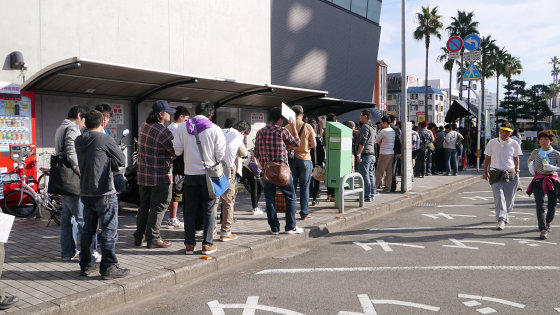 When you buy a round trip ticket for a ropeway, Junichiro Taniguchi of character design and total drawing director seems to be able to acquire "Kaname Madoka" replicated color paper using illustrations.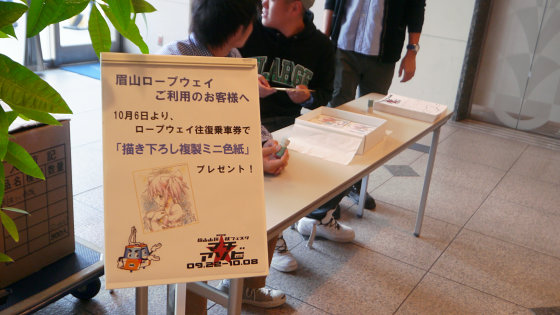 Buy tickets and get colored paper!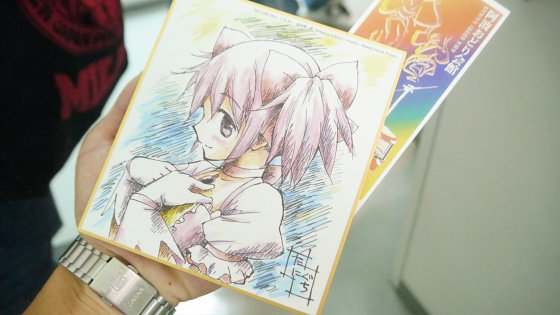 "Machi ★ Asobi vol.9" Guide by Ashigan Ashi Kaname Madoka (Yuki Ao) - YouTube


Scenery from the top of the mountain. It is sunny, windy, cool, very comfortable.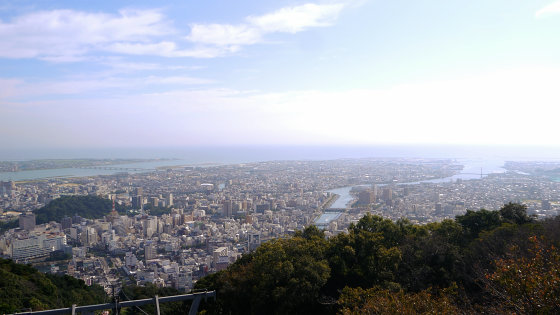 I looked at the entrance direction of the Big Mountain forest stage on the opposite side.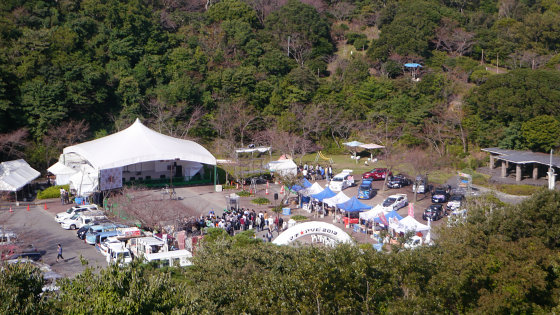 People who climbed Mt. Bizan at the ropeway are many people heading for the Bizan Mountain Forest Stage, and the descent in the early morning is free, and this time it is finely rented out.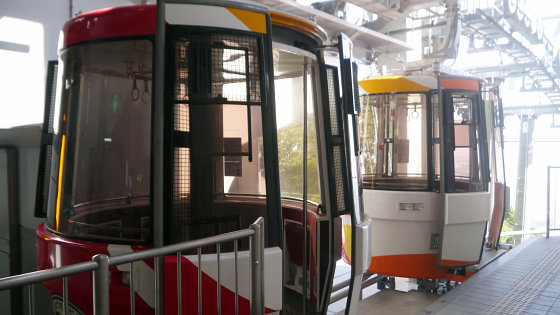 "Machi ★ Asobi vol.9" Guide by Akemi descending Ayumi Himura (Saito Chiwa) - YouTube


◆ Opening Ceremony
As you step down the stairs from the ropeway stop towards the parking lot, you will see the main stage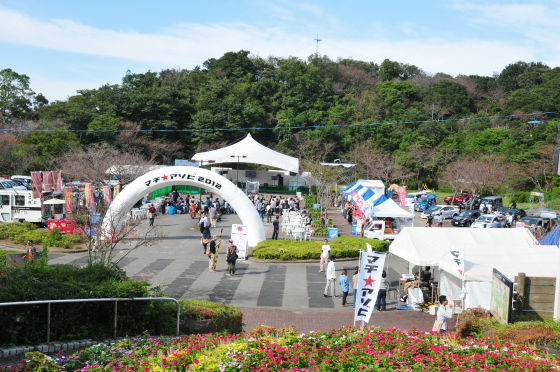 Gate at the summit plaza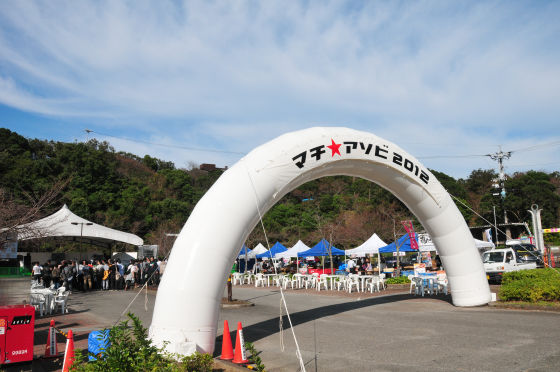 List of sponsoring companies of Machi ★ Asobi vol.9 becoming 3rd anniversary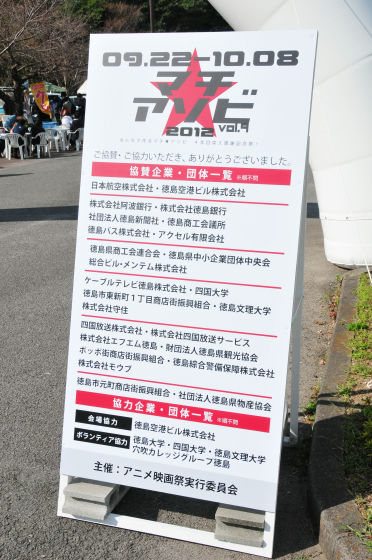 A rehearsal has been done on the stage, and with the rehearsal of AKINO with bless 4, I was able to listen to the MC who was conscious of the production.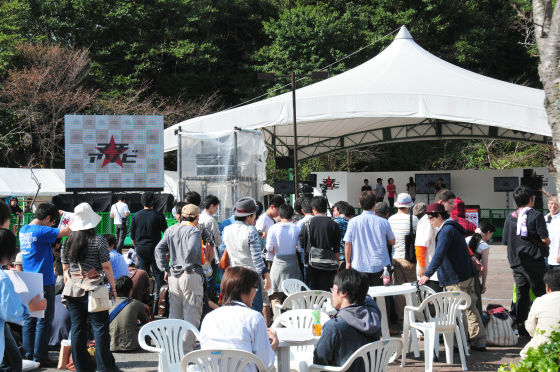 Opening ceremony was held from 10 o'clock. Cast star Mr. Shiina Shiina who has composed UFO table Kondo Hikari Producer, "Bandai Namco Games" and "God Eater" series and "IDOLM @ STER" "Aoi Bird" "Jelly of the Sun".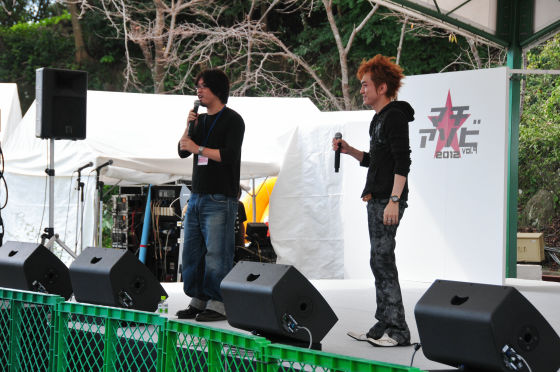 And Uh appeared to guests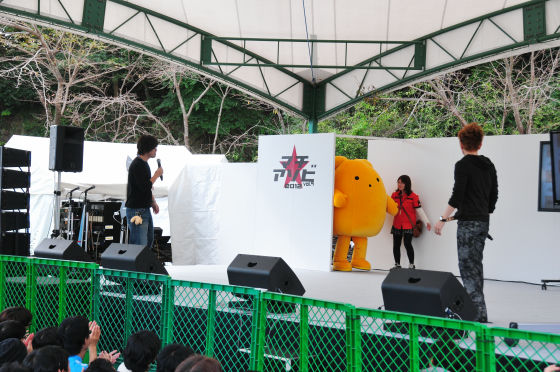 Kondo producer who fiddles with her pretty U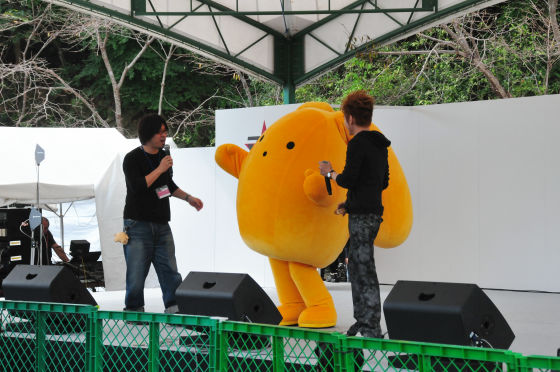 In order to enjoy this time Machi ★ Asobi, and next gore Asobi ___ ___ ___ 0 ___ ___ 0 ___ ___ 0 ___ ___ 0 ___ ___ 0 ___ ___ 0 ___ ___ 0 Was done. By keeping these rules all together, it is said that the event that the distance between the performer and the customer can continue as it is now.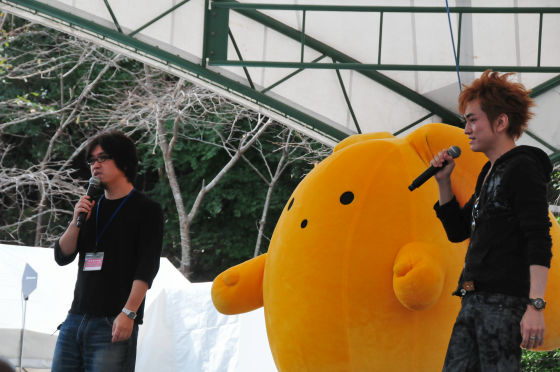 After the opening ceremony, "All-in-one Assortment" was nine times in all of the participation awardsStewardBecause there was a live, there were about the number of people that could be transported by the ropeway.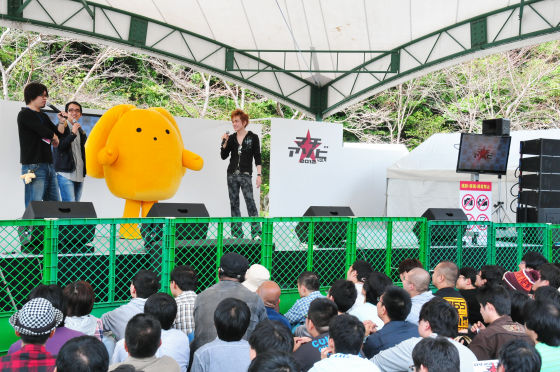 Tsukimane live showed excitement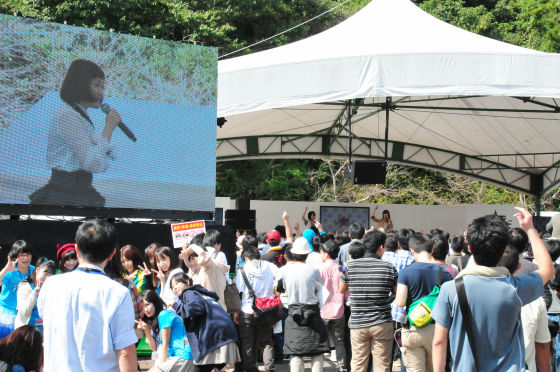 ◆ Iwadaya × Kuroya × Yumekake
On the summit there were 3 stores collaboration ramen limited to gore ★ Asobi only sold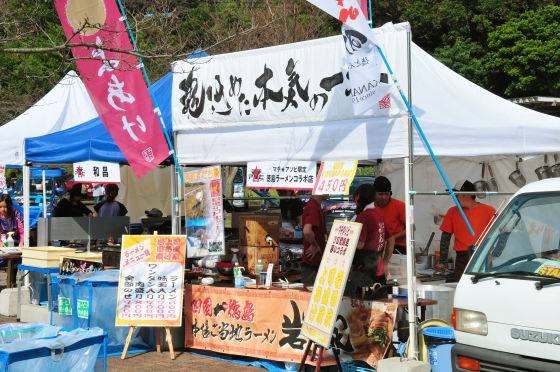 Suki fried chicken throat (400 yen)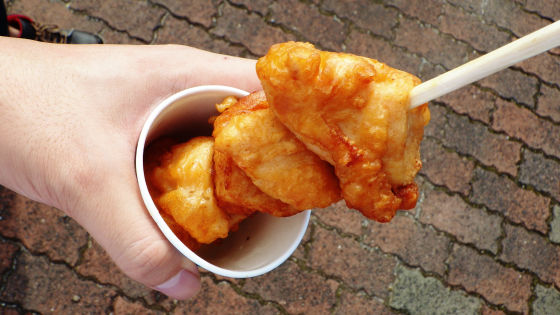 Ramen is 600 yen for Normal, Ajin Ball and Wonton, "All Shirasu" with meat is 900 yen. Kore all the fish.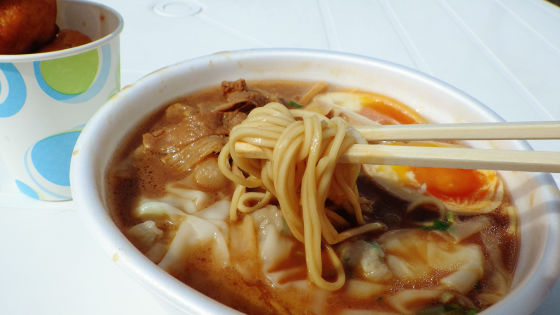 Egg is fluffy with soft whites, yolks are lean.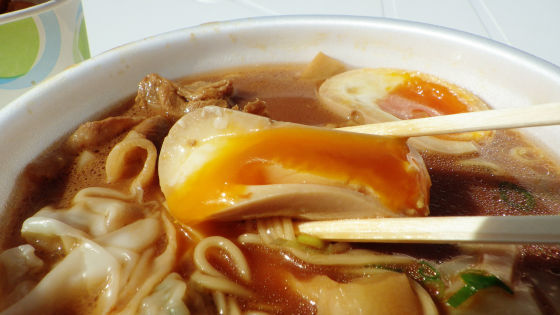 Wonton is fluffy, plenty of meat.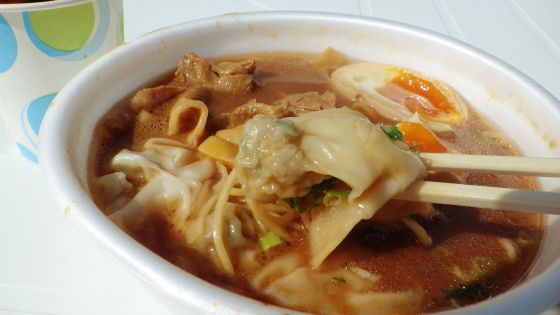 ◆ Banner of "Fate / Zero"
A banner of "Fate / Zero" was exhibited.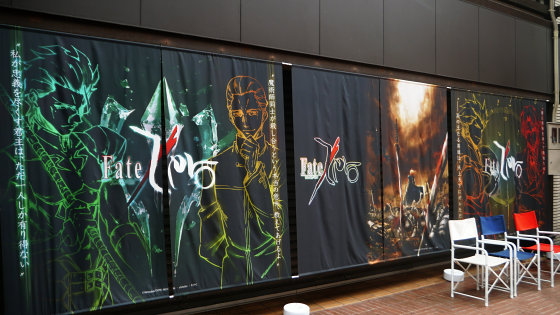 Tokushima Awa Odori Airport "Anime Jack"It was used in the case.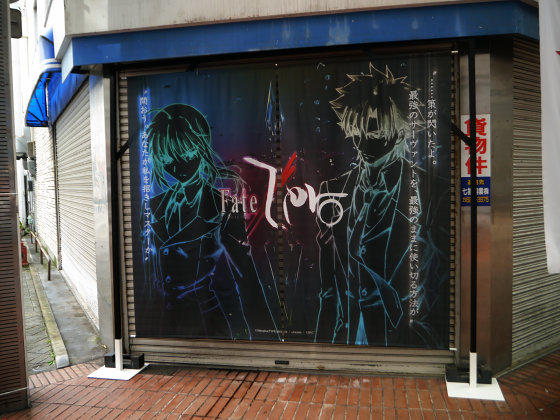 I was able to visit nearby so I was able to take pictures with me in commemoration.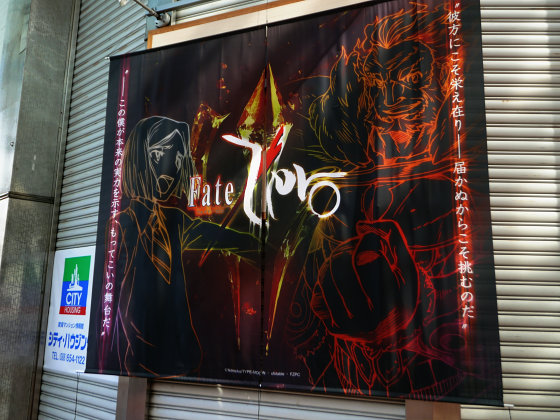 ◆ Animage 1981 September Issue western fukuroku
It was exhibited in a corner of Higashin Shinmachi 1-chome shopping area.



◆ Balloon Takumiyi
"Height is 2.5 meters"Balloon master"CharAppears in the form of.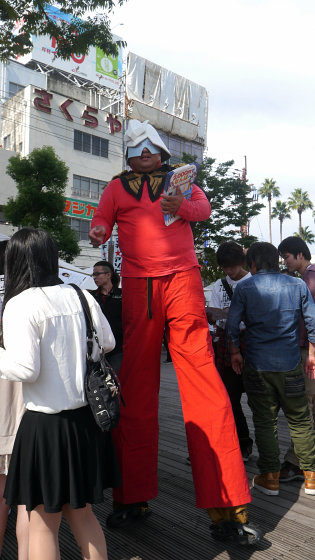 ◆ Yuuma Takahashi Doujinshi sale
Beyond the row ......



Yuma Takahashi, a writer, Aniplex publicity producer Yuuma Takahashi.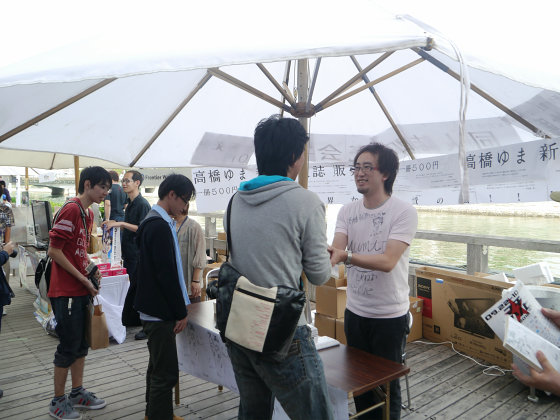 Previous work sold in October 2011It is the sale of the sequel.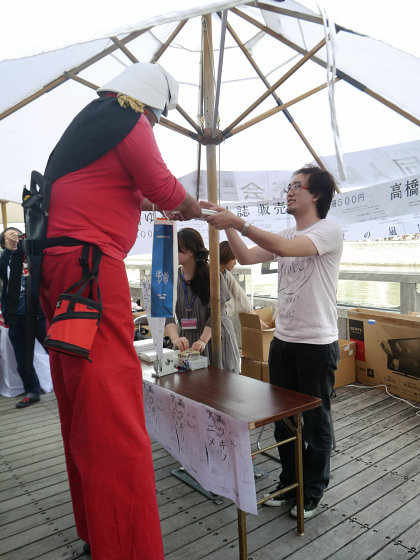 Also the appearance of a fan who presents a bouquet. (※ It went throughAoi EiruHe said that he was)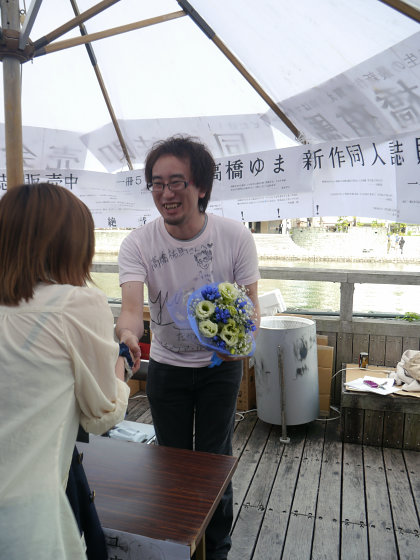 Miyuki Ishizuka who worked on the original paintings such as "Yuki no Anime" and illustration "Fate / Zero".



The book review received is like this ....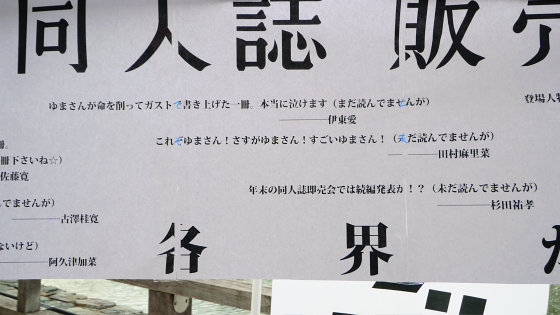 ◆ I will fascinate you! Moe gay back ♪
Publish original drawings of Moe Gee at Poppo Street shopping street.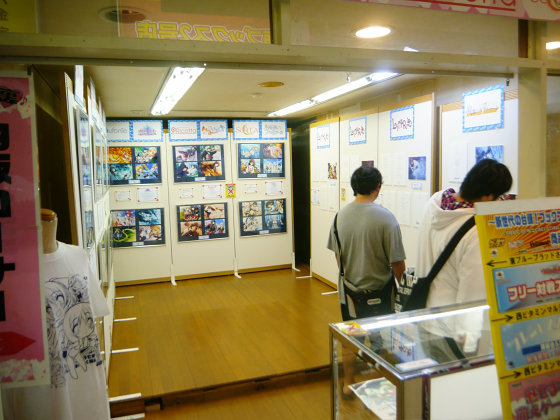 "Flower color heptagram"



"Gakutoun of Huang thunder"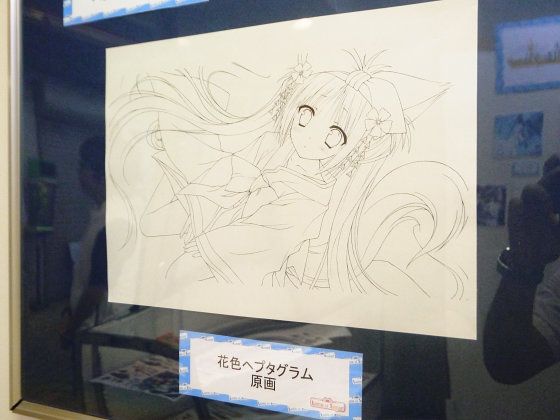 ◆ Joy Squirrel
While walking along Poppo Street shopping street,Joy SquirrelDiscovered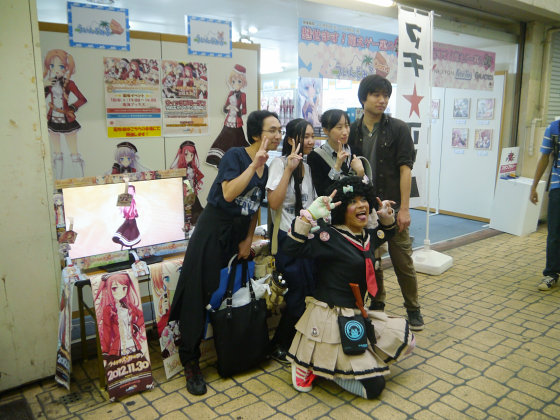 It turned to this pose and decided the pose.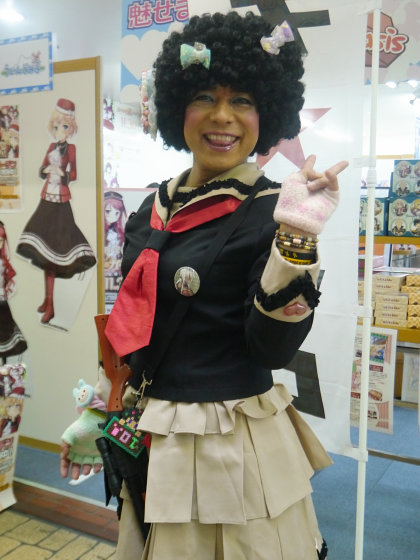 ◆"Tales of Exilia 2" special number ticket

A memorial ticket series that was issued each time gore Asobi was held, this time it was a special number ticket of "Tales of Xillia 2" by the Tokushima City Transportation Bureau. It is 1800 yen with a clear file and a set of tickets.



There are 3 types of patterns on the ticket. Three tickets of 200 yen each are attached, but there are many people who will keep it as a memorial.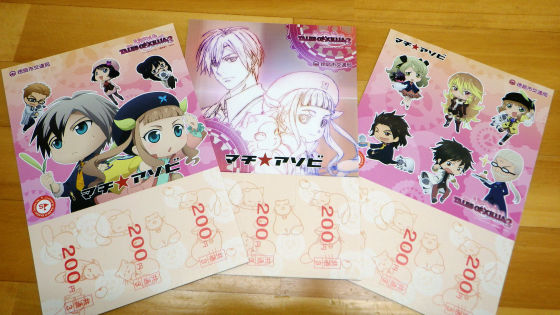 When using it, it is possible to use it at three companies, Tokushima City Bus, Komatsushima City Bus, Tokushima Bus.



In addition, the first day was the mountain top of Meishan, after the second day it was sold at Animate Tokushima and Traffic Department ticket office. Matters were formed finely among live intervals, and many women were seen.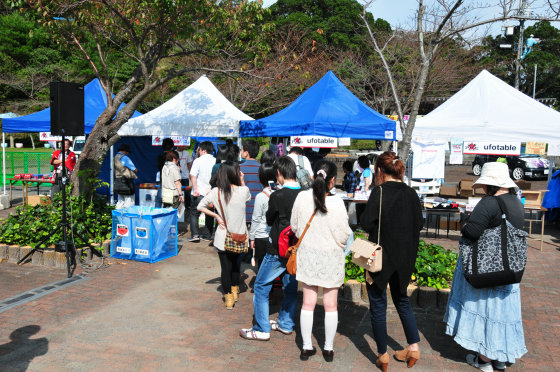 ◆ Guidebook
In commemoration of Machi ★ Asobi vol.9, Guide Book 07 was published. The cover is Airi & Saber.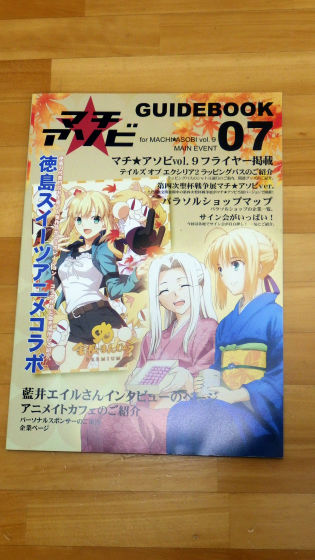 The back cover was released at Machi ★ Asobi this timeDrawing illustrations for collaboration sweets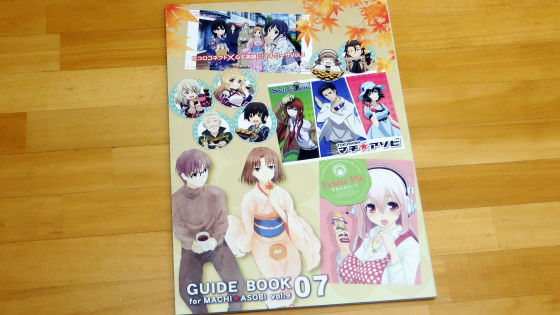 In addition to the contents of the flyer, details of the event held are posted. In addition, guide books 01 to 03UFOTABLE WEB SHOPIt is on sale at.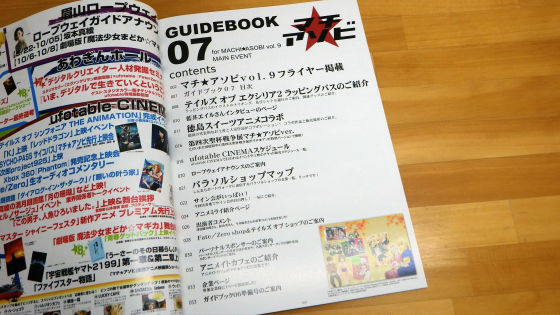 ◆ Live
There were lots of live performances in 3 days. This is a live appearance of Kitamura Eri, something enough to fill the space before the mountaintop stage gathered, and the large screen on the left was helpful since Kitamura's appearance is not directly visible from behind.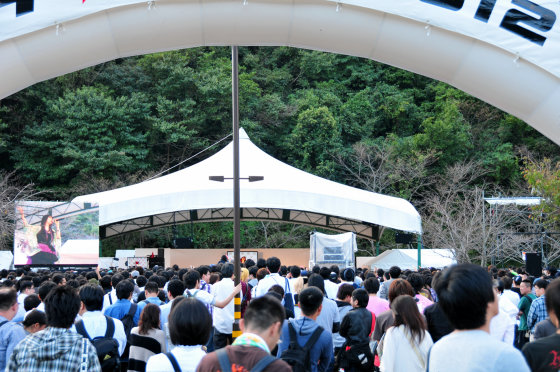 "New type animation awards 2012"Idol Master Live in the middle. Psyllium beautifully colored the night stage.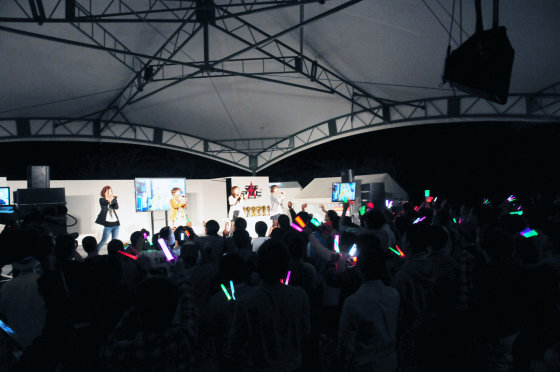 Day 3 Morning idol master live is population density enough to be the largest human being. A well-controlled movement is superb.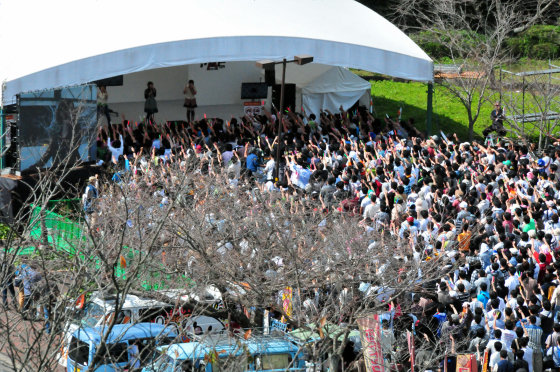 ◆Kondo Hikaru Yamamoto Hiroshi Weiss Schwarz Exhibition Match
Machi ★ Asobi vol.8Industry Participant Talk EventAmong them, there is a story that Kondo producer and director Yamamoto make a confrontation with the card game "Weiss Schwarz"Tanaka BunkeiMr. Mr. san made a proposal as a project, and this time, it is decided that a fight will be held really.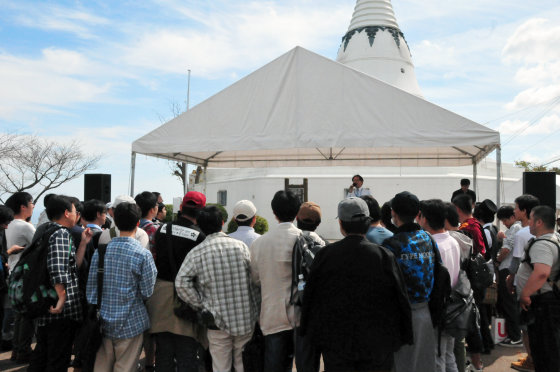 Because just behind this event was an idol master live, Yamamoto asserted that "Everyone, let's go watching live without being meaningful."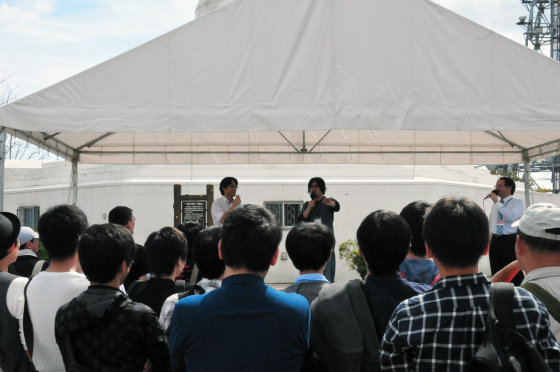 But the table was set and I could not escape any longer.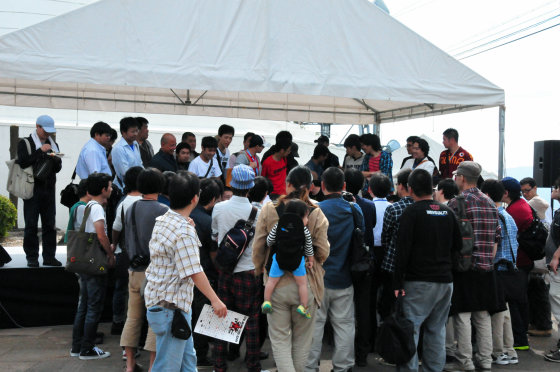 Keep the table close to the stage so that it does not become sunny and everyone is easy to see, so that about half of people can watch from the stage.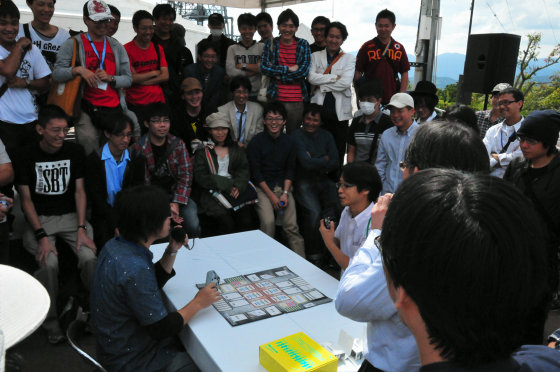 Kondo producer used Fate / Zero deck, and coach Yamamoto used Black ★ Rockshooter deck.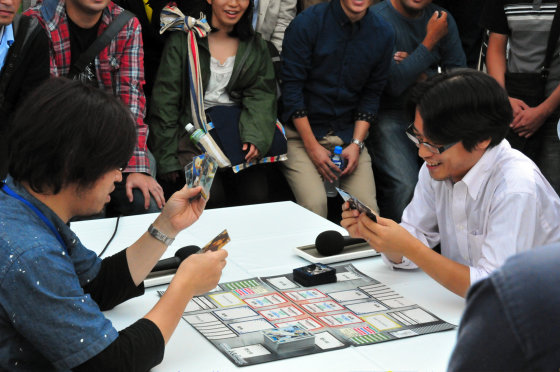 Black ★ Rockshooter's deck was said to be a bit difficult to handle, but director Yamamoto won the battle. In addition, at the talk at this place, Yamamoto's director "fractalWill you buy Blu - ray of Gosho ★ Assobi if you bring it? Many people raised their hands on the question, so the next gore ★ Assobee may have a sales event of "fractal".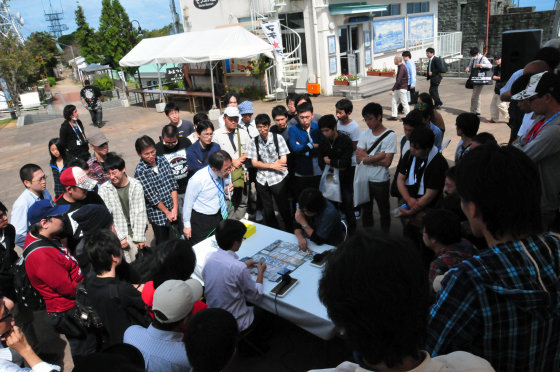 ◆ Space Battleship Yamato 2199 Plenty of Yamatoku
The third chapter from October 13 is "Space Battleship Yamato 2199"Talk event by Hiroshi Ubuchi of the general manager and Mikio Gunji, Production I. G, producer. Because it was before the performance of "THE IDOLM @ STER", the gunji producer expressed myself as "undercut talk", but he received a hot ale from the customer "Do not do that!" By the way, in BizanEleven people were bitten by a hornet on October 7Although there was an accident, "I did not know about (bee) at all, so I came over with such a black appearance," he said.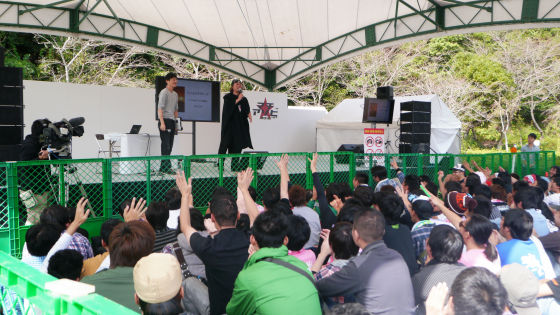 Gunji Producer made it seven years agoProduction I. GAs I heard that he has changed jobs, "IG has a lot of producers." After listening to the story, I thought that there were many producers as an animation company, so I was talking about the fact that it was a producer of Imasu Also. By the way, General Director Takeshi Ibuchi is in charge of character design of ImasuToshiyuki KubokaAnd "Mobile Suit Gundam 0080 war in the pocket"Because it was together, I heard you invited me to do the drawing, but right nowBerserkI heard that he was refused to be impossible because he is supervising him.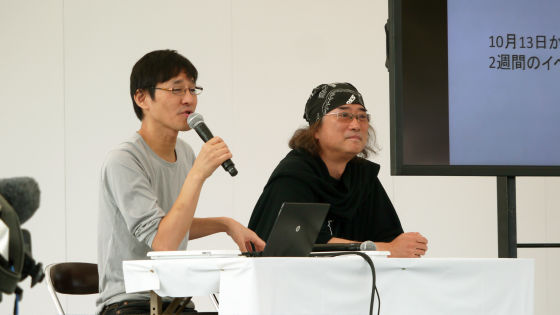 The gigantic Yamato that was installed at Tokushima Awaodori Airport was carried by the county producer. Even though it is in the airport, PV on the airplane exploding on the next monitor is flowing and "Well, it will be fine as it is a space fighter," he said.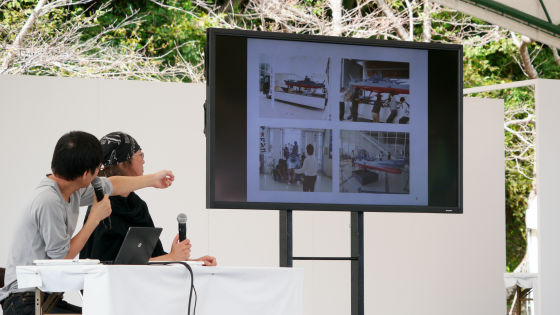 From the general director Mr. Ibuchi, there was a story that the original Space Battleship Yamato was an epoch-making work. Because the time when the first television anime series was broadcast was called "TV comics" and animation was about to be graduated in junior high school students, but works that consciously aimed at higher age groups such as Yamato and Lupine the Third Because it came out. However, in real time it was a disastrous defeat, after the rebroadcasting began it was finally becoming said "awesome", and a sequel has come out. Yamato is its first pattern, and Mobile Suit Gundam will follow a similar pattern in later years. Also, it was Yamato who made the animation soundtrack for the first time, and what succeeded here is leading to the current animation music culture.

After this, the general manager moved to the Tokushima Awaodori airport and talked with the Izumi prefectural governor.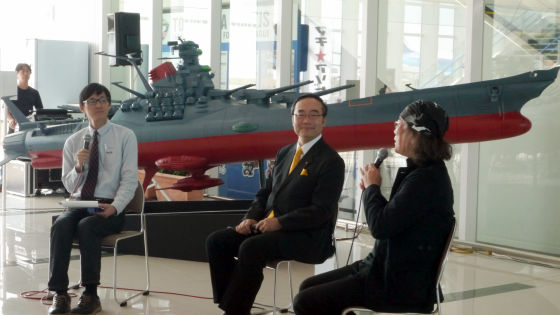 Governor Iizumi Prefecture and General Director Takeshi Ibukuchi.



◆ Spice irresponsible "cardamom"
I arrived at "gamame hunt target shop" cardamom ".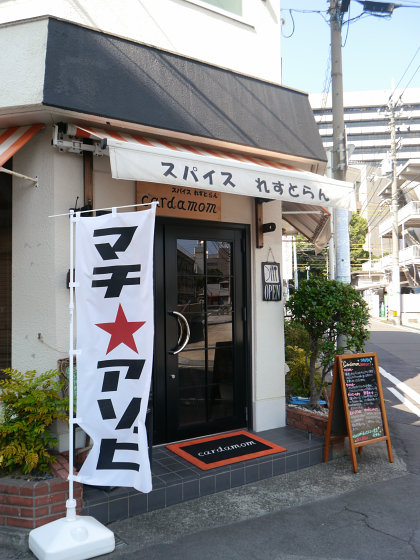 The menu looks something like this.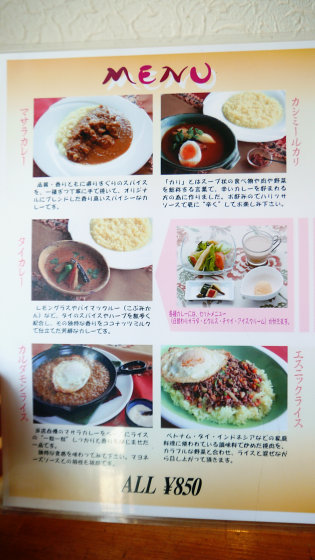 We ordered "Masala Curry" (850 yen including tax) on recommended shop clerk. Pickles and salads also follow.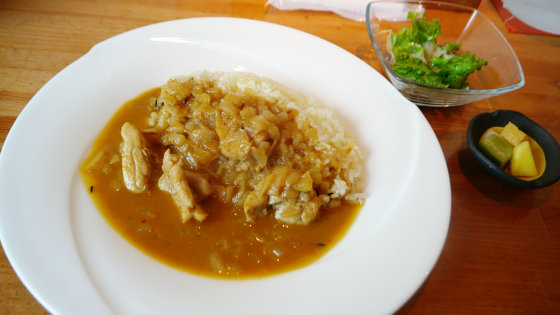 Spices are working fairly well, which goes well with the meat.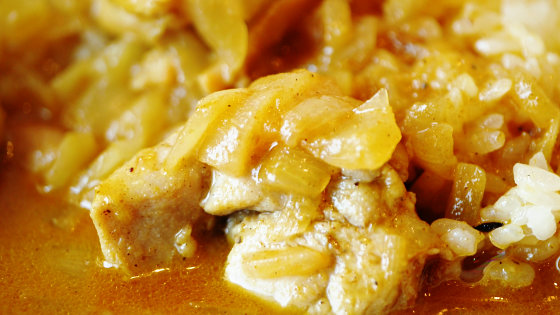 There is a spice box, you can eat seven kinds of seasonings at your preference.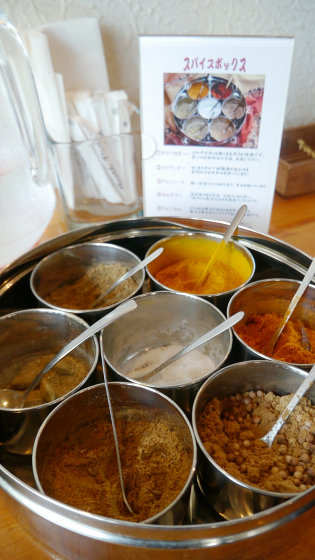 I tried "Chili Powder". The taste is tightened by the hot spicy, which enhances the umami of curry. It is quite painful so I recommend you to adjust while adjusting little by little.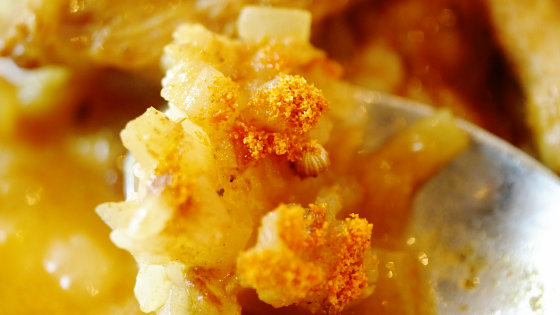 Chai and ice cream after eating. Eating authentic spice curry, content of the set is also substantial, tummy is very satisfied.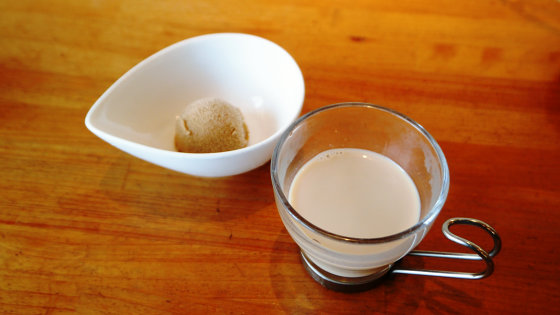 After finishing eating "Cherry TemperatureI got a postcard of.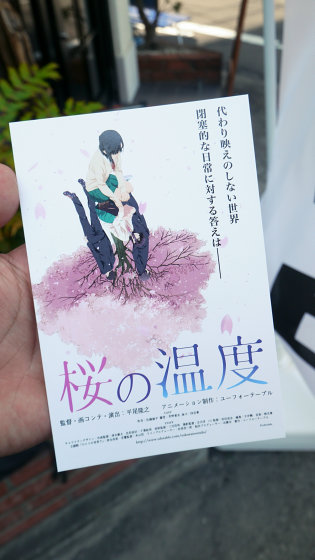 ◆ "This boy, mermaid spread.Talk event
Deeply debut with "I can fight this boy, aliens."A talk event of Yamamoto Aomi's new work, "This boy, mermaid spread" was held.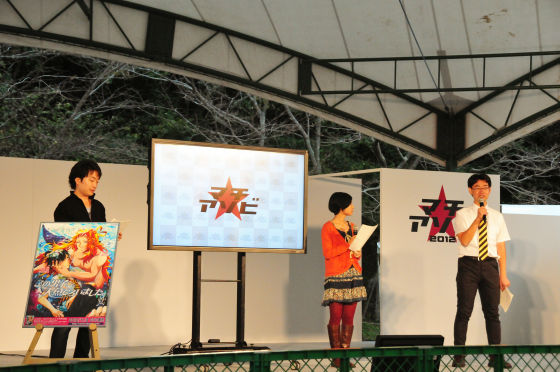 Contrary to director 's deep knowledge of BL, Sakai producer is not very familiar with BL, so easily use the symbol "x" indicating coupling at the time of the previous work' s promotion, and rush the protest from the director He said that he received it. In this work is castKaji YukiWithMidorikawa MikawaI am greeting you.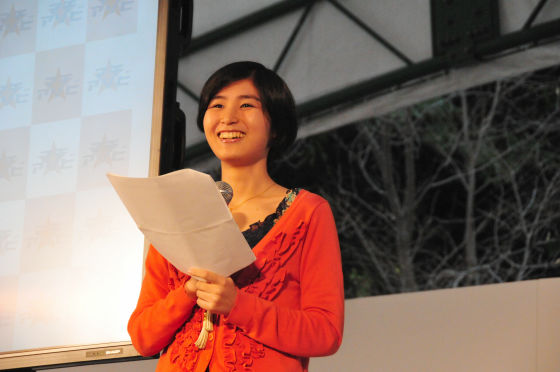 ◆Anime Mirai"Death billard" Director Takekawa Talk event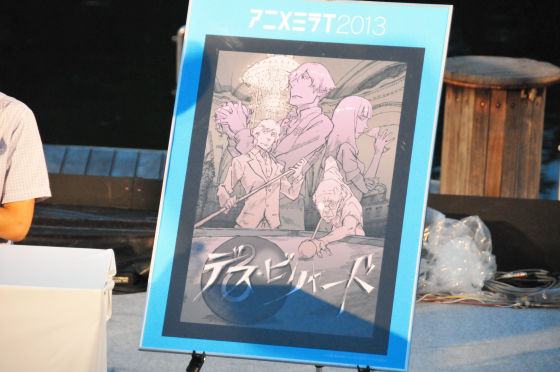 Project manager of animation Mirai ·Daisuke OkudaMr. Tachikawa made a talk show with the director.



Unfortunately it was raining in a little rain, but enthusiastic fans and anime Mirai reporter candidates were listening.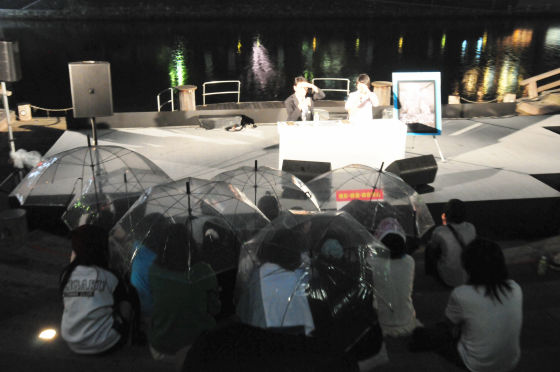 ◆ Animation Mirai Official Reporter Audition & final selection
A project to widely recruit 5 people who will report their progress at the Agency for Cultural Affairs Young Animator Development "Animation Mirai". Ten audiences who passed the document / interview selection from a total of less than 70 applicants took place at the summit Pagoda plaza.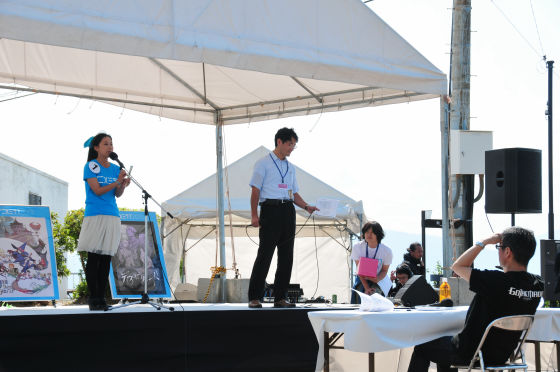 The candidate is from the left of the photoLUPICAMr.,Mayu MitsukawaMr.,Emiko KimuraMr.,KasugaMr.,Green leavesMr.,Liu SeiraMr.,Rie IsooMr.,Yanagawa AkariMr.,Kyoko NamerikawaMr.,Maika TakaiMr.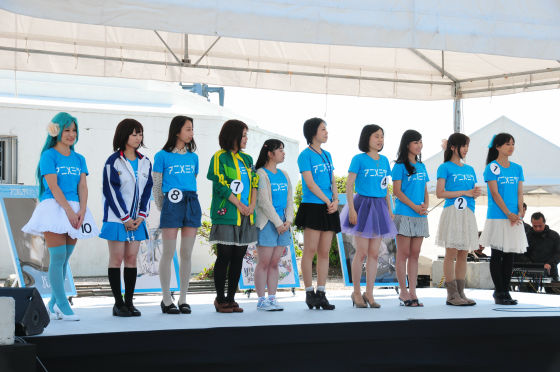 It is the international university GLOCOM visiting researcher who is in charge of the examination and Dwango'sBoundary Sumire, Representative of ufotableKondo HikaruProducer, Kadokawa ShotenShinichiro InouePresident.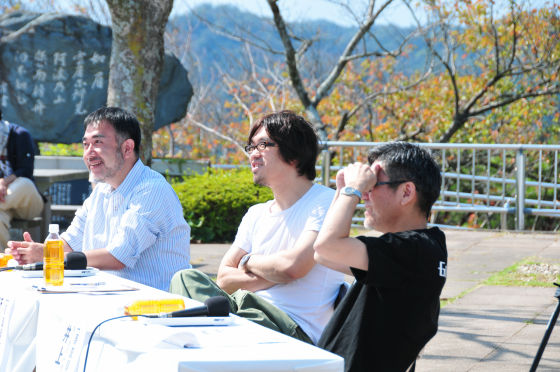 In the audition, a one-minute self-publication and answers to questions from two of the four judges, the two judges and Twitter, were held.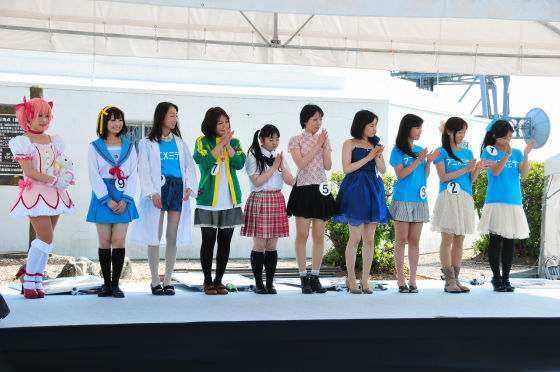 And the result of the audition is announced at the Bizan Mountain Forest Stage.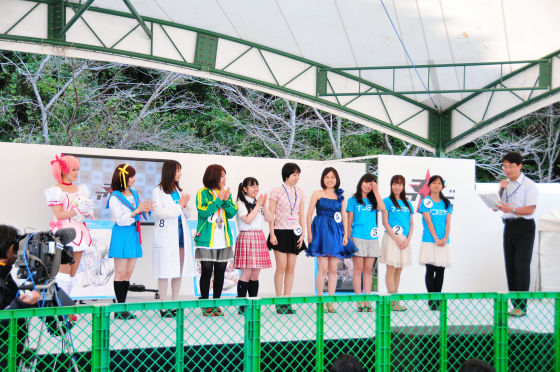 Mr. LUPICA, Mr. Mitsukawa, Mr. Kasuga, Mr. Yanagawa and Ms. Takai were selected as reporters. Five people will be responsible for the four companies that are making animation and the secretariat, and will report until Animation Mirai is released.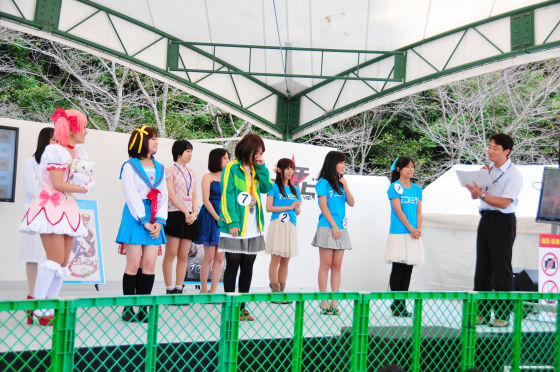 Celebrating the passing, the guests also took a commemorative photo.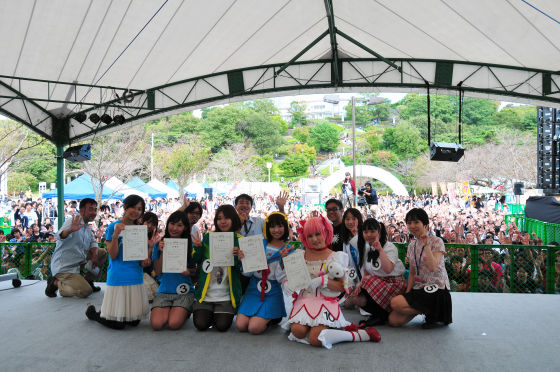 ◆ Digital Creator Training Course Presentation
Ufotable is a recital for digital creators development lecture which elementary school students ~ high school students in Tokushima are targeting. It is a lecture to learn from basic points of animation, but this time, in the upper class, it was until we made short films.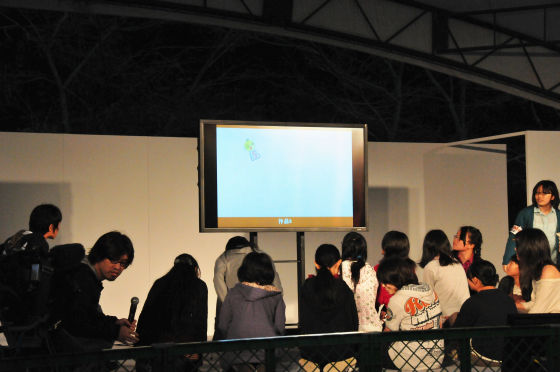 There is an opinion that the thing that I drew on animation was touched by the opinion that there was a voice that I realized how difficult animator is. Kondo producer said, it is wonderful if animators really come out of the children who received this course someday, it would be great if they would be on the side to submit works to this machi ★ Asobi.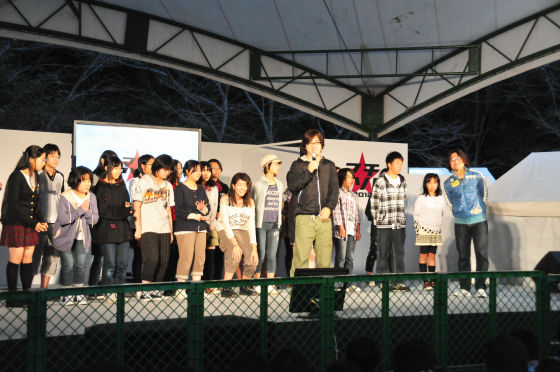 ◆Other
In addition to Tokushima prefecture Kagawa prefecture, Ehime prefecture Movement selling crepes "SWEETS WAGEN"Is a regular store of gore ★ Asobi.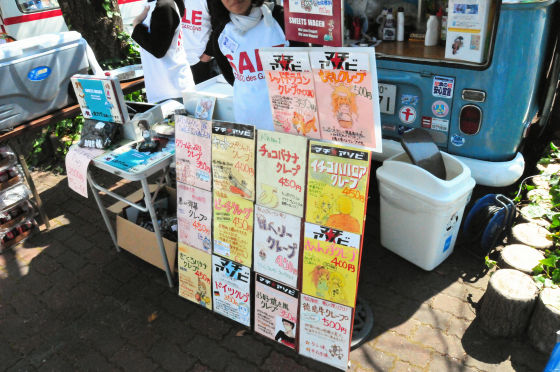 Every time I participate, the original menu is increasing.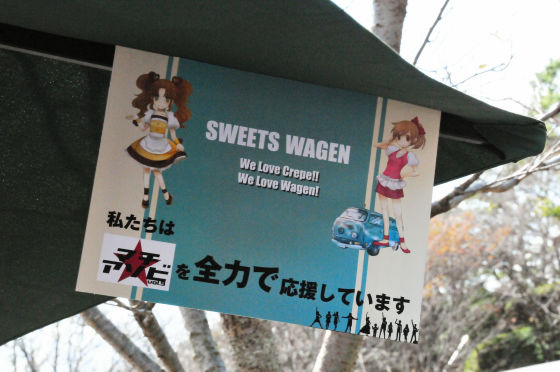 We ordered Yamato crepe with motif "Space Battleship Yamato" which is a recommended menu this time. Crepe is imagining Yamato overturning in the sea of ​​Gamirasu, the strawberry riding is the third bridge.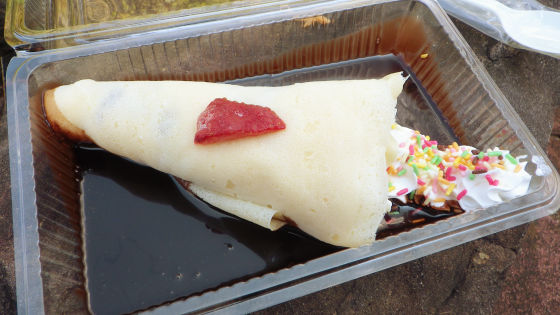 It was a dish of plenty of sweetness, full of plenty of crepes in the ocean of chocolate.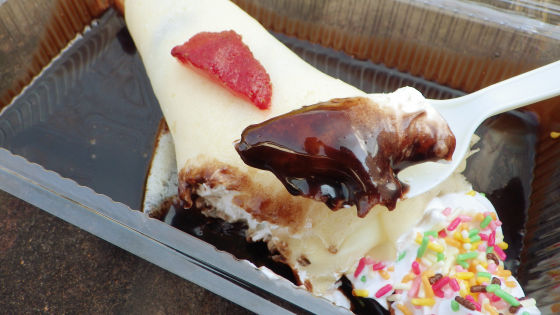 This is role-playing fiction "Red Dragon"Red Dragon crepe that imaged.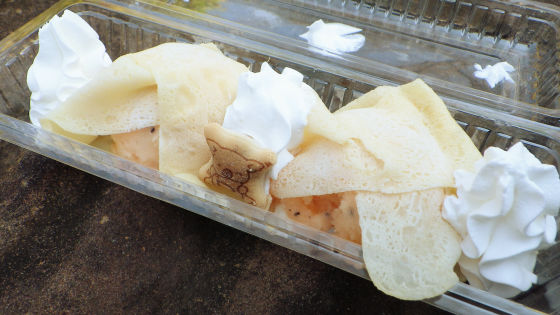 It is a cold and refreshing dish with two sherbets in crepe's fabric.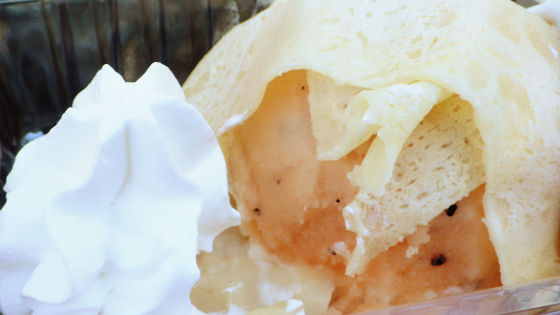 Machi ★ During the Assovi period,Euphor table cafeI am crowded. Therefore, this time I ordered "Machi ★ Assobi Curry" at a business trip store at the top of the mountain.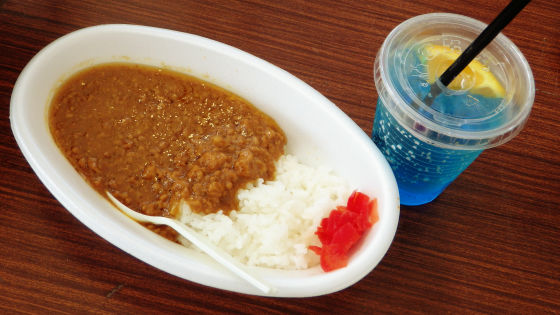 Dry curry using plenty of minced meat.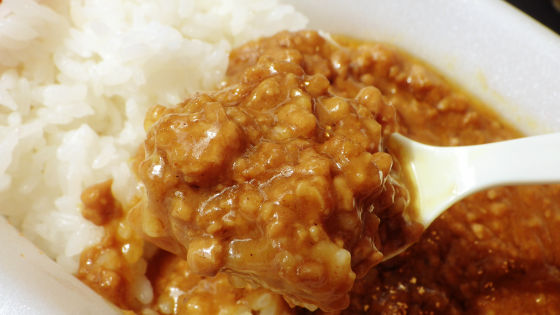 The drink is a pure blue carbonated "Saber drink." It is with a coaster.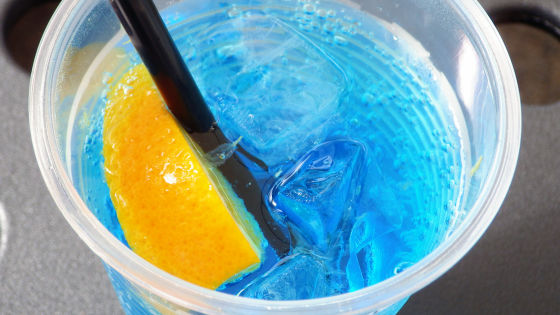 The Tokushima newspaper distributes "here only newspaper" as an outrage, but since there is a possibility that it will be bent during the event, we started selling original clear files from this time so that it will not be such a thing. There are 3 kinds, one 300 yen.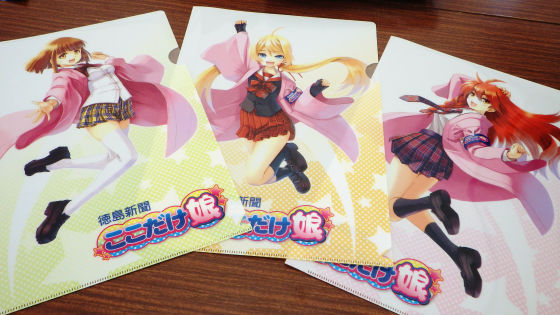 The size is A4, the size where the newspaper just enters here.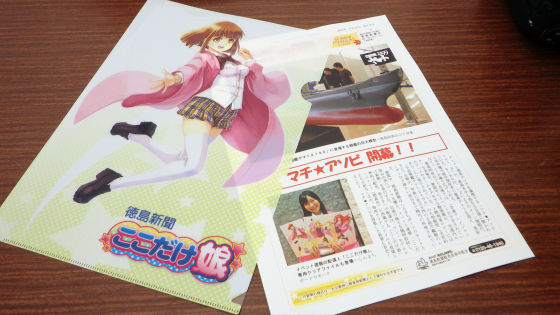 A few transportation methods lined with ropeway are shuttle buses. It is about 30 minutes between the Awaodori-kaikan and the "Kanpo no yado front" located near the summit. The fee is 200 yen per time.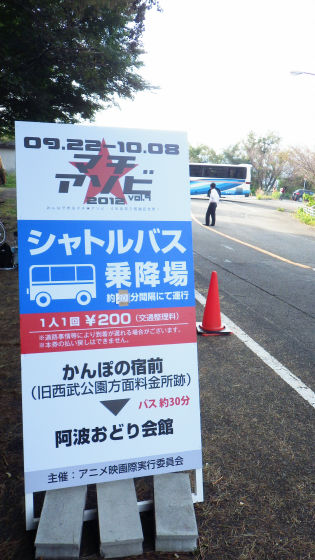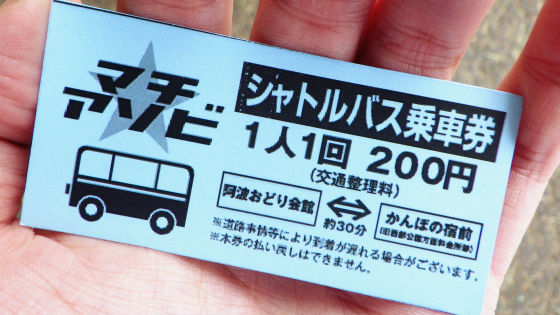 There is a case that "Kanpo no Yado front" is slightly more distant from the top of the summit plaza, about 5 minutes on foot, so it is less crowded than the ropeway.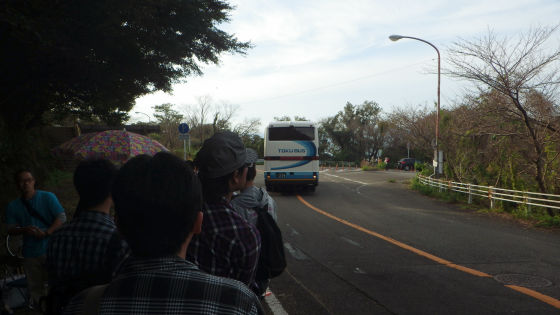 ◆ Finally
Luxurious members gathered this time in the "industry stakeholder talk event". Talk about miscellaneous topics such as the story of "Kondo Hikari vs Yamamoto Hiroshi", gossip ★ Asian 9th impression, anime being broadcasted, etc. from the new type animation award just been done until just before the end of this event It was unfolded.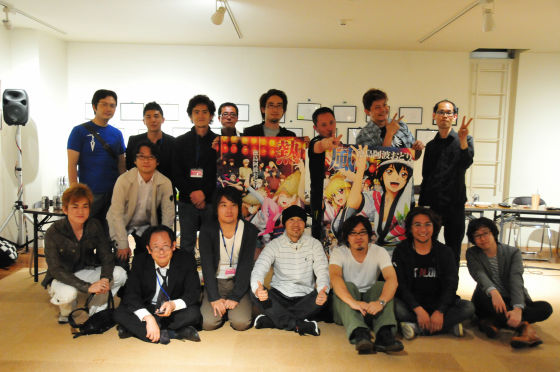 Kondo producer is always saying that it is not an objective to enlarge the event for gore ★ Asobi, but to always want to aim the people who can come and enjoy it, but this time in Machi ★ AsobiThe number of visitors is 52,000And it is also true that the number of visitors is steadily increasing. Next time, Machi ★ Asobi vol.10 to be held in May 2013, it should show more power-up things.