I actually tried to defeat Google tablet "Nexus 7" that I can buy at the 10,000 yen level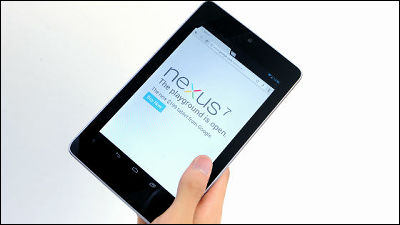 In overseas, "already released"Nexus 7"Even in Japan"Google PlaySince it was possible to purchase from "16GB model I bought it for 19,800 yen. The order was made at 9:23 am on September 25, and the real thing arrived at the editorial department was noon on the 26th. It will be arrived at hand at about 30 hours after you punch the purchase button, so you have arrived at a tremendous speed. The reason for arrival by haste is that it will be automatically shipped from Hong Kong to Guangzhou of China and Japan, with a plan arriving in about 2 business days called "Fedex International Priority" by Fedex (FedEx). Nexus 7 is free shipping, but in reality this shipping cost should be around 7000 yen, considering that it is considerably advantageous to have 19,800 yen including shipping fee.

◆ Photo review

I arrived in a cardboard box like this.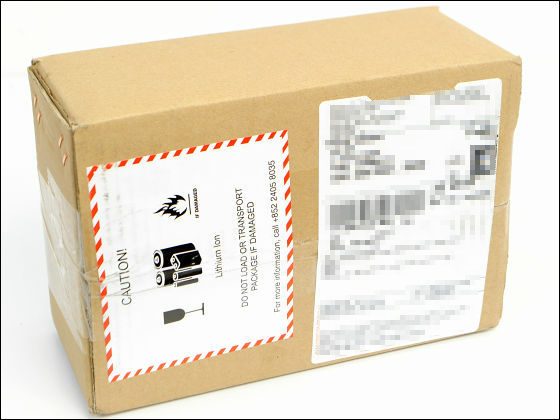 The package is as follows.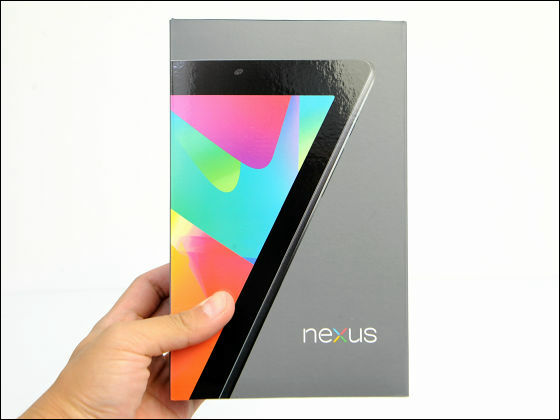 "X" is a green color of blue red green yellow, "nexus" mark.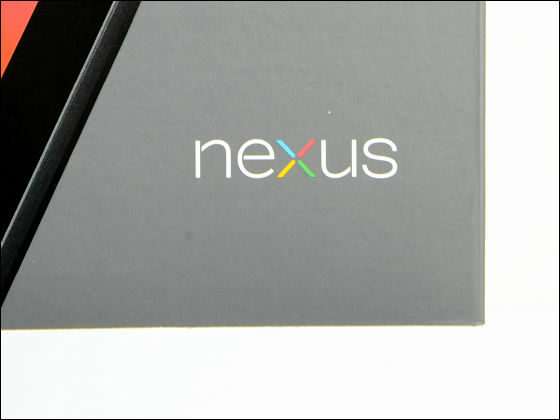 On the side is attached the letter "nexus 7" and the logo of "ASUS" who was responsible for the manufacture of hardware.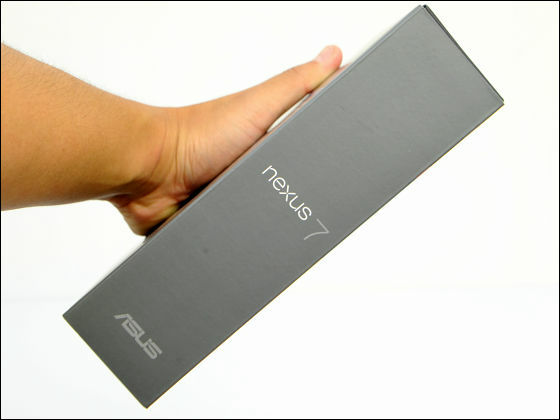 I pulled out the inner box.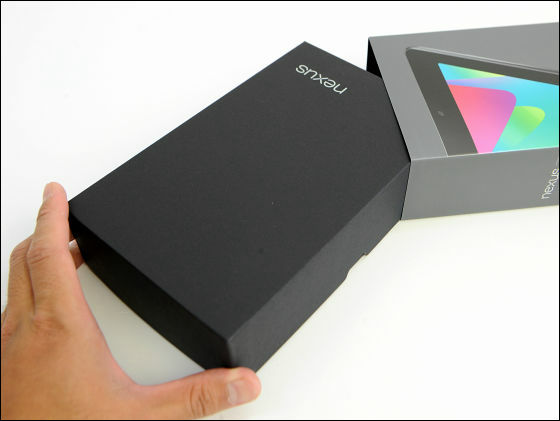 Simple design where the character of "nexus" entered in one point on the chic black design.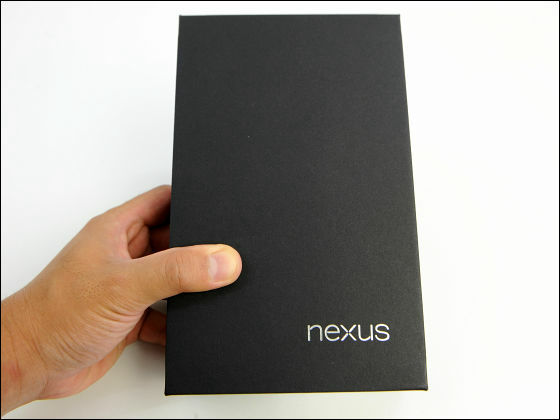 Pad.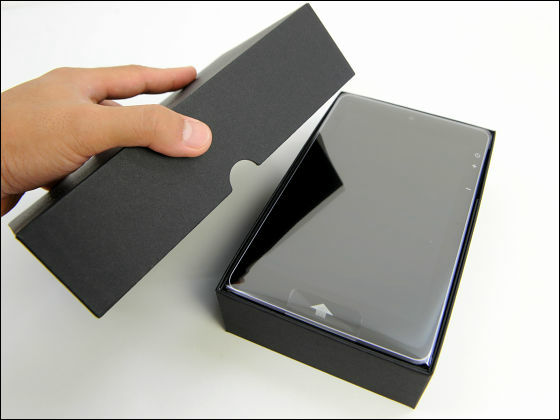 Since you have a hand holding the film wrapping the main body, it can be taken out easily.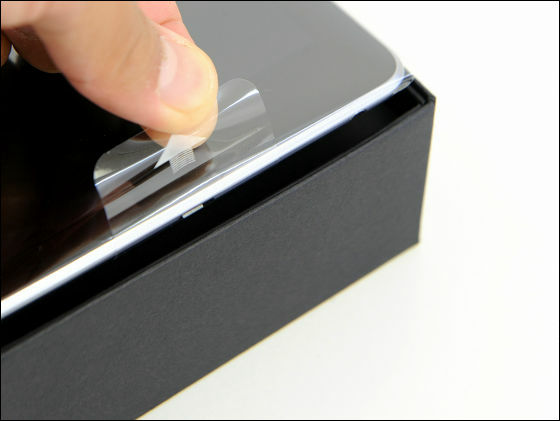 "Nexus 7" wrapped in film.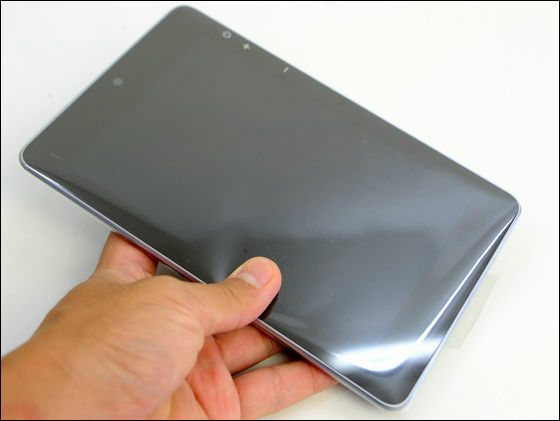 Below the main unit there is a box with accessories.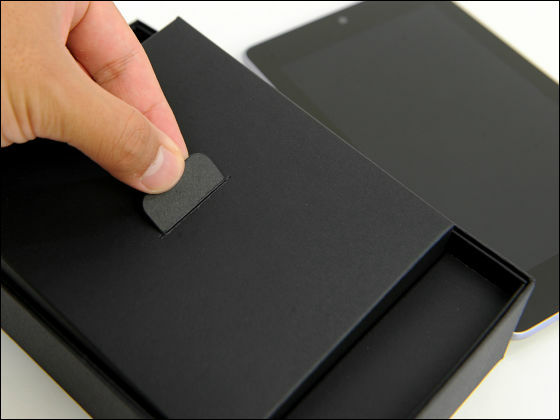 Contents include charging adapter, USB cable, instruction manual.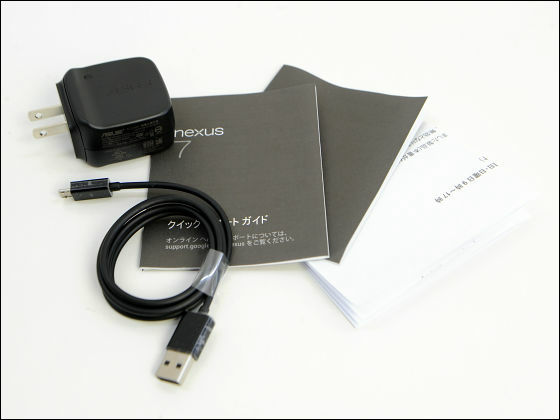 The instructions are properly Japaneseized.



The actual weight of the main body is about 335 grams.



It is about 400 grams including the adapter for charging and the cable, less than half the weight of a lightweight notebook PC such as general Ultrabook.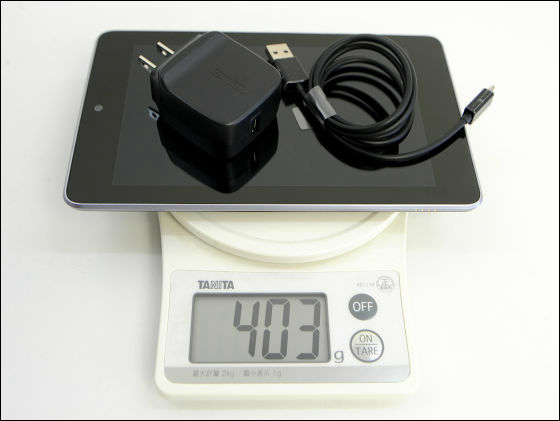 The size is 198.5 × 120 mm in length, and if you are an adult male, you can hold one hand with enough margin. The 7-inch IPS display has a backlight of 1280 × 800 dots (216 dpi), and the top has a 1.2 megapixel front camera.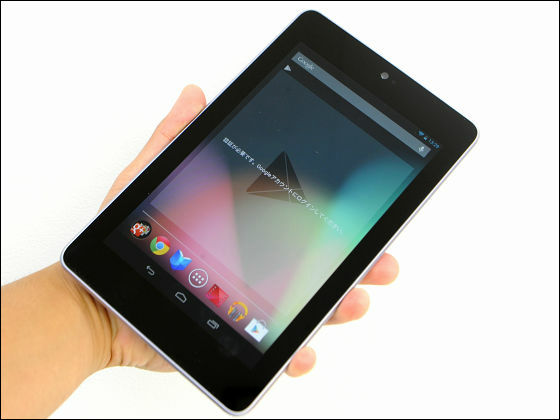 Here are the places listed side by side with iPad (left), Nexus 7 (middle), iPhone 4 S (right). You can see that Nexus 7 is just half the size between a smartphone and a 10 inch tablet.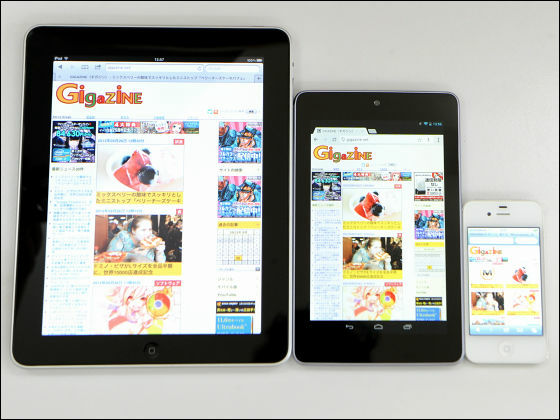 The thickness is 10.45 mm and slightly thicker than the iPhone 4S.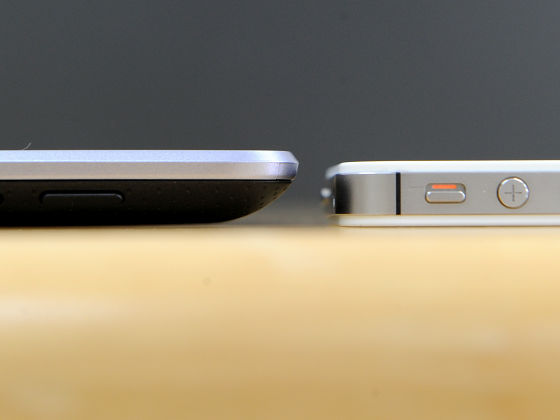 Edge is attached around the display in two steps, and a sharp impression.



The back is like this. The NFC area is around the logo of "nexus" at the top.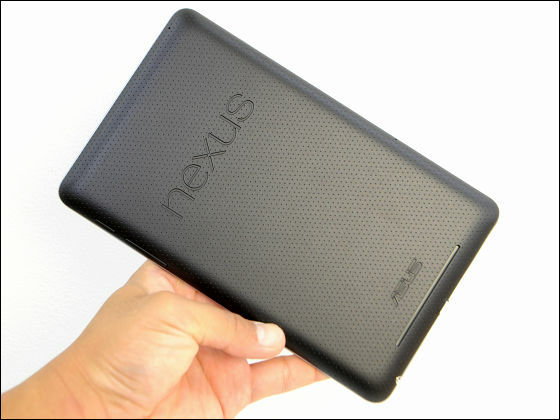 Fingerprint is almost inconspicuous because it is matte black, it is possible to grip steadily because anti-slip processing is done.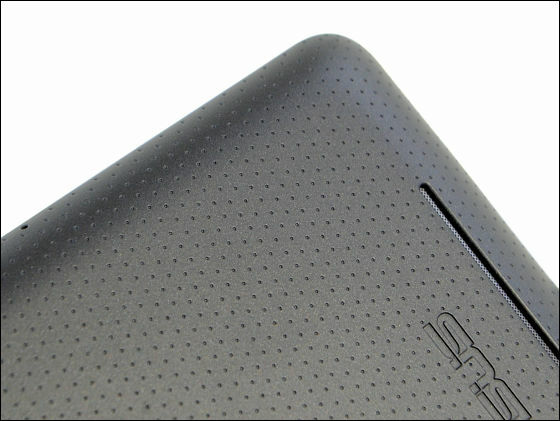 The speaker is mounted on the bottom. Even if you place it on the desk with the back side down, you will be able to create a gap, so the sound will never get smaller or muffled.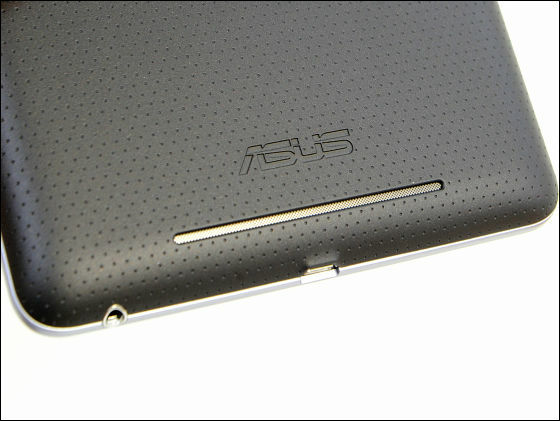 At the top is a microphone at the right end.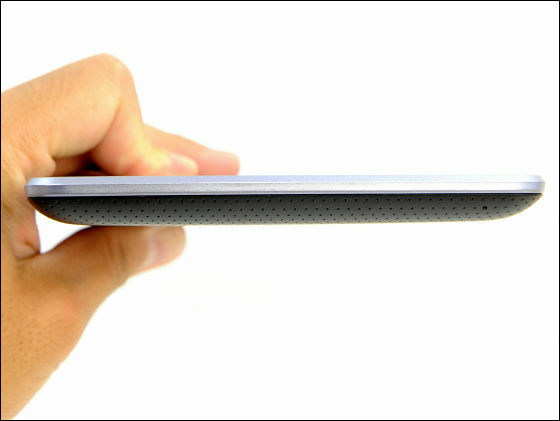 The right side is equipped with power supply and volume button.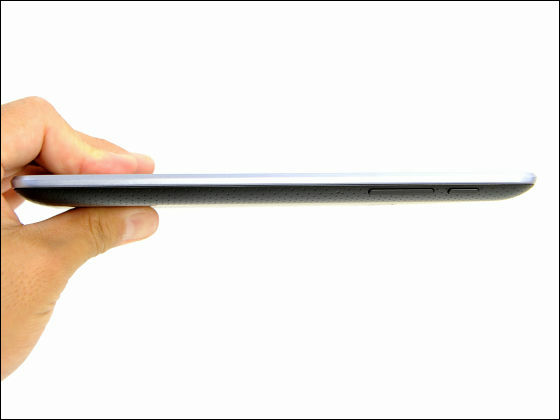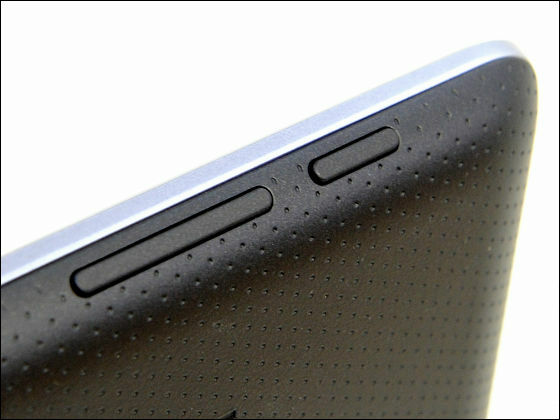 There is another microphone and 4 pin connector on the left side.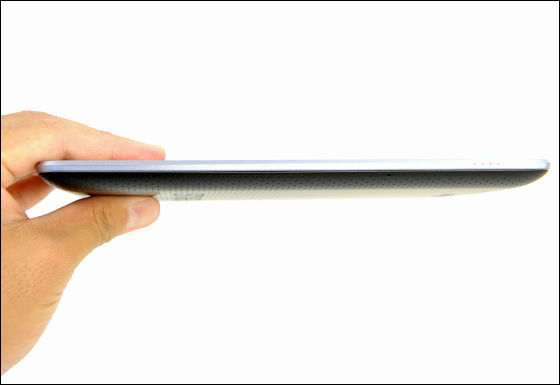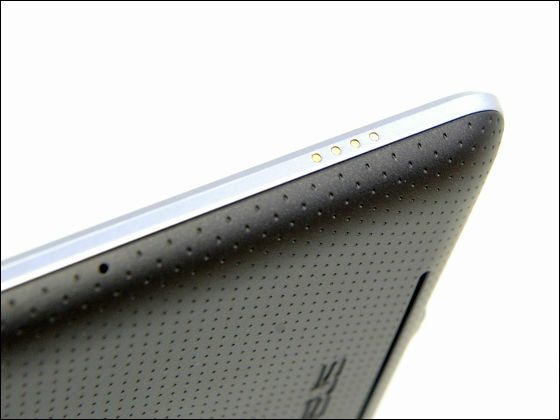 Micro USB port and 3.5 mm headphone jack on the bottom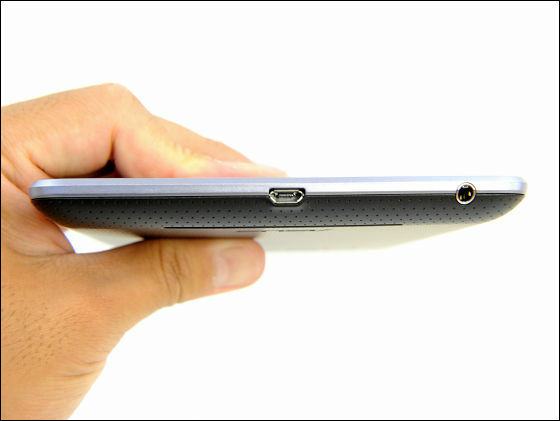 Inside is equipped with quad-core Tegra 3 processor, 1 GB of RAM, 16 GB of storage, battery capacity is 4325 mAh and nominal battery driving time is up to 8 hours. It supports 802.11 b / g / n, Bluetooth, it has an accelerometer, GPS, magnetometer and gyroscope.

◆ I tried using

When you type a letter with your thumb while holding both hands like this. Since the screen area is nearly four times as large as the smartphone with 3.5-inch screen, input of the software keyboard is also easy.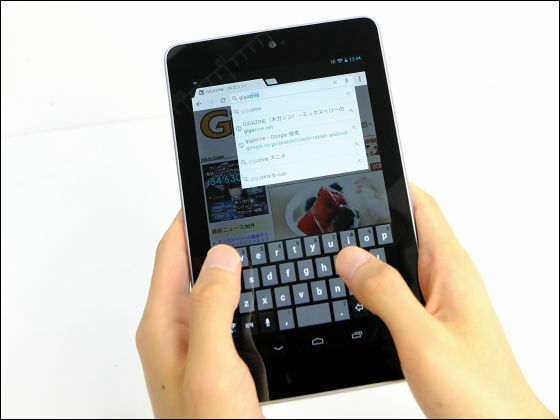 In the case of holding with one hand, fingers do not reach the keys at the end unless they are very big hands, but it is convenient when reading e-books etc. because they can have it without difficulty in terms of weight and size.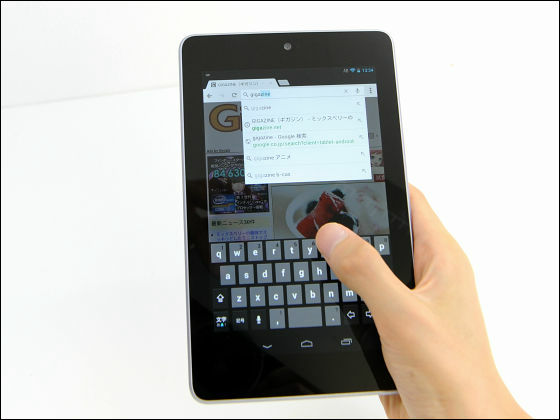 I tried using the browser sideways.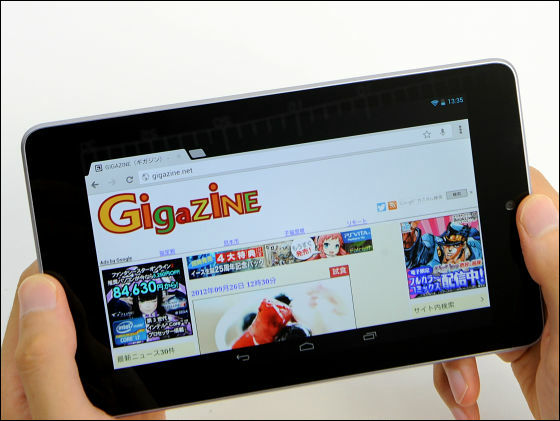 Even in landscape orientation, you can use a software keyboard, but it's pretty cramped and usability is not good.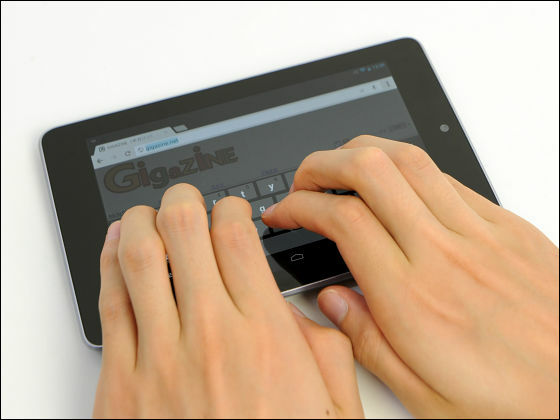 Please check below for the way you actually view Google News on Chrome preinstalled and playing YouTube movies.

I tried Google News on "Nexus 7" Chrome - YouTube


You can see how you use Google Maps with crispy below.

I tried using Google Maps on "Nexus 7" - YouTube


When opening the electronic book "Kokoro" preinstalled on Play Books, it looks like this.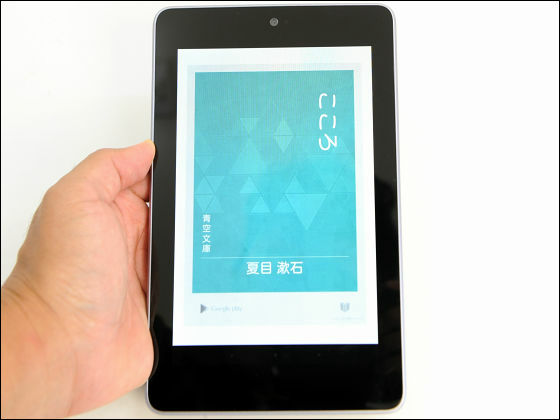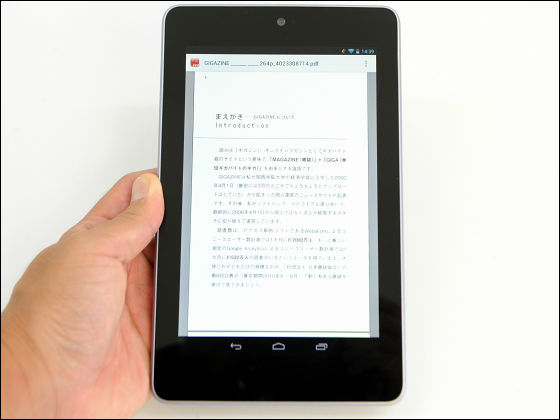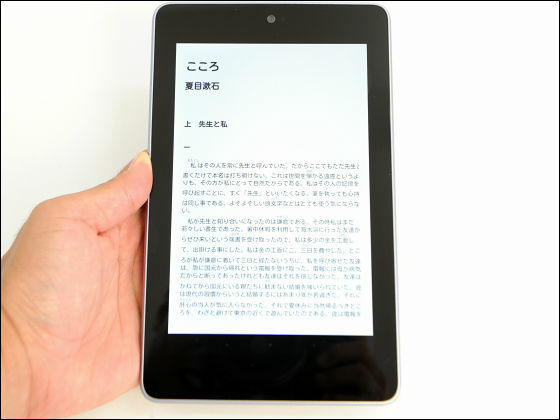 The movie that shoots the movement of the leader reproducing the movement like turning the page with a book of paper with the null null is as follows.

I have read one e-book on the 7-inch tab "Nexus 7" where one hand holds ease - YouTube


In addition, when you purchased "Nexus 7" early, "Google Play Books" does not support vertical writing, so I tried updating the application.

Launch app on Google Play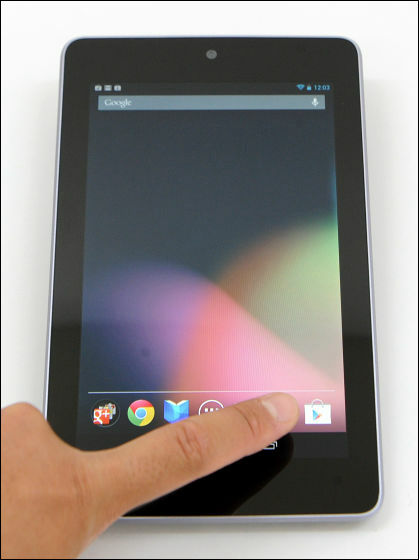 Search apps on Google Play Books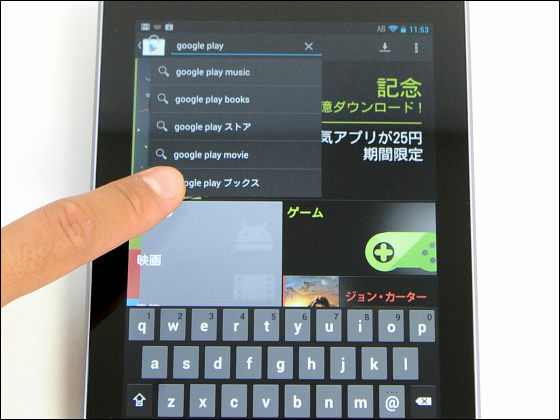 Tap to select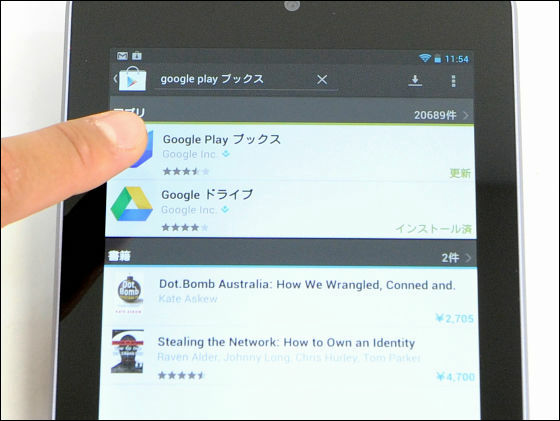 Tap "Update"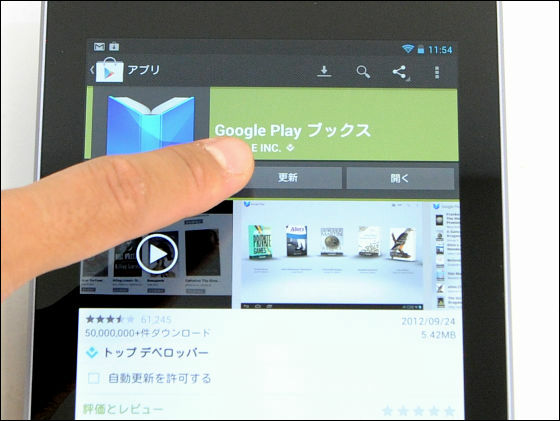 Tap "Agree and Download"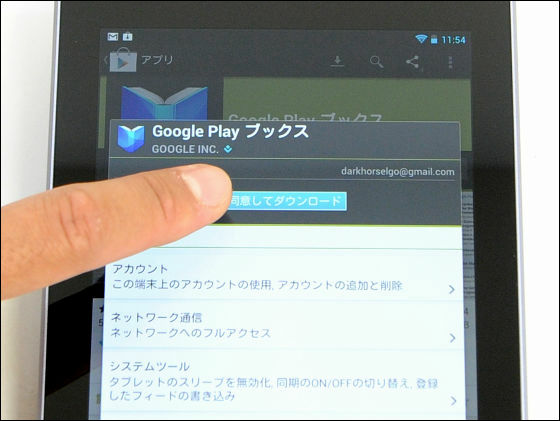 Updating progresses like this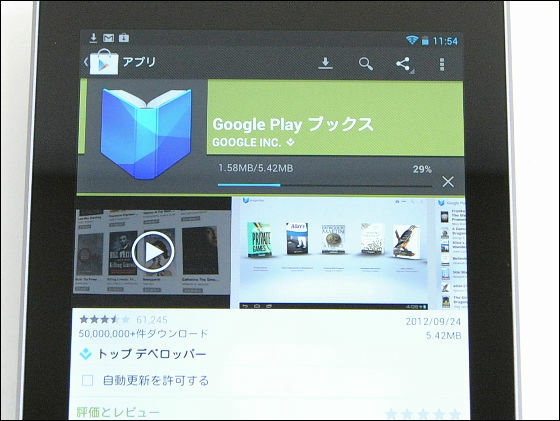 When you start Google Play Books after updating it is properly written vertically.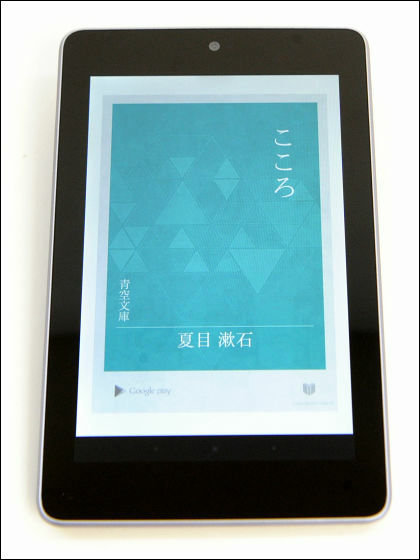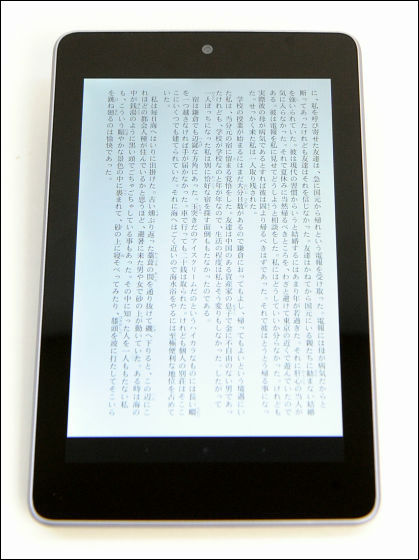 I tried using "Nexus 7" Play Books in portrait view - YouTube


Also, please check below to see how you are reading books that you have cooked by going to Google Drive.

I tried self-cooked e-book on Google Drive "Nexus 7" - YouTube


Although it is a specification which is not compatible with 3G / 4G communication and not equipped with an SD card slot and a rear camera, it is a specification which is precisely divided, but it is a 7 inch size easy to hold one hand, as well as a price to cut off 20,000 yen, so commuter train Attractive size convenient for reading e-books and websites and quickly picking them out and checking the map while traveling. People who feel that the iPad is too big and feel smart on the screen of the smartphone is a product of need check.

· Next article
How to use "Nexus Media Importer" application that makes USB memory readable with Nexus 7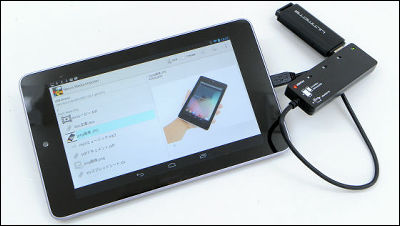 How to use a super lightweight notebook by connecting a mouse or keyboard to "Nexus 7"