Team guidance from SOFTBANK's smartphone trade-in program from the Metropolitan Police Department, switching from today to a new procedure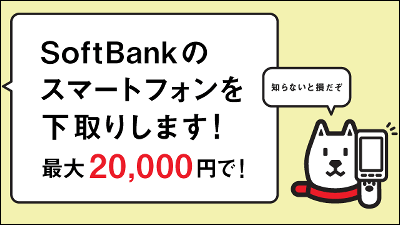 On September 19Softbank Mobile conducts tethering on iPhone 5 and various campaigns, But it became clear that he received guidance from the Metropolitan Police Department about the "smartphone trade-in program" announced at that time. When I contacted SOFTBANK MOBILE Public Relations Division, I received the guidance from today 's reception and it has been revised contents and there is no problem, but I am considering the procedure for minutes up to the 24th.

Smartphone trade in program: campaign information | SoftBank Mobile

This program is for people who purchased new 4G / 4G LTE compatible smartphones by new contract, carrier transfer (MNP), model change. It trade-in the smartphone which used conventionally. In addition to new models such as 20,000 yen for iPhone 4S 64GB model and 18,000 yen for 32GB model, it is also targeted for Android smartphones made by iPhone 3G / 3GS, HTC or DELL.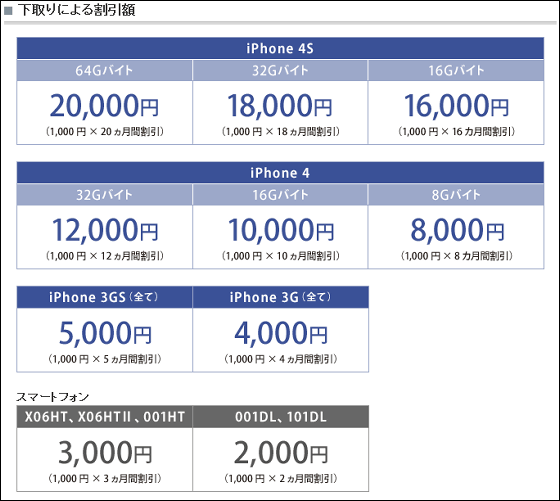 However, as pointed out by the Metropolitan Police Department, trade-in of second hand goodsAntique business lawAlthough it is necessary to obtain permission from antique dealers from the prefectural public safety commission of each sales office by SOFTBANK MOBILE, SOFTBANK MOBILE did not get permission.

"I waited" for iPhone trade-in ... The guardian of the Metropolitan Police Department: Society: YOMIURI ONLINE (Yomiuri Shimbun)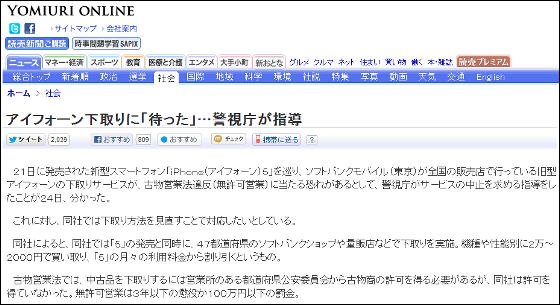 GIGAZINE editorial department interviewed the Softbank Mobile Public Relations Department, as I mentioned above, I acknowledged that there was an indication from the Metropolitan Police Department.

However, we have reviewed the method already under guidance from the Metropolitan Police Department, and it is said that it has already become a new trade-in procedure from today. When I look at the site, there is a wording that the purchaser himself / herself sends a target trade-in model to SOFTBANK TELECOM as a prerequisite of "program premise" after signing up. SOFTBANK TELECOM received antique dealer permission from the Tokyo Metropolitan Public Safety Commission, and it seems that this method got permission from the Metropolitan Police Department.




According to SOFTBANK MOBILE Public Relations Department, this guidance stopped trading trade-in, there was no stopping of what we already accepted, and there is no change in trade-in price. However, as for the thing which trade-in procedure was done in the former way, it seems that it may be necessary to have a method such as having to redo the procedure from now on, and this point is under consideration now.