"The figure is not to see in the picture, it is to see and see the real thing with eyes properly" Mysterious person "August 32 (sunny)" taking off the veil "Rinkuranja Rakuraku" Designer's Talk Show


Animation set in Kamogawa City, Chiba Prefecture, which has been aired since January 2012Lagrange of the Ring GameIsNissan MotorThe global design headquarters is in charge of the design of the robot (Orbid) of this work, and the robot under development is brushed up by the car designer himself.One Festival 2012 [summer]We invited Mr. Osuda Takashi and Mr. Hiroyuki Kikuchi, two car designers in charge, and a mysterious person "August 32 (sunny)" supervising design and coloring, and the Wox series and de · The twists and turns until the birth of Metrio Orbid were told hotly. In addition, the result of the competition for amateur dealers held in One Festival 2012 [summer] is also announced at this place.

The special stage in the venue is like this.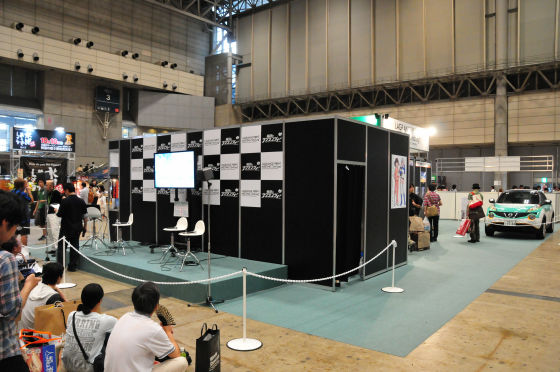 It is held from 16: 15 to 17: 00. People gathered one after another at the start time.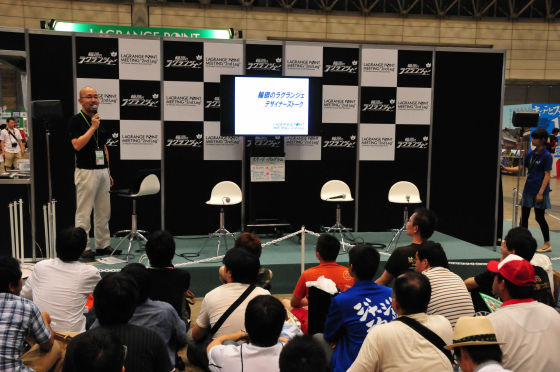 ◆ "Lagrange of the Ring" Designer's Talk Show

Keisuke Hirota (Hirota):
As a designer's talk show,Lagrange of the Ring GameTwo persons who took charge of mechanical design, Tadashi Otsuda of owed design and Hiroyuki Kikuchi. Thank you.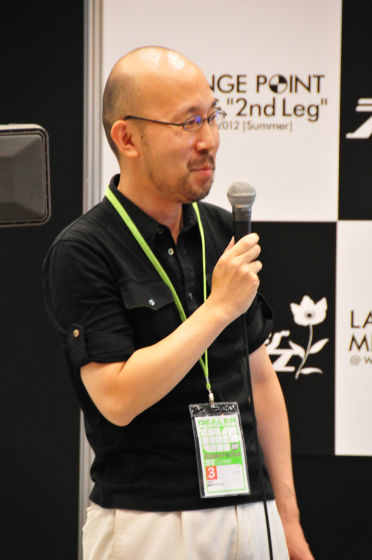 Takashi Otada (hereinafter referred to as Osuda):
Thank you.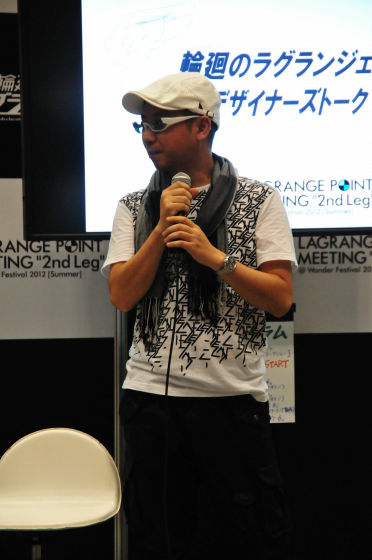 Hiroyuki Kikuchi (hereinafter referred to as Kikuchi):
Thank you.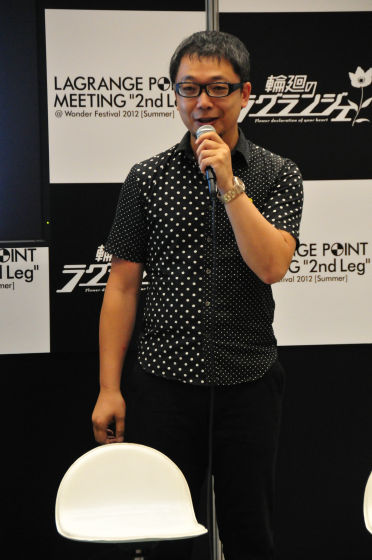 Hirota:
And this time I was calling a guest, who is supervised by Orbid Design & Coloring with obvious pseudonym as August 32 (sunny), but today I will reveal my real name I am invited.Masahiko AsanaMr. Thank you.

Venue:
applause

Hirota:
Do you have a word of yours?

Masahiko Asana (Asasan):
Well, a model culture writer who had been working with a very complicated pseudonym as August 32 (sunny), "Wonder Showcase"This is Label Producer Asana Masahiko. Thank you.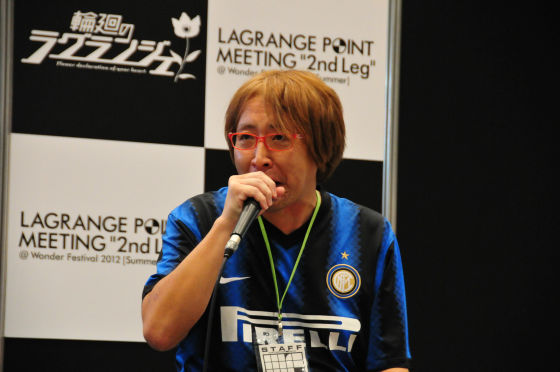 Hirota:
Why was Asama being used pseudonym?

Asana:
There are two reasons, first one is working well with model graphics, so when I give out my real name "HobbyJAPAN"When"Dengeki Hobby MagazineHe probably will not pick it up. Well, it's half lying for half a lie. The real reason is the other one, and after all, if a person who has good or bad items in Wikipedia involves manufacturer design, it will not be seen with a color glasses "Asano is involved" ? I definitely wanted to avoid designing Mr. Osuda or Kikuchi through color filters. Although the robot handled by the car designer appeared as the leading role mechanism, I did not want to add a leggings color. So I wonder if it's okay to say "August 32 (sunny)" so that I do not know well. At first I thought about making it a name that "I know for those who understand" a bit more. Flipper's guitar story and "Lollipop Sonic". But I do not understand it because people understand. If you understand it, I will go on Twitter. I wonder if I should not understand this completely.

Hirota:
Asano is also involved in racing car magazines, is not it?

Asana:
Well, once. Yes.

Hirota:
So, have you ever experienced animation?

Asana:
A little……. I'm A Little.

Hirota:
"Gundam SentinelWould it be easy for everyone to understand?

Asana:
People understand it.

Hirota:
People who know Gundam · sentinel ... .... Oh, some people after all. What kind of role did Gundam Sentinel work?

Asana:
Well. I did something together as a general director and producer.

Hirota:
Do you know the story of Mr. Osuda and Kikuchi-san?

Osusuda:
I was already clinging and I was watching the Gundam Sentinel.

Kikuchi:
I knew sentinel, but unfortunately I am not much.

Hirota:
First of all, what kind of feeling did you have when you asked Mr. Asano to enter the direction ...?

Osusuda:
Well, it's madness rambling ... ... I'm happy.

Kikuchi:
No, I did not have any inputs, just from Mr. Osuda-san, "It's awesome people, so listen as it is." Let's listen to everything for the time being.

Hirota:
Well, in that state, Mr. Asano got over all ... ....

Asana:
Well it's true if you put it too far. Basically, rather than repainting as I like, I feel like I'll be helping you to draw out the correct answers that are buried there.

◆ Commitment to the coloring of Orpid

Hirota:
Well then, from the story of coloring.

Asana:
Regarding coloring, WOOKKO has coloring from zero from three, and Kikuchi's De Metrio guy, I have color tuning. I said "Do not you shade a bit brown here" or "Do you want to shake it a bit more orange?", But basically this is Kikuchi-san in all. And the guy on the side of Villa Giulio is the one I and Mr. Osuda did together. By the way it is said that why the colors are swapped in the color scheme of the version 2 of the Villa Giulio machine, that part, the white part and the red part are reversed, but to tell the truth, It was color. At the stage when Mr. Osuda designed it. Just this, the color scheme is too similar to Wokusu, it looks like a friend of a friend.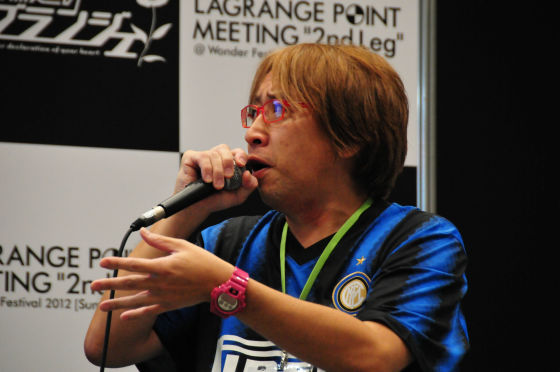 Hirota:
There is a lot of white area.

Asana:
Yes. So, let's try to reverse it. However, the former guy who reverses is also cool,Toshimasa SuzukiI asked the director "Can I reverse the color in Season 2?" Because he told me "I'm OK." What I wanted to do is to understand only those who understand F1, but the 1982 teamBrabhamofBT 52I mean, it was from the 5th round Monaco Grand Prix, the navy blue part and the white part replaced and it became BT 52B. I just wanted to do it.

Big:
I also loved F1 so quickly "It is nice, let's do it."

Hirota:
Although it is with respect to wax, even if it says green to one's mouth, the concentration is different between the wing and the neck, delicately. I'm doing that coloring design with Aura, is not it different to do the same thing with Lynfa and Ignis?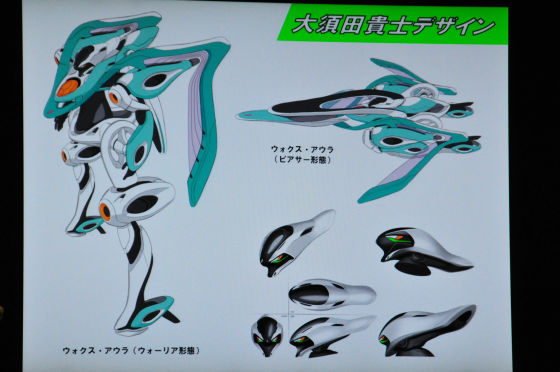 Asana:
That's right. Linpa and aura are opposite in concentration. If I say something, if I do the same thing with Aura at Lynfa, Linfa, a hero's color, seems more strong. Whatever you see, Lynfa will look like a main character. That's why I deliberately strike my impression by placing a pale color on my part. I change the position of the shading as an effect for understanding that Linhwa is actually a sub machine.

Hirota:
And Ignis is Orange. This is not shaded, is not it?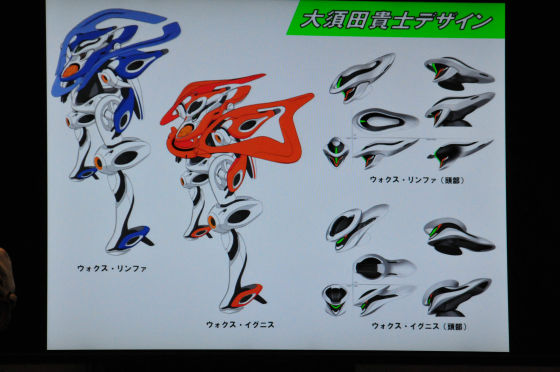 Asana:
It is unlucky. Those people who are familiar with coloring design are orange ...... Hue and what is lightness / saturation? When thinking in, the orange color will become skin color as you increase the lightness. On the contrary, as the lightness decreases, it becomes a brick color. Actually I can not make Orange variations. So it's OK to be a solid color for oranges.

Hirota:
Well, well, that kind of trial ... ....

Asana:
I agree. For the last three designs, we are coloring with the idea of ​​graphic design. Another wonderful thing to say from my side is, in particular, wax, but a sample of color usage is "Mobile Suit Gundam Char's Counter AttackWhat is it? ThatΝ GundamAndSothebyActually, the number of colors we are using is small, is not it? However, hero nature has not been damaged at all and it is very accurate tuning. I like it quite well from the front, not only thinking about graphic design but also wanting to drop the grammar like Gundam-like grammar and that genuinely realistic robot animation properly. It is such feeling.

Hirota:
While conscious of Gundam-like robot ... ....

Asana:
Of course it is. I mean"Gundam SEEDIt is not ... .... "Mobile Suit Gundam 00Kana, all the color suit of that mobile suit is very wonderful. Earlier ones, there were so many things that was not good, so it was pretty frustrating to say "Why are not you so good in coloring?" Here a little, "Let's do the job of a graphic designer".

◆ Directions with car designers as August 32 (sunny)

Hirota:
I'd like to hear about work-related details again later. Before that, I think Mr. Osuda and Mr. Kikuchi were drawn quite freely in the first competition, how is that point? I think that it was a time when I have to decide the shape for animation.LAGRANGE DESIGNS (Lagrange Designs)It is quite early designs in books, but for example in Kikuchi san, it is a pretty monster-like design. May I ask the story about that?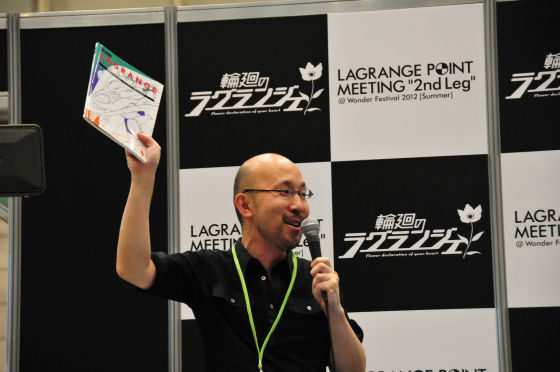 Kikuchi:
Yes Yes Yes. Well, the first design is quite that ... ... like an image sketch. I draw something like a silhouette of a shoulder or a silhouette of the whole limbs, but when I look at the elephant designing that car, that person is designing a car, "A little monster っ っThere was still a story called "ぽ い ね". I pointed out that place to Mr. Asano, and it seems to have been firmly standing position like "No, no, I am a car designer!"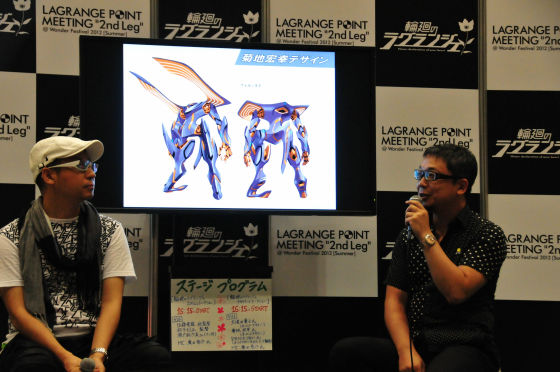 Kikuchi:
With that a lot of tuning ...... The most difficult thing is Tenelitas. Evolution from the monster of Tenelitas to car design is said to be the most painful and fun.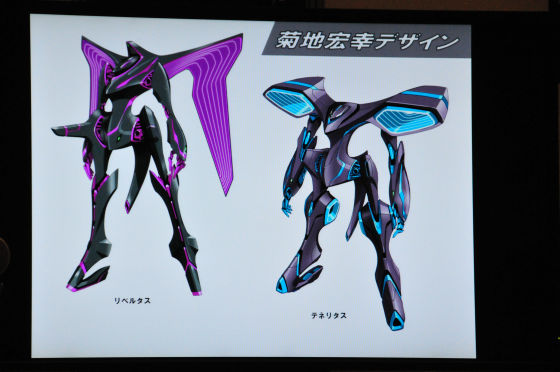 Hirota:
How was Mr. Osuda?

Osusuda:
I am, at the time of the first competition, there was always a subject "deformed ant", so I have to deform it, and naturally I have to worry very much that the robot form and the flight form must be cool respectively Sane Among them, there is also a story in the early settings that uses sound.

Hirota:
Sounds.

Osusuda:
I think that it is like a speaker on the shoulder, but that is a remnant of that.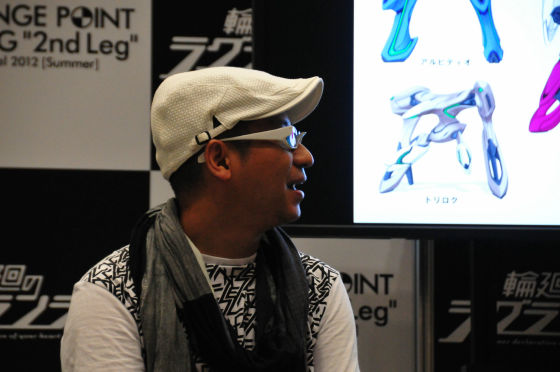 Hirota:
Is it yellow?

Osusuda:
Yes. Robots are almost like that, but when looking from the side it is quite a lot of thin designs. There were also features of it, and when the flight form was reached, these four cages looked like ... It seems like they should look like an explosion beneath the feathers Designed it as a point.

Hirota:
Why did you hear such a story is a book 12 years ago, but there is a book called "MEAD GUNDAM (Mead · Gundam)", which is "∀ Gundam"Really ...... Including all the rough rough sketches, it is written why this design was made together. ∀ I brought it today because I had a book covering thoroughly what Sid Meade who designed a mobile suit in Gundam had thought about it for 12 years in my bookshelf.

Asana:
It's expensive to buy it now at Yahoo auction.

Hirota:
How much is it.

Asana:
You can not buy it under 5000 yen.

Hirota:
Well, there was such a trial and error ∀ I was able to design Gundam. This time, I would like to see Asamoto's direction work from that direction. First of all, this. What on earth is this instruction?

Asana:
Well, yes. It is just a story that I wrote a little more about what kind of people are like this in the aircraft design.

Hirota:
Do you see this character? Can you read it? This on the top ... ....

Asana:
The instruction at the top is terrible.

Hirota:
"This way of saying is awful, it is terrible, I feel as if" Kikuchi-san is the most unaware of the truth of the Chrysanthemum machine. "The Killius machine only" Style Beauty "and" Sharpness & Speed ​​Feeling " It is "Jannese-type airframe" which is established. To use a word Johnny's system for a robot ... ....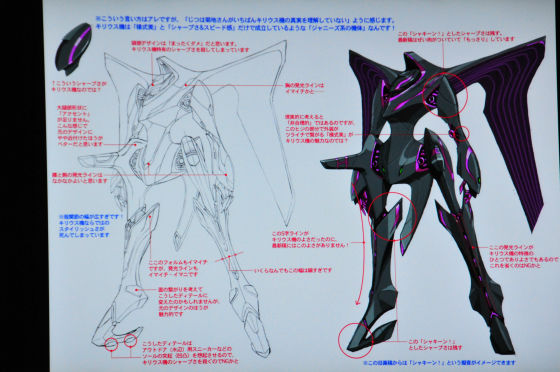 Asana:
It is terrible.

Kikuchi:
Every mail from Asano is terrible, but (laugh) Such awesome ... ... Gusagusa There is a place that I can be inspired every time in the words I was struck, and it became my own stimulation more than I worked at a company. Creativity says that it's going up like this.

Hirota:
It may be difficult to answer, but then at the company ... ....

Kikuchi:
The company does not say such a thing. As expected.

Asana:
Well, Kikuchi-san is a type of praise and growing type.

Hirota:
I do not compliment, I do not compliment (lol)

Asana:
No, that's why I do not know the concept of extending while praising as a coaching. It is my coaching to hit and strike and stretch it.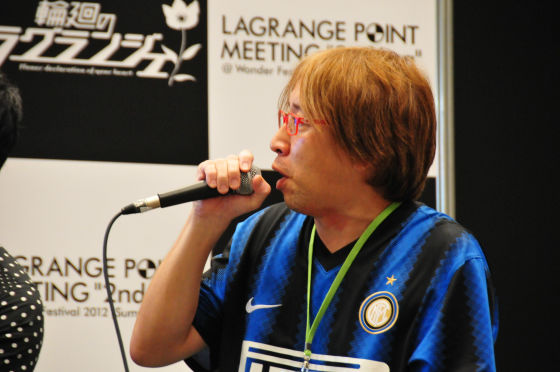 Hirota:
Continued, "The stylishness unique to the Killius machine is dead". It may well be said that ... ....

Osusuda:
If it were me, "I'm gonna be alright" now.

Kikuchi:
I was troubled many times. At this time, Mr. Osuda got a lot of advice from the side as well.

Asana:
When we were doing design work, whenever I got designs for Mr. Kikuchi, when I returned, I always put Mr. Osuda in CC. That's why Mr. Osuda is watching all the interactions.

Kikuchi:
Because I was saying a little calmly, "I think like this" like things. While using the company's holiday time and something, I talk about something like "Do you think Asano's comment?", I regain myself.

Osusuda:
It's time to close for the rest.

Hirota:
With two people in a holiday time.

Kikuchi:
Yes.

Osusuda:
I agree.

Hirota:
Then, next. Iso machine. What is this ... ....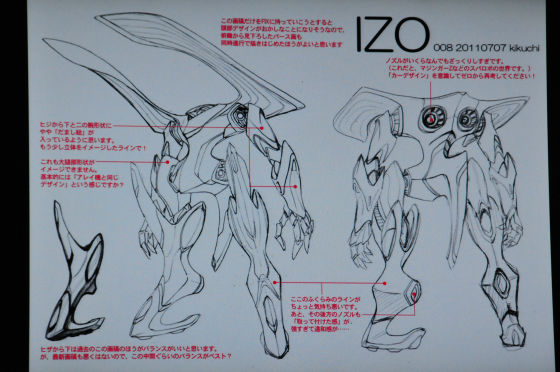 Asana:
Also the instruction on the upper right is terrible.

Hirota:
"Anything no matter how much the nozzle is doing it (this is"Mazinger ZIt's the world of sparibo. Considering "car design" and reconsider from scratch! "Although it is written about it.

Kikuchi:
I am writing. Because I am a type of guy who goes over when I am a little distracted, I had to put in my efforts as a car designer. Sometimes this sometimes happened. In one example, it's a small slit. It's not here though. I wrote two slits. Pippi. Then, comments from Asano returned, "Mr. Kikuchi, you have three cars, please fix the slit to three". It is not a car design for two, then. Hey there ... I did not quite understand it though (laugh) I wonder if I should obey it for the time being.



Asana:
No, because I said specifically to Mr. Kikuchi, "actively play the car designer's mission". That is,Tsutaro KataokaMatch match! "Masahiko Kondo) I did a thunderstorm, but now it seems to be like a monomune of my own matches. If it is not so easy to understand, I think that it does not make sense to the world that "car designers are like this". If it is the fuselage of the villa Giulio's guy just before ...... this something on the backPorsche · 928It's like the tail end of the stick is attached. Something like that to Mr. Osuda, "Osuda-san, I'm sorry but I think I'm going to do it myself, but please attach the tail end of the car, because I do not know if I do not understand it so much" . In that sense, I asked a lot for two people to play a car designer.

Hirota:
I see. Well then. This is the previous ... ....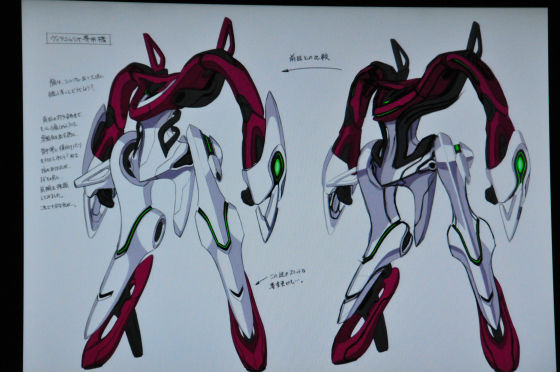 Asana:
This is the initial draft of Mr. Osuda just before.

Hirota:
Mr. Osuda was thinking about the coloring of Arvillium of version 2 who was earlier.

Osusuda:
I agree. Yes. After this, I received an indication that Asano is too close to the color scheme of the leading machine.

Hirota:
So this is the revision plan.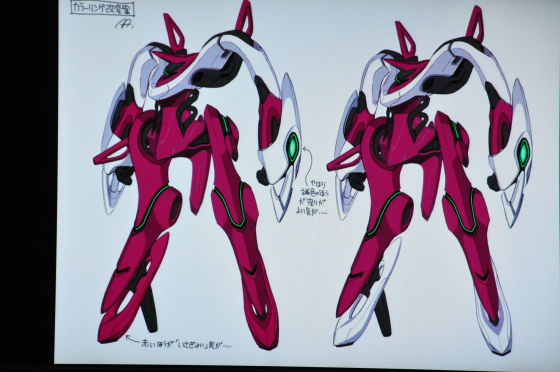 Asana:
I still do not understand how to use Photoshop yet. Something like this, how to paint the color is dirty. I do not know how to use range selection. I still write with handwriting around this time.

Hirota:
Handwritten.

Asana:
Letters. In those days, I have not thought of pen name yet, so I usually sign like M · A. SoCAR STYLINGWhen I make a separate volume of that, I erased all of that.

Hirota:
I see. Well then this is to get a villainous feeling.

Asana:
Rather than being a villainous person, simply change it to eliminate the similar atmosphere with the main acting machine and the aura.

Hirota:
this is…….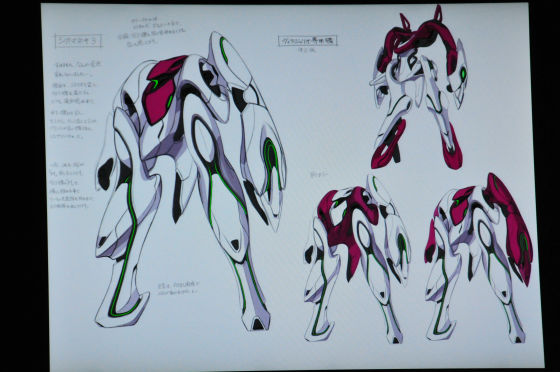 Asana:
This is from Mr. Osuda, this is called common name, we are Shiomaneki among us, but the coloring comes with this color in conjunction with the color of the exclusive use of Villa Giulio, I wonder if it is a bit weak. So, about 3 ideas from me, "How about with such feeling?"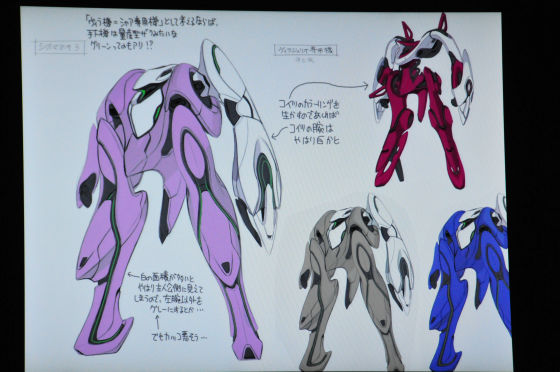 Hirota:
"If the villa aircraft is considered to be a dedicated chassis, there are greens like subcontractor Zaku mass-produced," ...... There is not much body and lid written, though.

Asana:
Green thought that it was truly alright though it was.

Hirota:
After all it turned blue in the lower right.

Asana:
This is a presentation to Mr. Osuda, and when I heard "Which one do you like in this," it was said that "Blue is good" with immediate answer. If you look closely it is these two colors, Max and Miria.

Hirota:
Aware of that strange ... ....

Asana:
No, I have not really been conscious. When I thought about simply by graphic design methodology, it was true that "Max, Miria was such a color scheme when thinking carefully". Strictly speaking it is different from the blue of Max, my blue color has better color.

Hirota:
Well, next is weapons .... Armed. Is this Asami-san the first person who drew this armament?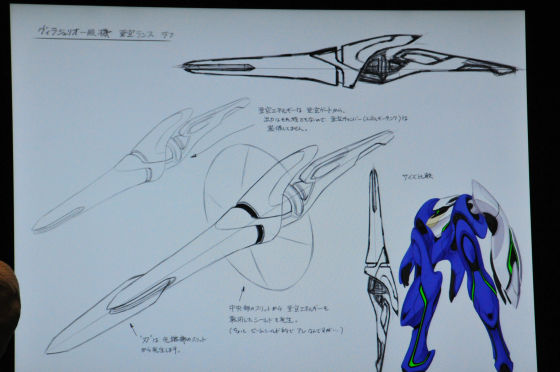 Asana:
No, it is Mr. Osuda. This is a moment when the pleasure frequency was quite high in this work, but from Suzuki's director, there was a request that "Shiomaneki wants you to have a lance". So, first of all, Mr. Osuda designed "Reflection like this" as a lance, but a blade like a cutter knife grew from the beginning, and it did not seem like a lance at all. Because Rance is still a lance, I thought it would be a lance a little that I could not see as a spear, I repainted "How about this?" Is it cool if the beam hits from here? What. I painted it myself and sent it by e-mail saying "I hope it gets better and cooler, but something goes wrong .... Alright, send it!" Then it got brushed up to feel awesome and cool, I was very happy that "Wow ~ my idea is getting cool!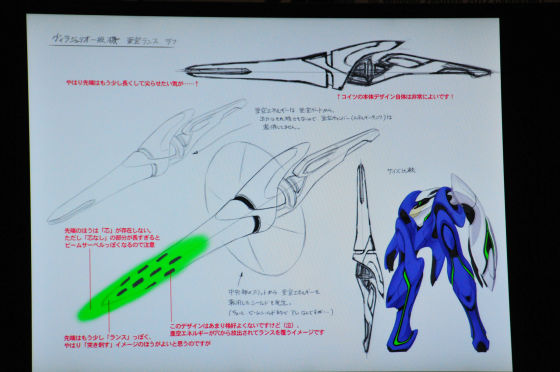 Hirota:
This is how it is.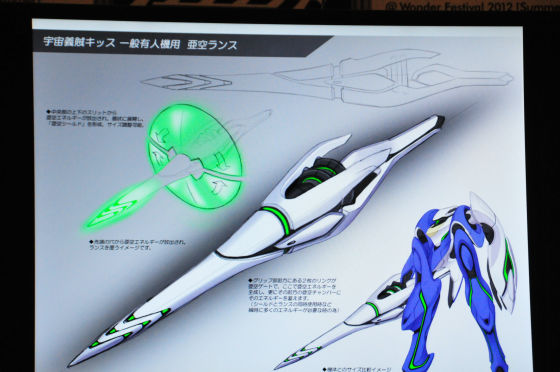 Asana:
That terrible thing ... ....

Osusuda:
As I thought, all the interactions between now and Mr. Asano were rough even though it was rough, so I could draw it like this. I think it took quite a long time to reach there when thinking from zero.

Asana:
Because I am not a designer, I did not know how far I should step on, but Osuda-san did not disliked it at all, I was glad that there was something I was glad that, in the second half I used Photoshop You did it.

Hirota:
Next. this is…….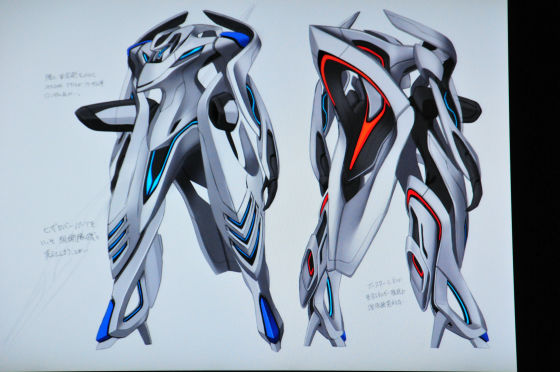 Asana:
This is, rather, with coloring. Design for Dicel Maain dedicated machine advanced in this state, but one day suddenly I thought "This is tough". So I put a bathtub red into it. Please propose the color from Mr. Osuda for "How about trying to feel like this?" In short,Vodafone McLaren MercedesWhat is it?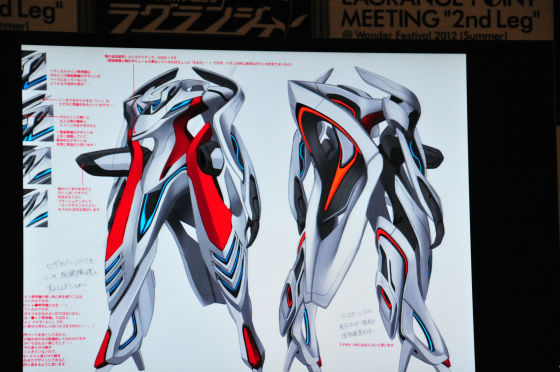 Hirota:
Yes, this is ... weapons?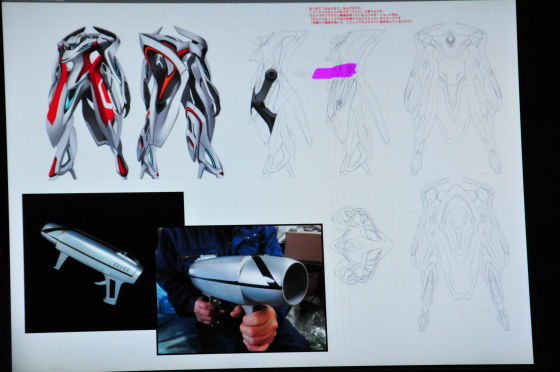 Asana:
This is because the weapons we had were a little thin.

Hirota:
this,UltramanIt is a weapon that Arashi member of Arashi had, Spider shot. This short and stupid ... ....

Asana:
I thought that it would be easier to set something like that for geeks sometime like that. I fell down on the net and pasted it, it looks like.

Hirota:
By the way this is a garage kit, not Tsuburaya Pro original (lol) With the feeling that it would be nice if the shape is easy to understand. In the end what kind of story did you end up with?

Asana:
To the end it is like "somehow such feeling". Mr. Osuda saw this and did a nice treatment.

◆ Garage kit · Competition "Design Award" Result announcement

Hirota:
Today, at the Wonder Festival 5 o'clock, why, I'll do it until 5 o'clock but there is a garage kit · competition so I introduced the works selected by Mr. Osuda and Mr. Kikuchi for those who took the award I will present illustrations by Mr. Osuda and Mr. Kikuchi. In the design award from Mr. Kikuchi.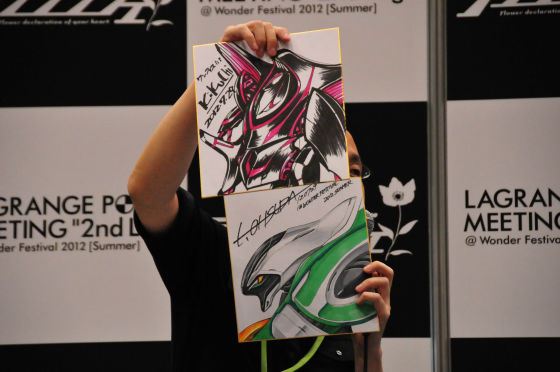 Kikuchi:
Yes. So we made Libertas, takahilow. I feel that 120% of the solid I was thinking was cool, but the depiction of the back was particularly good.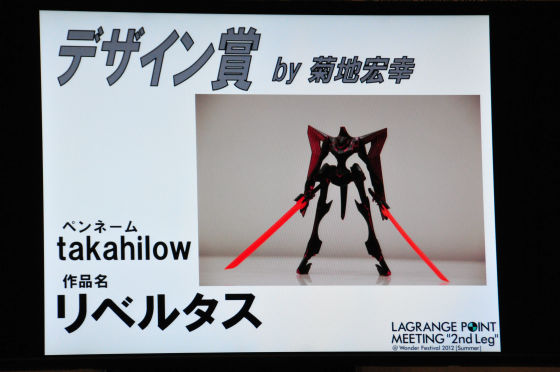 Hirota:
Yeah, you are right.

Kikuchi:
Very this was impressed. Of course there were people like the second place, close to this. It was shining and very good there, sorry, this time this one. I was impressed.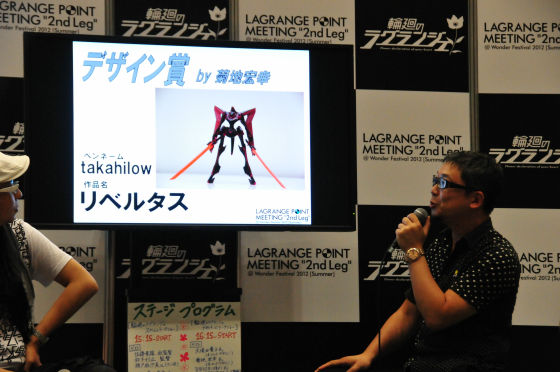 Hirota:
Is there anyone who made this ... ah, come and see?

Venue:
applause

Hirota:
Then, later. Next is Mr. Osuda.

Osusuda:
Yes. Sparrow S.A, who produced "Wox-Aura". I understood that it was made very sharply and it was made specialized for the flight form, but I understood well how deformed in this cool direction is wonderful. I knew that the girl was the hero, so I intentionally made it round like a rounded corner, but when I leave it I will be in this direction. So now, when I draw it probably will feel like this, sympathy.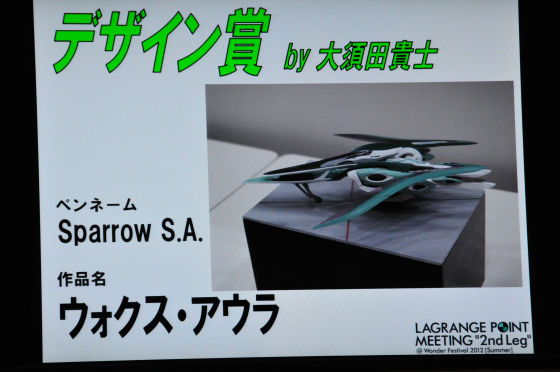 Hirota:
I see.

Asana:
This is not to make the nose easier and longer, rather it is cool to shrink it is not it?

Osusuda:
is not it. It was very funny.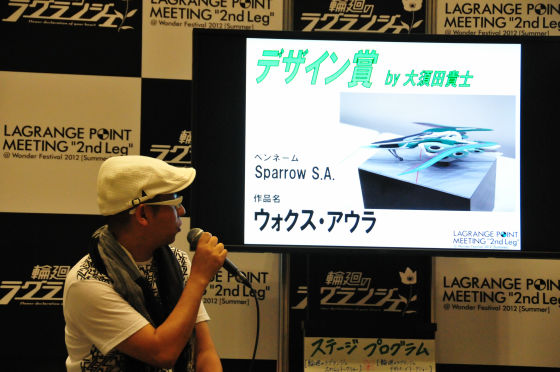 Hirota:
Is there anyone who made this work? Are not you coming?

Asana:
I have worked on the selection work of the wonder showcase, I just met.

Hirota:
Let's get in touch with you later, so I will give you illustrations that Mr. Osuda is drawn so high. We still have some time. It is very wonderful that you can interpret yourself with a garage kit like this. Especially because mechanics are really hard to make. Well figures may be serious, but I feel recently that few people make mechanics. Eggplane comes out from Hasegawa, but as me, as a scale model, WOX and so on, I would like to have three bodies of De Metrio. Well, well, kit ...... Injection kit, I hope everyone finds more meaning. If it is a gunpla now, I can stick a seal, I made it high, I got shaped once, I do not like it, I do not want it, I want you to touch with a hand to capture the shape.

◆ Lagrange is doing a trial that thinks fundamentally

Asana:
As Mr. Hirota said, hands are an extremely important input device, I think that it is a person who makes a plastic model, but if you build one Zaku, for example, you can draw Zaku from the next day. So, even if you look at such a complex design like Wox with a 2D picture, I absolutely do not understand. So to make parts and touch it and to interpret "Oh here was this way"Master gradeIt is in trouble if there is not. I am in Asakusa, I did a presentation directly. Then you are being reacted, "No, I do not want to do much" ~.



Hirota:
In that case, I will give you so many things. I do not say the title, but also put that out and this is out ... ... Why does not LaGrange come out! When. Clearly, I think that the hobby industry is miserable. Why are not you issuing this? Funny. Because there are two of the car designers, it is hard to imagine the hobby industry a bit to pass through what I did as I talked to Mr. Asama told me so much. As expected. You should put the kit in proper injection. Where you gave it is a hero.

Asana:
Actually, this time, if you say that I told you why I want you to help me with Lagrange's mechanical design, on December 27, 1999Yoshiyuki TominoI had my director interview ∀ Gundam. At that time, "The reason for using Sid Meade is,Blade runnerNot listening to me. The point is that I wanted Mead of industrial designer who worked for Ford to do Gundam as a proper industrial design. Unfortunately Mead is a grandpa, so this is already the limit. So if you are going to the next stage, ask the young Porsche designer, or you have to do something about that much more than 10 years ago. I have decided not to do it all through the animation industry and I finally asked Japanese active car designers this time that this case incidentality. I heard that I was seriously numb when I heard that, goose bumps stood. As I told you said that he had to leave this already, I had to leave it for future generations, as I said earlier I said that I had to use a pen name. Well, that is fine, though. If I say it, we think that our generation is Tomino children, but that Tono children simply bought me a plastic model and did not do "wow" and I gotta return it to Mr. Tomino as a proper job I thought I was wrong.

Hirota:
After all it changed consciousness. "RX-78I do not mind thinking that "I do not care", but I wonder if it is OK for that forever. In short, when ∀ Gundam RX-78Zero battleIt was comparable to you. As the RX - 78 went to zero fight, it seems that the model of RX - 78 may come out as the model of zero battle is still being made. However, there is no way out from there. It will not come out forever. I think that the line is slightly different or the equipment is different. Then, I think that Lagrange is doing a trial that thinks fundamentally. I want all of you to see it. When I made a production presentation at the NISSAN hall in October of last year, I was noticed but there is not much to be noticed after that.

Asana:
Regardless of Lagrange's design, no matter if it is good or bad, no one says anything at all. Rather, it is OK at all if it says "I'm not good" because of this.

Hirota:
I hate that. However,Symphonic Psalm Eureka SevenLike "I dislike it because it resembles"Creator of Aquarion"I do not like that line because it resembles, because it is not such a level, or you can say clearly that this color does not matter. Otherwise I can not train myself, I can not train fans and industry as a whole. Everyone else can say more things you want to say.

Venue:
(Lol)

Hirota:
I think so, is it my selfish thought (laugh)

Asana:
No, I guess that's exactly right.

Hirota:
Somehow, it is something I think if you put it on something, "Is it OK if I say this?" Or "Is not it stupid to praise this?", Everyone is thinking too much. Even if Mr. Osuda-san and Mr. Kikuchi did not get applied with a big mind, it is great that the result obtained after all was made.

Kikuchi:
No, but I think that this time the animation industry and our car industry made a work together, the general person said "Oh, Nissan and the animation company also do together, making a topic Kana "may be received with a light image, but there are a lot of hurdles to reach here, there is a story to ask Asanasan, and the story of the anime making story is also awful tough story It was there. I think that I really want people to know that what comes out here is a result that can not be obtained with a bit of gentleness.

Asana:
Sometimes it says to the on-air program as well, but probably everyone will think that "after 10 years it was amazing ...".

Venue:
(Lol)

Hirota:
What is Mr. Osuda ... ...?

Big:
I hope that is good (lol)

Hirota:
It will remain in ten years. Because we will leave it. It's okay.

Asana:
Great.

Venue:
applause

Hirota:
Because if it does not stop it, this trial has not been rewarded at all. I will tell you that this is a model venue, but I would like to say that you should put out the model as much as you want.

Asana:
There is Yoshihiro Kano from Bandai Hobby Division just there.

Venue:
(Lol)

Hirota:
Then, please.

Asana:
In the Hobby Division, Mr. Kano also was in charge of development of master grade ∀ Gundam and Rokuu Walker Gallia.

Hirota:
Yes, thank you Mr. Kano.

Kano:
Sorry, I suddenly called you ... ....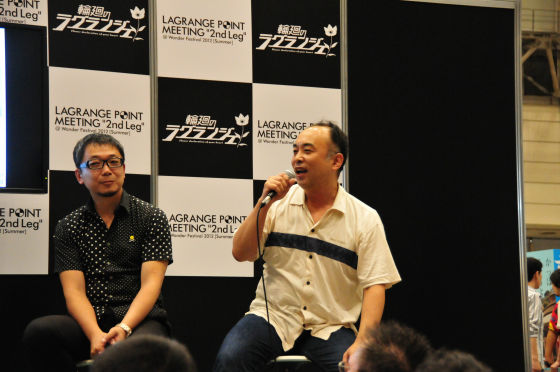 Hirota:
I would like you to answer this place with applause, but those who want Wache / Aura to appear on the master grade label.

Venue:
applause

Kano:
It is cunning. Even if I have been told this way by being called this way. I have no right to decide whether to do items or not for me.

Hirota:
personally?

Kano:
Personally, it is a design I think is interesting. However, there was one book of Mead · Gundam which was different from Sid Meade's time, but as I saw that, I did not know the correct answer value, so we can get the final correct answer value I became it. However, as for this design, since there was a correct answer value at the moment when I saw the design, I thought that the same thing could surely be issued even if it was not a cute Bandai. That's a big difference. So, the significance of what Bandai does is not understood at the stage when it was presented.

Hirota:
Well, maybe ten years later ... ....

Kano:
I do not know. There are opinions of various people saying "It would be better to make it like this", and if this design evolves further, it may be something. I'm sorry, this is truly personal ... I am not supposed to be responsible for the company.

Hirota:
No problem. As Mr. Kano said, what do all of you think about this design? If you think it is good, you can spread it, if you think that it is bad, I think that it is easier for the manufacturer to say clearly as a manufacturer. Right now, Mr. Kano said you are right. So please do not shut up everyone. The program will continue in the future, and the place I thought was nice, the place I thought was bad is bad, unless you clearly display your intention, the makers will not move either. It is a feeling that manufacturers may move if they indicate intention.

◆ Garage kit · Competition "Grand Prize" Result announcement

Hirota:
Oh, I'm sorry, I will announce the grand prize grand prize from now.

Venue:
(Lol)

Hirota:
I am talking about mecha now ~!

Osusuda:
Ikinari came (lol)

Hirota:
This is amazing, you can do it. Zenko's "Run". Often, figures are often cheated by painting, but this has been properly done. So do not look at the figures in the picture, just touch and see the real thing with your eyes.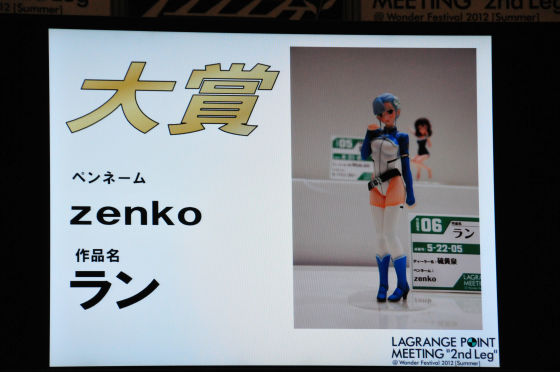 Asana:
I'm connecting to brute force ... (lol)

Venue:
(Lol)

Hirota:
I do not know without touching it. You should not be satisfied with any photos. Everything in the figure, anything, touch the solid. That is the easiest to understand. In painting, in a sense, do not be fooled. I have to touch it. All the models are so. So do not say they buy a model in a box and load a box, and make it more and more.

Asana:
So, in fact, you do not have to paint. I would like to organize it, input information from the hand, and assemble it in the mind that this is a design like this.

Hirota:
That's why your finger is an input device, you can assemble a solid in your head. Even if the model in front of me stops running at a later date, I remember it properly in my head. Let's realize it is human ability. Someone who likes a model.

Osusuda:
Both of me and Kikuchi, but when I was small, I made models and I remembered the stereoscopic effect with my hands, so I got to work now. I really want you to touch it.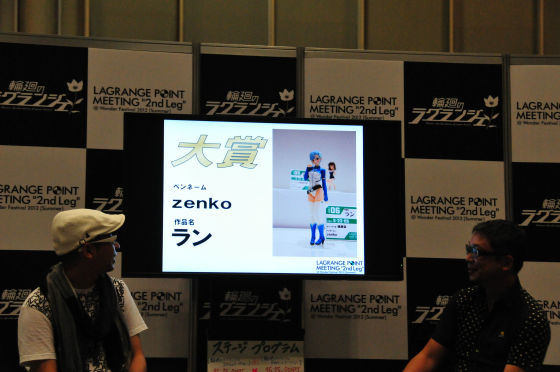 Asana:
I can draw equivalent to Mobile Suit of Gundam, butGundam Mk-II'I can not draw because I have not made a gundam.

Hirota:
That's it. Even those who become designers will feel bothersome by seeing the three-dimensional thing with photos and monitors, but do not satisfy with the monitor, touching, making. Because the one who made garage kit is the most important. Today a couple of people are participating in the competition, but if you do it from me all members are welcome. Because the human being made is the strongest from the person who is evaluating by looking at it. I hope you do not forget it. Yes. It is over like this talk show.

Venue:
(Lol)

Asana:
Thank you very much.

Kikuchi:
Thank you very much.

Osusuda:
Thank you very much.

Hirota:
There is an announcement at the end. It's an anime, but tonightTOKYO MXThe fourth episode will be airing on.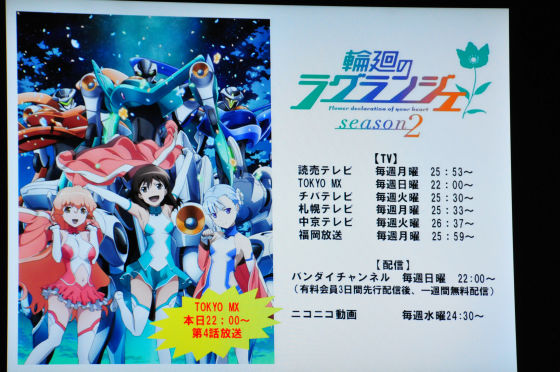 Hirota:
Also there is a merchandise section here, but Lagrange Designs signed by Mr. Osuda and Kikuchi san. You'd better buy this. You'd better buy it. You'd better buy it! Because I bought it for my own money. Because this is signed, the number is limited. Please buy me on this way by all means. Thank you.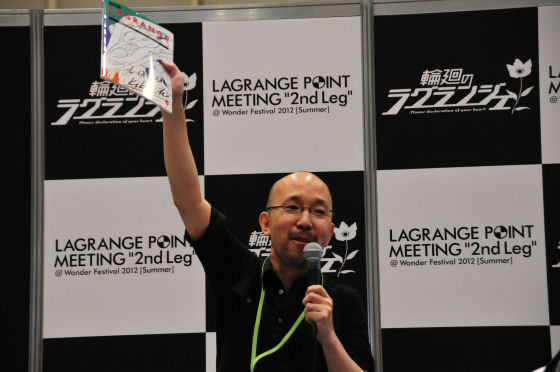 Osusuda:
Thank you.

Kikuchi:
Thank you.

Hirota:
Well then, Mr. Osuda and Mr. Kikuchi, thank you. Finally please give me another word.

Kikuchi:
The biggest thing for me this time is that I was really impressed by having you show Libertas we chose a while ago. Even if it is called a car designer, there is nothing to be done by myself sketching very easily, there is a modeler who makes it, the first time the design of a car is established. So, because I was only drawing a picture, it was a design that was not 3Dized, so it was interesting to see how it would become three dimensional. That gave us a cool look which was beyond my imagination a little more, for the time being, "Thank you" there. I am grateful.

Osusuda:
I am also looking forward to seeing the model here today, and I am really looking forward to seeing the model, but after all I am really glad that someone I do not know at all knows the design I drew. I was impressed. I think that you often thought about making it so far.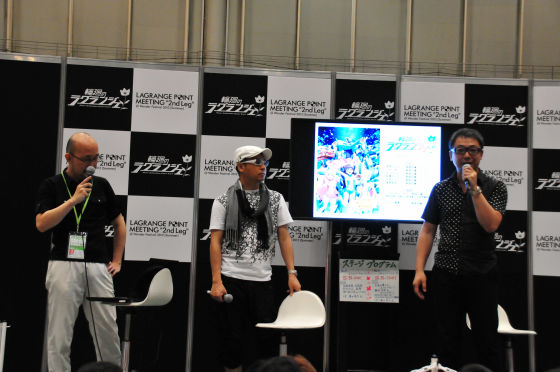 Hirota:
Yes. Thank you both of us. This is the end of the talk show. Thank you very much.