Rakuten e-book reader "kobo Touch", released on July 19 at 7980 yen


Rakuten's subsidiary Kobo announced that it will start e-book service in Japan from July 19th. The name of the e-book reader introduced with the service is "kobo Touch (Cobo Touch)", the price is 7980 yen including tax. We will start accepting reservations from today.

Rakuten Group 's Kobo Company Launches Business in Japan Start Booking E - book Reader for Japanese Market Today Start selling at 7,980 yen aiming at spreading e - book terminals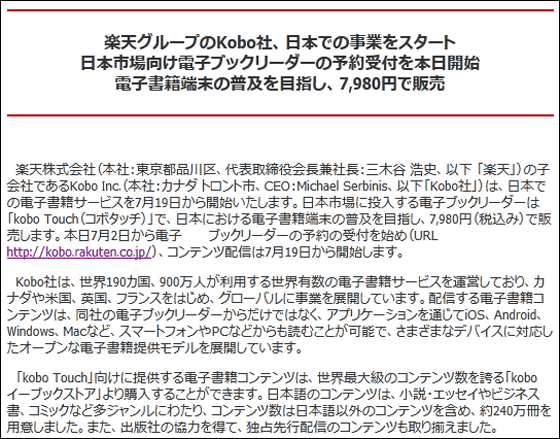 Rakuten Co., Ltd.: Update on e-books
http://kobo.rakuten.co.jp/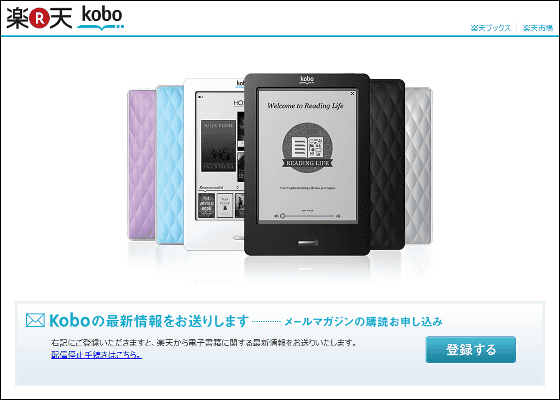 Kobo is a Canadian e-book service management company Rakuten acquired last November. We are developing services for 9 million people in 190 countries, including Canada, USA, UK, France etc.

Kobo's e-books can be read not only from their own e-book reader, but also via various devices such as iOS, Android, Windows, Macintosh etc. via an application. Content provided for "kobo Touch" can be purchased from the "kobo eBook Store" boasting the world's largest content number, and about 2.4 million volumes including non-Japanese content. In cooperation with the publisher, monopoly precedent delivery content will also be provided.

Viewed from the front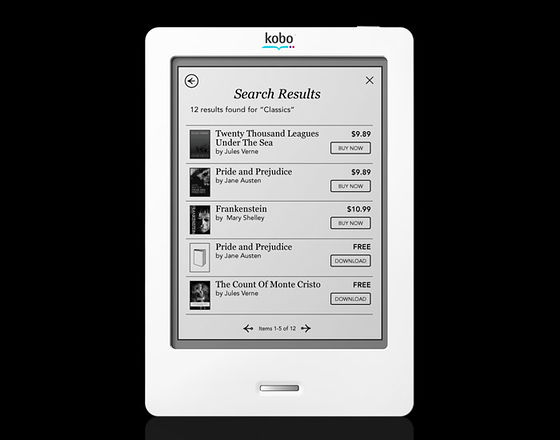 side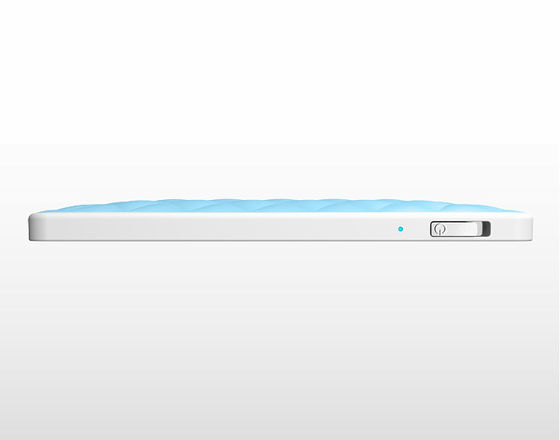 back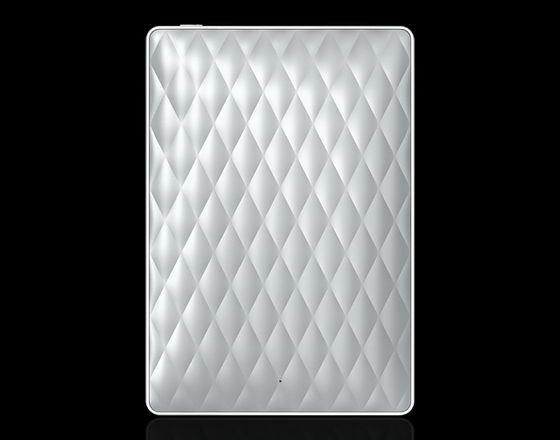 It is electronic paper adoption so you can read it without problems even under sunlight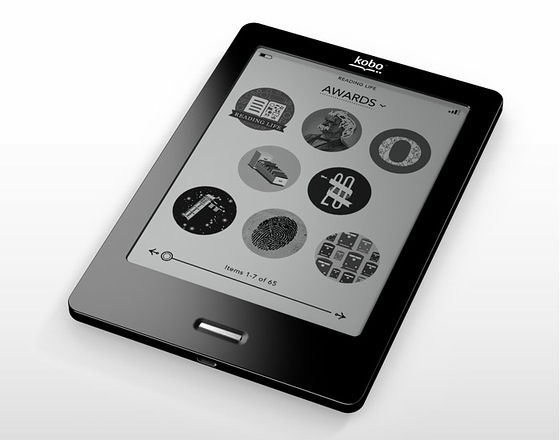 The size is 114 mm × 165 mm × 10 mm, which is the same operation feeling of Amazon "Kindle Touch"Is 172 mm × 120 mm × 10.1 mm, so the kobo Touch is smaller but the width is longer, the thickness is just a little thin, it feels like.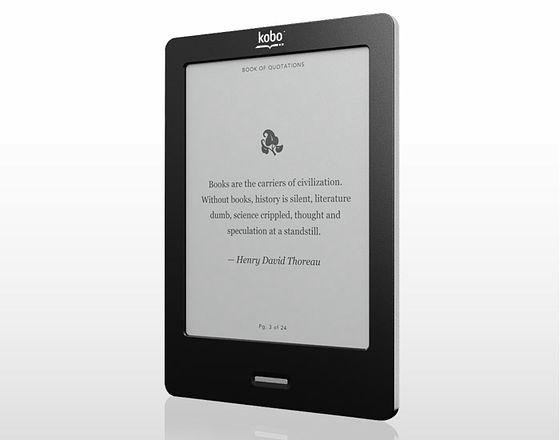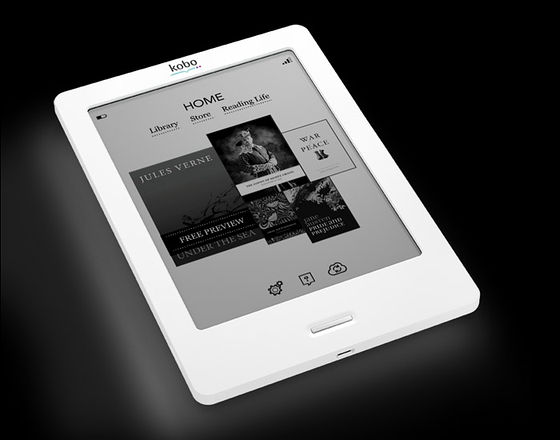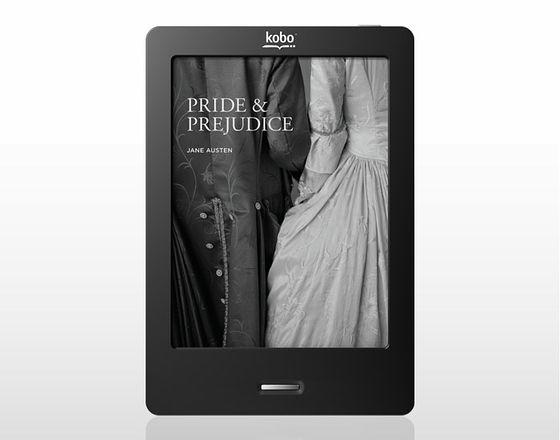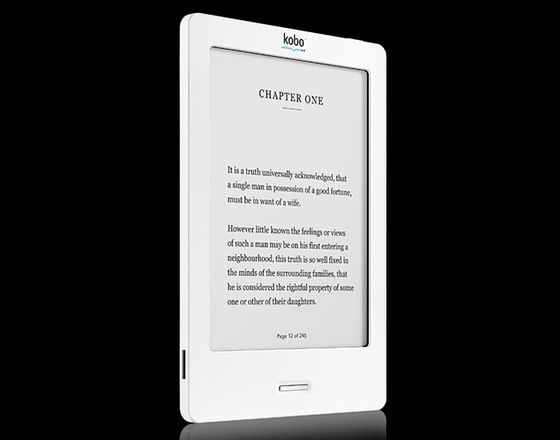 "Kobo Touch" is a kobo e-book reader "Kobo eReader TouchIt is considered to offer for Japan. The spec is as follows.

Wireless LAN: 802.11b / g / n
CPU: Freescale 508 Processor
Size: 114 mm × 165 mm
Thickness: 10 mm
Weight: 185 g
Display: E Ink screen with 6 inches (grayscale 16 gradations)
Storage: Built-in 2 GB (Actually usable 1 GB, about 1000 volumes) + 32 GB SD card can be used
Connection: Wireless LAN, USB
Battery: Can be used for 1 month
Supported file formats:
"E-book": EPUB, PDF, MOBI
"Document": PDF
"Image image": JPEG, GIF, PNG, BMP, TIFF
"Text": TXT, HTML, RTF
"Comics": CBZ, CBR
Font: 7 types + 17 sizes
Navigation: Touch screen

The terminal seems to be sold in Rakuten Market, Rakuten Books as well as home appliance mass merchandisers.