Improved battery holding when au smartphone is on Wi-Fi, shorten waiting time for Wi-Fi and 3G communication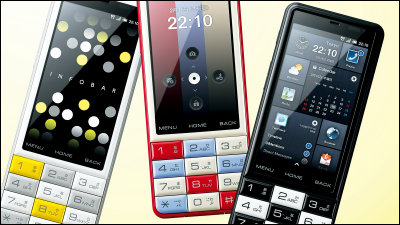 With respect to smartphones that have already launched au, it is said that software update improves battery holding when setting Wi-Fi on, and shortens the waiting time when Wi-Fi communication and 3G communication switching are completed by software update.

Notice on smartphones and mobile phones Details | Notice on smartphones and mobile phones | au

According to au, as a result of working on improvement of Wi-Fi quality so that Wi-Fi can be used comfortably, we realized the following.

◆ 1: Improvement of battery holding when Wi-Fi is turned on
There may be people who carefully took care of the battery and turned on and off the Wi-Fi settings finely, but in order to be able to use it always on setting, it is best to optimize the power consumption when connecting the access point It is said that it has turned into. This will improve the standby time when Wi - Fi is on and will have nearly the same battery as the stand - by with 3G communication.

◆ 2: Reduced waiting time from switchover from 3G communication to Wi-Fi communication
◆ 3: Reduce the waiting time from the Wi-Fi communication to the 3G communication completion
By optimizing the processing for switching from 3G communication to Wi-Fi communication and Wi-Fi communication to 3G communication, the waiting time will be about half of the previous time.

These are supported by software update, and the target models are as follows.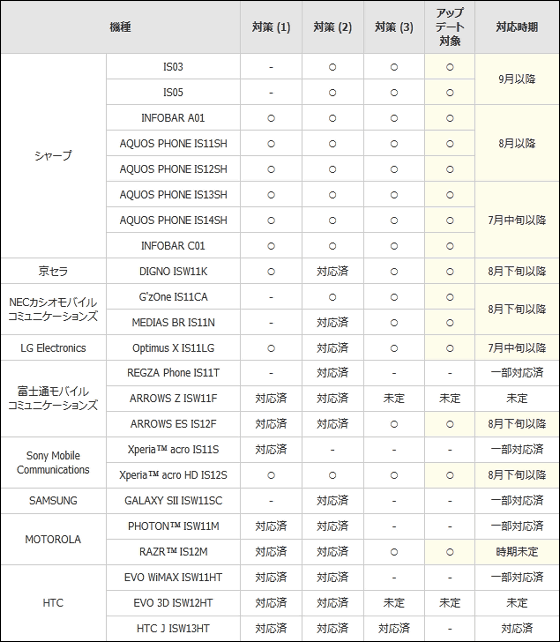 ◆ Sharp
IS03, IS05, INFOBAR A 01, AQUOS PHONE IS 11 SH, AQUOS PHONE IS 12 SH, AQUOS PHONE IS 13 SH, AQUOS PHONE IS 14 SH, INFOBAR C 01

◆ Kyocera
DIGNO ISW 11K

◆ NEC Casio Mobile Communications
G'zOne IS 11 CA, MEDIAS BR IS 11 N

LG Electronics (LG Electronics)
Optimus X IS11 LG

◆ Fujitsu Mobile Communications
REGZA Phone IS 11 T, ARROWS Z ISW 11 F, ARROWS ES IS 12 F

◆ Sony Mobile Communications (Sony)
Xperia acro IS 11 S, Xperia acro HD IS 12 S

◆ SAMSUNG (Samsung)
GALAXY SII ISW 11 SC

◆ MOTOROLA (Motorola)
PHOTON ISW 11 M, RAZR IS 12 M

◆ HTC
EVO WiMAX ISW 11 HT, EVO 3D ISW 12 HT, HT C J ISW 13 HT

Some cases already corresponded already depending on the model. In addition, we have already dealt with the latest models released since May 2012. Each software update will be scheduled for mid-July to September and later.