Animation attractiveness started in summer 2012 is a succession of popular works One-to-one finish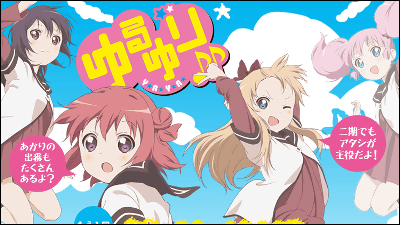 Anime video distribution site "Anime One"Has announced the results of voting that heard what users are paying attention to in the 2012 summer broadcast animation to the user. Each of the top 2 titles occupied about 10% of the total number of votes, respectively.

2012 summer broadcast animation attention degree ranking result announcement | Animation One

◆ First place:YuruYuri ♪ ♪(1062 votes)
The top depicts a cheerful school life with a lot of girls such as student council members and classmates, including the student council members and classmates, mainly belonging to the "girls club" without losing hundred flavor, "YuruYuri ♪ ♪ "was. The first period broadcasted from July to September 2011 was popular, and staff and cast did not change in the second term, so it seems that attention gained attention because it seems that you can enjoy it steadily.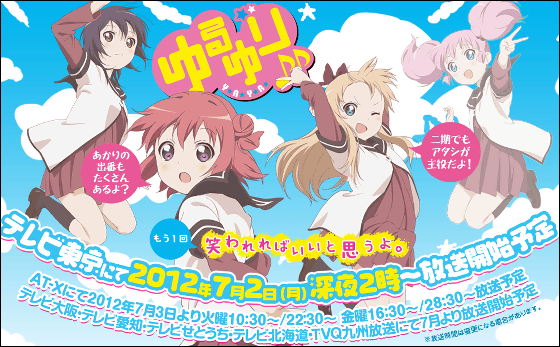 ◆ 2nd place:Horizon II on the boundary line(1035 votes)
This is the sequel to the work that the first period was broadcasted from October to December 2011. The original is known well as the appearance that there is also one thing that exceeds 1000 pages, as well as the built-in setting. In the first episode, animation was made in 13 episodes of the first time in the original two books (above and below Ⅰ), and in the second period it is supposed that animation will be made above and below Ⅱ. By the way, since the original is 10 volumes already published, it is made at the current pace until the 5 th period ... ...?



◆ 3rd place:Kokoro Connect(837 votes)
It is this work that came to the top of not being a sequel. The original is Light Novel of Famitsu Bunko. "White fish" of the original draft is a pen name of Yukiko Horiguchi, an animator known for character design of "K-ON!" Active in Kyoto animation.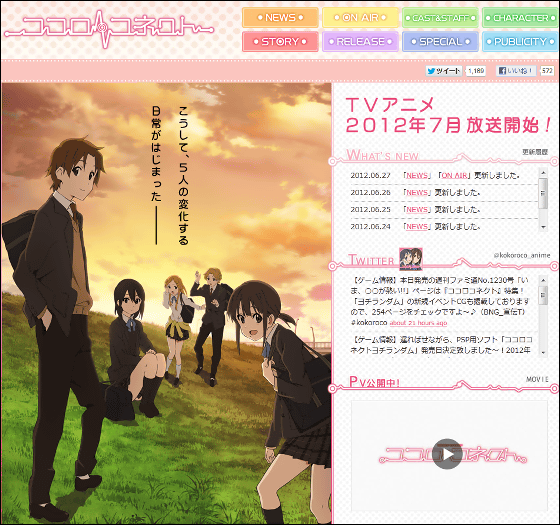 ◆ 4th place:Sword Art Online(781 votes)
Anime currently on air "Accel WorldAnother masterpiece by Mr. Kawahara Gravel, the original creator of "I will animate it in a row. By the way, because Axel World has 2 courses, we can see unusual cases where the same author's work will be broadcasted at the same time. There are also broadcasting stations that can see these two works in a row, such as AT - X, MBS, TV Aichi etc.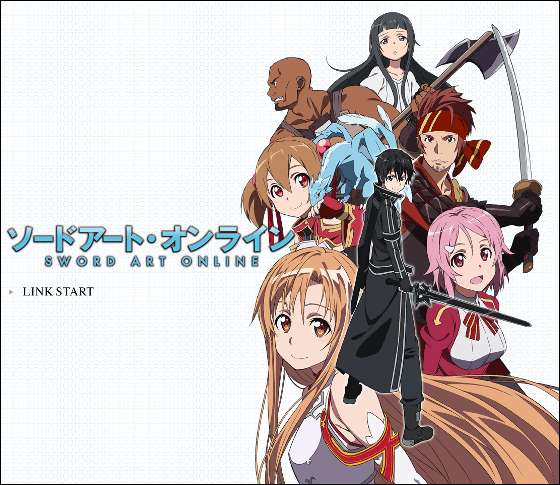 ◆ 5th place:There is one younger sister in this!(711 votes)
The large enterprise group 's chief looks for a lifetime companion, but the light novel is turned into animation that the younger sister who is actually alive is ... .... Because of its setting, it is not interesting to understand immediately who is your sister, as the voice actors of heroines are Norihisa Ishihara, Ayayon Sakura, Ayane Sakura, Ayana Taketomi, Asuka Otame, Hanaoka Rina and their main titles in the young heroine I have a feeling of overwork.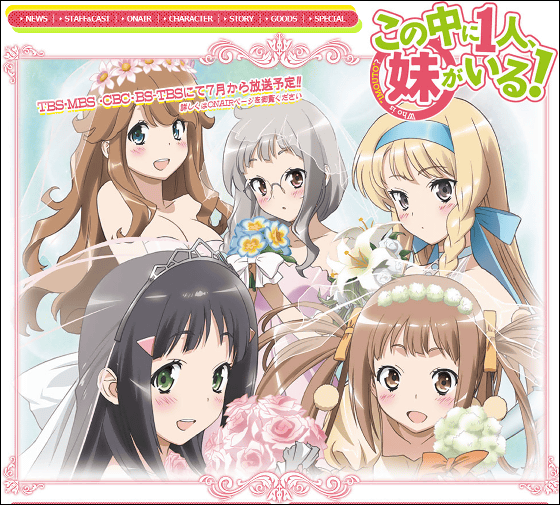 ◆ 6th place:DOG DAYS '(635 votes)
The second term of "Dog Days", a new project by Maki Tsuzuki Maki, the original creator of the "Magical Girl Lyrical Nanoha" series. The story starts three months after the previous work, and the character has become more lively as more characters are added.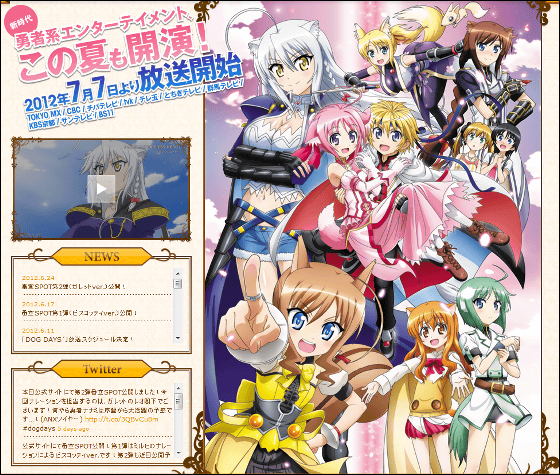 ◆ 7th place:TARI TARI(577 votes)
The latest work of P.A. Works that has sent out high quality animation such as "true tears" "Hanasaku Iroha" "Another". In this season's new animation, this is the only work that is not an original project without an original and is not a sequel.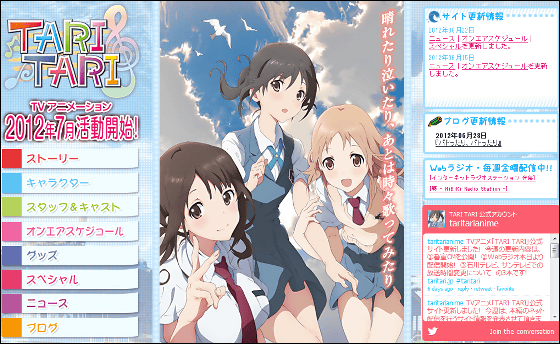 ◆ 8th place:God of poverty is!(491 votes)
The original is Jump SQ.Manga of serial. Director · Fujita Yoichi × Production · Sunrise combination is the same as "Gintama", and sound director Katsuyoshi Kobayashi of "Gintama". As the script is said to be a spectacular remorse for serifs, it seems to be able to enjoy not only animation but also the skill of voice actors.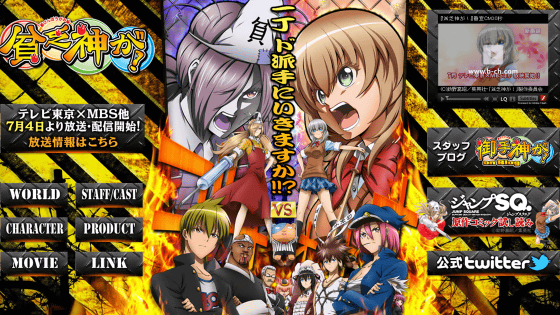 ◆ 9th place:So I can not do H.(374 votes)
As the title suggests, "suppression type erotic comedy" which animated a little light novel. The viewing age restriction is applied on AT - X, and lights and mystery marks are going to be a big success if it is terrestrial broadcasting ... ....



◆ 10th place:Humanity has declined(347 votes)
Tanaka Romeo works active as a novelist and game scenario writer for the first animation.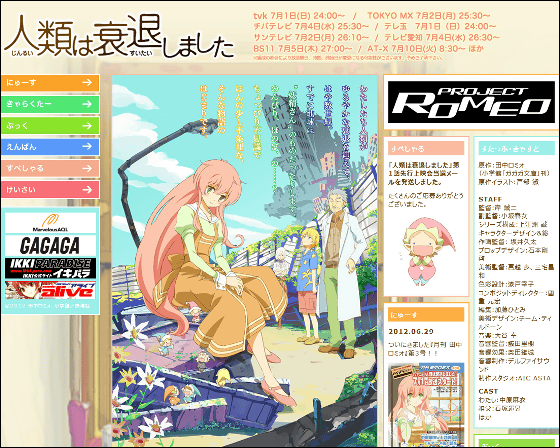 By the way, the total number of votes was 10 361 votes, with multiple answers allowed. Unexpectedly there are cases that it was interesting to see the work which was not noticed in such rankings, so let's check your works firmly even on your own.
in Anime, Posted by logc_nt