Kentucky decides "All-you-can-eat original chicken!" On July 4th of the founding date of KFC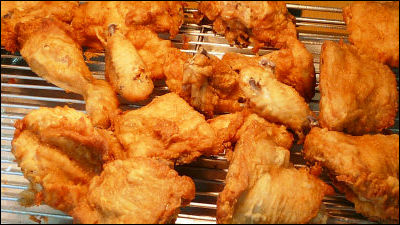 It is 13:00 - 16:00 on Wednesday July 4 (Wednesday) of Japan KFC, 362 stores nationwide limited "All-you-can-eat chicken!It was announced that we will implement.

Thank you for your patronage this year too! To commemorate the 4th July, Japan KFC foundation
"Founding memorial original chicken value" campaign started on June 28
~ For a limited time "Original chicken" 5 pieces For each purchase "One piece of original chicken 1 piece free ticket" presented one piece ~
On July 4, "All-you-can-eat original chicken!" Will be held at the store only
http://japan.kfc.co.jp/news/news120613kfc.html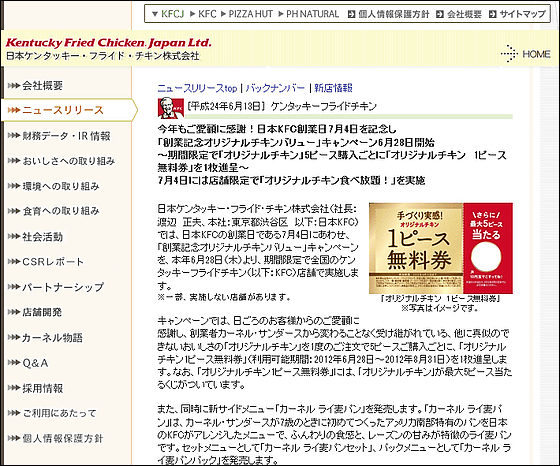 The target items are "Original Chicken", "Fried Potato", "Soft Drink", the price is 1200 yen (tax included price) per person, the time limit is 45 minutes.

As another rule, when ordering all you can eat in the store, "Original Chicken" 3 pieces + "Fried Potato" (S) 1 piece + "Soft Drink" (M) are first imposed as Norma and after that You can eat as much as you want within the time limit.

In addition, the following is a movie how to make original Kentucky original chicken, and it is a quite valuable movie that also shows kernel Sanders himself.

Today also the kernel recipe! How to make original chicken / KFC [Official] - YouTube


According to Kentucky,

KFC's "Original Chicken" has been inherited without change for 73 years since 1939, when Kernel Sanders completed the cooking law. Kernel Sanders said "The most favorite Japanese KFC in the world" because it keeps keeping the most troublesome kernel recipe, which is troublesome.
In Japan, chickens used for "Original Chicken" are herbal chickens raised on KFC registered breeding farms. I cook it by hand carefully one piece at the store. Kernel secret recipe, seasoned with 11 types of herbs & spices, using high quality 100% vegetable oil, frying in a pressure cooker for about 15 minutes at a maximum temperature of 185 ° C, has been for 42 years since KFC was born in Japan , We deliver authentic deliciousness without any change at all.
And that.

In the past GIGAZINE has challenged all you can eat as follows.

The only Kentucky Fried Chicken in the whole country has gone to the all-you-can-eat "Kernel Buffet" - GIGAZINE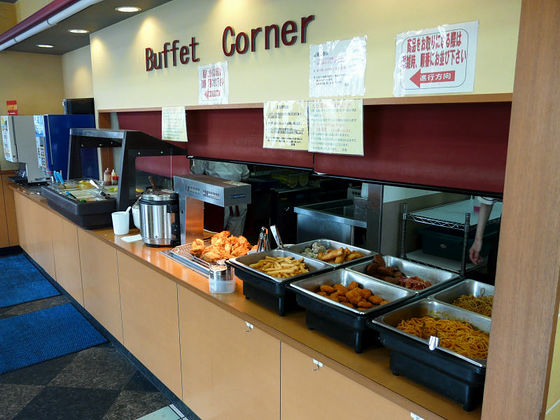 Until now I have not been able to experience the all-you-can-eat Kentucky chicken unless I go to the above store in Osaka, but this July 4th will make this terrible experience possible for anyone.

The list of target shops is listed in the following PDF file.
http://japan.kfc.co.jp/news/pdf/news120613kfc.pdf

Additional notes:
The state at the event was like this.

All-you-can-eat all-you-can-eat report, how many people came and how was it actually?