Tablet equipped with organic EL display "REGZA tablet AT 570" launched on May 26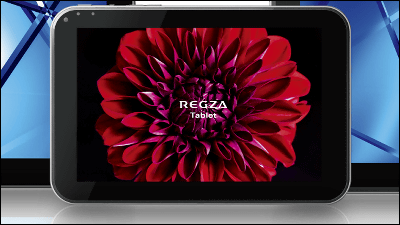 A thin, lightweight tablet "REGZA tablet AT 570" equipped with a 7.7-inch OLED display will be on sale on May 26th. The tablet adopting the organic EL display will be released for the first time in Japan.

Toshiba: News Releases (2012-05-14): Japan's First Release of "Regga Tablet AT 570" with Organic EL Display

Toshiba today announced the release of six models of four models including "Regza Tablet AT 570" with organic EL display.




"REGZA Tablet AT 570" is a thin and lightweight tablet with a thickness of about 7.9 mm and a weight of about 332 g. A 7.7-inch organic EL display is mounted, and a conventional 7-inch tabletREGZA Tablet AT 3 S 0It achieves color reproducibility of about 2.2 times and contrast ratio of about 4.25 times, The response speed is also about 12.5 times, so you can enjoy movies and games smoother more.

In addition to this, "REGZA tablet AT 830" is equipped with large 13.3-inch liquid crystal and full-segment digital digitizer, and it can enjoy HDTV broadcasting of terrestrial digital broadcasting with 1600 x 900 high resolution display. "REGZA Tablet AT 700" is the world's thinnest and lightest model (thin 7.7 mm, about 535 g) as the 10.1-inch LCD tablet, and the remaining "REGZA Tablet AT 500" is the standard model. Among these, AT 570 and AT 500 have two types, 64 GB and 32 GB, and 4 models, totaling 6 models.

Both models adopt Android 4.0 for OS. The CPU is equipped with strong graphics processing such as "NVIDIA Tegra 3" and "Texas Instruments OMAP 4430", and in terms of image quality and sound quality it is said that it is improving the quality compared with the conventional product.

As a tablet with an organic EL display, Samsung "Galaxy Tab 7.7"We released it in Korea in March, but in the domestic release it became the form which took the lead.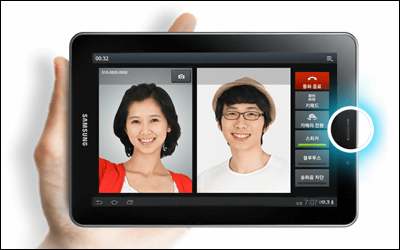 REGZA tablet The specifications of each model are as follows.

◆ REGZA Tablet AT 570 / 46F
Platform: Android 4.0
CPU: NVIDIA Tegra 3 mobile processor 1.30 GHz
Screen: 7.7-inch wide WXGA organic EL display with touch panel (1280 x 800 dots)
Memory capacity / Memory: 64 GB Flash memory (eMMC compatible) / 1 GB
Web camera: Front of the main unit (about 2 million effective pixels) × 1, back of the main unit (about 5 million effective pixels) × 1
External dimensions (not including protrusions): about 204.5 (width) × 135.2 (depth) × 7.9 (height) mm
Weight: about 332 g
Driving time: Approximately 10.0 hours (continuous movie playing time)
Communication: Wireless LAN (IEEE802.11b / g / n compliant), Bluetooth® Specification Ver.3.0
Interface: USB 2.0 (micro-AB), microSD card slot, headset / headphone jack

◆ REGZA Tablet AT 570 / 36F
Platform: Android 4.0
CPU: NVIDIA Tegra 3 mobile processor 1.30 GHz
Screen: 7.7-inch wide WXGA organic EL display with touch panel (1280 x 800 dots)
Storage capacity / Memory: 32 GB Flash memory (eMMC compatible) / 1 GB
Web camera: Front of the main unit (about 2 million effective pixels) × 1, back of the main unit (about 5 million effective pixels) × 1
External dimensions (not including protrusions): about 204.5 (width) × 135.2 (depth) × 7.9 (height) mm
Weight: about 332 g
Driving time: Approximately 10.0 hours (continuous movie playing time)
Communication: Wireless LAN (IEEE802.11b / g / n compliant), Bluetooth® Specification Ver.3.0
Interface: USB 2.0 (micro-AB), microSD card slot, headset / headphone jack

◆ REGZA Tablet AT830 / T6F
Platform: Android 4.0
CPU: NVIDIA Tegra 3 mobile processor 1.40 GHz
Screen: 13.3-inch wide HD + TFT color IPS LCD with touch panel (Wide viewing angle / power saving LED backlight) (1600 × 900 dots)
Memory capacity / Memory: 64 GB Flash memory (eMMC compatible) / 1 GB
Web camera: Front of the main unit (about 2 million effective pixels) × 1, back of the main unit (about 5 million effective pixels) × 1
TV tuner: one terrestrial digital broadcasting / one TV tuner for one-segment broadcasting, a rod antenna
External dimensions (not including protrusions): about 343.8 (width) × 211.3 (depth) × 9.9 (height) mm
Weight: about 1.00 kg
Driving time: about 13.0 hours (continuous moving image playing time) / 5.0 hours (continuous TV viewing time)
Communication: Wireless LAN (IEEE802.11b / g / n compliant), Bluetooth® Specification Ver.3.0
Interface: micro HDMI output terminal, USB 2.0 (micro-AB), SD card slot, headset / headphone jack, antenna input

◆ REGZA Tablet AT700 / 46F
Platform: Android 4.0
CPU: Texas Instruments OMAP 4430 1.20 GHz
Screen: 10.1-inch wide WXGA TFT color IPS liquid crystal with touch panel (wide viewing angle / power saving LED backlight) (1280 × 800 dots)
Memory capacity / Memory: 64 GB Flash memory (eMMC compatible) / 1 GB
Web camera: Front of the main unit (about 2 million effective pixels) × 1, back of the main unit (about 5 million effective pixels) × 1
External dimensions (not including protrusions): about 256.0 (width) × 176.0 (depth) × 7.7 (height) mm
Weight: about 535 g
Driving time: about 7.0 hours (continuous moving image playing time)
Communication: Wireless LAN (IEEE802.11b / g / n compliant), Bluetooth® Specification Ver.3.0
Interface: micro HDMI output terminal, USB2.0 (micro-AB), microSD card slot, headset / headphone jack

◆ REGZA Tablet AT 500 / 46F
Platform: Android 4.0
CPU: NVIDIA Tegra 3 mobile processor 1.30 GHz
Screen: 10.1-inch wide WXGA TFT color IPS liquid crystal with touch panel (wide viewing angle / power saving LED backlight) (1280 × 800 dots)
Memory capacity / Memory: 64 GB Flash memory (eMMC compatible) / 1 GB
Web camera: Front of the main unit (about 2 million effective pixels) × 1, back of the main unit (about 5 million effective pixels) × 1
External dimensions (not including protrusions): about 260.6 (width) × 178.9 (depth) × 9.0 (height) mm
Weight: about 590 g
Driving time: Approximately 10.0 hours (continuous movie playing time)
Communication: Wireless LAN (IEEE802.11b / g / n compliant), Bluetooth® Specification Ver.3.0
Interface: micro HDMI output terminal, USB2.0 (micro-AB), SD card slot, headset / headphone jack

◆ REGZA Tablet AT 500 / 36F
Platform: Android 4.0
CPU: NVIDIA Tegra 3 mobile processor 1.30 GHz
Screen: 10.1-inch wide WXGA TFT color IPS liquid crystal with touch panel (wide viewing angle / power saving LED backlight) (1280 × 800 dots)
Storage capacity / Memory: 32 GB Flash memory (eMMC compatible) / 1 GB
Web camera: Front of the main unit (about 2 million effective pixels) × 1, back of the main unit (about 5 million effective pixels) × 1
External dimensions (not including protrusions): about 260.6 (width) × 178.9 (depth) × 9.0 (height) mm
Weight: about 590 g
Driving time: Approximately 10.0 hours (continuous movie playing time)
Communication: Wireless LAN (IEEE802.11b / g / n compliant), Bluetooth® Specification Ver.3.0
Interface: micro HDMI output terminal, USB2.0 (micro-AB), SD card slot, headset / headphone jack