New series that self-remake "Rurouni Kenshin" starts serialization at jump square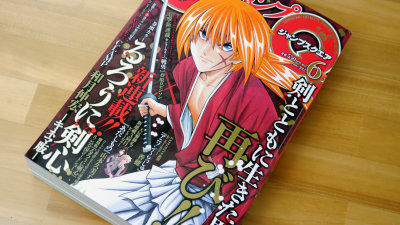 It has been popularized as a series of Weekly Shonen Jump "Rurouni Kenshin"Series started at Jump Square June issue as" Rurouni Kenshin - Kinema Version "by Nobuhiro Kazuki's own hand. On August 25 the movie "Rurouni Kenshin"Has been decided to be released, it is shaped accordingly.

Jump square Contents of this issue



The synopsis of the Kinema version is "There is a swordsmen / Himura Kenshin that was feared as" human swordsmanship "in Kagoshima, the shogunate where the shogunate and the Shin Seiji fighters were struggling against each other After the restoration" A sword that had become a wanderer (Ruroun) who travels without hitting Japan, swearing the word, "The story begins to move from the encounter with a girl living in swordsmanship in Tokyo ..."! It is like a self remake to rewind the story of the swordsmind, and the content has changed subtly from those of the serial series.

The first episode of the beginning color "The beginning of Romantan". Aori sentence "The beginning of a new legend !!" is attached.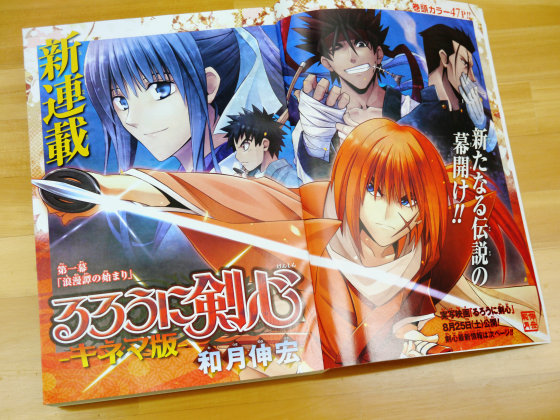 It is a serial series as a new series, not a break-up according to a movie.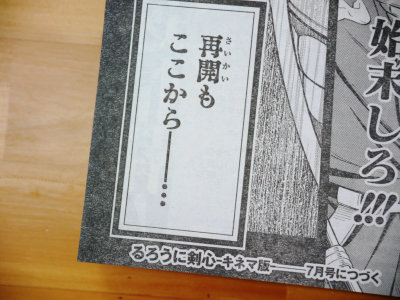 The movie "Rurouni Kenshin" is released August 25. Ken Sato plays the hero's scarlet village Kenshin.

Movie 'Rurouni Kenshin' official website
http://www.rurouni-kenshin.jp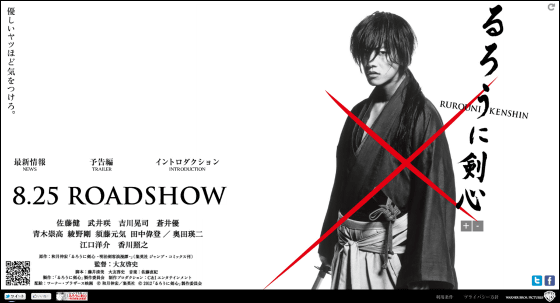 Featured video is like this.

"Rurouni Kenshin" Special News - YouTube


Kazuyasu Saito who plays Yosuke Eguchi plays Yosuke Kagawa and Tomiya Takeda acting, and Koji Yoshikawa plays Udo Yutaka, what kind of plays are shown on the screen ...... I want to expect that popular comics will be live-action movies.

◆ Movie Information
Original: Nobuhiro Wagashi "Rurouni Kenshin - Meiji Kenkaku Romantan -" (Shueisha Jump Comics)
Director: Hiroshi Otomo
Producer leader: William Iyton
Executive Producer: Hiroyasu Koiwai
Production: Warner Bros. Movie
Production Production: STUDIO SWAN (IMJ - E)

Karimura Kenshin: Ken Sato
Kamiya Kaoru: Takei Saki
High price: Aoi Akira
Sagaku left Nobusuke: Sakaku Aoki
Megumi Yahiko: Tanaka Keihi
Yamagata Yuru: Eiji Okuda
Udo Kiyoe: Koji Yoshikawa
Saito First: Eguchi Yosuke
Takeda Yutaka: Teruyuki Kagawa
Outer mark: Tsuyoshi Ayano
Suani Genki

© Nobuhiro Wagetsu / Shueisha