"Nico Nico Sumitomo Mitsui VISA Card" appeared, Nico Nico points reduced by 1%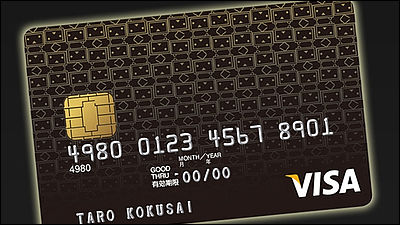 It will be held at Makuhari Messe on Saturday, April 28 and Sunday 29thNico Nico Society 2012"It became clear that the advance acceptance of" Nico Nico Sumitomo Mitsui VISA Card "will be started.

Nico Nico Sumitomo Mitsui VISA Card
http://info.nicovideo.jp/nico_smbccard/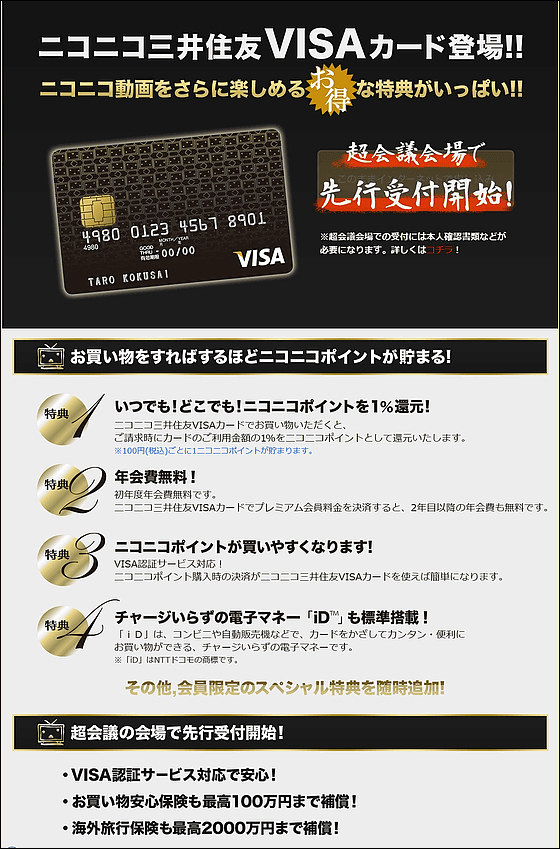 The benefits are as follows.

◆ Bonus 1: Nikoniko Point 1% reduction
When shopping with Nico Nico Sumitomo Mitsui VISA Card, it seems that 1 Nico Nico points will be accumulated every 100 yen (tax included).

◆ Bonus 2: Free annual fee for first year
If you settle the premium membership fee with Nico Nico Sumitomo Mitsui VISA card, the annual membership fee after the second year is also free.

◆ Bonus 3: Nico Nico points are easy to buy
According to VISA authentication service, it is easy to settle NicoNico Sumitomo VISA card for payment when purchasing Nikoniko points.

◆ Bonus 4: Equipped with electronic money "iD"
With convenience stores, vending machines, etc., you can use electronic money without the charge that you can easily shop by holding the card easily.

In addition, at the venue booth of Nikoniko Super Conference, it is necessary to receive one of the following as "identity confirmation documents" at the time of application for membership application.

1: Driver's license
2: Health insurance
3: Passport
4: Copy of residence card
5: Basic Resident Register card
6: Certificate of alien registration

Furthermore, in the case of a student, in addition to one of the above, a "student ID card" is also necessary, and if the identity confirmation document and the current address are different, the following documents (copy It is also necessary.

1: Receipts for utility charges (electricity, city gas, water service, NHK reception fee, etc.)
2: Social insurance fee receipt
3: Receipt of national tax, local tax (or tax payment certificate)

In addition, if you bring the cash card of the following financial institution, the account report mark is unnecessary (however biometric IC card cash card can not correspond).

Mitsui Sumitomo, Mitsubishi Tokyo UFJ, Mizuho, ​​direct ownership, Resona, Saitama Resona, Yokohama, Keiyo, Hokkaido, Shinkin (excluding some), Maples, Hiroshima, Hundred and Fourty, Tomatoes, Saninomoto, Shiga, Kyoto, Kinki Osaka, , Minato, Kansai Urban, Ikeda Quanzhou, Nan Town, Shizuoka, Sulga, Kagawa, Shimizu

In other words, if there is an account other than the above financial institution, it means that an account report mark is necessary.

The application is limited to 18 years of age or older (except for high school students), and in the case of minors it is said that consent of parental authority is necessary.

Where are they going to Nico Nico Douga ......
in Note, Posted by darkhorse