Released Sleipnir Mobile for Android 2.0 browser for Android that starts 5 times faster than before


A web browser "Slepinir Mobile for Android 2.0" for Android OS which has been able to add functions freely with the extension function installed has been released.Official release of September 2011Since then, it will be the first major version up. Processing at the time of startup was also reviewed, and the startup speed is up to 5 times faster at maximum.

Sleipnir Mobile for Android 2.0 official version has been released! (Fenrir | Developer's Blog)

Sleipnir Mobile - Web browser - Android application on Google Play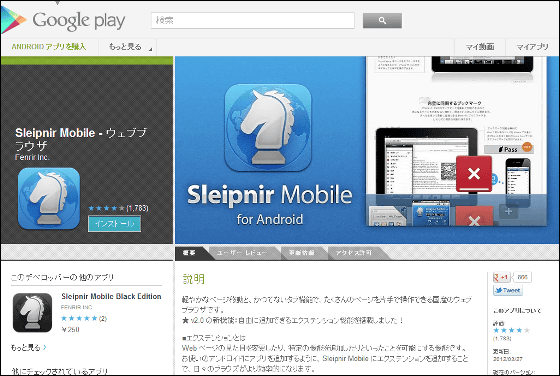 "Sleipnir" is the name of the browser developed by Fenrir, and for Android the official version was released in September 2011. The page movement is light, the tab function is also substantial, it is characterized by being able to operate a lot of pages with crisp with one hand.

In this major upgrade for the first time since the release, the extension function was installed.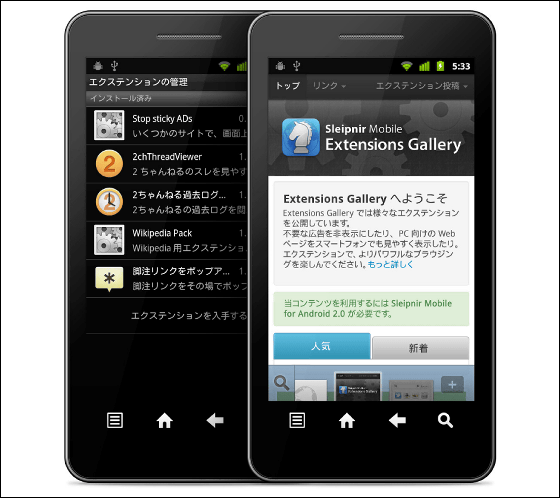 エクステンションはChromeやFirefoxでも使われている拡張機能のことで、ブラウザ独自の機能の他に、あとからユーザーが自分の好きな機能を追加できるというもの。例えばこれは「http://gigazine.net」などとベタのテキストで書いてあるURLをリンクに変換してくれるエクステンションの例。わざわざ文字列を選択してコピーし、アドレスバーにペーストするという作業が必要なくなります。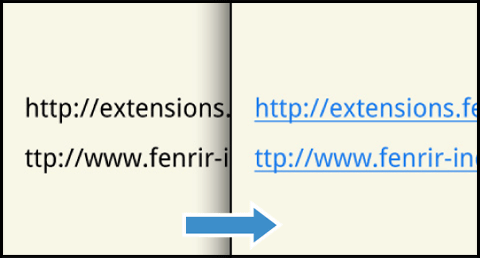 Here is an example of an extension that makes the page for PC easier to see on smartphones. Do not bother to expand the site for PC OK.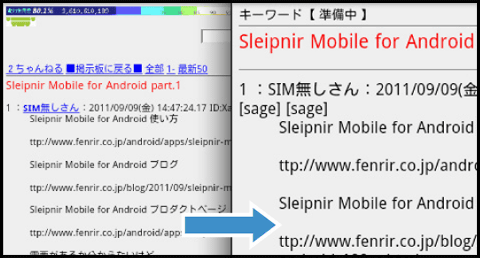 These extensions are published on the distribution site "Extensions Gallery". When you access the site with Sleipnir Mobile for Android 2.0, you can easily install it by tapping the button, and restart is unnecessary.

Extensions Gallery - Sleipnir Mobile for Android
http://extensions.fenrir-inc.com/