It is interesting to create a work only in a harsh environment, Blue Shigeru Takeda Producer's animation strategy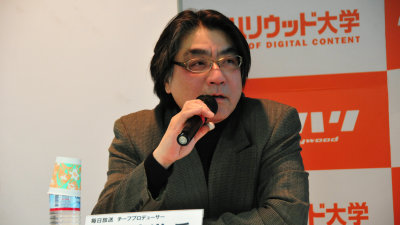 Digital Hollywood UniversityHosted event "Anime · Business · Forum +2012"Was held on January 30th. This forum is an event that people who are active in various positions of the animation industry talk about animation business, market and future for each theme.

This time it is the chief producer of the everyday broadcastingTakeda YuushiThinks "Animation deployment strategy of everyday broadcasting"We talked with Mitsuaki Takahashi of Digital Hollywood International Anime Research Institute.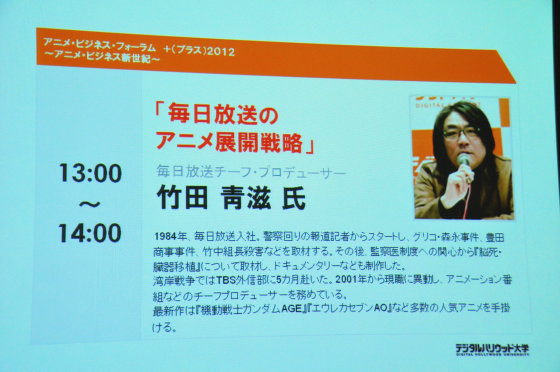 Takeda Kuji (hereinafter bamboo):
(Mobile Suit Gundam AGE,Doobo x me SS (Inoki Secret Service)After the flow of PV)
The one I saw now is "Gundam AGE" and I'm doing it at midnight "Inu x Boku SS". Besides that, at MBSHiroo MaruyamaProducers are working on several works. In the network, Gundam AGE is the nationwide network, Inu x Boku SS is the backbone of 5 bases, or there are some 10 stations depending on the work.

From April this year we are broadcasting Inoue × I SS "Eureka Seven AO"Renton and the son of Eureka who was the main character of the previous work saying the work which becomes the hero newly will be in charge. This is because the directorKota Tomo, Character DesignKenichi Yoshida, With the same members as the previous album, I am keenly working now. Recently, there were few works which were done, but when you look at the current situation in the world, the situation of Iran etc, it will be a work to start at a time of tension as to whether America will cause military action, so as a story I think that it will be easy to see just.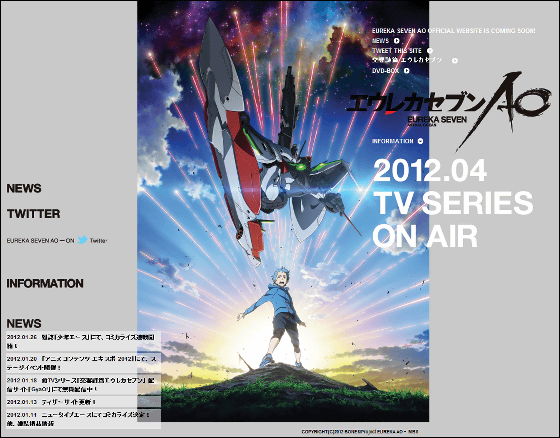 AGE understands when you see character design, but "Cardboard warfare"Or"Inazuma ElevenLevel 5 which is developingAkihiro HinoIs attending. The Gundam series at MBS is the fourth work by AGE, but with the parents, children and grandchildren trying to do Gundam saga for three generations for three generations, the Gundam inherited by 3 generations, and the robot itself evolved by the AGE system It has become like contents to do.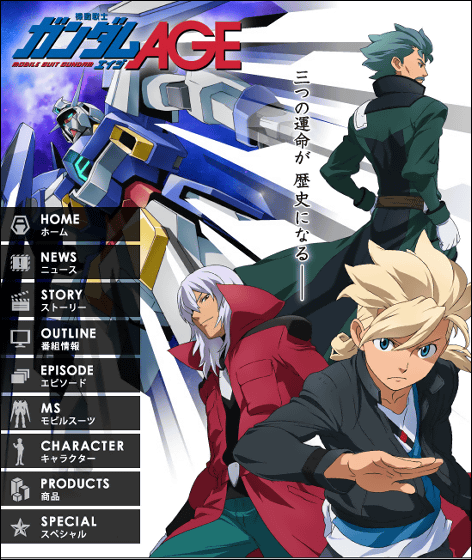 Yoshiyuki TominoSince almost 40 years have passed since Ms. Genki did the first Gundam, the core fans are getting older and the elementary school students who will form the core part of the next generation of Gundam fans It is an attempt to try Gundam once the age group has been targeted as Mobile Suit Gundam AGE. Apart from this, Eureka aims a bit more high-end users.

As a series that was broadcasting in front of Gundam, "Jump square series"Blue Exorcist"there is. It was the first time that MBS tied up with the jumping work, but it got quite popular, and it seems that the average of the comics was 80,000 copies before, but this is one million copies per volume, miraculous sales increase It is currently undergoing dedicated film production. The scriptReiko Yoshida, The directorSpirited Away"Or"Eggplant Andalusian summerI participated inAtsushi TakahashiMr. As director who clearly has a visual image, I think that it is possible to do something very interesting. It must be a group image drama, but it is a question of how far a depthy story can be made using the original character of the movie, while enjoying the state where the characters like the school girls are in a watchdog.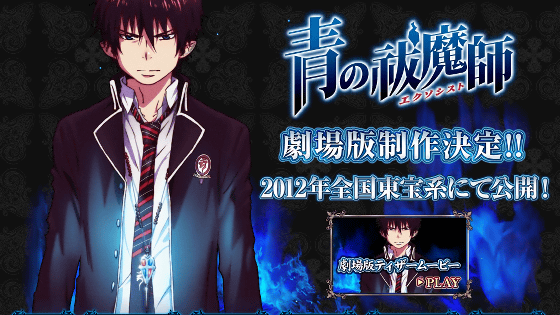 In parallel with this, the "STAR DRIVER Tact of shine"The movie making work is progressing. Also, as for late-night things there are many pieces running, but it is such a thing that I am touching directly, and committing variously.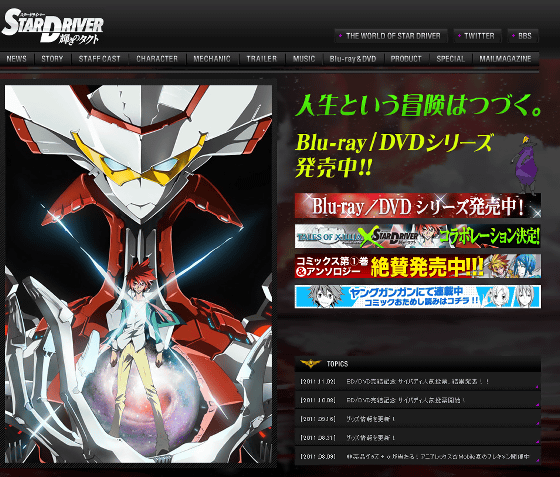 Mitsuteru Takahashi (Takahashi):
Ms. Takeda is a chief producer, and Mr. Maruyama is also coming at the time of the story of "Sengoku BASARA" that he did at our university in the form of his subordinates. Drama"Arakawa Under the Bridge"Takeda says that he is doing it, when you are doing a role sharing. It is visible from Suwa producer of Yomiuri Television as if it is really widely doing it widely and is grasping the intended target, but since Mr. Takeda became general manager, MBS's animation Do you have any change in production flow or policy, something happens?

Takeda:
Not everything is trying to change direction by oneself all by themselves, until I take charge of "Mukamuka Paradise"Cute monster thing like things,"Mamapo (Mama likes Poyopoyo Zaurus)"There are many families like, before that"The Super Dimension Fortress Macross"There were also things like, but it was a policy that goes to get numbers by family viewing. I am working as "Ultraman Tiga"We decided to go to the era when we came up with the strategy of doing launching, etc. and taking a viewer's rate and selling it to sponsors like ordinary large companies, so we decided to transfer to an organization and be in charge of animation , I just had to think about it as an operationally feasible thing.

So, "Mobile Suit Gundam SEEDThat was why. If I am family-oriented up to now, I do not have any plan to organize, so I do not think the project itself goes through. However, since Nanase MBS is also a commercial enterprise, it is said that "animation is culture", but it must be operated in an operational manner. In SEED, Ms. Bandai, Sony, and initially, Victor, I think that I could have made a series in which I responded after absorbing all such needs. The series started in 2002, but just in 2001Example of terrorism on 11th SeptemberThere is a terrible thing that can not be thought of as the twin tower collapse, overlapping with the place where the retaliation war of the United States begins. Because of that, after the real war video flowed in real time, the screen switched and the pattern that war was being done even in animation called Gundam SEED, so there was "what is doing weak in noh, It aimed at setting and making such as not saying "This?" In terms of stopping the chain of non-warfare and hatred, I can only deal with "tolerance", but for children who are witnessing "intolerance", their degree, including the adults watching in the news, I think that it is different from the world situation, but since it began in that, it was exciting and I felt it so uncomfortable and I felt it was easy to absorb.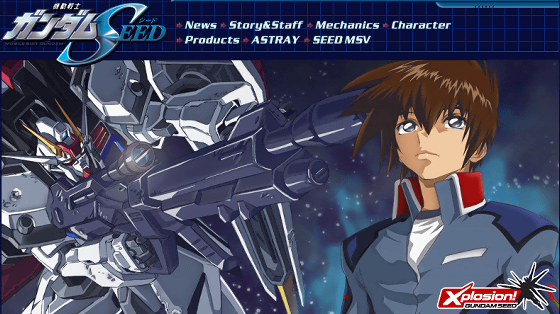 The next work is "Full Metal Alchemist"was. Although it may be that no one thought that the character of losing one leg and one arm became a hero, alchemy is technology in that world, so because it used its state-of-the-art technology, his body I am losing part of ... ... It is the same in modern times too. Ethical judgment will be later on whether technology can be done. Because I draw something like the work that modern technology has, I think that I could have appealed straight.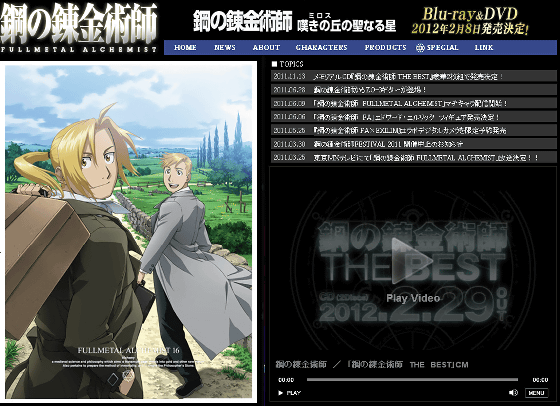 Eureka Seven AO may also be interesting to see in such a tense situation. That has been built in. I may be born in the press and experiencing sales, so it may be a bit different approach to producers dealing with other animation works.

Takahashi:
From Takeda-san's point of view, is it easy to take advertisement as an animation, or whether it is easy to create freely?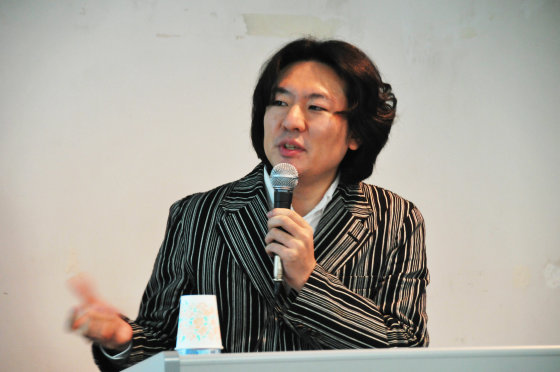 Takeda:
After all the pie is decreasing, unlike the old animation bubble, it is placed in a harsh environment. However, there are scarcely any such things like "If you do not do this" to the producer, I think that such stress has not been added. However, I think that the current child will see through unless the feeling that "Creating what you want to see" has been stretched out by creators is not appearing on the film. However, since their consumption speed is getting really fast, when thinking that they are told 2 way cool, I'm running to another thing for the next cool (lol), how to pull it off and film and second Whether it connects to the season or not, it is quite difficult to be sure. However, because it is becoming difficult, because the hurdles are getting higher by carefully building the scenario and watching considerably ahead, the hurdles are getting higher, which is a fun state for the creators.

Takahashi:
Since this time is the theme of "New Century", I was thinking about asking about it, but I would like to ask about Mr. Takeda's discussion of the bubble period. Although it is my personal impression, since there were abnormally many people who liked animation during the bubble period, the commodity balance was not exactly taken, but the supply was simply large. I think now that the number of animation fans is decreasing and demand is not shrinking, but what about it?

Takeda:
Well, I think so too. The bubble has run into profit on the supply side and there is definitely a time that "DVDs can sell 25,000 DVDs if you make animation, whatever it is", "Are you not making fans or viewers stupid?" I have a feeling that. Rough & ready, due to crude stuffing, the viewers' eyes became strict, but I think that is correct. It is obvious that it will be a good stimulus for the producer side that you will see it with severe eyes, and now people of the creator will get used to it in that environment, so if it is not there is no interesting work born . I think that it is a good situation and a good environment to think positively that day and night, how we are endorsed by the user, rhetoric, gimmick, invention of plot, we are pushing hard on development.

There were various things that I mentioned or did not do, but for example STAR DRIVER, there was a somewhat erotic part, and I thought that "as long as that is OK" as an expression, but from a child In the evening time zone seen with parents it may have been that it was difficult to match the channel for a while. In that case, I would rather reflect on that it would have been better to do it for the late night, or it might have been better to make a difference from the DVD by making something for broadcasting that is slightly less exposed than the DVD version.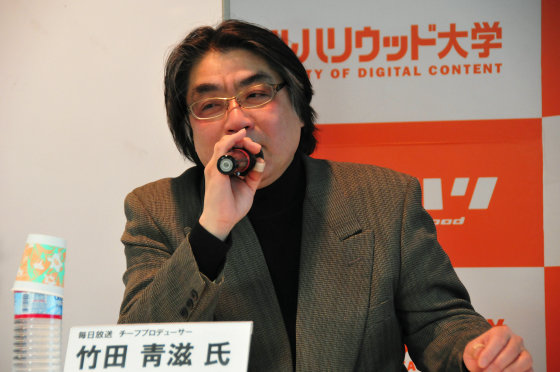 Takahashi:
I think that original works such as Gundam AGE and Eureka Seven are considerably hurried and I think that it will be said that it is "envious" from the Suwa producer of the Yomiuri Television, but this origin does not go well with the way it was said so far Is it right?

Takeda:
Of course, as a business, it must be established as a scheme.

In the case of Eureka, the previous series, the Symphonic Psalms Eureka Seven continued for a year on Sunday morning, but I could not get a large number (audience rating), but it was established businessfully. There was a place where the popularity gradually became popular since the series was over and there were enthusiastic fans among the developers of pachinko and pachislot, and it was said that they wanted to make this time again, thanks to Eureka I was blessed with the chance to be able to do it again. I also thought that everyone thought that "Do you do such a heavy content on Sunday morning?", But they were writers of the Ghost in the Ghost in the shell without getting out of handSato UniversityKanada, Director Kyoda, Mr. Kenichi Yoshida, played musicNaoki SatoMrs., members born in 1970, incorporating elements of pop culture and subculture of the 1980s, such as what they want to see, like things like surfboards, and "Love & Peace" as a counterculture of the 1970s It was interesting for me to try spotting on their real-time youth who dragged the residue. 1979 is "Apocalypse of Hell", 1982 is"Blade runner"From there I also fall out completely of myself, so I think that I want to bet there that they would express them as creators who were feeling it at elementary and junior high school age.

"Tenpo IkaiAlthough I did it on Saturday, it was a work that took up the outlaw that protruded from the social structure of the Edo era and did thorough examination of the era and I did a very interesting work as me and the opportunity to study personally Although I think that it is blessed with the viewing rate, although sales of DVD and so on were not so much, to the United States and Europe, the program was sold under the title of "Ghost Slayers Ayashi", and I have done a good result. I think that it is a prerequisite that it is making something without getting out of hand that there is something to catch on. It is not the case that it is not a way of saying "Do not worry about fitting", "Because there are fans, do not you hit if you include this element like this?" I think that's what I was doing in rough & lady during the animated bubble era.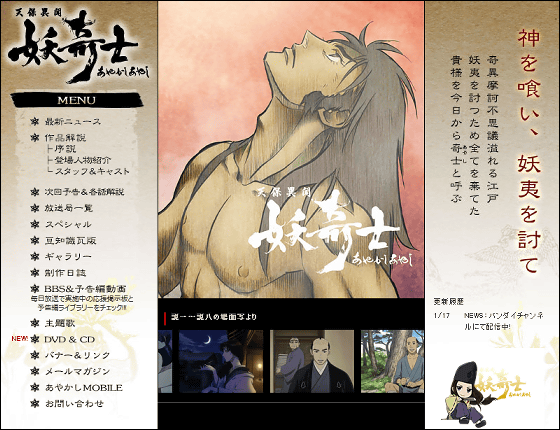 Takahashi:
I'm daring to ask another question here, but when making animation, for example, from a sales person, "Does this kind of sponsor attend, so make such an animation, do you have such a request?"

Takeda:
There is not much that our sales section sells, and I am like a business. Because my relationship with Mr. Bandai is also myself or Maruyama, I think that it is a different stance from other stations to do the producer while doing business as well.

Even if it is Gundam SEED or SEED DESTINY, even if it is set to 00, selling DVD or Blu - ray after all was the most profitable head, but in the case of AGE there is also the end of DVD and Blu - ray, There is a situation that purchase refrain is occurring first. Also, if you look at a digital recorder, it is more beautiful than a DVD, and you also skip CM. So, there are limits to selling lots of DVDs and Blu - ray? So, it would be nice if you could sell 1 million copies of DVD and Blu - ray together with the hit maker 's level Five, but on the contrary, is not it the same if the game sells 1 million copies? That is the origin of AGE.

This time, NAMCO BANDAI Games Inc.Unzou UnokoThere is a funny person who became president once, but once again I became demoted to the vice president, that person said, "Although it says that DVDs will not sell, video DVDs included in the game, Sueni "If you do it like a final fantasy, you can sell 100,000 copies." There are things like Bandai's favorite, plastic model attached to Ramune "toy", but if you put the game in the same way and the extra footage is tremendous, it would be the same if 100 thousand sheets, 150 thousands sheets are taken out And, I thought that kind of attention point is interesting. I do not know what will happen if the game goes out whether this works or not. From the Bandai visual, there was a concern that Gundam's heavy users, core users, would not look for such character design for children, which was a controversial issue.



Elements that can take numbers are also important because we are producers of the organization, but even if it says only that, there is place to say. At least, I think that it is useless unless there is a place to say that the sending side is looking at it and it's interesting. But, as you are watching right now, I think that there are cases in which "I do not think that this is interesting?" Is being broadcasted, even if it makes a variety or even a drama. At the very least, as a human being on the broadcasting side, cutting edge of sending out, I think that it is Akan.

Takahashi:
Suddenly entering the concrete theory, I do not know whether I can ask Mr. Takeda, I will organize it with an independent station, organize it with the TV East series, broadcast at about 5 stations, and then in the form of net delivery The number of outputs is small. I think that there is roughly 12 million yen of production cost, but the number of broadcasting stations according to the current size of the market, or the production cost, if it is difficult to do business compared with the past, Is not that the situation?

Takeda:
It is not a work that compresses the production cost and still does it, because it is the last fort. On the contrary, thinking from quality, I think that it is not ample yet. I think that it is definitely animation among the programs broadcasted in Japan that the human labor is the most packed in one second. It is not happening with animation to say that we want to reduce production cost ... ....

If it is assumed that it is necessary to prepare an animation to meet the sales requirement of game makers, music industry, DVD sales company, if it is assumed that BS broadcasting has photographer special feature, there is program specialized for color , Most of them have satisfied the sponsors' needs 100%, there is a program that the sponsor wants, and there are not many elements that must be taken, which is cramped. Bandai is also buying BS11 because it is possible that sponsors of animation can be sold enough. I think that it will be a definite trend that animation will gradually shift from terrestrial wave to BS.

When that happens, what will MBS do? I am going through BS-TBS, but I think MBS is involved in the production, so I can continue to keep anime work and continue broadcasting. Rather than doing it cramped by terrestrial wave, I feel like I can not move to the new base of cheap BS of radio fee and convert it to that I can pay enough.

Takahashi:
How about you, how many people are watching cartoons on BS broadcasting? (Paradise and raising hands) ... I see.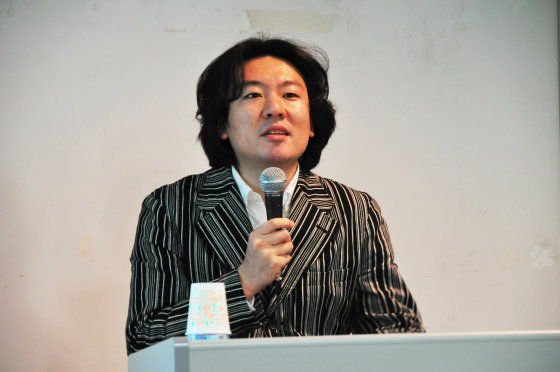 Takahashi:
By interaction with TBS, which is a key station of MBS called a key station, what kind of story are you talking about when you decide the direction at a meeting? Or are you only got a frame, the rest are the state?

Takeda:
It is a form that MBS is lent a frame and is being broadcast. I heard that it is a quasi-key station, but there is no "quasi-key". There is only a key station or a local station, MBS is a completely local station. It is a big proposition that I have to take a figure as I borrow a frame from TBS and do the program, but if I can not get it, I think TBS is a good point to return the frame.

Animation is so soft that it has no mobility. If it is a drama, if you can not do it by all means "If you finish with 1 cool, it will be OK", but since animation has been prepared one year ago, what you said you would do in 2 courses is 2 courses you can not finish on the way. If variety does not increase popularity, you can change the moderator, but you can not change it because there is no popularity of the hero in the animation. Therefore, there is absolutely no maneuverability. Beyond doing such software, I carry a negative element as fate. It is how to bounce back there, but I have put up with it.

The AGE said that the amount that was broadcasted on Sunday this week is 2% level at TBS, MBS or Nagoya is around 4.5%, not aiming at 4 to 5%.

Takahashi:
Will there be a change in the production committee itself in the future?

Takeda:
How about that? I am doing selection committee members of the Kadokawa sneakers bunko, and I am reading a light novel, but even newcomers have to read "Omoroi is omoly". That is 19 years old or 20 years old. If you can reduce the cost of decreasing the radio fee by making animation using such genre as an original, there is feeling that the genre will be spreading as the production committee is made from here. I might think that the feeling of blockage is full, but I do not think of that kind of wind and I am thinking that it will rather spread.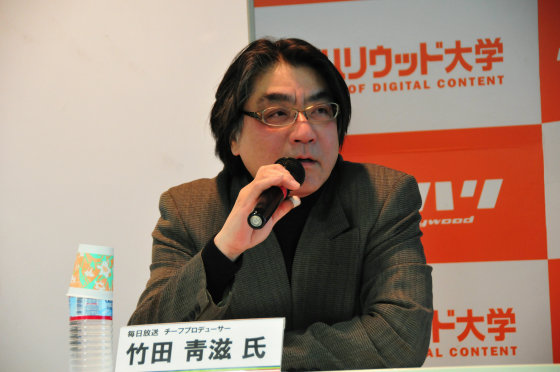 Takahashi:
On that, what kind of thoughts do you have as Mr. Takeda about "future animation strategy of everyday broadcasting"?

Takeda:
Wagaren who was doing before, blue exorcist etc. It might be good to pick up serial titles of comic magazines. Until now, it came in the original centrally, but as you develop media mixes with things that have exposure, such as comics, and those with media, the footprint will expand, so if you think about numerical countermeasures, Because I can hope, I think that shaking it there is too handy. I think whether I can shake the nationwide network in the evening over there. I think that the blue exorcist will do theatrical version at the end of this year and then start the second bullet. I think that can be done if the original collection is collected.

MBS has not worked on jumps before, but the jump did not allow you to let the original be animated until the volume of comic books accumulated to a certain extent. That was "It's not the case" ... thanks to Steel's Alchemist, who broke the law, which only came up to 4 volumes at that time. If it says 4 volumes, if it is animated, it is just a little cool so you will definitely make an original story. I talked with the original author and talked about it and got an OK, and as a result, both animation and comic were both sold, and although the blue exorcist has the story of the original compliance though it is the same pattern , Basically there was a part advanced with the original author consulted with the original, selling both in synergistic effect. Thanks to this, even Mr. Jump has expanded the door, "I wonder if it will be adventurous?" In the evening, I shake it to that direction, and I think that we should dig it into everyday work such as Eureka at night.

Takahashi:
Is there any criteria for collaborating with a production company?

Takeda:
There is no such thing. By chanceBondsofMinami MasahikoI heard that he is working with a producer for a long time,mangroveIt would be interesting to work with Mr. Shinichiro Kobayashi,Production I. GofMiku IshikawaAnd something interesting ... and so on. Sorry it isMadhouseofMasao MaruyamaI was saying "Let's do something" with Mr. Maruyu quit Mad. I am talking about doing something again with a new company.

By the way, Takeda producer started to start a program called "Akarimi Rai" in a time frame of 20:00 on Sunday in the battlefield as a program other than animation from April. It is a program to break down the downer feeling of deadlock in Japan since 311.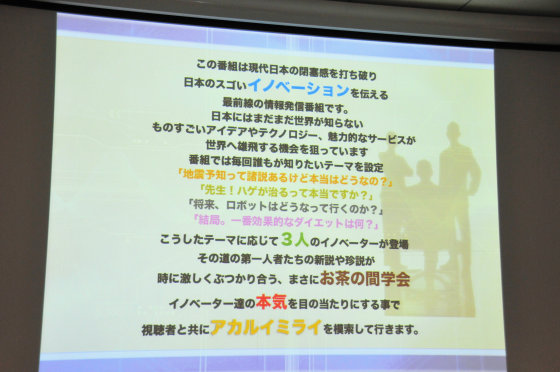 In Japan 's happiness survey, it is Japan that is still 43th, but it is the world' s best in innovation ranking. It aims to discover the technologies and ideas hidden in Japan, rediscover and excitement the splendor of Japan.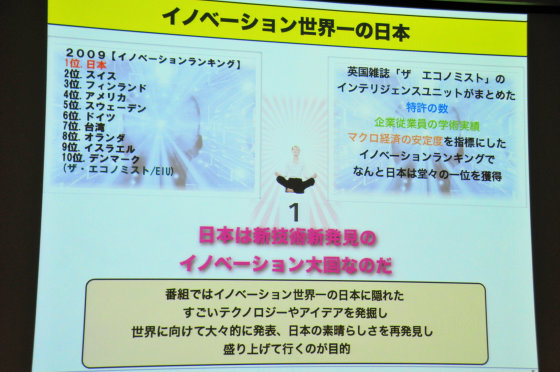 Mr. Takeda says that he is responsible for dramatizing the future after 100 years not by live action but by animation.