"FileSonic" disables Megaupload closure effect or file sharing function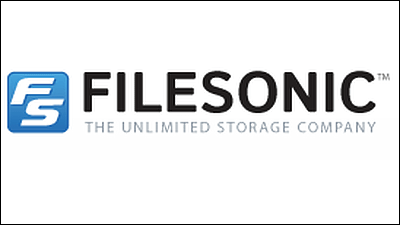 Last week, the US Department of Justice and FBI provided online storage servicesThe operator of 'Megaupload' was arrested and the site closedHowever, whether this is affected, the same online storage service "FileSonic"I am, and othersDisable file sharing functionDid.

FileSonic, fast and easy file storage.
http://www.filesonic.com/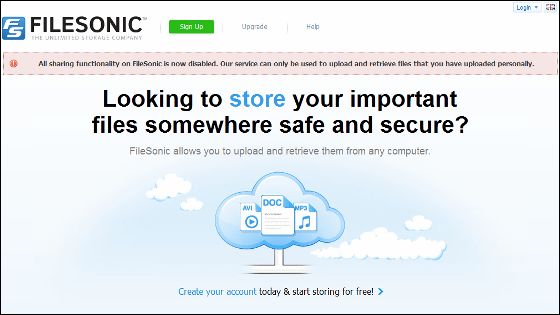 Filesonic Kills File-Sharing Service After MegaUpload Arrests | TorrentFreak

FileSonic gathered 250 million page views a month, and it was a site that entered the top 10 as a file sharing service.

At the present time, the following wording has been added to the top page.

All Sharing functionality on FileSonic is now disabled. Our service can only be uploaded and retrieve files that you have uploaded personally.
(All FileSonic sharing features are disabled, FileSonic only allows you to upload files and recover files themselves uploaded)
As a result, links to hundreds, thousands of remaining FileSonic on the net have become invalid. Not only this shared function but also the incentive system for those who uploaded popular files with many downloads has been suspended for the service change point. The problem is payment of incentive to the user who was accumulated before this reward system ceased. Many users are worried about this point, but it is unknown whether they will be paid for now or will disappear.

Regarding this decision, there is no official announcement from FileSonic, but just the other dayArrest & site closure of "Megaupload" operatorRelationship is certain. Megaupload had a main server in Virginia but FileSonic likewise seems to have several servers in the USA as well.

By the way, it is also online storage serviceRapidshareIn response to the interview with ars technica, I replied that I am not particularly worried about the interrogation. In order to minimize legal risk in RapidShare, we already cut out shared functions completely.

FileSonic has disabled file sharing in wake of Megaupload takedown

Both FileSonic and RapidShareDMCA (Digital Millennium Copyright Act) We are showing a posture to fight copyright infringement based on. For example, when uploading a file, we introduced a system that can check whether it is a copyright infringement file before the user publishes it, and users who repeatedly violate are blocked. However, there is also a doubt that this check function was really working.

There are many cases where large file sharing is required for business use, so we would like you to avoid only the flow that all storage invalidate the shared function.