Mini-sized keyboard with touch pad that can be used on the knees and grounder style "Wireless Touch Keyboard K400"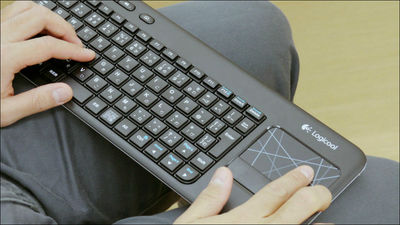 When watching a movie using a large screen monitor of a PC, since I want to relax and want to see a little away from the computer by killing the chair a little away, it is hard to operate with the wireless keyboard alone, but the remote control is too powerless to say Even if you bring a wireless mouse, you can not use it, if you can, you can complete it wirelessly with just the keyboard and touchpad of the laptop computer, and if the size is also small, it is good .... I thought that this was what I thought Logitech's "Wireless Touch Keyboard K400"(4480 yen including tax) is.

While chatting leisurely with a seat on the sofa, watching a video site while relaxing in a lying down state, you can use cursor control and letter input with this one so it is frustrating to use a mouse that is difficult to respond on a knee or a carpet Not only will it resolve the problem, it is also possible to lean on when not in use, because it seems that the balance between size and ease of strike is likely to be taken, I tried actually purchasing and checking the comfort of use.

It says "It is also best when connecting a personal computer to a TV" in the package, and seems to assume the use in the living room.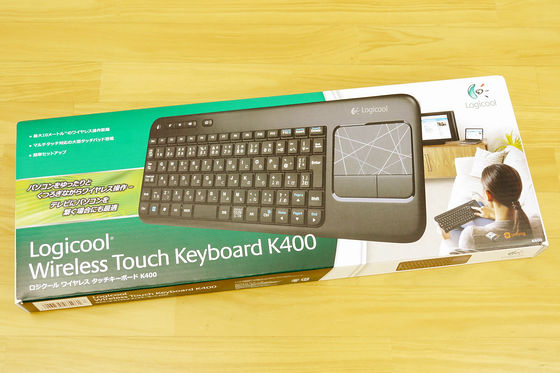 There was explanation of the function on the back. I can connect wirelessly to PC with a distance of up to 10 meters. Actually practicing with the editorial department, I could use it without problems even from a distance of about 10 steps from the PC.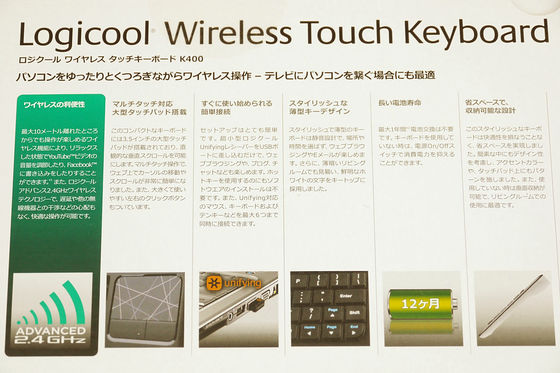 Supported OS is Windows 7, Vista, XP.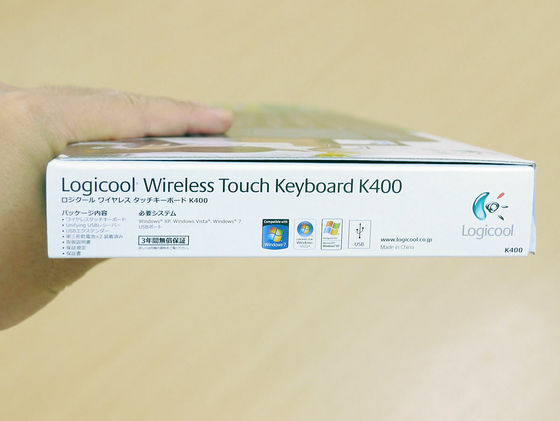 There is a keyboard body, a receiver to be inserted in the USB, and an adapter to extend the insertion port of the receiver.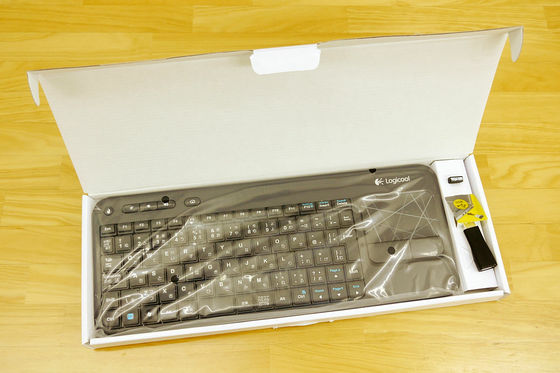 The receiver is about 1.8 cm in length and small. Installation of driver etc is unnecessary and up to six compatible devices can be connected.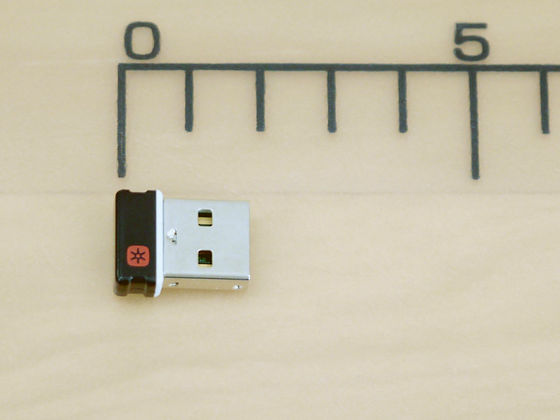 I tried inserting the receiver into the notebook PC. There are few protrusions, so even if you carry around like this you will get caught.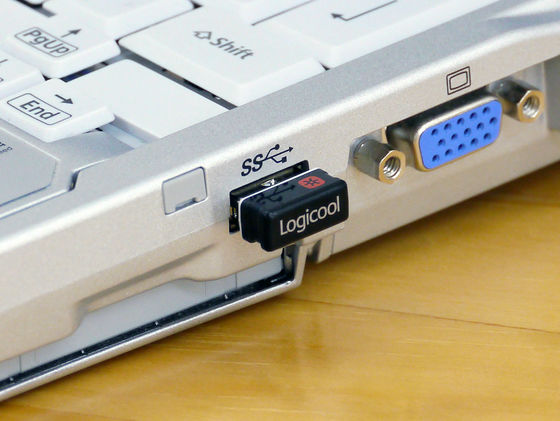 If you have a USB port in a recessed place such as a desktop PC, insert the extension adapter and insert it.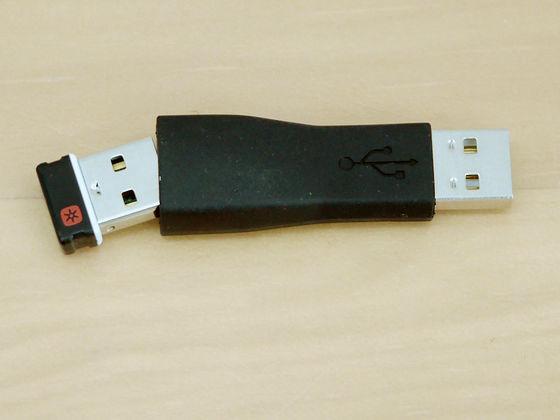 The keyboard main body is 35.4 × width 13.5 × height 23.8 cm. By narrowing the width of the enter key etc somewhat narrower the overall width is narrowed.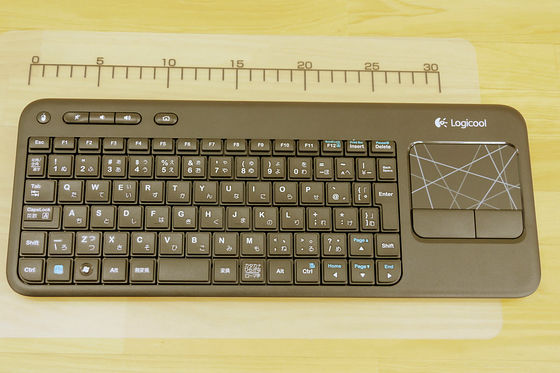 Also equipped with a touch pad. Left and right clicks are deep key strokes, firm pushing comfort. Even when used roughly on a sofa etc., it seems to be able to reduce mistachi.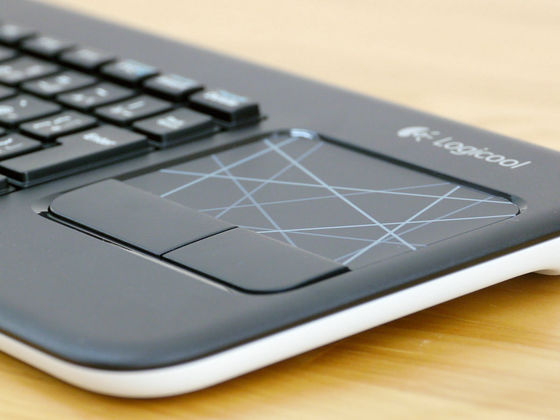 It corresponds to 2 finger scroll.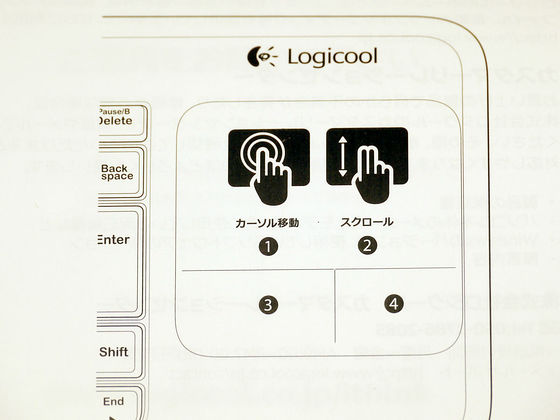 I started Windows Media center. It can be operated even when away from the PC, so it is convenient for watching videos and slideshows. When I actually used it even on the knee, the rigidity was sufficient and the deflection was able to be stably input with less deflection.



There are anti-slip rubber at the four corners of the back side.



It is driven by two AA batteries, and it can be used for about one year in general use situation. The receiver can be stored at the end of the cover.



The power switch on the upper right of the main unit.



side. The place to put batteries on the top of the keyboard is getting thicker. Just putting it makes natural angle so it is easier to hit.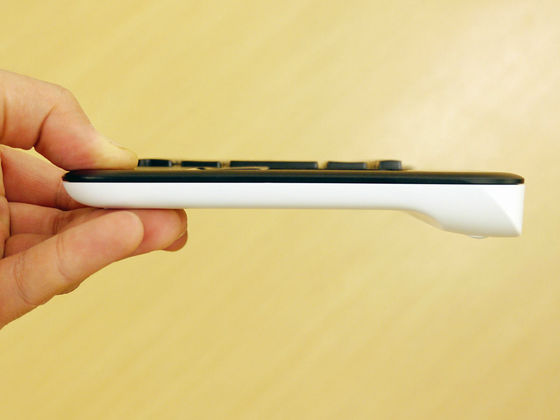 On the upper left corner of the keyboard is a button for left mouse click, volume down, volume up, mute. You can adjust quickly, such as when playing back movies.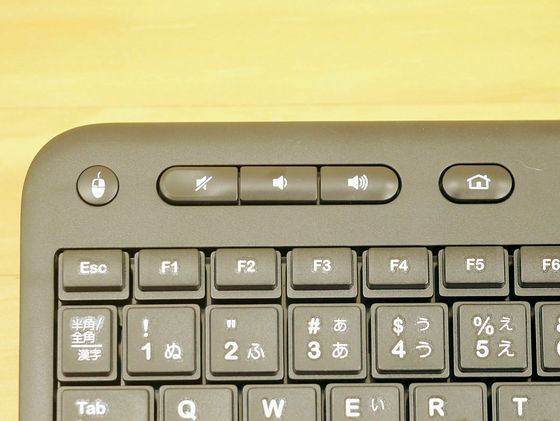 84 key Japanese layout and key pitch is 18.5 mm. The keystroke is 2.5 mm and it is a shallow keying feeling close to the notebook keyboard.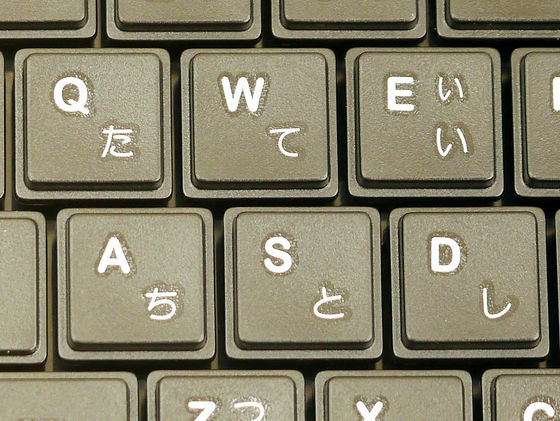 When not in use you can lean it on. In addition to being widely available on the desk, it is convenient not to take up space when putting on a sofa table.