Winny's developer, not guilty.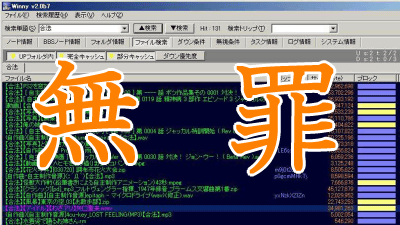 Mr. 47 who developed P2P file sharing software "Winny"Kaneko IsamuIt is confirmed that Mr. is innocent.

Asahi.com (Asahi Shimbun): Supreme Court to Winnie developer's declaration of innocence, Prosecution's appeal dismissed - Society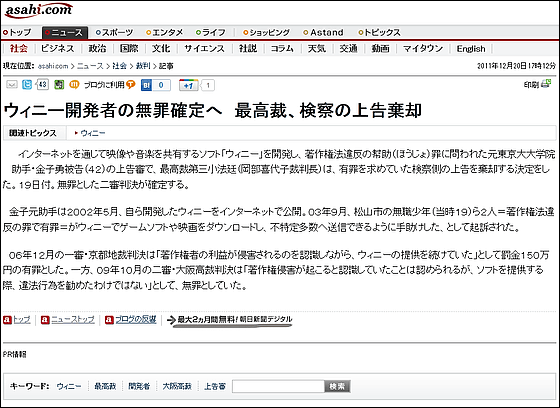 Developer of file exchange software "Winnie", to not acquit guilty: Nikkei newspaper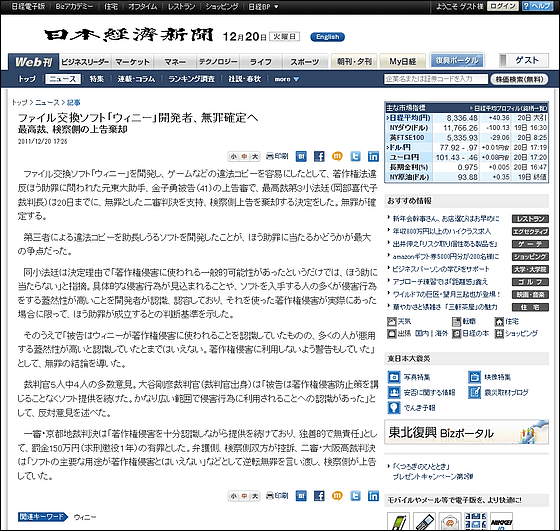 The small-and-small court pointed out for reasons of the decision that "It is not a help to justify that there was a general possibility of being used for copyright infringement." Developers recognized and accepted that specific infringing behavior is anticipated and that many of those who obtain the software are highly likely to act infringing and there was actually a copyright infringement using that Only in case, we showed criteria for judging that a guilty guilty will be established.

In addition, "Although the defendant knew that Winnie was used for infringement of copyrights, it could not be said that he was aware that the likelihood that many people would misuse it was high, and warned not to use it for copyright infringement "We led conclusions of not guilty.
Winny developers to not guilty NHK News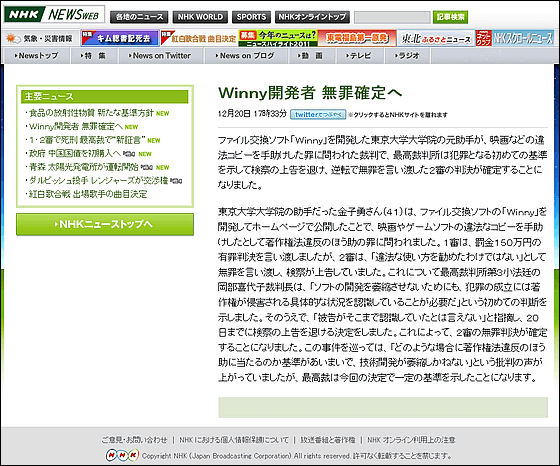 Regarding this, Kiyoko Okabe, presiding judge of the Supreme Court 's third small court, said, "In order not to shrink the development of software, it is necessary for the crime to be established that the copyright is recognized infringing on the specific situation "The first judgment of it was shown. In addition, he pointed out that "the defendant did not recognize that much," and decided to dismiss the appeal of the prosecution by 20th. By this, the second trial 's innocence will be finalized. Regarding this incident, although the criticism of raising criticism was raised that "the criterion is vague about what crime terms of copyright law violation can be fulfilled, technological development may collapse", but the Supreme Court ruled that this time We have shown certain criteria in the decision.