The ultimate anime effect, Japanese technology that this shook Hollywood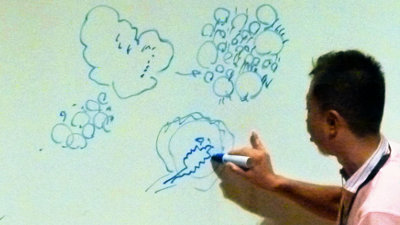 While thinking about "What is the effect that is caught in the viewer's eyes", for many years, as top runner I have been making an animation effect on the front lineTakashi HashimotoMr. If it is to make a pleasant effect with habit, even physical laws and even time curves are being screwed up, everyone has made an effect that can not be managed. How can an effect such as flames, water, sparks etc, which usually seems to be missing behind the story or character usually, become vivid visual expression?

This paper presents "Japan's largest game developer conference" CEDEC 2011 "Anime effect, game effect"In a lecture that was held entitled" Front and back edition across the break, we gathered one in one. From the craftsmanship cultivated with many animation works that Ms. Hashimoto has been involved, he is drilling deep into the creation of effects in digital animation and games.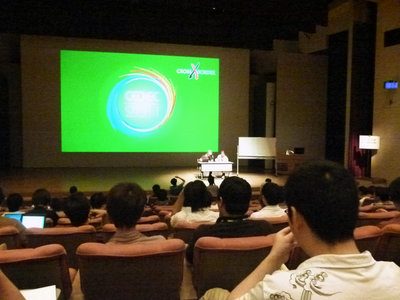 ◆ "Effects of animation, effects of games" - Part 1 of the previous section - (11: 20-12: 20)

Sega Effect Corporation Designer Takashi Iwade (hereinafter referred to as Iwade):
First of all, I hope you let me introduce from the speaker. This isTakashi HashimotoMr. Biography etc are as you have seen, charisma animator.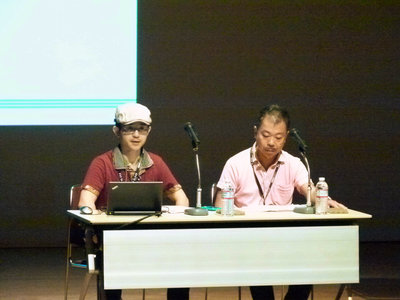 Hashimoto:
I think that it is not a charisma (lol)

Iwade:
This time we will talk about "effects". It is a recent work "Mononoke"And"Aerial swings"And.

Hashimoto:
Well, recently there are a lot of jobs for the characters, but the basics have been doing special effects for ten years ago, some years agoTatsunoko ProductionsI belonged to. there"Crow - KARAS -"We bridged 3D with hand-drawn parts of hybrid work of CG and animation called" CG ", and then I began to work for CG for quite a while. "FREEDOM"even if"Sky · CrawlaEven if it sets it to that.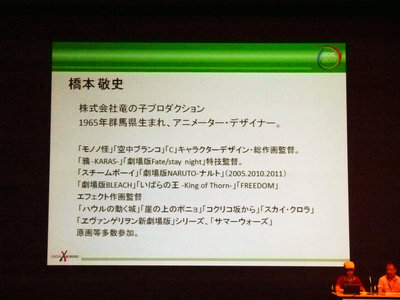 Iwade:
In the latter half, I would like you to talk about the hardship around here and the fusion of digital animation. Although I thought that I showed the work list,GundamYaEvangelionAlthough there are some that are not listed here from the work for core fans like,DoraemonFromGhibliUntil anime, if it is an amazing effect, I felt that the neighborhood of being called any work is charisma or top runner. Today I would like to focus on my neighborhood.

As I am, some people are coming from outside the industry this time, so I am introducing myself. I am called Iwade.Sega CorporationWe are doing effect design in. The work which I did earlier is as stated in this slide. Hashimoto san's work was so numerous that I also padded with something I normally do not list in the work list, but it is like this. In terms of the game industry's year, perhaps I think that it is a lot more in the number of works, but now one year a year "Ryu ga GotokuI am doing a series. This time we will send with these two people.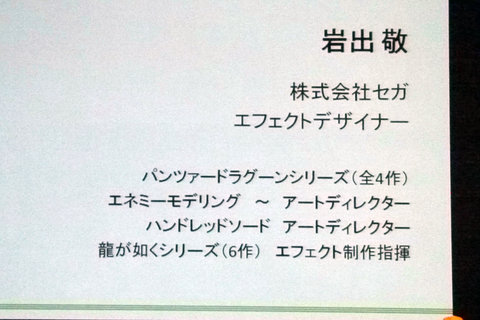 This time, "Animation effect, game effect" In the animation industry Hashimoto says the know-how and techniques I have honed up to now are to ask the people who do the effect of the game industry in the form of a lecture I wish I could make use of it in the game. On the contrary, based on the gaming industry doing this, or such restrictions, I will continue with a combination of ideas and ideas that I'd like to apply in this way.

When we first made a meeting, it is amazing story, but when human beings in the game industry make effects, basically they are putting the tool in front of us and checking to what extent they look like on the game We are putting out effects as we can. If it was an explosion effect, let's explode it anyway and look at the flying particles "Is it better for this particle to be a bit late?" "Is it better to make this scale bigger? I will continue to raise the quality by repeating it like a demon. So I had the idea that how to shorten the repetition and how to arrange the environment that can be done is an important factor for making good ones. On the other hand, since animation is hand-drawn, I think that the idea of ​​that area will change.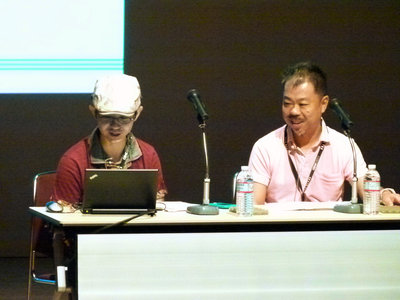 Hashimoto:
When I first entered the industry there was no such system in the first place. So I'm doing a way to memorize the picture inside of me, for example 1 second for catchy, 0.5 second for kakka, and develop it in the film properly. Perhaps some of the seniors thought that there were people doing "seeing again and again", but they did not do much in their generation. There was a place like that to beat one shot.

If you do the method of "looking over and over again and correcting the picture", you will become familiar with the timing and movement of the work you are doing in the long run. So rather than taking much time there is to say "do it in one shot". If I do not properly understand how to make a picture in the sense of that one second, I think that it would not be possible for artisans to make good ones.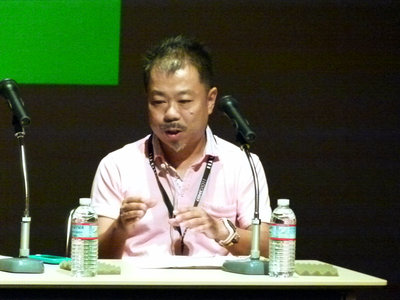 Because there were no videos for the people of the previous generation, we decided there by watching screens and realistic images. So I think that craftsmen have been successfully culled and good people are left. After all, "seeing over and over again" is certainly a complete form can be seen and it may get gradually getting better, but it seems that more "penetrating things" do not come out I feel like that. So, I will not say "I see many times".

"Wrinkle at the top!There is a senior who did an anime called "Animation". I was doing the union and I drew a lot of wonderful original drawings, but since it was the decision of the work, it is really troubling when "I wonder if this movement can be okay" at some point. So I put a video on the machine called "Quick Action Recorder" and adjusted it on a frame-by-frame basis, but after all it was 3 days later I noticed that the first timing was the best when I noticed it. Although it may be an anime-like craftsman's temperament, I think that it is best to believe in your intuition.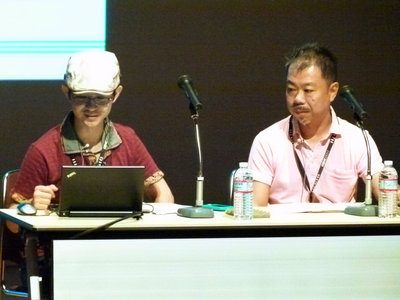 Iwade:
When it comes to playing games, the part of mass production comes out.

Hashimoto:
However, animation is mass production in a certain sense. In the place of how to do in the schedule, after all seeing the screen and checking it many times, I feel 1 second in myself, "Which picture to put on" and "Which picture will you leave behind" I think that it was important to sharpen the sense. That will eventually lead to an improvement in the quality of the screen as a whole industry.

Iwade:
In the animation industry, I think that there are places to step up to make one thing, such as entering from a movie to an original picture. But in the case of games, there is a circumstance that the person who entered is not the only way to make only the material of the game, such as effects, but also to the completion form of a certain part by one person. For that reason, even people who do not go to sharpen them will be conceived as to how far they can finally reach.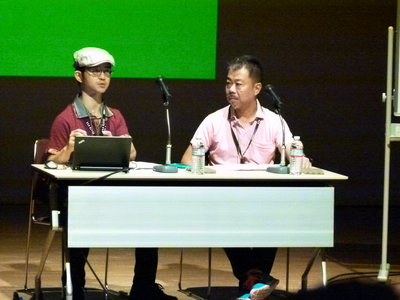 Hashimoto:
Although it may be a good idea to widen the frontage certainly, the last creative part is still the same in any industry, but you can not tell anyone what you feel as a root, It is something which only it has. I think that it is necessary to think about further extending the part there.

Iwade:
Will it feel like I finally output it as a picture after doing it in my head many times?

Hashimoto:
Naturally, there are occasionally times when the output is out of focus, but I think that it will become my skill up with that.

Iwade:
Talking with Ms. Hashimoto, we surely thought that there was a part lost, because we specialized too much on the part of "how much do you do repeatedly". Even though I myself said it was an effect design, there was also a part which also concurrently functions as a tool making tool.

Hashimoto:
The picture of the animation industry recently, I feel that the timing and so on are becoming uniform. In short, "real things are like this" or "what is not real is here". It seems that it changed because such "devices that try to repeat many times" spread throughout the industry. laterPentabSome people are drawing pictures, and extreme stories, live actionsRotoskoThen, some people are putting it in anime, so I think there are places like that.

But it is somewhat different from the game industry, because people still doing it with old-fashioned feelings still exist, I think that animation is a wide range of pictures and timings. Even with the same explosion, how to draw fire is different,beamBut, for example, even if there is something that comes out as "bee", other things say "buzz" and then say "buzz". Whether it's the same beam or not, it may be the timing feeling of each creator.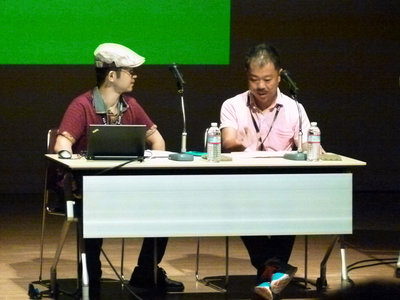 Iwade:
I agree. For example, if you do it on a tool, you can see things like "Correct me like this" when you see the person checking from the top is doing with the tool. And it is easier to do things like looking at the format you corrected and fixing it again, than the animation industry. As a result, the originality that the person first made may be lost. Although it can be said that it is necessary in the sense that it has the same taste as a work.

Hashimoto:
Although the one that I made may be the coolest thing, but then it will not be a product, so will gradually become uniform with the flow of that work gradually? Among the 24-minute television series that still has 1 anime, there is a great delectake, it can be said that it is goodness of animation and also badness. On the other hand, CG will be uniform and feel the same, it will also be good. I can not say which is good or bad. But after all, I think that it would be better for him to leave only the last sense of that feeling.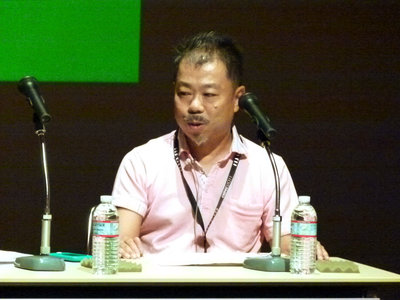 Iwade:
Certainly, even when making a game, trying it over and over, it may be said that "the first one is better" even if you go around a week.

Hashimoto:
I agree.

Iwade:
However, the situation of game development now is such a situation, and the elements are intertwined very complicatedly. It is realistically difficult for what I thought in my mind to go with a don with a single shot and there is also a thought that it is what it is. As I thought one thing, before I had to change parameters, such as the speed of the explosion spreading, I felt like seeing the movement and looking at it, but before I mess with it, how fast Why do not you close your eyes and try to imagine what it is actually doing and challenge it accordingly. It is really a one cushion, but it is not only to repeat by looking at "looking back late a little too late", but also to be conscious of the process of imaging the next vision in the head really finely and pinched. I think that it will be a starting point for something.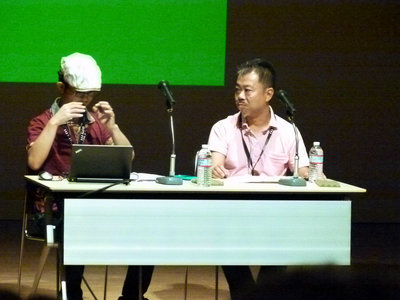 Hashimoto:
You can draw a picture like an animation, though. It can be difficult, so it is quite difficult.

Iwade:
Although it will be another story, I think that the way to bring the image in the head to the final form of the game more directly, including the improvement of the tool. However, it is a bottleneck that the number of steps is sandwiched between what is present. Also, I recently showed Mr. Hashimoto's original book collection, but what is it ...?

Hashimoto:
Stoic?

Iwade:
Yes.

Hashimoto:
I'm sorry (lol)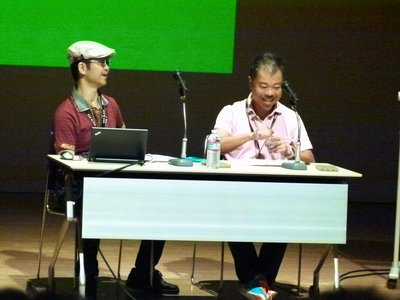 Iwade:
Despite the explosion and water, there were dozens of packed crowds, but I wanted to be honest with the part that thinks what each frame of the original collection is designed, what is thinking about this, and so on It was. There are parts that can not be understood just by seeing it really, there are things about individuals, but there are techniques, what kind of things are you thinking about bringing effects, that is flame and water etc with one shot? I'd like to hear from you.


Hashimoto:
First of all, the picture is two dimensional. So there is not only an effect but also a character, but it was said to my seniors that "What sort of things should I put in order for it to look like it moves?" Some people draw pencils first with drafts and do silhouettes in rough style to draw original animation of character. Then I put paper on top of it and make a fair copy, suddenly I got a character. When asking "What is this doing?", The person himself feels like "I do not want it because it's a suitable job", but I can just lay down the draft pencil and just rub it is. But afterwards he is very good if he shows it when the scene ends. When I ask how to draw such a thing, "After all, the animation is a cell, because it is a flat surface, I have to think about the contour properly, in other words, it must move with a silhouette."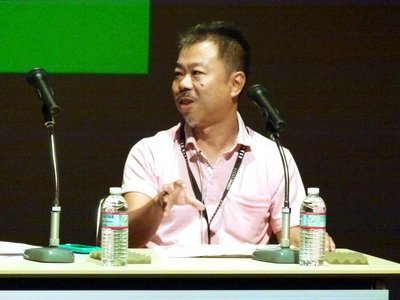 That is remembered in me very much. Even if you raise your hand, for example, just by raising it from the middle of the body, the silhouette will not change in the outline. At that time, it was told that "When you slightly make the body oblique and do it from here, when you see this gap, it looks like the picture is moving." So I think about fire, smoke, sparks etc well like up and down in the area with respect to the screen, amplitude of width, big change of silhouette etc.

Taken as an example of the explosive fragment placement, we successfully constructed the position of the fragments with respect to the screen, saying, "If there are fragments that are one quarter large in this frame, if the density on the screen is large, I will do something like "lower density." Then, it remains in the eyes very much. After that, I learned a lot of such techniques, such as "moving parts are big, put small things alternately" and so on. It is really true that predecessors had decades ago "Tiger maskOr maybeDisneyI think that it has been cultivated since the era. I wonder if you are interested in such things.

Also I spoke a bit on the stage sleeves, but I will do a "swap cell number" well. I think quite well, I am an animator specializing in the calculation of the law of physics. So it is said that what is fused with CG like the former "Sky · Croula" is suitable, but when drawing original picture as usual with such a work, it tends to be like a combination of calculations is. For example, there is a thing called "Nana" if it is a flame, and the picture will inevitably "move like an object rises up". If you paint it in a familiar way, it will definitely become a form that I have drawn somewhere, so I dare draw all the original drawings.

If it says in flames it will be 6 to 8, if there is a loop it will be 16 repeats, but I will try replacing that original number. If you record the live-action video with a video and see it in the frame, you can see it, but when you watch the movie in a normal flow, it moves normally, but it does not actually move when you frame forward. There is a picture in the same position, suddenly a different picture goes crisply and returns to the original again in the next frame. That means "there are pictures that can never be done by physical laws and arithmetic in nature." Drawing such a feeling with a sense is difficult with the necessity of a genius thing so it is difficult to change things like "Swap paintings" "Turn over the paper you turned over and use it again," Turn upside down " I put an irregular feeling in the texture of fluent. Then, something different from ordinary things will come in even in the paintings drawn by yourself.sparkSomething does it well.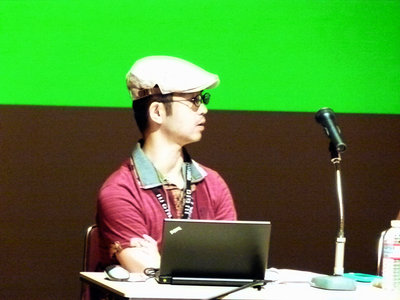 Iwade:
Sparks are troublesome when making in game. My acquaintance has also drawn animation, and in the past "Iron Concrete CleatsIt seems that he was making a promotional version of "Hello! When it does not work out anyhow,Koji MorimotoSan said "I will try it for a moment" and talked about just specifying a command like "Coco, Coco and Coco, put it in here," it was really cool as I did. .

Hashimoto:
I think that it is certainly a technique that you can use even 3D and game people.

Iwade:
There are places where we will only make things that are connected by all means, or time flows continuously through the characteristics of tools and games. Especially in recent 3D games, such a tendency is strong and there is little randomness, so basically there is no such thing as creating a game effect and switching a particular frame in reverse order . In the case of handwriting, you can try it, there will be something that will result.

Hashimoto:
I thought it now, but I made two patterns of A and B in a spark and try switching it alternately. Then it is the same spark but "PakapakaAnd it turned into a strange wind. Something like that, I think whether new ideas will come out with a simple idea.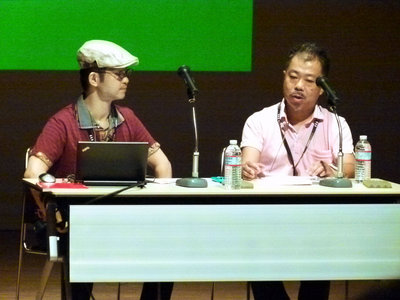 My way of drawing is in the place of how the human eye can show between afterimages, pictures and drawings. "Actually I have not drawn, techniques to show like drawing" and, contrarily "Drawing but technique to show it not to draw it" or something. I only talk about sparks, but as the spark moves here and here, the real thing is to become pakapakapaka on the way. However, recently, when you put Pakapaka in TV, delay is applied, so sophisticated things like drawing it in drawing (laugh) In short it is part of the afterimage of this picture and this picture ... ....

Iwade:
Can you draw a bit? Because I brought it with all my heart (laugh)

Hashimoto:
Originally, this is what it is. to thisMedium termIs not it going to enter?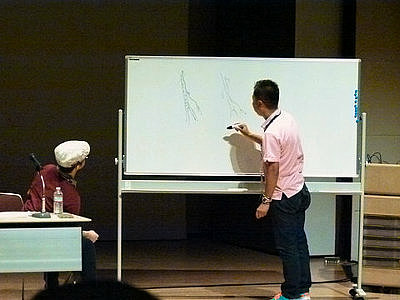 So this is how it is painted. As it flows downwards, it will be more over here and this will go over here. And this kind of thing will appear here. In the meantime, if it is animation 1, 2, if there are 3 something in between, this is 1, 2, 3 ...... 9, 10 if you put out in 1 or 2 frames on the way. I sometimes put color cells between two frames. The part of the color is now a technique called Pakapakapaka.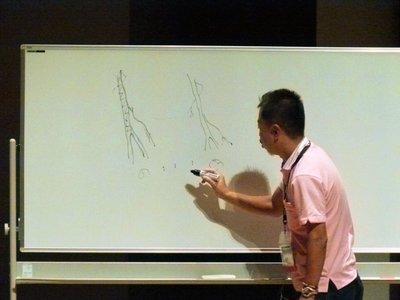 Iwade:
I am erasing it.

Hashimoto:
I will make a middle school discount. As I move with it as soon as it gets pakapaka, what kind of technique should I do in order not to let it delay?

Iwade:
Sorry, that delay?

Hashimoto:
Er ...Pocket somehow shockis. Do not you understand (laugh)

Iwade:
It is a person with photosensitivity (laugh)

Hashimoto:
so,Photosensitivity seizureis. For that reason I melt the screen or make it darker, and I will do something like matching the previous picture and the back picture.

Iwade:
This was also bad in games and there was something to do with it.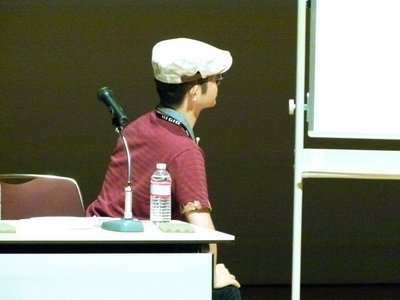 Hashimoto:
But somehow, they are doing it in commercials. Well that's a good story though.

Iwade:
No, this may be very osay talking.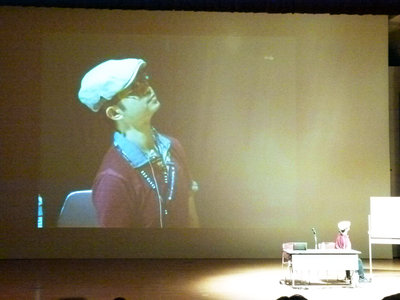 Hashimoto:
Although it can not be used in animation even if it can be used in animation, I do not know whether it can be used in games, but when I move, for example, I do it in afterimage. In addition, instead of a single frame, for example, if 1 uses 2 frames and 2 uses 3 frames, even if you take the same scale with 10 scenes and put Pakapaka in it, you can see it effectively even with a small number of frames I will.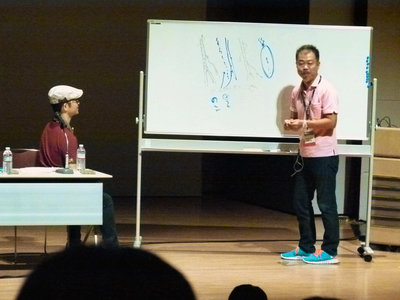 Iwade:
This neighborhood is a technique unique to animation. It is good for measures against light hypersensitivity seizures (laugh)

Hashimoto:
Is there such a thing in the game, too?

Iwade:
That's right. As the machine is preparing, "Warning will come here" Please do something because luminance change exceeds a certain value here ". If it is a game it will be in the form that it is preparing a connection picture like this now in the middle like shining glitter. Because it can not be drawn by hand, it seems to ask the programmer for the function that makes such a picture.

I was talking about "It's a technique to make it appear like moving without drawing between." If this is an example of a flame, after drawing an ordinary connection, by mixing different patterns, "a picture of the movement originally kept in the head" and "a picture of another movement not considered by myself" Is it that new movements come out by viewers' storage of two of them?

Hashimoto:
After that, when you say "I want to show that effect, I want to emphasize", I call noise as garbage, but I put it intentionally so that it catches on my eye. It is an effect that makes a viewer think "yeah?" By attaching a snag to the flow.

Animation production is a collaborative work, but there is one that I want to see the work here of my work as one creator. There are many division of labor in animation, people who make backgrounds in one cut, people who draw a character, etc. I draw a spark behind that character. There is a funny stuck there and thinking "yeah?", It will be a story "Who is this creator?" It may be pardon, but the work has turned around and it has increased.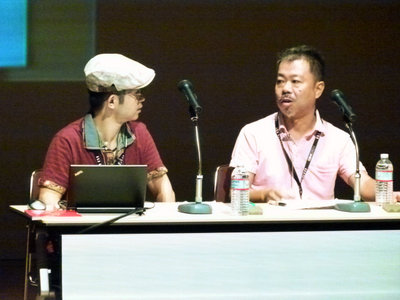 I think it is quite important whether to make a background that does not make any claims at all or to make a living spark or explosion properly. On purpose, I made such a snag, or the timing was moving all the time evenly in the 30 frames and 60 frames, all the time, different things suddenly put things of different timing.

Iwade:
Especially when creating realistic effects with games, it is a big part that makes you familiar, making it more natural than making real ones absolutely realistic. Especially what is going on behind the event scene tends to be a story of "familiar with a dumbfound", is not it a feeling that has been claimed in such a case.

Hashimoto:
I did it before.Steam BoyAmong the works that took eight years to complete, it is also a director and a cartoonistKatsuhiro OtomoSays "I want the effect to be part of the character" a lot. Among them, the character is far from eyes and faces downwards and the smoke effect is swirling why behind it. Hashimoto, that's not the case, because there was such an instruction in the storyboard so I drew ordinary whirlpool, this is because the back smoke represents the inside of the hero's heart in front. I would like you to draw the troublesome smoke. "

Steam Boy Trailer Steamboy trailer - YouTube


Iwade:
I do not know if I can not say it (laugh)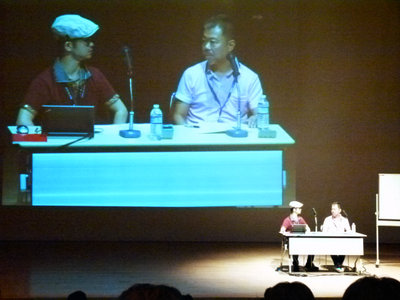 Hashimoto:
So I was troubled for a while. But I understand what you are talking about, so I drew a rough a number of times and talked like "Would it be nice to roll in the right direction or roll it to the left?" After all, the completion screen represents the inside of the hero's heart. Therefore, I think that the living things with a heart are good as well.

Iwade:
By the way, which side of "steam boy"?

Hashimoto:
It is around the center. Well, please look. Because the whirlpool is rolling behind where the hero is suffering.

Iwade:
I see. Is there anything that is an example drawn recently, such as the one I told you now? In a place where you can go home and check it.

Hashimoto:
Well, how about? I do not know whether it will be an example, but the company changes the taste, packing and movement of effects by company. For example, if the same explosion is close to live action, you can see what is flowing on YouTube and reference it. There was a job called "I want the space shuttle to explode in the image as it is" on the original image collection, but I did it while looking at it.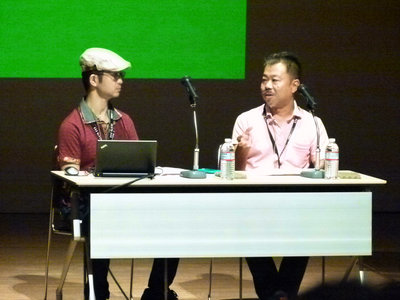 I do not really understand how CG is, but in reality animation has less information volume than live action, so it's better to move a little faster. If "From here to here is 3 second smoke", I will drop my drawing from 1/2/2 to 1/18 18 frames on the screen. To the contrary, if you try to make an animated one the timing of CG, it is better to extend timing a little more than animation because there is a lot of information.

I constantly think about that kind of thing. And the timing is quite different at the office. There are places that demand realism, and although it is extremely popular, it is better to have a timing 1.3 times slower than an ordinary animation if it is a ghibli. Recently, even in the Ghibli work that I helped a bit, I was told to "do it to real", but I tried to slow 1.3 times slightly behind the explosion I had been drawing.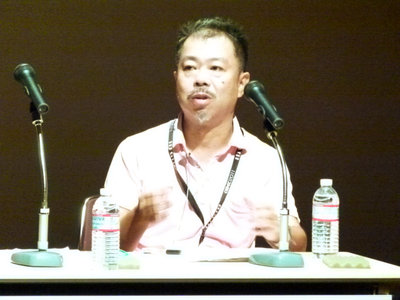 Iwade:
Is that the decision of Hashimoto?

Hashimoto:
It is a judgment.

Iwade:
Tailored to the work.

Hashimoto:
It is such feeling.

Iwade:
Do you have anything recently done with water?

Hashimoto:
What I did recently wasEvangelion. My scene was cut in broadcasting (laugh)

Iwade:
Oh, blood is ... ....

Hashimoto:
I agree. If blood is going out, or trying to draw realistic things, I often see live-action photographs. But, for some reason, if it is a live-action picture, timing is slightly loose.



Iwade:
By the way it is that scene that beat the apostles falling from the air.

Hashimoto:
I'm doing original drawings from the fallen apostle.

Iwade:
Blood sputtered out and it was over there when it was a television.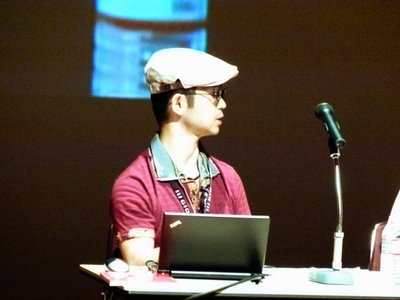 Hashimoto:
Yes, there it is (laugh)

Iwade:
Please review blu - ray or someone later.

Hashimoto:
Actually, I am going to digest it in myself while referring to live action photos. I think that it is the same as the person who makes 3D, but by doing so, "Irregular movements will come out like this again" or "How the water rotates as you hit the wall" or " From the narrow part, what kind of whirlpool can be formed when going out to a thick part?

Iwade:
Do you observe it?

Hashimoto:
At that time, the movie I liked was "Abyss"Or"Day after Tomorrow"I looked around the area quite well. After that sharks come out, attacking people "deep blueEven water and explosion were fairly good feeling.

Iwade:
I made it while modifying the feeling of that neighborhood.

Hashimoto:
I agree. Also, since the animation has quite a form of water made by the predecessor, "I will draw out what kind of shape would be if it was windy", and I am depicting that kind of thing.

Iwade:
For example, do you have something like "representative form" in the description of water?

Hashimoto:
Well, water flows like this, and it springs up like this. If it is an anime, be sure to highlight here.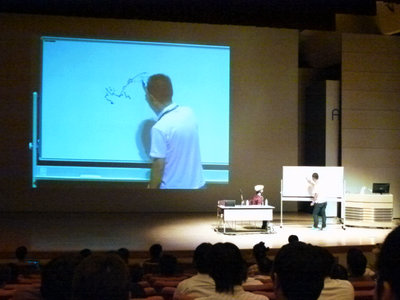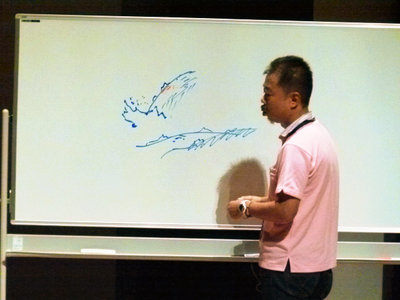 Iwade:
Hashimoto's original picture has highlights like this, and the round one is Hücküt.

Hashimoto:
There are such shadows, and there is a flying jump here, is not it. Even if it is the waves of Donbracho Don Burako, these are still highlighted by everyone, there is white waves like this ... from the old Toei animation. So a little different form in it. Perhaps, in the past I was painting white waves like this.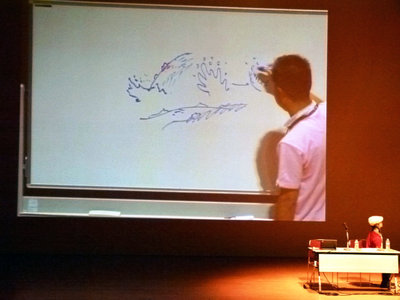 Iwade:
It is a round feeling.

Hashimoto:
It is like this. Because it is a bit different now, like this touch, add Gauss and blur to this part and add something like foggya.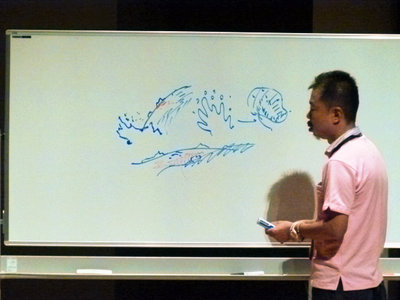 Iwade:
It seems like how much to blur.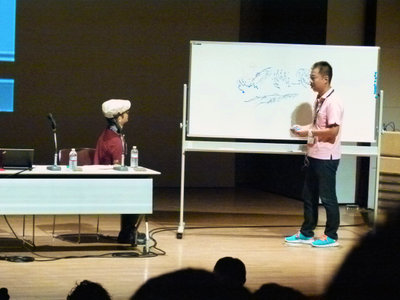 Hashimoto:
And then I want to reproduce the transparency in the water, so put a light here and become a beautiful thing like a basque. These are different materials and I drop the lights with a mask.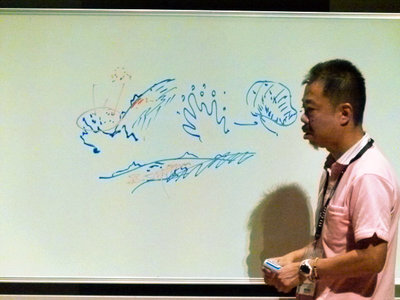 Iwade:
Is it a material, or is it like a layering? For example, if this is the case, is the splashing part a different material?

Hashimoto:
I think that the splashing part is the same as animation. Just here, it is called Furikake, but we have small grains filled in 3D. There are such kinds of debris as well.

Iwade:
What is the material for fliers?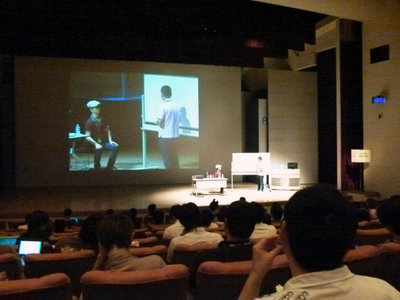 Hashimoto:
Materials for flike are drawn separately in drawing. TV series'NARUTO"Or"Bleach", I'm pretty much spreading a flaky material in an explosion or debris.

Iwade:
Is it like moving in several frames?

Hashimoto:
The thing like this normally happens is that it breaks like this and it breaks. I will make some patterns of that and put it in this.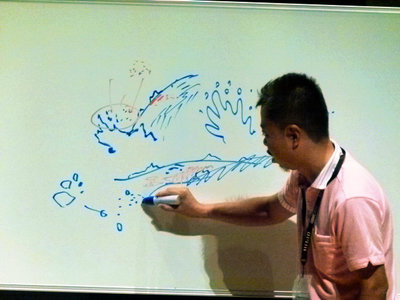 Iwade:
I want this.

Hashimoto:
This will make you a little luxurious. It is difficult to write in handwriting more quickly because it is still difficult in the division of labor, so it is easier for those who made this kind of things in advance. Perhaps, Evangelion may also be doing it, with Dawn. If you scroll through the screen in a collapsing place in your original picture, there are fragments that you have not drawn. If you think "This is ... ...?", You still have to bring the material from another place and put it in a little luxuriously. Afterwards I make it quite good because I get scaled feeling by putting small collapses small and putting it on.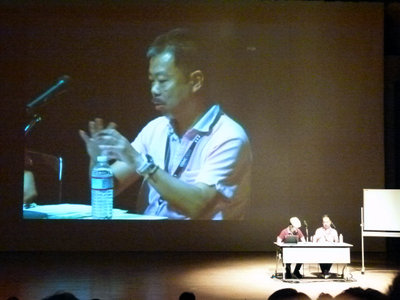 Iwade:
I see. Does Hashimoto 's person draw a material that makes familiarity around that part as well?

Hashimoto:
Yes.Iwade:
Let's go next. I also think about animation as coma, but I will make the game within the time that it will inevitably flow in real time. Based on the difference of that part, I think that you can tell me how to take the timing when thinking with animation like coma. Perhaps it may be an elementary stage for people in the animation industry, but when the ball bounces, for example, it seems like "Where and where do you draw a movement?"

Hashimoto:
If you say what you are saying about it, shift the curves of time, or in essence the original timing goes with "Gut, Dawn". I would like to show this picture that it will be 1, 2, 3, 4, 5 ...... so I think that it is like trying out here and pulling through the next part.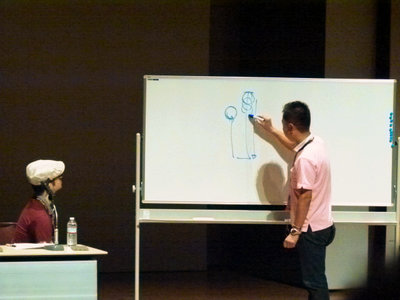 Iwade:
I am sorry, for example, if the ball falls and bounces, a linear example, or if it is Hashimoto style, what kind of thing would you like to carve around here?

Hashimoto:
Is it a time curve? ball?

Iwade:
Yes, it is.

Hashimoto:
I wonder what she says. Although I may talk a bit, I will cut live action ... ....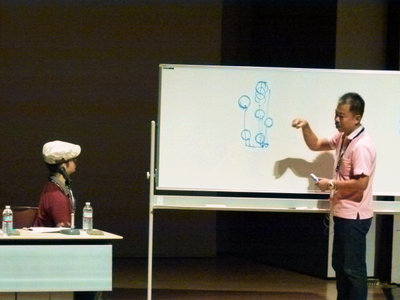 Iwade:
Ah,linearTo

Hashimoto:
If you cut it linearly, the position of the picture will definitely be incomplete. The predecessor taught, for example, that there is a movement of the ball falling like this, there is a bouncing movement, when you cut it along the time axis, there are times when the ball is around here. This time around when I jumped the next time. In the animation that has been said from long ago, it does not feel that it jumped too much as the distance here becomes short. That is why the painting that bounced next will be better next time.

After that, what to say, to beat people or "Tomorrow's JoeIt is like feeling.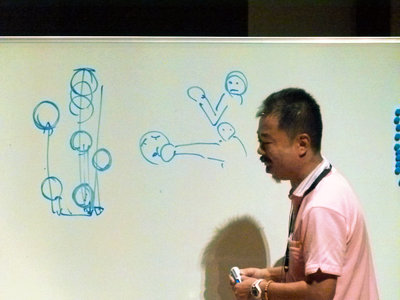 Iwade:
Tomorrow's Joe-like (lol)

Hashimoto:
I think that it will be a flow like showing an invisible picture, but when punching out a punch to a person, when there is such a face, there are punches like this and it will be pounded.
But I do not understand or understand the pain of my hand against my partner depending on whether I can insert this picture or not. I wonder how to explain it (lol)

Iwade:
That means that you need the picture.

Hashimoto:
This picture is necessary to understand the pain hit, and on the other hand this picture is not necessary to show the speed of the hand. It would be better to do it than actually painting. So doing this ... ... you can beat me (laugh)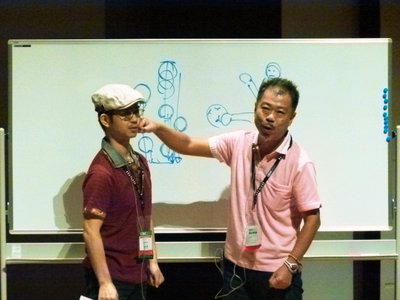 Iwade:
I have a gaming industry neta striking, but (laugh)

Hashimoto:
By doing this, after all this looks painful again. So recently, if it is "NARUTO" on television, when I start packing from here, I will return here after there is a painting that I'm coming out. Then you can see the expression and understand the pain. But if it is superhuman speed,Bruce LeeThere is a picture that people will leapfroud if you stop kicking your belly, but there is no picture you hit. It is such a depiction whether it seems to be moving by the reflection of the opponent, or understands the strength of power.

Iwade:
In this state, the next is also in this state, is it like the opponent is flying?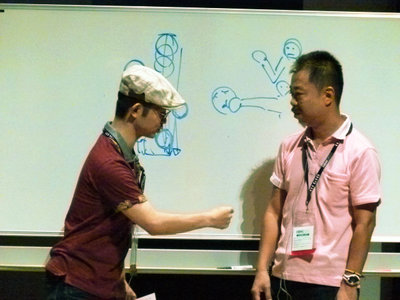 Hashimoto:
I will put something like a touch that I told you as a technique there. For example, put a picture that seems to be hurt on the next picture of this. At that time, it is said that the character is already flying. Then there is a technique to see more powerfully.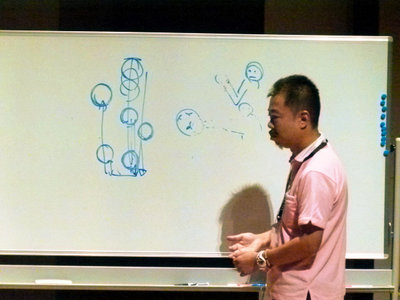 Iwade:
Even if you really want to show pictures of a specific moment, it's sometimes impossible to do so because it's all done with the calculations.

Hashimoto:
Is it impossible to make backward calculating from it?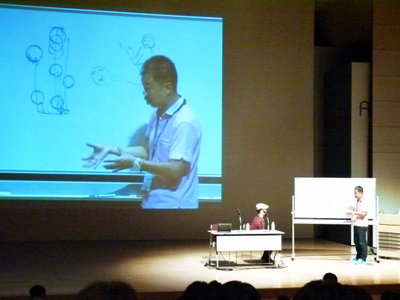 Iwade:
Well.

Hashimoto:
In animation, there is a way to "show this picture of the last explosion", and there is a way to draw the original picture like turning the time axis reversely against it. Then you do not have to draw unnecessary pictures, unnecessary frames, for example, you can properly fit the fitting of the picture.

Iwade:
I agree. I thought that I could use around animation in games, but I think whether to create an environment that can do that. For example, with regard to explosion, if you explode normally, fragments will fly linearly, but when a certain piece becomes a very cool debris it will be reflected for a long time or the picture will be in that state right after the explosion It is a tool that deliberately makes a picture that it spreads slowly. I'd like to talk to the programmer.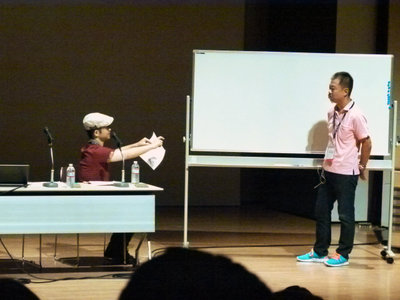 Hashimoto:
As I did in 'Sky Crawla', I think that mixing handwriting in 3D does not matter at all. Besides, although it had broken pieces by linear calculation, I thought that it can be done by hand drawing the things which are visible only halfway and then hooked on the screen intentionally, so that it will be out I will. Also, for those with different time curves, for example, in explosions and guards that move in 1 second, you can extend the one that moves in 18 frames with different calculation to 1 second. In essence, you put the things with different flow of time into the same space. Doing that kind of thing makes me think "that?"

Iwade:
Does that mean you can catch on?

Hashimoto:
That's right. Even if you look at it in 3D it's there. The screen is too beautiful to move and it is not stuck. So, how do you put the part that you think is? Do you mean to put it on purpose, purposely stretch it, or set a different time on purpose?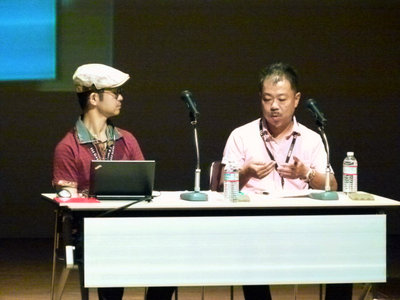 Iwade:
There is also a difficulty as to how to lie about that part because the thing that is possible in the game is considerably restricted. But as the animation is doing, thinking about how you can do it freely in the game, thinking that "The one who made the time earlier is smart here" is the coolest thing and the same explosion freely extends and extends I hope we can. I have recently heard from the CG industry, but it seems that CG explosions, liquids, waves, etc. are free to pack up and stretch, and it is said that the game is not the only thing I also feel it.

Hashimoto:
It certainly is difficult to put foreign things in the space that moves in real time.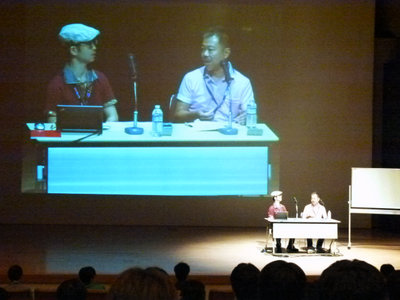 Iwade:
When it is the whole game, in a well-made fighting game etc., at the moment you hit, it got a bit slower then you could express like burning with burn.

Hashimoto:
With a pleasant feeling.

Iwade:
I agree. There is a feeling that it is adjusting the effect so that it appears in a beautiful silhouette at the moment the tab stops, perhaps the neighborhood may become a breakthrough.

While saying that, it is about time. In the first half I did three topics, but in the second half there was one that leaked out in the first half, so as long as you keep closing up the difference between the game industry and the animation industry while continuing listening to that story I think. Also, I think Hashimoto would be able to hear interesting stories such as animation, games, CG, the hard work of the first time I met digital animation. The first half is over. Thank you also in the second half.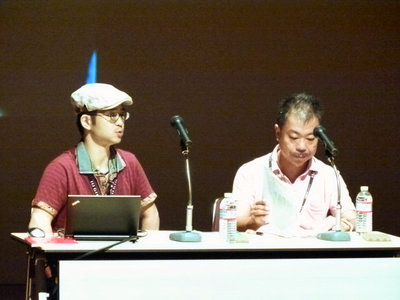 Hashimoto:
Thank you. Is cheers for good work.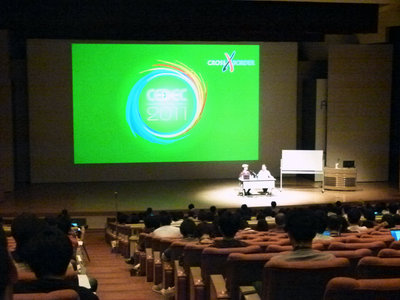 ◆ "Effects of Animation, Effects of Game" - After Part ~ (12: 20 ~ 13: 20)

Iwade:
Let's start the latter half of "Anime effect, game effect". Although there were many lecture-like parts in the first half, I think that in the second half we can talk a little about the story of "This is a game against animation". First of all, I would like to talk about "the dawn of the fusion of digital and painting in effects, which Hashimoto and others came up in the era of digital animation". "Steam Boy"Or"Crow - KARAS -"As far as I know, I think that it will be the work of the first time in that neighborhood.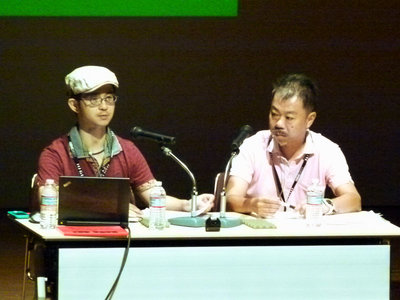 Hashimoto:
I agree. Actually, even before "Steam Boy", it will be around 15 years ago, but since "people in 3D animation want to do something like hand-drawn animation, please draw it with rough masterpiece" I was up. I was painting a rough original of a series of robots and I checked it several times, but I had something I thought ""?

It is said that people who can express their own "exaggerated movement" and "movement of timed timing" as it is, in short, "I want you to make a motion like a" brave series ", that Keren tasteful movement, exaggeration When I make something completely different from what I drew, even if I make something completely different from a person who can express a certain movement in 3D with a person who can express it in 3D, even if I make a thing quite different from what I drew and even a good person, even if I make words worse, "Yeah? It is understood that there is a person at the timing that "Is not it also different?"

There are people who challenge me and come to this place, and people who do not challenge again, as in the animation industry, but there are also conservative people. I thought that the difference is interesting. In that trend the work "Steam Boy" came. After all, in "Steam Boy" all the effects were hand-painted.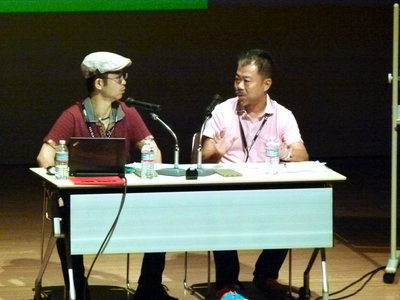 Iwade:
"Steam boy" is very characteristic of steam. Although I saw the making, I felt that when digital shooting began to fit in the process well, I thought that I had to think about a picture that suits it.

Hashimoto:
In cell animation, we have expressed steam by transmitting airbrush and part of coated cell. In order to make a new one digitally, I was doing semi-production, semi-test, etc. for about a year since I received Mr. Otomo's first picture storyboard. It took 8 years for the entire work but in the third year I finally realized that the finished mold in the form of steam crispy. In the meantime I tried and tried a lot. I do not know if it can be used for game work.

Iwade:
But I'd like to see it simply. I think that it would be a waste if I thought how people who used it saw it would be a waste, and actually when I saw the making, "Ah, this is how I came" was honest, so how can that I hope you tell me if steam was born.

Hashimoto:
As I was talking while painting, it was at the time of the day that there was something that my paintings seemed to be steaming when I was tired and working.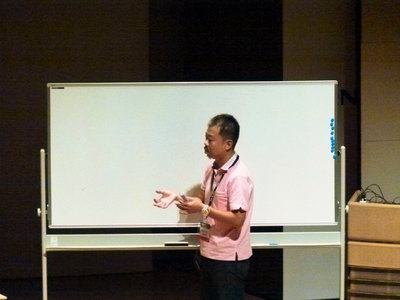 Iwade:
Are you feeling like a blurred vision?

Hashimoto:
Until now, smoking from the balloon was drawing in this way with animation. With Phew and Mokomokomoko. As you blur this digitally, eventually this part will strike the whole back and forth, or erode the background and the part of the cell.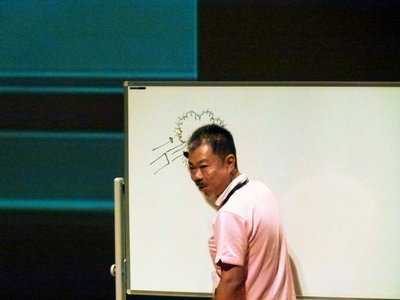 Iwade:
Do you mean that if you blur this normally?

Hashimoto:
That's right. Then, this completed screen will become a whole mooyo-moyo.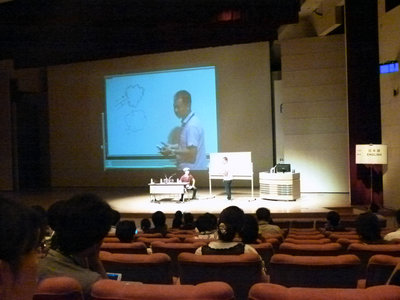 Iwade:
It seems that the details are dead.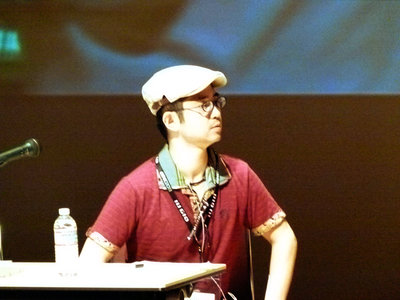 Hashimoto:
It gets sweet. What to do with this, and how to make real steam.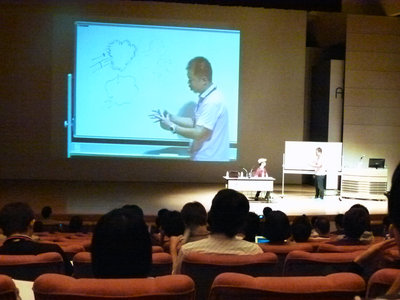 First of all, I thought about how to make steam, since several steams will be emitted from the smoke until it disappears and goes out, so that what goes out will disappear into one layer It means that about 10 pieces are stacked. I thought about 10 times overlapping it in one screen and thinking to mix both always and disappearing but that alone would cost 200 to 300 cuts per cut . Actually, "steam boy" took all ten thousands of sheets, but if you go as it is said that it will exceed 200,000 sheets.

Looking at the material collection there, there is something in which the smoke has whirlpools. I drew this outline and tried to do various things, such as drawing about 10 pieces turning around with Kurukurukururu in the middle material and inserting it as a material into the outline, I get various depths. Still, the number of copies will go.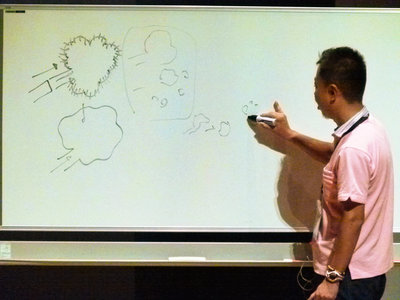 After all, I will return to the previous story, but the picture I painted while I was asleep was drawing like a suitably explosive like this. When I was sleepy and sleepy and saw this when I was not able to help it, this was good and combined with blurred vision, the thing drawn like jagged looked like a smokey fractal feeling. Plus it, in fact, the smoke that the former predecessors thought draws like this and I will definitely drop this shadow. But dropping the shadow and letting it through, the part there is considerably high transmittance and the color becomes thinner. And since the white part becomes more colorful, it is not that way of drawing it. From there I thought about what is inside material. I am sorry only because of various complications (lol)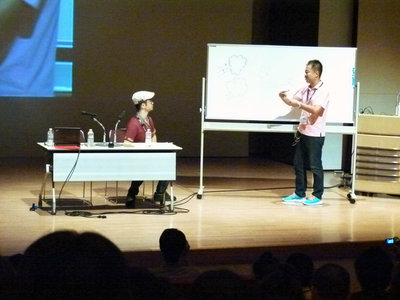 Iwade:
No, it is a story that it took three years.

Hashimoto:
It already took about 3 years. Until I finally draw this jagged figure.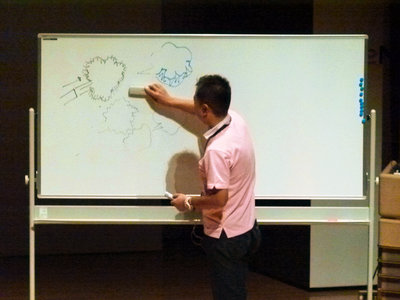 Iwade:
fractalIt looks like a pattern.

Hashimoto:
That's right. At one point suddenly I came up with a fractal, drawing it all like a squirrel or a thorn. And I changed the balance of the sheer condition I said right now, I darken the outline of here and paint the inside brightly. As you can see in this way, try narrowing your eyes, you will understand, but both are corroded and become blurred. When thinking that it was groundbreaking at the time and developing it, I found out, each industry managed various kinds and thought "I did it!"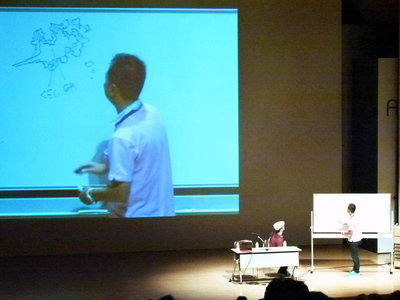 Iwade:
Again, the echoes will never come out unless you try.

Hashimoto:
In the same period I tried to make realistic images with different works,Production I. G"BLOODIt is a work called. Even with that "BLOOD", I tried and tried how to make steam and smoke real. After seeing the text of the production situation, the director of photography is quite familiar with CG, CG smoke isMetaballSo, I was making smoke in the form of circle collaboration.

Iwade:
It is a feeling that it will eventually be formed with parameters like "how much will it be blurred"?

Hashimoto:
Actually I was doing it in drawing. At that time, what surprised us is usually that smoke draws as Mokomokomoko, it is all Marumo, drawing an original in this kind of wind.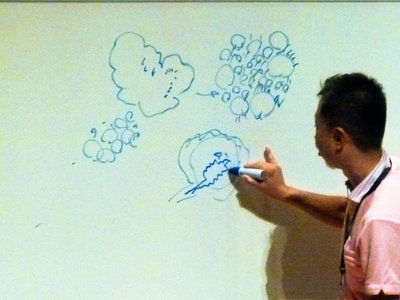 Iwade:
You draw one by one.

Hashimoto:
You drew a circle. "I thought it would be nice if CG would be done if done so far." But there are quite a lot of selling on this, and I said "medium material" a little while ago, but there are places where I have to draw a line in the effect twice, which is supplementary if I narrow my eyes, It is made of transparent material behind. Even if the surroundings are blurred, even if there is no uneven material in the end, it is an advantage that it makes you feel uneven all over.

Iwade:
When the dense drawing is darkened.

Hashimoto:
But, after all, when asked to the director who made it later, "This is not the work that human beings are already doing".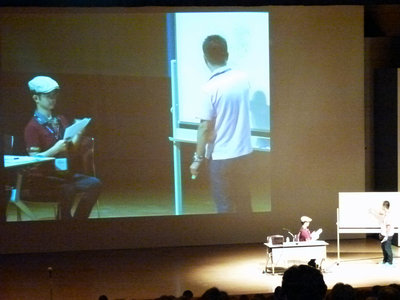 Iwade:
You should draw with CG hands.

Hashimoto:
Even if you see it. What is painful after all, it is not depicted as drawing a picture in a way that keeps drawn circles all by hand. That's why that's interesting. I felt that I could combine my "Steam Boy" and I thought that I could do something funny. Then I did a variety of TV series, Evangelion and Howl, but I wonder if I should take both good and bad points in it. It is only for those who understand also to double the material inside. Because I can not make the screen.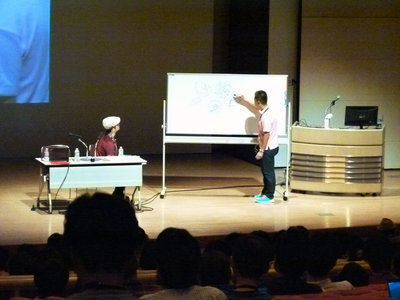 Now, the mainstream among me is "King of thornsI also painted steam in the work called "steam." Looking at the trailer, it is quite steamy. I was told that it was also CG, but I draw it all by myself. Because the circle is very hard to draw, I made it like a crushed square by hand. When I do this, everything I want to faint is going out of focus and it makes me feel like I can see the streak firmly.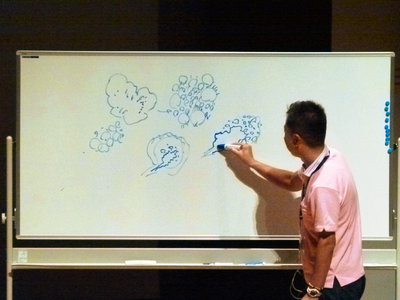 "The King of the Thorn" Story Guide - YouTube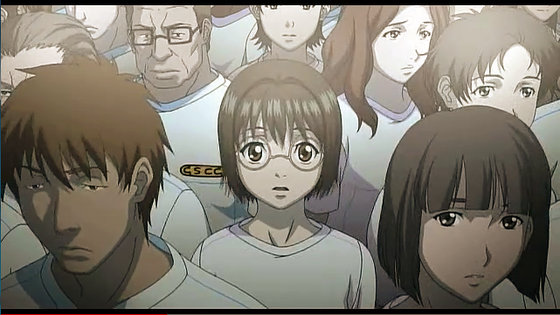 Even if you do the same thing like "steam boy" when you want to make your own ideal screen at various companies, painted with extreme story, dark color, the part of the core of the vapor becomes a shadow It gets dark or it becomes smoke with no core. But even if you distribute the text, there is no choice but to do it, I think whether it should be an effect that anyone can do as much as possible.

Iwade:
Certainly, it is quite difficult to properly specify the degree of blur and the degree of sheerness.

Hashimoto:
I agree. Even if it is thick, "Steam Boy" says "Blurred Bokke", "Skkeque" or "Bokehkekekeikei Major Bokeh" or so, people in the field say "Oh, then this gas is a little blurred" It is. But after all it does not work well with other companies. It is such feeling concerning steam.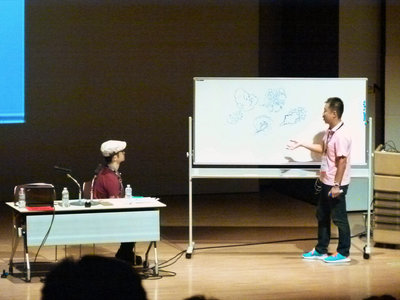 Iwade:
It is a feeling that I am working very close to the work site.

Hashimoto:
Only "Steam Boy" is in the same very wide 1 floor, since all artists and photographers were under the director, what is it, "How about Mr. Hashimoto, how is this child's blur?" So "Please be more blurry" (laugh)

Iwade:
I want a Tsukkomi (lol)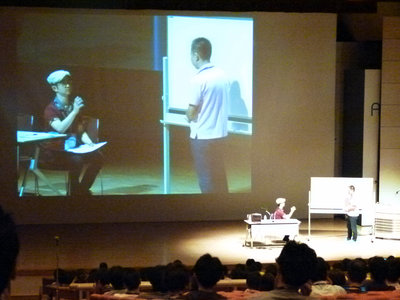 Hashimoto:
Yes Yes. "Please do not be a bit stupid", it is such feeling. That's why I gradually get better from the 7th step to the 8th degree of blurred condition and gradually get used to it, and just drawing it as "a little small blur" on top of it, I get it to be successfully blurred.

Iwade:
"Crow - KARAS -" But still I heard that Hashimoto is quite close to the scene. It is a story that I wrote hand-drawn things that match everything that moves in 3D.

【PV】 鴉 -KARAS - Full Episode Edition (KARAS Trailer 03) - YouTube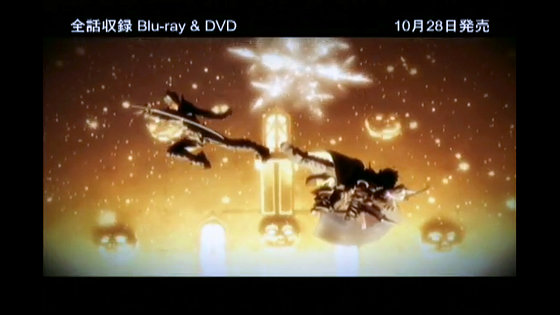 Hashimoto:
"Crow - KARAS -" threw the storyboard as it was to the people of 3D. At first, I drew rough origin up to about 3 episodes in 6 episodes of the whole series, but as I said in the first half, the higher the texture of 3D, the somewhat slower than my 2D timing, the movement is lighter I found out that we match. My position was a special skill director, and I was working as a bridge between 3D and 2D effect drawing. Although rough has a meaning indicating how to put the picture on the camera etc., thinking whether there is not much meaning even if drawing a sheet, director directly gives a picture storyboard as it is, after that half of one day I went to the 3D person and checked.

It was a fun site, but everyone likes themselves at first, for exampleImaginary LineThough ignorance was ignored, it gradually came up, but gradually the neighborhood of "What kind of things do you like Hashimoto?" Or "What kind of things do the director requests?" Has become well understood by the flow It is feeling.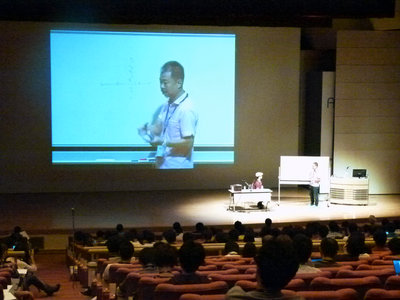 Why did you become a special skill director? For example, if the shoulder breaks where 3D moves and the blood pops out quickly, in the cut, "If you are stabbed the eyeball with a youkai, what to do with that eyeball" I think that I can do it, but I could not do it with a short schedule of "crow - KARAS -". So, construct what you requested in the storyboard in your own head, and if it were originally youkai must be straight in the camera in the screen saying "Eyes here are blind, blood is I thought in myself that it would be pure, I tried to make the frame more like this instead of here.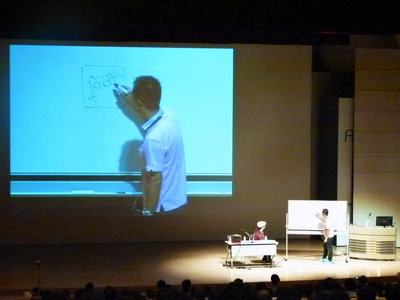 Iwade:
It's the time of layout.

Hashimoto:
I agree. It is the time of layout or motion.

Iwade:
Say "Please make me a little bit to the left," I like "I will paint here later" I'm like.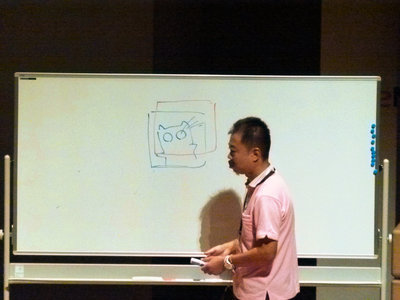 Hashimoto:
I was doing such work. As I said earlier, I was told to hook the screen, but I tried to express it in a form that is not 3D time curve as much as possible. Let's say an eyeball flies with a pon. If this is 1 and the next is the curve of time, it will be like this as it accelerates with the flow. But in order to be charmed in the screen, it means that I want a picture here.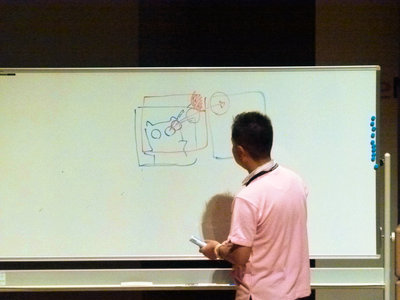 Iwade:
Well, it will disappear.

Hashimoto:
So, I did 3D with a picture by back calculation for that. The troublesome in "Raven - KARAS -" is that the camera really spins around 3D space. Among them, there were 5 stories, the monster rose from the ground while crushing the rock gwaruti, the character stabbing the sword in it stuck clinging to it, while the camera spun round, the camera spun round, and the blood splashed I'm flying a lot. So, what I got up is a 3D part and 3D feeling that 3D is about to be put as elementary as elementary body, but it is said that it draws it all by hand. Moreover, from here it is overflowing with blood and drawing the body with your hands (laugh)

Iwade:
Handwritten blood flowing on the surface of the 3D model (haha)

Hashimoto:
I can paste it as it is, but it is a bit difficult to flow through this dokudoku, so I will frame forward while watching a small video.

Iwade:
It is a story that you can not draw with a picture.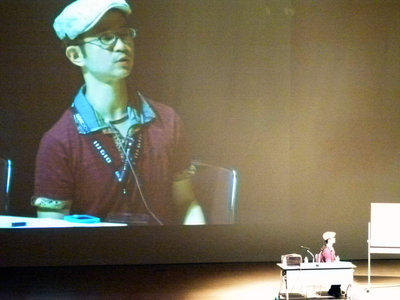 Hashimoto:
It is such feeling.

Iwade:
What I thought after listening to the current story is that the site where new technology comes out is that people who are in a position like Mr. Hashimoto and who do 3D and digital shooting can keep in close contact and try and error I thought that they are in common.

Hashimoto:
Following this, I thought that it would be easier to understand what to do and how easy it is to get them to create gauges in the space. The work that was asked from those who saw this later was a cup noodle 's "FREEDOMIt's a series called "Hello! Even so, if the circling camera circles around in 3D, I do not know at all what BG is in the universe, so let me make all the memory of the feet in the XZY axis in the space, then there are 1, 2, 3, I shook and asked them to paint all of this gauge.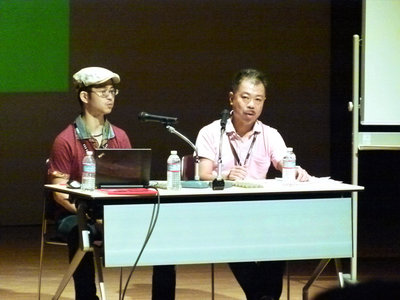 [CM] Utada Hikaru "Kiss & amp; Cry" FREEDOM CM 04.20.2007 - YouTube


Iwade:
Are you saying while watching the 3DCG's place like a gauge in the space?

Hashimoto:
I do not know if that is the only thing, I bought a DVD burned and while frame-feeding it.

Iwade:
While watching the video.

Hashimoto:
Yes.

Iwade:
"Gundam UnicornI also saw the case of the creation, but recently I was told that it is important to tell you how it is moving.

Hashimoto:
I agree. "Sky · CrawlaI was also on the extension line of this. After the first title, "Somehow Hashimoto originally wrote it," I was told by a Japanese top-level animator, I fell a bit.

Sky · Crawl The Sky Crawlers Trailer - YouTube


Iwade:
Does that mean it was getting along well?

Hashimoto:
Yes. Since I put the name as a drawing of the CG group rather than as an original as a title, I did not know where my name is in the first place. The other thing my drawing is matching to 3D, so it feels like I did not understand at all on the screen. The work of "Sky · Crawla" was planned to make explosions and fragments of all in 3D at the beginning. But, as a matter of course, one director says that 3D can not express such things as blood splashing, explosion sparks, fine fragments, and so on, so suddenly I got a call and said "Do you know FREEDOM? It was a story called "Taruyo".

That is different from the past, the 3D person is already pretty much like a completed form, and all the screen motion is also contained. It was a picture of completion so to speak. I can not make an orbital gauge in the drawing in the first place when I enter screen motion, but I was told to do it. While it really feeds the frame. That is absolutely an air battle, so BG is empty.



So the airplane is flying like this, measure how many millimeters of clouds in the sky are drawn in the sky on this screen with a ruler with a ruler and send "Yes 1 frame", a click here I will do "Oh, 2 mm."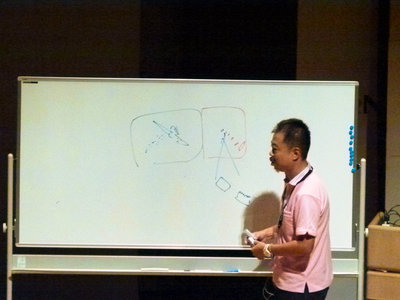 Since there is a screen movement, this point works the way if this point is supposed to be the next, but because it is blurred, it does not work like this. But on this 3D space, we had to move according to the law of physics, so it was already hard. Even if I draw the fragments coming in front, this piece is originally supposed to be such a thing, because the picture between the two is blurred by the screen motion, so draw a little above or draw it down.

Iwade:
Is it shake?

Hashimoto:
Then you should enlarge the fragments, if there were such fragments, next time you deliberately stagger like this.

Iwade:
Certainly it came to be fine move, by all means.

Hashimoto:
So do not realize that anyone made the drawing.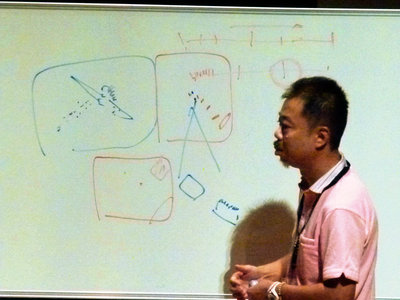 She seems to have taken the sound to Hollywood, but of course George Lucas's pictureSkywalker soundIt seems that the live-action staff of the live show came to see, but the people who went to asked "How can I develop such software?"

Iwade:
To make such debris (lol)

Hashimoto:
so. "What kind of software is this movement made?" When saying "It is Hashimoto's drawing", he said "Ohhh!" No one noticed in Japan at all, but I was happy that although I was praised by someone over there, I was not on the scene. I did it with the shards of this time also hooking on the screen.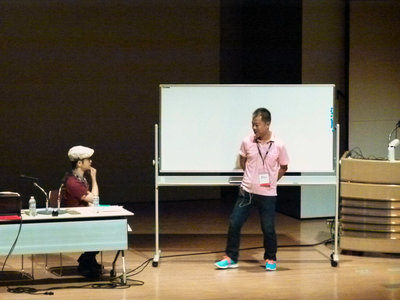 Iwade:
The cool thing was that it was a chip that was calculated after thinking about it.

Hashimoto:
If it is originally it gradually accelerates the curve of the time curve and fragment, but I will deliberately stuff it in the flow of time and go on like this. So, if I hook this picture here, or because I'm going to fly in front of this for fun, I'm feeling good because I am thinking about that time and how to extend the picture. I hope I understand only those who understand, but when I was told that the great senior of Japan's wonderful animator was "Hashimoto anywhere", I went back from IMAGICA.

Iwade:
I actually saw it, but it was definitely not only realistic but also "cool" part.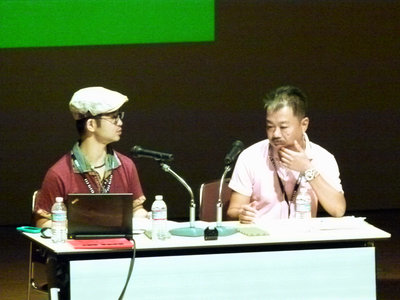 Hashimoto:
3D is pretty cool, but the operation of fine fragments and fine spark operation are still difficult. Another thing that breaks suddenly and breaks. Before this, when I saw a promotion of a certain 3D animation, the ground is broken, but cracks have entered when looking carefully before it broke. In the case of animation, the rock of the cliff behind where a person walks has already become a cell and it feels like "It will fall".

Iwade:
It seems like "Collapse!" (Lol)

Hashimoto:
I think that such a place is difficult.

Iwade:
It is impossible to do anything like hooking, etc. by necessity in the game in the calculation, by all means, in some cases, the result may change randomly every time, so it is difficult to do that. However, unless it is a scene where you can see it from anywhere like an event scene, you can make it after finally calculating how to go out of the screen, and the other side of the animation slowly looks like the other side of the animation sooner It seems possible to combine them.

Hashimoto:
Even when "Raven - KARAS -", there was something like "Screen Punch".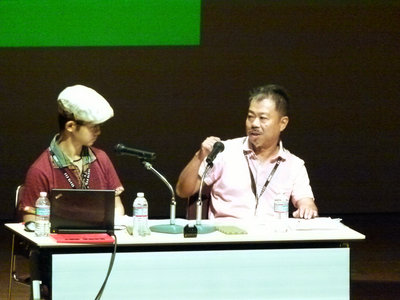 Iwade:
Screen punch?

Hashimoto:
Do you understand screen punching? It is a movement like punching like this camera. But since the movement was not able to be done well, I had to make up to the point where I raised my hand until 3D, "I do not have to make a model from the arm to the tip". From there, replace it with all the cells and put the cellular exaggeration on the screen. After 3D has become like this, there is no character's hand, just pulling all the way, the part of the cell seems to be going away quickly.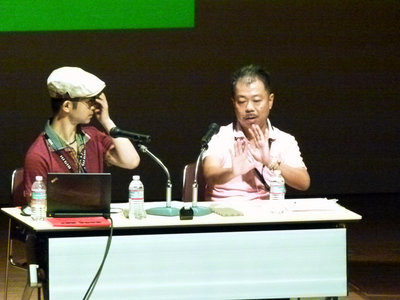 Iwade:
Is there a feeling that it draws and adds after seeing that the body is moving?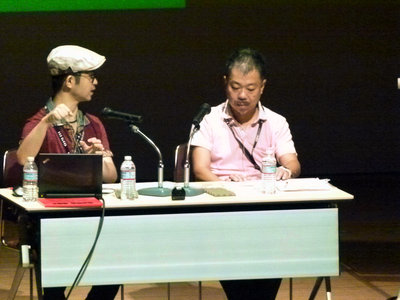 Hashimoto:
I agree. 3D has somehow made a rough, so put a little more exaggerated expansion and shrinkage in there.

Iwade:
In a game, there are things that express expressions like multiplying the exaggeration of the neighborhood by a scale, and enlarging what came in the foreground. Because there are parts that you must adjust by hand by all means, like 'Before slowly and quickly'.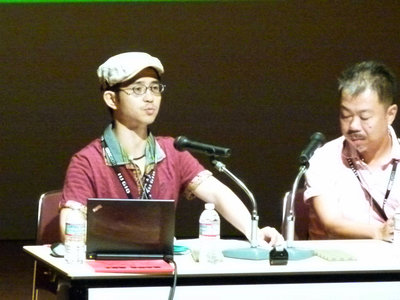 Hashimoto:
Well, it is a sense.Iwade:
After listening to those techniques in this animation, I think that it is a part that I can make use of when using scenes. Thank you for your precious story.

I will tell you a few "different parts of the game and animation" from here. Even if I listen to only good stories of animation ... ....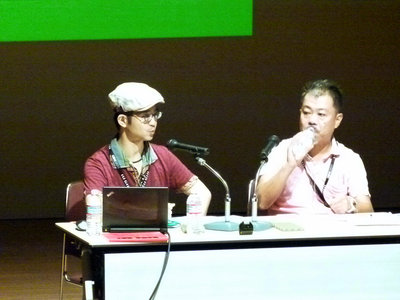 Hashimoto:
here you are

Iwade:
Then I wish to think with everyone whether there is no way to solve it. Regardless of the game, I think that the part called "It will be seen from anywhere 360 ​​degrees" is a point of struggle different from animation. Of course it does not matter much in the event scene etc, but even if it says back and forth of the explosion, even if the direction of view changes, it will become completely different. Based on that neighborhood I would like to think about the direction of making things called "3D, while including effects".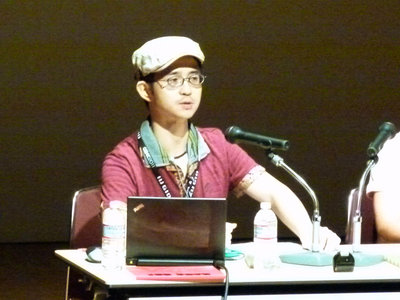 Also, this is bad or it is also a nice part, but "The movement occurs in response to player's manipulation" is the direction that we must pursue the effect of the game. I think that it will be a very pleasant thing because it is done, so I hope to be able to get involved with the know-how of animation well.

Hashimoto:
Actually animation means that only the visual picture is a game, so you do not have to think much about 3D things. Thinking of myself as "wow?" When looking at 3D is coming out with a fairly realistic game and so on. Perhaps, people who are making games watch military exercises and real images on YouTube, for example, if they were guns, they went to take a lecture of real guns and shoot live shots and doing this kind of movement It is. I think it is really cool and realistic, but the more it goes, the farther it goes, the farther it is leaking in the screen.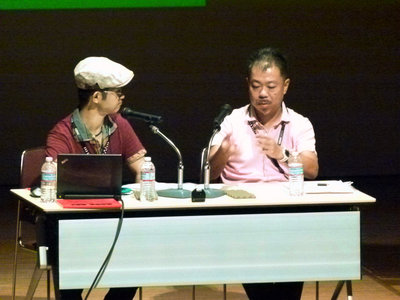 I always have an explosion, is not it? For example, shoot with Baba Baba from the front. There is a hole in the wall. Even though the fragments with their holes are okay, they always look like smoke standing there.

Even the "King of the thorn" has done a landing scene. Although it is impossible to dramatically draw smoke in truth, it is not possible to train everything that breaks, but when you do it with animation, make sure to make about 3 patterns and make it bigger or smaller. Depending on the material, even if it draws 3 patterns, it turns into 6 patterns if turned inside out so if you change it plus, up and down it will give you various variations.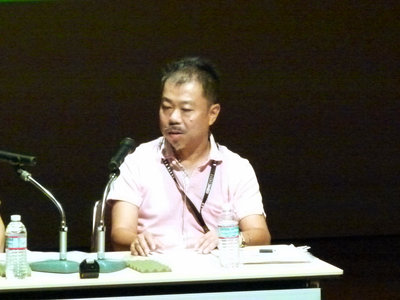 But, in 3D, for example, 3D explosive material gets one. You should be able to do a little more variation if you change it slightly. Even in Hollywood movies, "I wonder if the smoke over there will not be raised a little more, I wonder if it's cooler" or "Why do not you interfere with these places?", Or " I wonder if light reflection will not come in here. " Everybody cheat the crucial place with Doctor in screen motion, how about it?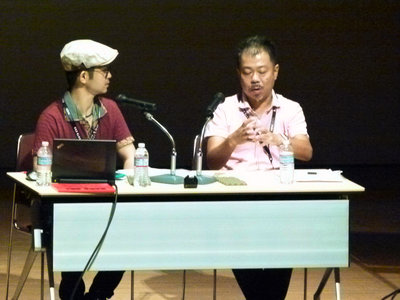 Iwade:
That's true.

Hashimoto:
I wonder what it is like to be something. Certainly the players of the game may not be looking that far, and the key point may not be there, but the part there is important too.

Iwade:
No, as a human of the effect, there is something that you can do to that extent. It may be related to the genre of the game, but it will be talked about how much cost is to be spared for those who do not know when and when to come out. Well, if you can make some patterns and have room to store it in game data, you may be able to prepare to some extent. But if it is the part that will be postponed, in some cases it will be cut off.

Hashimoto:
Of course, fighting games and FF etc are different, but it is a part of scale feeling such as things in real battle game and those of real live-action composition.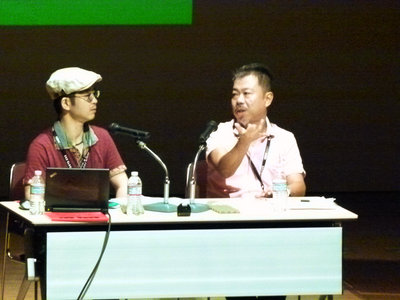 Iwade:
That neighborhood is a painful thing to the ear.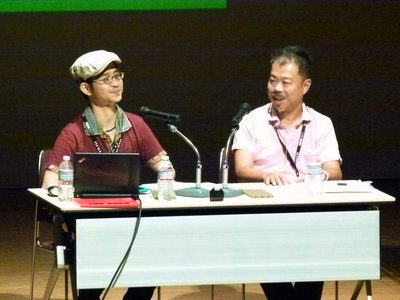 Hashimoto and Mr. Hashimoto are talking about various things, but as I explained at the beginning, listening to the current story and saying "I will make the best use of it in my way", what is Hashimoto-san What I would like to ask or something that Mr. Hashimoto was involved in can be said to be "anything like this about my neighborhood, how was it actually?", So I can take any time for questions and answers
Just thinking like this.

Hashimoto:
Another supplement is good?

Iwade:
By all means.

Hashimoto:
Excuse me. Though it is about sparks, this may be limited to myself, but it is fine to mix random things with those spreading over time curves. If you blend hand-drawn things even in the sparks made in 3D such as games, it might be real just by just slightly fiddling.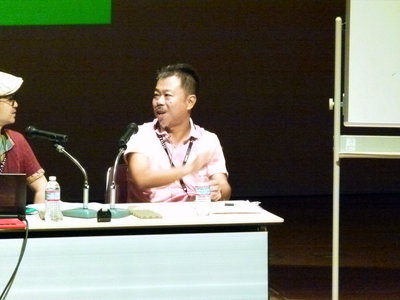 It may be better to draw this also, but in short the eyes of the human move greatly and the eyes go to things that move faster. So, this is a spark that I draw well, for example, if there is something that flows from the right to the left and disappears, I draw such a small spark and a big spark like this.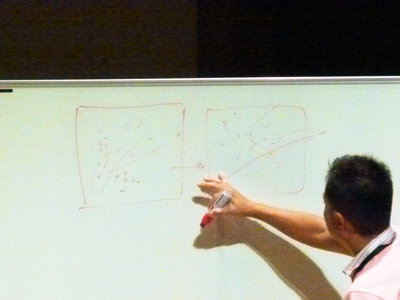 Next, just doing such big things for the time being, small things randomly. Truly the original picture is doing at this pace.

So, when it comes to buzzing, this is only one frame and it is not the next frame. If it were originally, there is an in, there is a middle, there is an out, but even if there is only one frame it is understood by flow. It plus, even if the flow of such a big thing is solid, fine things are quite good, even if done properly somehow it will flow and it will be visible. Among them, I draw it considerably drunk, I draw with my left hand, I make it drawing on my child. "Draw a single line" and say "Haha".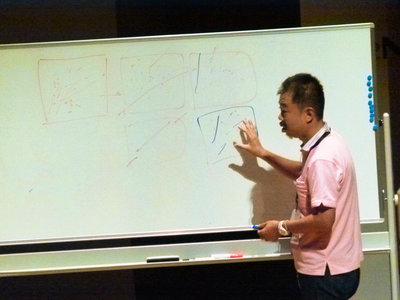 Iwade:
Is it true? (Laugh)

Hashimoto:
"This is cool too, so let's use it." With 3D things, it makes me feel "every one goes out one by one regularly". So I always think of putting Bukubu into the flow, or mixing it with different time curves as in the first story and mixing new things will come out .

This is a technique that looks efficiently by hand and is to show the flow of the whole by some flow, what you originally had to chase one point one by one. In the balance of the paintings, is it like to consider the placement of the points in the space cut into these four with aesthetic consciousness in a good way?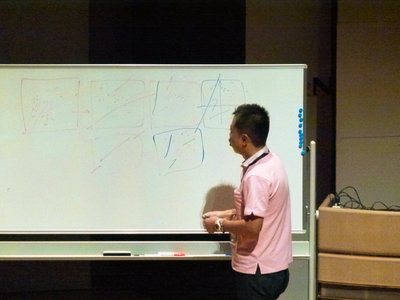 Iwade:
The neighborhood is a weak point that you can make with what you put out with the tool.

Hashimoto:
Although it may not be necessary to stick there.

Iwade:
I think that it is a great hint in the sense of how to raise it one step higher, so I hope to make use of this.

Hashimoto:
Thank you.

Iwade:
Well, I think that I can pick up such know-how and how much, so if you have any questions, thank you.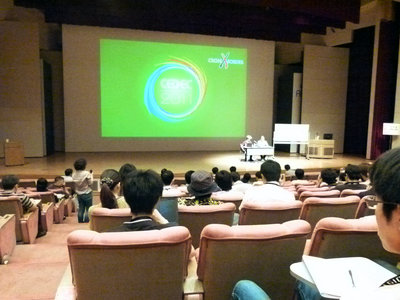 Questioner 1:
In the animation, I think there is "the scene where the effect is the main" and "the scene where the character's reaction is mainly to the effect". Where the effect is predominant, is it done with the effect picture first coming first? Or is it the place where the character moves first and the touch is made according to it?

Hashimoto:
In the flow of animation cut, basically the same one draws effect and cut along the storyboard. In the work of the director of drawing and painting which comes afterwards, the drawing director first puts the character in the picture and then I am. Since there is a desire to show the character as much as possible, it is a feeling like character main.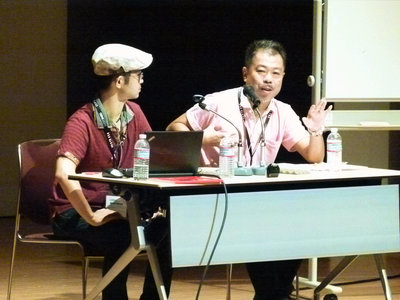 However, since I think that it is very wasteful to have effects, it is aiming for something like self-assertion, that sub-effects will show out their own personalities, whether they are habits or not I will.

For example, if a character runs and runs away with explosion, it is not possible to cover all of the explosion, but there is nothing wrong with a part of the body. Because of that, as the picture gives us more sense of crisis and realism as well. Among them, I hope it is a part of my face, but my eyes do not have to hide, so I'm still careful about trying to open only the eyes, even if an explosion hits the face.

Questioner 1:
There is another story of explosion so I'd like to ask, but the effects are mostly in the direction of power, or the explosion around here is great towards the outside, but because there are obstacles around here, I think that there is a place like that, but when that happens, you are doing it in such a way that "according to the picture of the character, draw this neighborhood strongly, draw this neighborhood a little" ?



Hashimoto:
It may be exactly so. As I said earlier when I draw the time in reverse, I told you earlier that "I want this form of explosion at the time of this pose of the character", it is quite well done to draw back from it and take back calculation.

Questioner 1:
I see. So from the side who is making the effect "Is this effect strong here, so rather would you like the character to move in such a way" Maybe there are cases like it?

Hashimoto:
Well, there is a power relationship (lol) Even if you think Evangelion "I want Shinji to move this way", I do not want to hear what you say, so I will try to put along the effects. In fact, in the last ten years or fifteen years that the designation director of effect animation or mechanic animation came out, the flow of the animation industry also comes with character animation. There is also a budget problem, so it is going to want people who do whatever it is to do and effects together, rather than paying labor costs there. Then put your strength in the direction of the character, the effect will be postponed. I said power relationship, but again, the industry power relationship has character.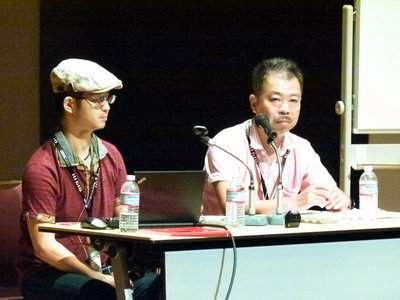 For example, when it comes to the story that "I want you to scrutinize with the scene there" to the character, it will be directed theory, so we will meet with the director before making the cut in advance, but it will be the character main again after all . "I want the character to act like this and want the explosion to follow". I think that it will not be reversed from "the explosion is like this because the character is like this".

Questioner 1:
I understand. Thank you very much.

Iwade:
Are there any other?

Questioner 2:
Although it may be a bit deviating from this lecture. I talked about the motion of motion and motion, when teaching motion to a person, although I went out earlier, it was "a pleasant movement". I'm telling you that "it is better to break the frame here" or "I prefer a hollow out here", but I think that what makes it the "feeling" feeling is quite different depending on the creator I will.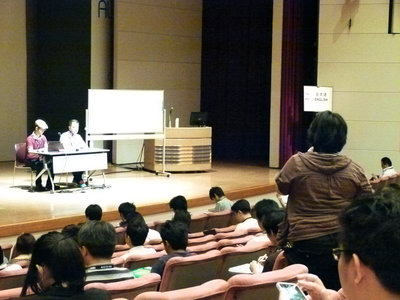 I do not feel that it is "comfortable" and I do not feel what the other person says is "comfortable", but I think there is something "Do you feel comfortable over there?", The motion movement is templated I am not. In regard to that, does animation have talks and templates like 'Please refer to this?' Or maybe it will be a story that "This director feels like this movement" by keeping doing really endlessly?

Hashimoto:
It is also the latter and the former. I am doing work while listening to music, but I think that it is possible to communicate quite similar feeling to people who can communicate by rhythm. For example, if it is an explosion, it is not "Dokan" but "Guggg, Guan" or "Guggan". Some people make arrangements with rhythm. For example, if you are a punch, you can understand the feeling somewhat like "GOOD, Bread" or "GUANGAN" and that "Perhaps, this medium is divided into areas with one piece, Do not cut it out and end with 3 or 4 frames, "or something like that that you can share with those who can share that.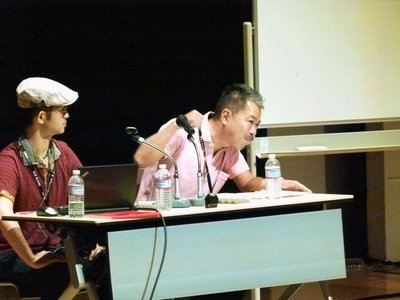 There may be no definite templates, but it seems to be true in any industry, but there is something like an excellent work. "This explosive feeling of this excellent work". Another thing that I often talk about at a meeting is that the live-action movie "that explosion of that scene" or "that waving of that scene, 1.3 times faster" or "feeling a little out of my head" It is feeling. Eva'sAnnoHe seems to always be in a meeting.

Iwade:
It's like Ultraman (lol)

Hashimoto:
"What kind of story of Ultraman, that kind of story light" or "that walking of that monster". Because it is such a meeting, it is possible to share it properly. Of course it is important not just to have it shared, but also to make efforts properly and to see a lot of such images. Separately I am also an animator, not just watching animation, I am watching such natural live-actions and lots of things, there are various discoveries, in which "what is the feeling" I think.

Although some people say "I feel bad" maybe, I think that you feel that everyone's feelings are comfortable with the same feeling in ninety or eight percent. The other part from there is a hobby and I think that it is the feeling of the person himself / herself. As for me, "Will you drop 10% and make everyone feel good at 90% stage?", Or add another 10% "Do you think that it is wow very comfortable, but some people say you feel uncomfortable?" Speaking of which one to take is always thinking that it would be better if you think that it is a contrary praise word and say 'I'm going up a bit', even if someone says it feels bad.

Questioner 2:
I will become an onomatopoeia when teaching, though.

Hashimoto:
The onomatopoeia is nice! The onomatopoeia (haha)

Questioner 2:
It is transmitted to people who are still transmitted. I often talk about feeling like "It's not Shun, I'm Schubben", but it is up to the people to think that it is hard to be tough for those who do not convey it.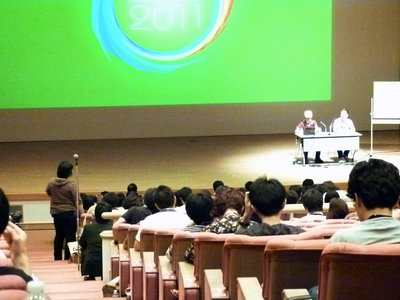 Hashimoto:
I am doing a way to "let the body infiltrate the image with the sound". Whether it is live-action or animation, I do it by hand. "Googguuggu" or "Gagagagagagaga" or "Gyugyugyugyu". By doing this, I can see that timing as "Watch Gaga ...... Here is 4 frames". After that the timeline in myself is "cuckoo" for 1 second, so I have about this time.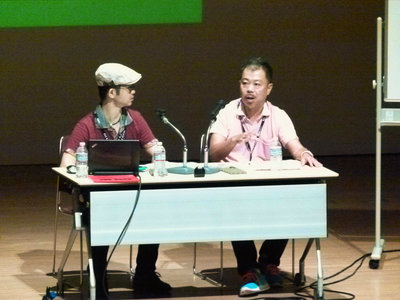 Iwade:
With rhythm.

Hashimoto:
There is one second in the body, so I'm doing a method like "I make an image in my hands and brains and make my own archive".

Iwade:
Finally Hashimoto would like to hear from you if you have a challenge or work that you would like to do something with an effect as an animator.

Hashimoto:
I agree. I worked on the game many times and I had some requests for live action, so I happened to have no chance, but I could not do it. Mr. Higuchi's gamera and ... ....

Iwade:
Is it a story to appear?

Hashimoto:
It is not me. There are parts of animation, or insects that come out of the body. Actually long ago "Kato, Ken-chanThere was a TV program called "There was a corner like fusion with animation." When Kato said "Hun!", She smoked out of her nose and it was all handwritten. I put it all on my desk with a printout. I want to try something that Shimura Ken and Kato tea are acting, so it was quite fun.

Also, "Sky · Crawla" tried to do live-action effect quite a lot, but even in the film of Hollywood, the stage is just live-action, and smoke is made in the same way by CG. I tried painting the scrape like that I said right there and put irregular smoke like live-action in the smoke. If you pull out the material with a mask and put it in live action there, I'd like to try doing it as you probably can.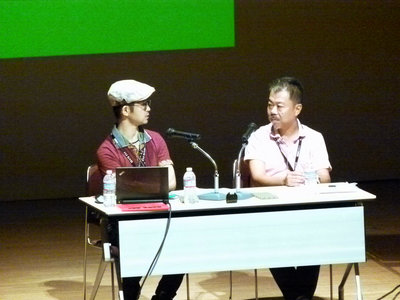 Iwade:
Somehow, is there a feeling of completion?

Hashimoto:
I guess it's interesting to try something like that.

Iwade:
I really want to see it.

Hashimoto:
I'll do my best.

Iwade:
So it was time. Today I heard a lot about Mr. Hashimoto's story as "effect of animation, effects of game", but I think that even if you are a game you can take this forward positively and make it better shape . Everyone, let's do our best.

Also, I got this story to Mr. Hashimoto so much, so I think if something more interesting is born as long as the exchange between people of the animation and the game continues.

Hashimoto:
By all means.

Iwade:
Then, this session is over. Thank you very much.