Ramen · Osaka black of "Kon Kyuemon" truly is Osaka No.1 evaluation and convincing taste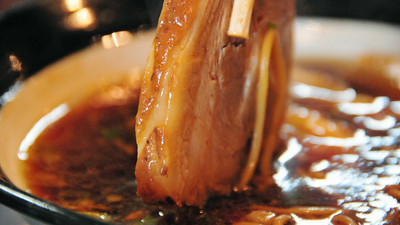 Once"Eating log" Osaka prefecture top ramen shop "Kimukyuemon"I went to eat soy sauce ramen, but there are reasons for that to continue as a popular shop. From Nissin "Eat Log Osaka No.1 Kimigusemon Osaka Black"It was decided to be commercialized as. Since this cup ramen was released today from Tuesday, 18th (Tuesday), while tasting the cup ramen, we again visited Kimukyuemon and tried to explore the secret of its popularity.

First of all, I will taste it from the Nissin Food Cup noodles.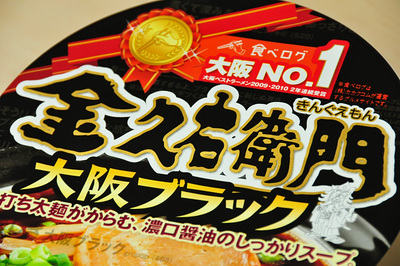 The contents are not so characteristic, but ...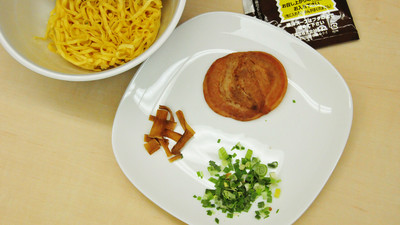 Only baked pigs are conspicuous. It is larger than the size of a normal cup noodle with a size of 500 yen coins and 4 pieces.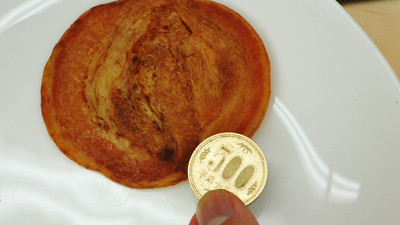 Also, there are thicknesses.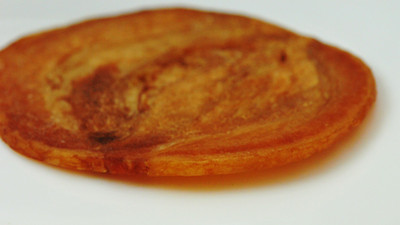 It looks like kelp before taking the mushrooms, but it is Menma.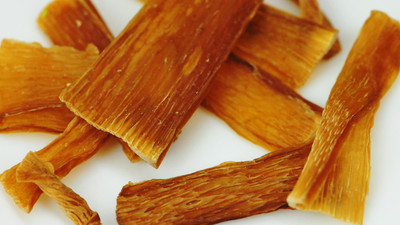 Leeks are very ordinary ones.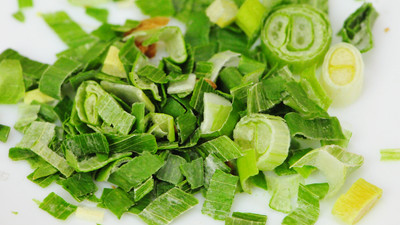 I will make it at once. Will it convey the size of the baked pig when compared with quickly?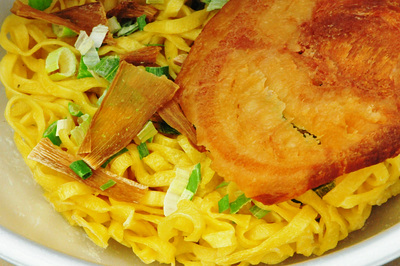 Pour hot water ......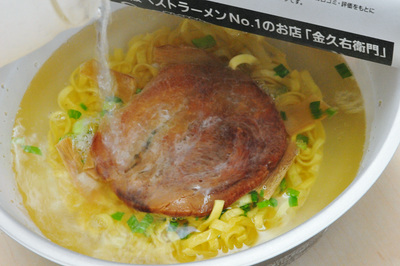 Place the liquid soup on the lid and wait 5 minutes.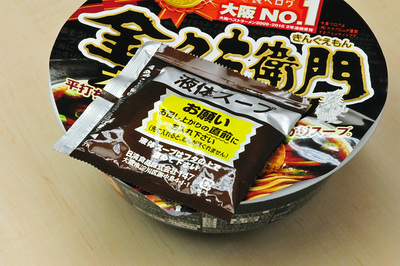 After 5 minutes, pour a black liquid soup ......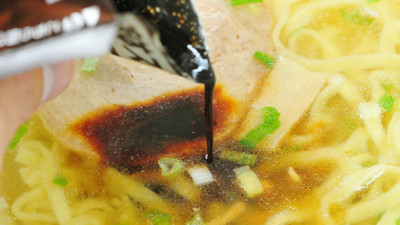 Completion if lightly mixed. At this point, it smells a fragrant smell that you can understand even if your nose is not so good. Baked pigs have thickness as well as size, very satisfying dish.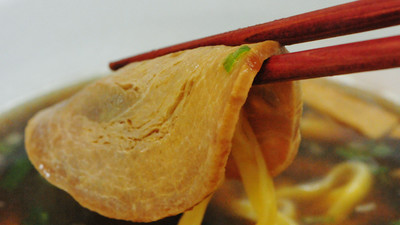 However, thick noodles are hard to loose and thin like a waste when reaching Menma ... ....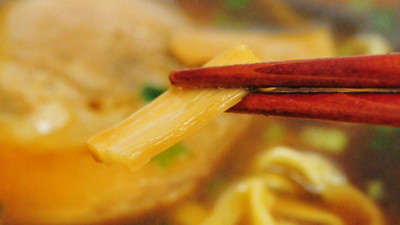 Although it put the full power to the baked pig and soup in order to match the price range of 285 yen including tax, it seems that it is difficult to compromise with noodles and hence the regret that has been forced to compromise. Instead, the making of soup is very good, and the part that I could not drink as a ramen soup seems to be usable even for boiled at a later date.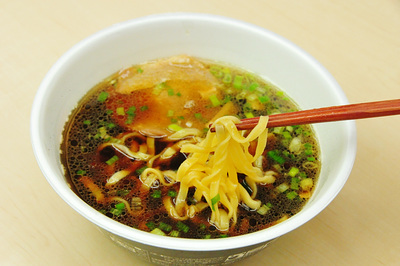 So I thought that it is early to evaluate Kim Kyuemon's ramen only with this cup noodle and actually went to the shop.

Since opening was 11 o'clock, we went a little early, but there was only a very popular store, and although there was not any goodwill yet, a queue was made.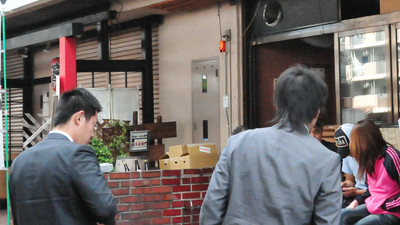 It is difficult to understand the location because it is not putting out a big sign in front of the shop, but the eating log "If there were people lined up in a shop without a signboard, one caught on the left side of Love Ho, it would be Kin KyonemonIt was a very easy to understand introduction.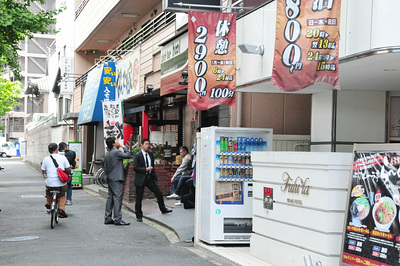 Not a signboard is not there ... ...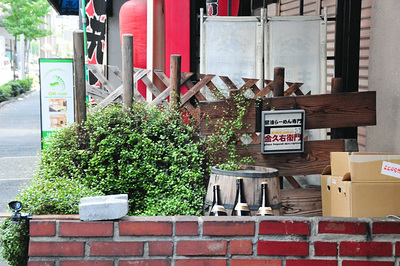 There is a very small sign on the store front.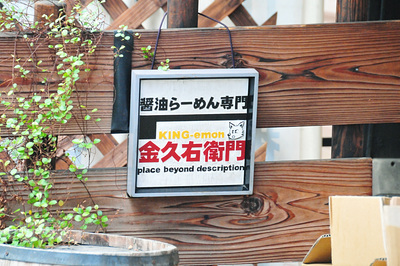 It seems that the meaning of "this is not expressible" is put in the design of this signboard.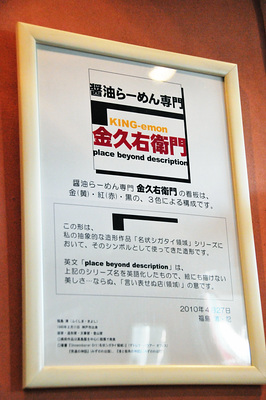 The menu of the shop is center of soy sauce ramen. Since this time it has meaning of eating comparison, I ordered "Osaka Black" (700 yen) which was also a cup noodle.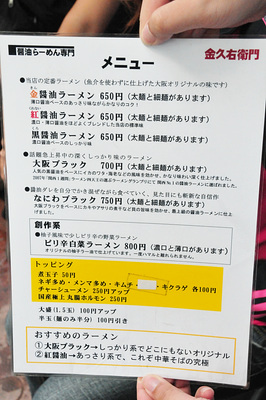 Cup noodles were also decorated in the store.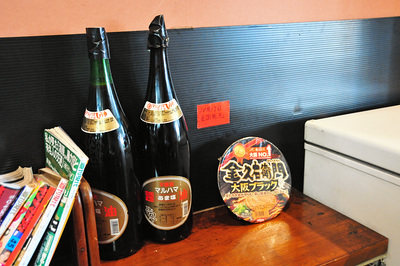 Next to that was "Maruhama Oil Oil". This is the secret of the goodness ...?



The ordered ramen is completed in roughly 5 minutes. This is a stuffed topped with ordinary Osaka black with topped egg (50 yen), the basic equipment is composed of 1 huge chashuw + 2 menma + leek.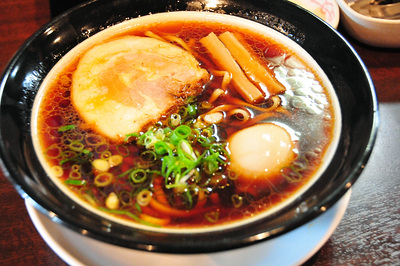 Meanwhile, when Osaka Black Chashume Men (+250 yen) comes, the barbecue will increase to 4 pieces.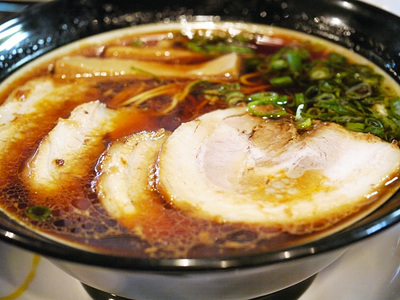 This pork is very huge.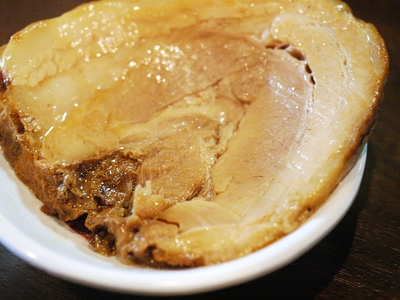 Even this size compared with 500 yen coin. It will be conveyed that cup noodles also tried hard and tried to reproduce.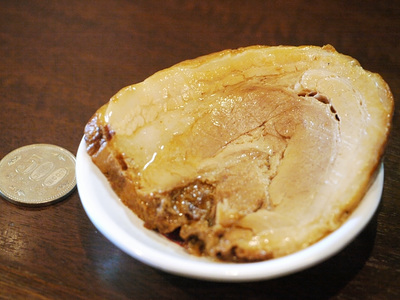 Of course, the thickness is also considerable. It is natural that lean body is fluffy, but the taste is confined while moderately tightening the body part, and eating and smiling the face.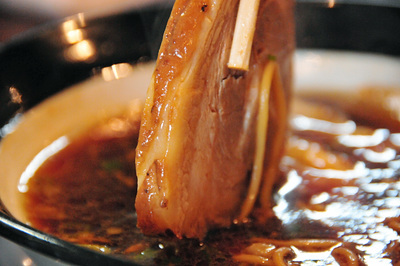 Boiled eggs ......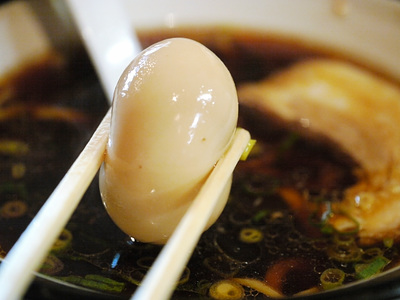 Trotto and mature. Even eggs boiled sturdily are nice, but sometimes the white of Prepure is also good.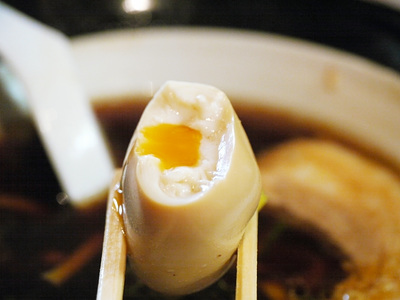 There are thick noodles and fine noodles in noodles, while thin noodles are basic in shops, but cup noodles reproduced thick noodles. Both have considerable elasticity, it is a noodle firmly involved with soup.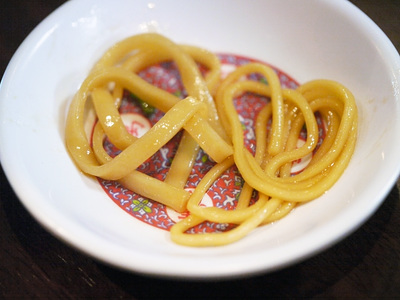 Menma is a solid one. This also has a response to eat again.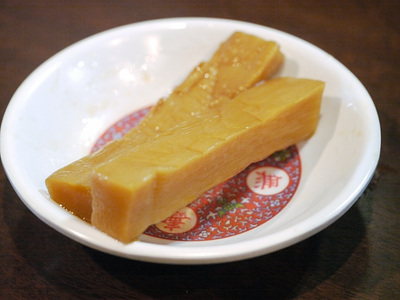 The soup uses squid cotton and shrimp palm, and seafood-based taste is oozing out plenty. If you say soy sauce based ramen, there is an image that is gathered up safely, but this has reached the taste beyond the limits of soy sauce ramen one step, not only as ramen soup, it is delicious even if you put rice as it is It seemed likely to have a condensed taste. It is supposed to be quite a difficult task to reproduce with cup noodles, provided ramen with such a high degree of completion at 700 yen ... .... I think Nissin bets everything for soup and chaaught, as I judge it is not wrong, but I wanted you to arrange the best noodles so that they are served.

"Kin Kyonemon" head office is open from 11 o'clock to 15 o'clock on weekdays, from 11 o'clock to 16 o'clock on Saturday, the soup is sold out as soon as possible. I am worried about the detention information affixed below ... ...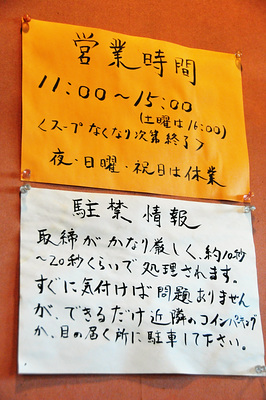 It may be convenient to see the road conditions on the table on the TV inside the store. However, there are coin parking in the neighborhood, so people who come by car should use that.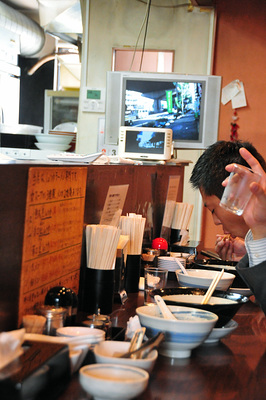 Malhama 's salt salt soy sauce, which is the key of Kimigyeonemon' s taste, can be purchased by FAX. One liter is 504 yen including tax, one bottle is 851 yen including tax.

Product introduction Maruhama Food Co., Ltd.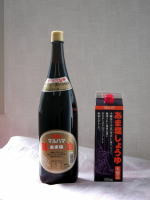 In addition, "Kin Kyonemon" itself is also opening a net shop so you can enjoy Osaka black etc at home. "It is a little unlucky to line up in the queue, but I would like to try it somehow" by all means please use it.

Naniwa strongest soy sauce ramen "Kimukyokon (Kin-kuemon)" net shop