Wit rich "cut back" by the world's great men and celebrities 32 cases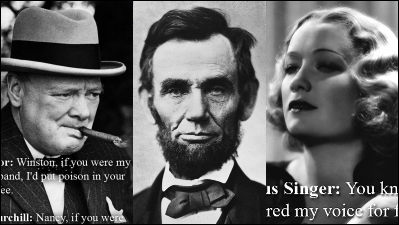 The words of the great men of the world have powerfulness to show the way when suffering. But what we gathered this time is"Words"Not a stunning word"Cut back". From things rich in wit, things that represent people well, sometimes even excruciating hardships and sorrowful abuses, 32 pieces are gathered.

The 32 Wittiest Comebacks Of All Time

1.Abraham LincolnVs diplomats from other countries

Abraham Lincoln is the 16th President of the United States of America. He won the Civil War and issued a slavery liberation declaration. The following exchanges are those of diplomats asking questions.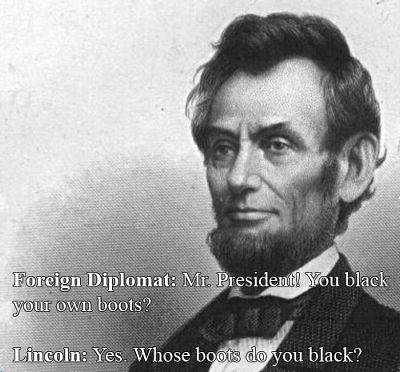 diplomat:
President! Do you polish your own shoes yourself?

Lincoln:
that's right. Whose shoes are you polishing?

2.Ernesto HemingwayVsWilliam Faulkner

Ernest Hemingway is an American novelist who used to play in the first half of the 20th century. I was awarded the Nobel Prize in literature in 1954. William Faulkner is also a master of 20th century American literature, which is also called Hemingway. Faulkner also won the Nobel Prize in literature in 1949.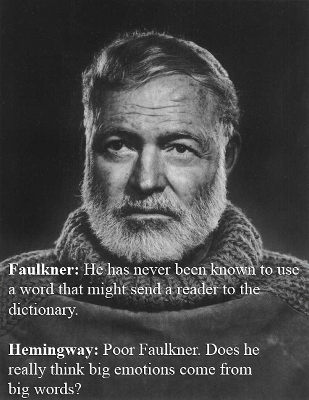 Faulkner:
He has never used a word that would cause the reader to draw a dictionary.

Hemingway:
I am a fool forkner. Do you really think that big impression comes from a word of great value?

3.Winston ChurchillVsGeorge Bernard Shaw

Winston Churchill is the 61st and 63rd British Prime Minister. He served as prime minister during the Second World War and the Cold War, also known as a master of jokes, a poisonous tongue. George Bernard Shaw is a playwright born in Ireland, known as the establishment of British modern theater and has won the Nobel Prize for literature. The picture is Churchill.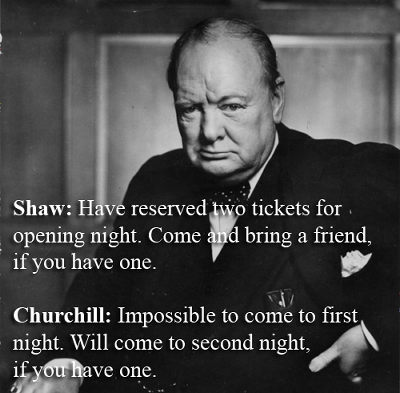 show:
I booked two tickets on the day of the performance. And if you have, bring me a friend.

Churchill:
It is difficult to go to the first day. I will go on the second day, if there is another day performance.

Four.Bill ClintonVsDan Quayle

Bill Clinton is the 42nd President of the United States of America. Dan Quayle is the 41st president of his predecessorGeorge · H · W · BushHe served as vice president under the law. Since Querle repeated remarks such as "Latin is spoken in Latin American countries", Ignober Award was awarded in 1991, and the game"Civilization: 4", The title "Dan Querle" is set as the lowest evaluation for the play of the player.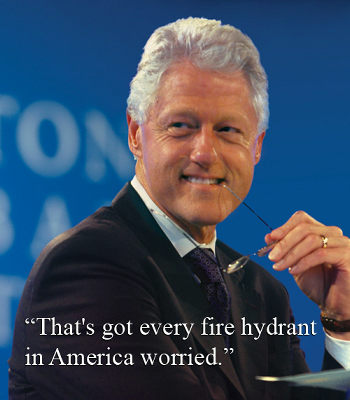 Clinton:
I am worried that the fire hydrant in America will not spew.
(As Dan Querle told that in the 42nd presidential election he thought he would have thought about Mr. Clinton and his opposing Al Gore as pit bull)

Five.Oscar WildeVsLuis Morris

Oscar Wilde is an Irish-born writer, leaving aesthetic works such as "Portrait of Durian Gray" and "Salome". Lewis Morris was a land developer born in Morrisania, New York, supporting the American independence warfare and, after independence, provided part of the South Bronx district as a site for the capital of the United States. The picture is Oscar Wilde.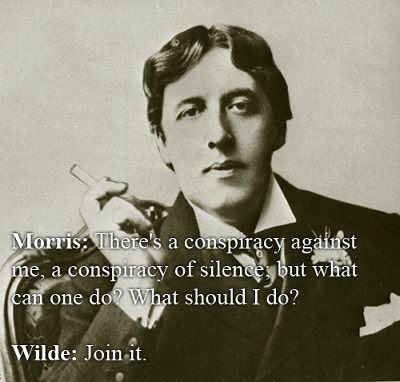 Morris:
There is a conspiracy trying to break down me. It is a quiet conspiracy. But what can one person do? What should I do?

wild:
Participate in a conspiracy.

6.Wolfgang Amadeus MozartVs Mozart's fans

Mozart was a German composer in the late 18th century.Haydn,BeethovenAlongside it will be one of the three greatest vienna of the Viennese classical school. From the young age, he showed outstanding talent for music and played at the age of 7 as a grand writerGoetheListened to, the level is paintingRaffaelloOf literatureShakespeareI am talking.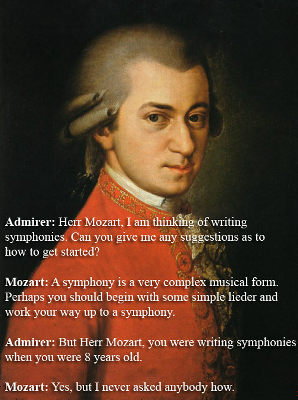 fan:
Mozart, I think I will write symphonies. Can you tell me how to start?

Mozart:
Symphony is a very complicated form of music. Perhaps it would be nice to go from simpler music first and then to symphony.

fan:
But you were writing a symphony from the age of 8, are not you?

Mozart:
Well, but I did not ask someone how to make it.

7. Abraham Lincoln vsStephen Douglas

Stephen Douglas is a candidate nomination for Democratic president in 1860 and loses to Republican candidate Abraham Lincoln. The words below tells me that Douglas criticized Lincoln as "Two-Faced".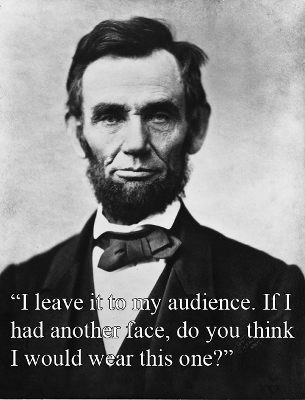 Lincoln:
Let 's leave it to the audience. If I had another face, do you think you could wear the face now?

8.Groucho MarxVs Contest Contestant

Groucho Marx is an American comedy actor who worked as a "Marx Brother" with four brothers. While the same generation as Chaplin, they were a type of comic actor who took a laugh at talking and finally saw the eyes of the movie by the appearance of Torquay. Later Groucho transfers its active place to television. The conversation below is a contest called "You Bet Your Life" when we found out that the contestant was the father of 10 children.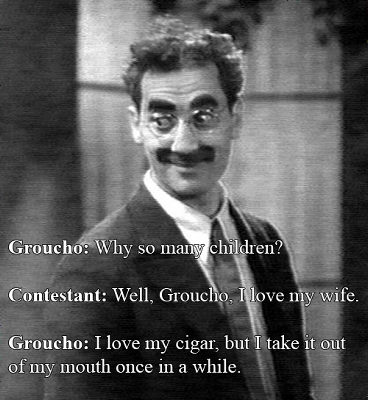 Groucho:
Why are there so many children?

Contestants:
Because it loves Groucho, my wife.

Groucho:
I also like cigars, but sometimes I let go of my mouth.

9.AlviadesVsPericles

The AlviadesPeloponnesus WarHe was a soldier and a politician of Athens who was active in the field. It is also known as a disciple and lover of Socrates, and Plato describes the dialogue versions "Alviades I" and "Alviades II". Pericles is also an Athenian politician who was also active in the Peloponnesus War.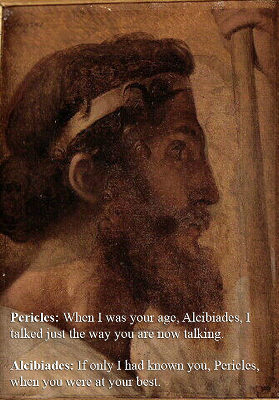 Pericles:
When I was your age, Alvbiades, I just did the way you talking like you are.

Alviades:
I wish I knew you then, Pericles, you at the best time.

10. Winston Churchill vsNancy Astor

Nancy Astor is the first female delegate from the British Parliament. He served from 1919 to 1945.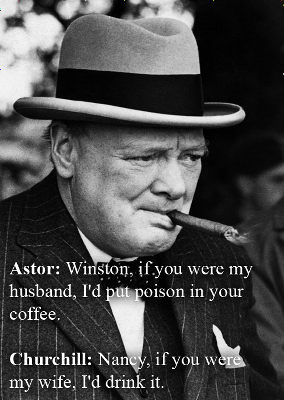 Astor:
If I were your wife, you would be poisoning you.

Churchill:
If I were your husband, I would be willing to drink that poison.
(In the image, it is supposed to poison coffee, but the correct answer is "If you were my husband I 'd give you poison." "If you are my wife, I' d drink it." It is said that it was)

11.Calvin CoolidgeVs Opera singer

Calvin Coolidge is the 30th President of the United States of America. During the term of office I brought a rapid economic development called the "20s of competition" to the US, and I was able to reduce taxes and shrink government bonds. I leave the saying that "collecting more taxes than necessary is legitimate robbery."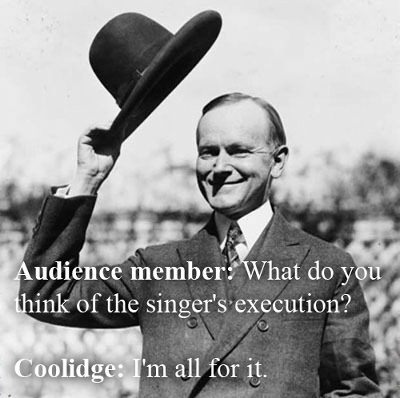 Opera audience:
How was the performance of the singer?

Coolidge:
("Execution: Execution") I agree.

12.Mohamed AliVsJoe Frazier

Muhammad Ali is an American former pro boxer. After winning the Olympic gold medal, he turned to a professional, climbed unbeaten to the world heavyweight throne, playing 19 degrees of defense. Joe Frazier was a boxer who tasted the defeat for the first time after the professional turn to the ant. Even though the two people 's exchanges outside the ring are known for exciting fighting, they are known to have been talking abusively.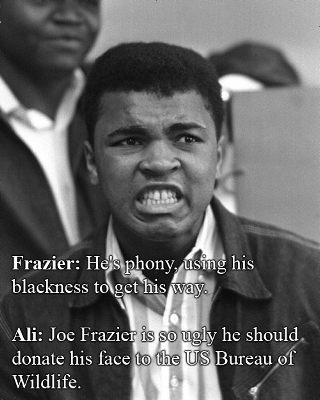 Frazier:
He is a fake. I use it for myself that I am a black person.

Ant:
Frazier is a buzz, so you should donate your face to the American Environment Bureau.

13. Winston Churchill vsBessie Braddock

Vicey Braddock was a women member of the Labor Party and worked hard on social reform. One day, a drunken Churchill was stumbling in the House and hit the Representative of Braddock, which is said to be the conversation at that time.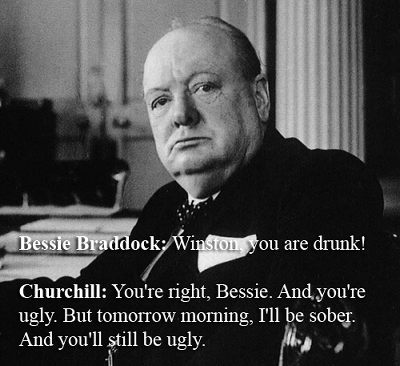 Vessy Braddock:
Winston, you are drunk! Is it?

Churchill:
You are right, Bessie. And you are a buzz. But what if it comes tomorrow morning, I will be squatting. And you are still in a buzz.

14.Ed CotchVs Reporter

Ed Cotch is a former New York Mayor. We worked to eradicate discrimination against homosexuality and to prevent strikes by legal measures.



Kotch:
I can explain this to you. But I can not understand this for you.
(Pointed out points contradictory to the text made by Kotch)

15.Miriam HopkinsVs anonymous singer

Miriam Hopkins is an American singer. The film of 1931"Dr. Jekyll and Hyde"Attracted attention in 1935"City of vanity"Has been nominated for the Academy Award Best Actress Award.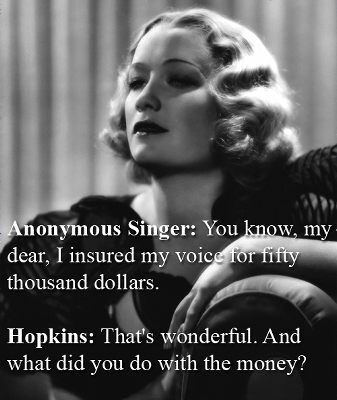 Unnamed singer:
You, you know. That I got 50,000 dollars insurance for my voice.

Hopkins:
It's amazing. So, what did you spend on money?

Hopkins responds to a singer who boasts "a beautiful voice to insure as much as 50,000 dollars" with a sharp turnover with a sarcasm that "I heard that the voice seems to be crushed, I should have received money".

16.Dolphin ChaseVs an unnamed actress

Dolphin · Chase is an American actress, active in Broadway since the 1920s, in 1960"Ocean and eleven friends"He also appeared.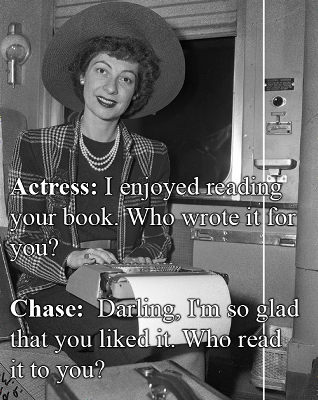 Anonymous actress:
I read your book fun. Who wrote it?

Chase:
I am honored to like it. I wonder who let me read you.

Even if it says to have issued the book, it is a ghost writer, and Chase tells "I wonder who you read and tell me" as to an actress who says irony and scooped up high, I will respond with a sarcastic sarcasm that you can not even read and write. "

17.John WilksVsJohn Montagu

John Wilks was a radical British journalist who worked around 1760 and later took over as the mayor of London. John Montague, the fourth generation of Sandwich, supported Captain Cook 's Pacific Exploration to cooperate. It is said to be an inventor of a sandwich.

Two people originally"Fire Club of Hell"The club belonged to a social club named Social Club, which was a place of prodigality, such as the upstream gentlemen gathering and repeating the orgies with the whore. Wilks later condemned the actual condition of this club on newspapers and forced the club to dissolve. Earl of Sandwich sued Wilkes for defamation and other crimes and arrested and imprisoned, but in this case, people buy antipathy and riots are caused.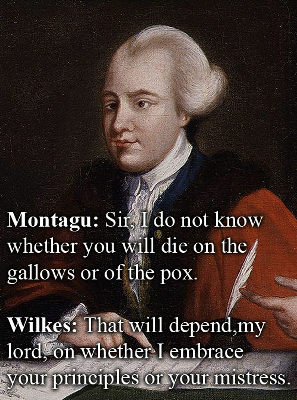 Montagu:
Wilkes, you do not have to be a gallows or a smallpox

Wilkes:
It is up to us to honor your ex girlfriend or whether to accept your judgment or not

Wilks used the embrace (hug embrace / accept) in the dual sense of "accept judgment" and "embrace lover" against two choices of hill gates and small pox served by Eh Sandwich I am switching back to.

18.Mahatma GandhiVs Western civilization

Mahatma Gandhi, known as India's independent father, is 18 years old and went to London to study law. After that, after returning to India in 1915, I worked hard to exercise for independence of India. Gandhi, on the other hand, is said to have repeated criticism of Western civilization such as "the desire will be accelerated by the railway, so evil can be spread," "will not pay attention to the body because of the hospital". The conversation below is an interview by reporters trying to bring criticism of Western civilization from Gandhi.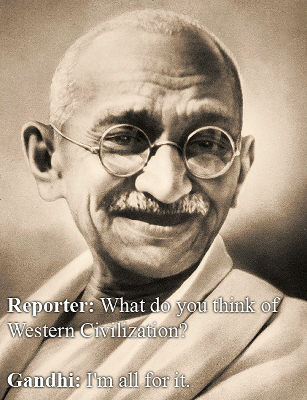 Reporter:
What do you think about Western civilization?

Gandhi:
I think it was a good idea.
(In the image "I'm all for it." (I agree with you), but in fact"I think it would be a good idea."It seems to be answering "

19.Edna FarberVsNoel Coward

Edna Farber is a big hit movie of 1956"Giants"It is an American female writer known as the original author and faced with women's independence and race problems. Noel Coward is a British writer who has the idea of ​​"Life is a surprising party", dislikes seriously loving people and suffering seriously in life, a more sophisticated comedy than a serious life play I liked it. In the conversation below,Tailored suitLooking at the furber wearing it, it is said that Coward was sarcastic.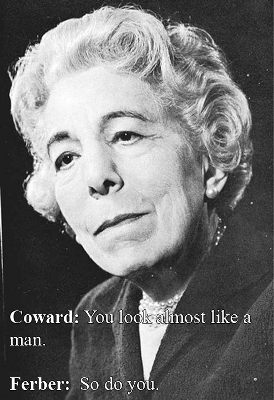 Coward:
You seem almost like a man.

Farber:
You too.

20.James · McNeill · WhistlerVs Oscar Wilde

James · McNeill · Whistler is an American painter in the late 19th century. We have developed our own painting world which received a strong influence of Japanese art including Ukiyoe. Friendship with Wild is deep, I have taken a proposal to travel together with Wilde to Japan and write a book about Japanese in co-authorship, but this did not happen. The conversation below is what Wilde regretted after Whistler said a nice jokes.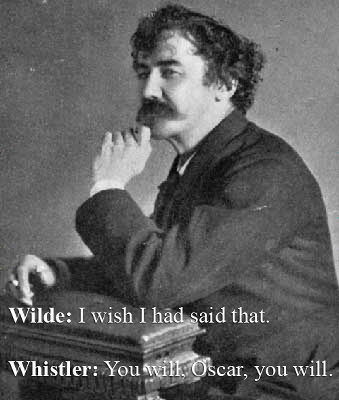 wild:
I thought of telling it.

Whistler:
You say, Oscar, you say.

This story, British typical comedy unit"Monty Python"I am in control. The movie below is that Japanese dubbed version.

Monty Python "Oscar Wilde Sketch" dubbed in Japanese / Monty Python Japanese Dubbed - YouTube


twenty one.Melville FullerVs Church meeting attendees

Melville Fuller served as Secretary of the United States Supreme Court from 1888 to 1910. In the conversation below, one criticized university education and thanked God for going to college by being uncleaned.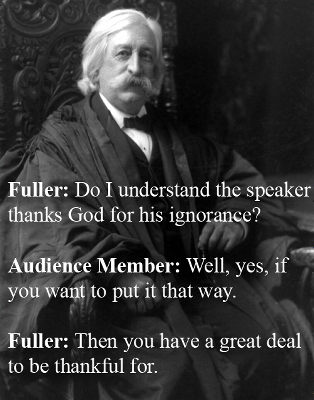 Fuller:
Did you understand that the speaker thanked God for his ignorance?

Man:
If you want to interpret it that way, it does not matter.

Fuller:
Then, you have quite a lot of things to thank.

twenty two.Dorothy ParkerVs New Yorker Editor

Dorothy Parker is an American poet and short story writer. It is known for its satire and witty style. After getting married three times, I caused suicide attempted many times, suffered from alcoholism, but I did not know that that wit and sarcasm will decline over the years. The following remark is the word when I asked why New Yorker 's editor caught her during the honeymoon trip and why the review of the book I was requesting was delayed.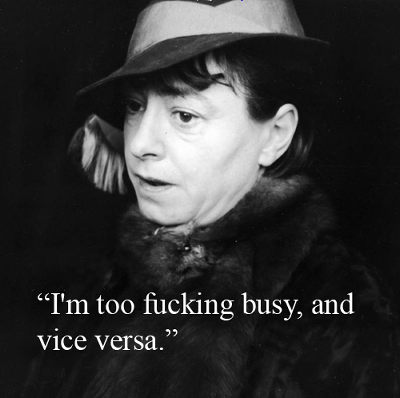 Parker:
I am busy fucking and I am also busy fucking.

twenty three.Pierre TrudeauVsRichard Nixon

Pierre Trudeau is a Canadian politician who served as Prime Minister of the 20th and 22nd, and made a great contribution to the reconstruction of Canada with multiculturalism and assistance from developing countries. Richard Nixon is the 36th vice president and the 37th president of the United States of America. Including the full withdrawal of the US military from South Vietnam in the Vietnam War and the approval of the People's Republic of China led by the Communist Party of China that had been in conflict with the Soviet Union at the time of the Cold War.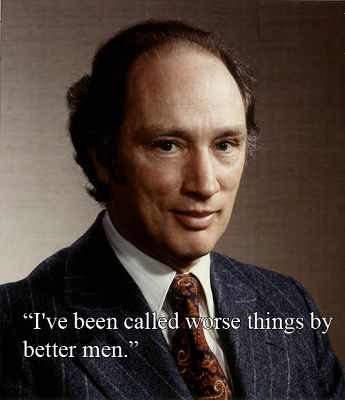 Trudeau:
I have been called from more wonderful people in more bad words.
(It is said that Nixon called Trudeau "a hole of ass")

twenty four.Edward Everett HaleVs US Congress of the Senate

Edward Everett Hale was a 19th century American writer and a pastor of the Unitarian. The words below are those when I was asked to ask American senators to pray.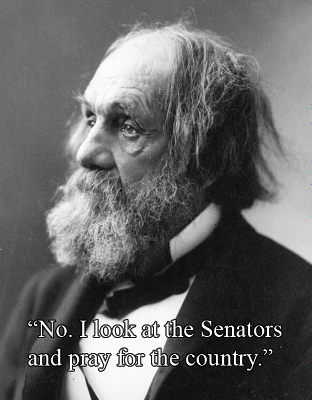 Hell:
No, I will pray for the country while watching the senators.

twenty five.Thomas ReidVsHenry Clay Work

Thomas Reid served as President of the American House of Representatives in the 1890s, demonstrated strong leadership, and was sometimes ridiculed as "Emperor Lead". Henry Clay Work is a song composer representing the United States of America in the 19th century alongside Steven Foster."A big old clock"It is known for songwriting composition such as.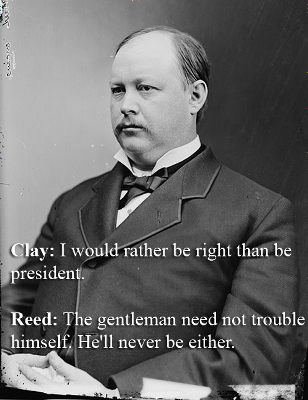 Clay:
I think that rather than becoming the president it will be rather correct.

Lead:
This gentleman (clay) need not worry. He will not be doing either.

26.John BarrymoreVs a woman in a bathroom for women

John Barrymore was one of the movie stars who was active from the silent period,Drew BarrymoreGrandfather of. The lower conversation enters the bathroom for women by mistaking as they are drunk and interacts with the women encountered when they urinate.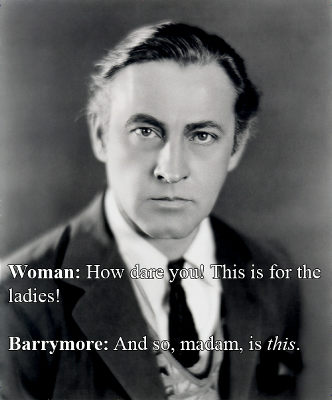 Female:
What are you doing! This is for women!

Barrymore:
Oh, my wife, is he this thing?
(Put your hands in your crotch)

27.Robert BenchleyVs Uniform Man

Robert Benchley is an American humorist. It is known for newspaper columnist and work as an actor.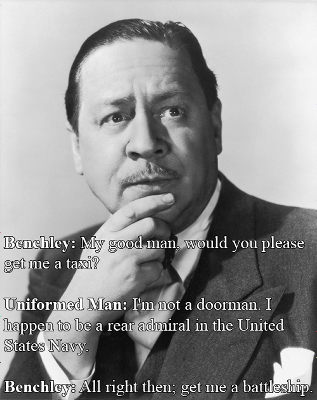 Benchley:
Could you stop the taxi, kind one?

Uniform man:
I am not a doorman. Perhaps I may be Major General of the US Navy.

Benchley:
Okay then stop the battleship.

28.Niels BohrVs Reporter

Niels Bohr is a theoretical physicist in Denmark who, as a parent of raising quantum theory, has instructed the development of the quantum theory of the previous term and contributed greatly to the establishment of quantum mechanics. The conversation below is when the reporter visited his house and discovered that the hoof of the horse was hung at the entrance and was surprised and asked Bohr a question.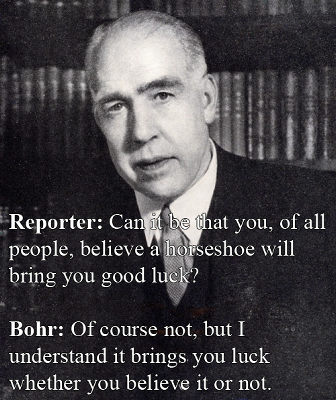 Reporter:
You must not believe that horse's hoof calls for good luck, is not it?

Boer:
Of course I do not believe it. But I understand that it will bring good luck whether I believe it or not.

29.Ernest HorringsVsHenry McMaster

Ernest Horrings was the longest senator who served as Senator of the United States Democratic Party from South Carolina from 1966 to 2005. Henry McMaster was a Republican Attorney General in South Carolina State and formed the South Carolina State Enforcement Coordination Committee from 1981 to 1985. He is committed to smuggling of marijuana and finally arrests over 100 men and women about crime related to smuggling of marijuana.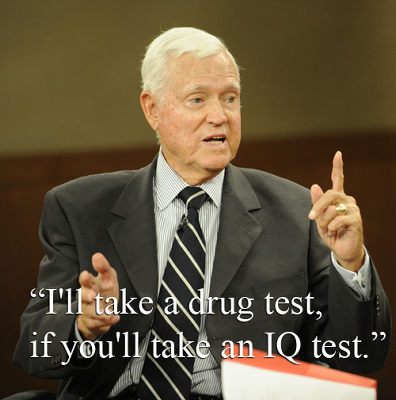 Hollings:
I will take a drug test, if you will take an IQ test.

30.Henry ClayVsDaniel Webster

Henry Clay is a politician of the 19th century United States.Whig partyFounder and was called "a great mediator" from its adjustment ability. Daniel Webster is one of America's leading politicians in the first half of the 19th century,Federalist Party, Belonged to the Whig Party. The trio with John Calhoun added to these two people is called "great three-pronged politics". The lower conversation was when Webster looked at a group of mules and said jokingly.



Webster:
Clay, there are Kentucky electoral citizens over there.
(Cray is a member of Kentucky State)

Clay:
Oh yeah, I'm going to go to the school in Massachusetts.
(Webster is a member of the state of Massachusetts)

31.Calvin CoolidgeVs Woman who attended dinner at the White House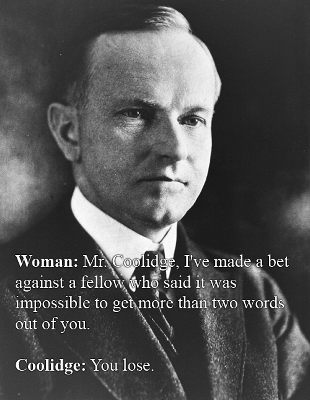 Female:
Mr. Coolidge, I got a bet with my friends. I wonder if you can catch something more than three words from you.

Coolidge:
It is your defeat. (You Lose.)

32. Winston Churchill vs National Assembly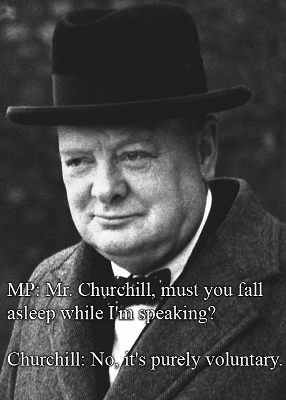 Member of Parliament:
Mr. Churchill, (why) do I have to go to bed while talking?

Churchill:
There is no obligation to go to bed. I was spontaneously sleeping.