EMOBILE launched the public wireless LAN "EM Wi - Fi SPOT", and also introduced monthly rate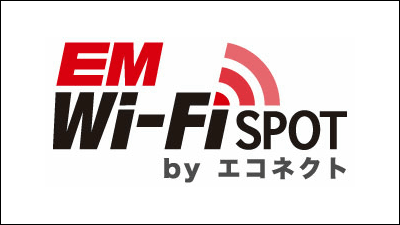 While major mobile phone companies such as SOFTBANK MOBILE's "SOFTBANK Wi-Fi Spot", KDDI's "au Wi-Fi SPOT", and NTT DoCoMo's "Public Wireless LAN course" provide public wireless LAN services, Mobile is "EM Wi-Fi SPOTWe are announcing to start.

In addition, "Monthly Discount" which discounts a fixed amount from the monthly usage fee will also be available.

Started providing public wireless LAN service "EM Wi-Fi SPOT by Eco-Nect" | News Release | e-Access

According to eMobile's press release, the company will offer the public wireless LAN service "EM Wi - Fi SPOT by Eco - Nect" for e - mobile users from Friday, October 28, 2011.

This is an optional service that enables high-speed communication of up to 54 Mbps using the wireless LAN spot provided by Krust who operates the public wireless LAN service "Econnect Wi - Fi", "BB Mobile Point" "livedoor Wireless" "Mobile "It corresponds to" FLET'S SPOT ", and it is available at more than 15,200 sites nationwide.

Monthly usage fee is 380 yen, if you apply by the end of May 2012 it is free of charge for subscription month only. In addition, when using "FLET'S SPOT", applications and payments will be made separately to NTT EAST or NTT WEST, and for use, the connection account issued by EMOBILE and " It is necessary to enter the password.

"Free of charge, no need to enter ID and password"Compared with" au Wi-Fi SPOT "which is the policy of expanding the access point to 100,000 nationwide by the end of March 2012, it is inevitable to say that it is thin content of merit The place I want to expect.

Monthly charge of telephone service further improved - "Monthly discount" offering monthly maximum of 1,100 yen discount will be offered ~ | News announcement material | e-access

Also, from October 28 (Friday), a service that discounts the monthly fee "Monthly Discount" is also offered for users who newly contracted or changed models under the specified conditions at the same time as purchasing voice terminals, and "Smart Plan" contracted A discount of up to 1100 yen in case of contracting, "Maximum of 600 yen" in case of contracting "smart plan light" is applied for a maximum of 25 months in the case of new contract, up to 24 months in the case of model change.

Image of usage fee after applying "Monthly Discount" with "Smart Plan (Simple)". The fee after applying monthly fee is 3795 yen.




If you subscribe to the "Fixed flat rate option" and "Monthly discount rate" with "Smart Plan Light (Simple)", the monthly usage fee will be from 1695 yen.




Also, due to the start of the "Monthly Discount" offering, it occurred at the time of model change from November 1, 2011 (Tuesday) to May 31, 2012 (Thurs), for users already contracted with e · Mobile We will discount the contract cancellation fee of up to 10,000 yen, "We are going to implement a model change campaign on a monthly basis".
in Mobile, Posted by darkhorse_log