World people who mourn for Steve Jobs, apples and bouquets are handed before Apple Store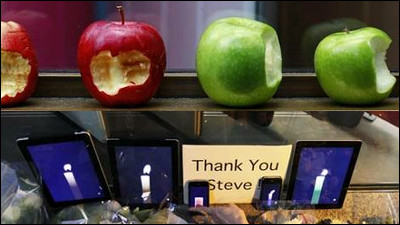 Local time On early morning 5th October,Apple founder and former CEO Steve Jobs passed awayI have missed his death voluntarily everywhere in the world.

People from various countries gathered at the local Apple store, etc, and he gave devices such as iPhones and iPads, apples symbolizing Apple, praying for flowers and prayers, It seems to indicate how big it was.

Steve Jobs dead: Tributes as Apple's legions of fans mark death of hero | Mail Online

Steve Jobs, Apple co-founder and former CEO, dies at the age of 56 - Telegraph

[Slideshow] Shinobu Steve Jobs apple fan - WSJ Japan version - www.WSJ.com

North America
The headquarters flag of the Apple headquarters in CUPERTINO, California, USA is a half-flag and memorial of Steve Jobs.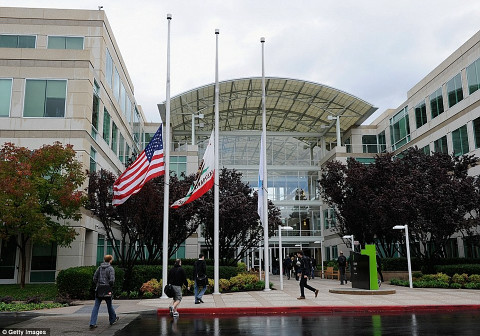 And a flower bouquet like a mountain in front of Apple headquarters. Even now it seems that the number is continuing to increase.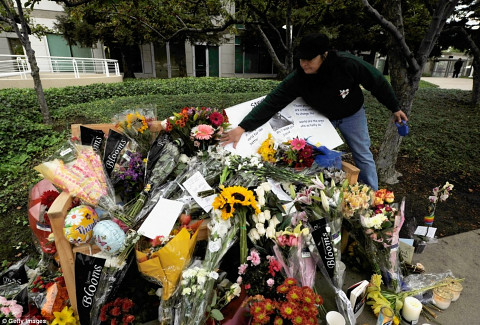 In the evening, an international student from China came in front of the headquarters, used candles to write Mr. Jobs' name and showed condolences. The leftmost letter means "Steve".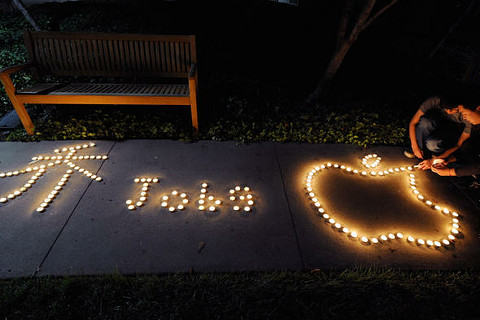 Before the flag store store of the Apple store in New York Fifth Avenue, people mourning the death of Mr. Jobs naturally gather.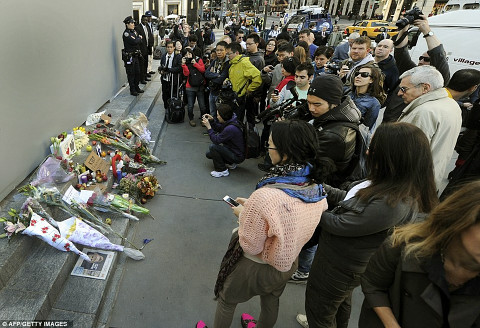 On the window glass, with the deep red lipstick "Thank You Steve. (Thank you, Steve)" letters.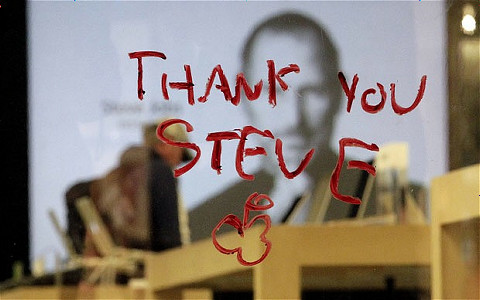 Nature creates something like an altar.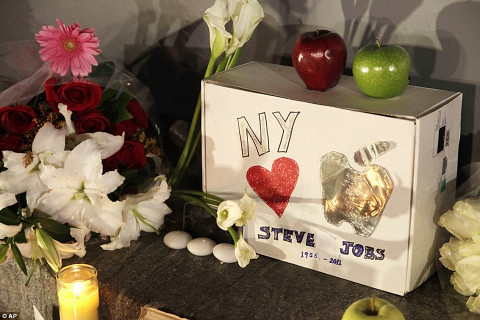 It was released in 1990Macintosh ClassicIt is the engineer of Intel who is memorial to put aircraft on the shop front.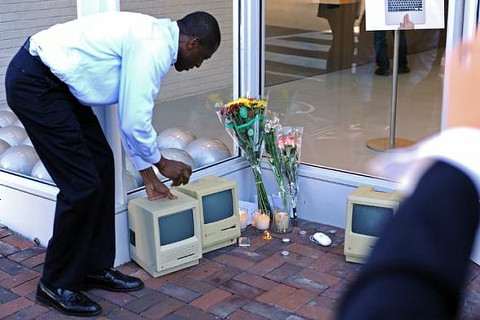 The memorial situation was still the way of shooting, and many people took pictures using Apple's iPad and iPhone. Although there are many people who dare to use it with condolences, this is the result that shows that the devices created by Mr. Jobs have become widespread.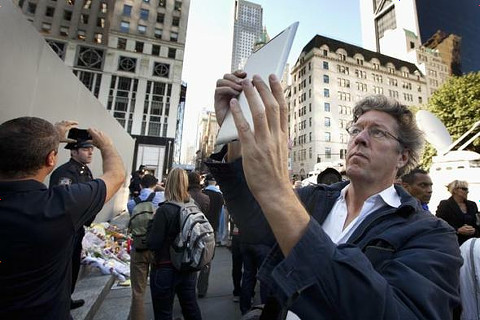 Even at the Apple Store in Manhattan, there was a person shooting the flowers on iPad.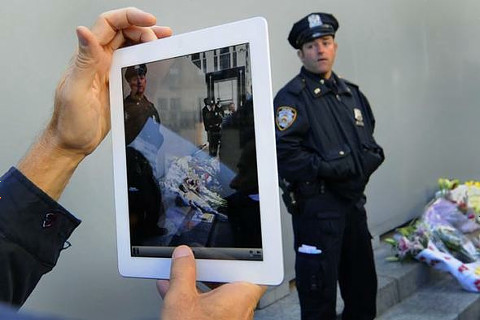 This is an apple copied "WALL STREET JOURNAL" to inform Mr. Jobs' s disappointment, which was placed in the Apple store of New York 14th Street.



After all it seems that there were a lot of people who wanted to see pictures of deceased people when they died, many people placed things printed Mr. Jobs on the store in the store store.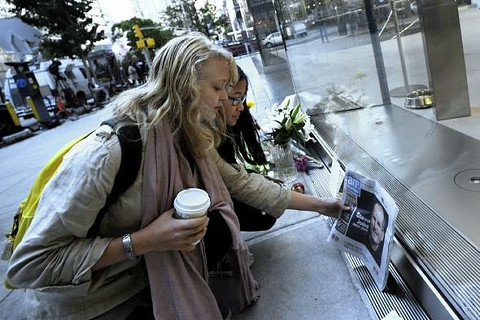 Apple fans voluntarily gathered at the Dolores Park in San Francisco. Because of the gathering of like-minded people, the mood to send off as bright as anything but memorial purpose is transmitted.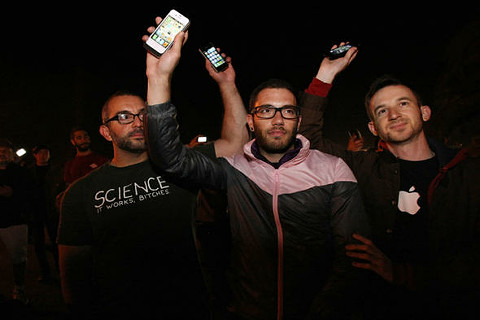 On the other hand, a man tears alone in front of the Apple store after sunset. It seems that I can not move due to sorrowful crouching.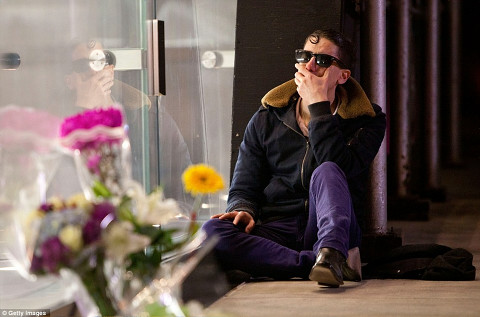 Parent and child who came in front of Mr. Steve Jobs in Palo Alto. The boy has an apple in its small hand.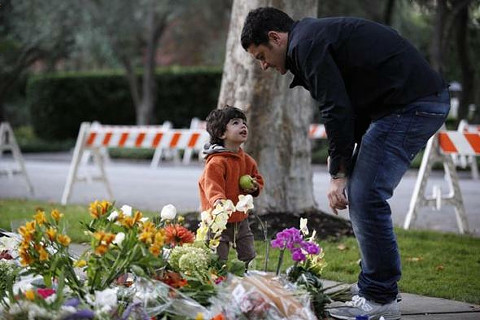 A mature man who wrote a message on the sidewalk in the garden. "Steve, you made our lives easier." (Steve, you made our life more convenient) "I wrote.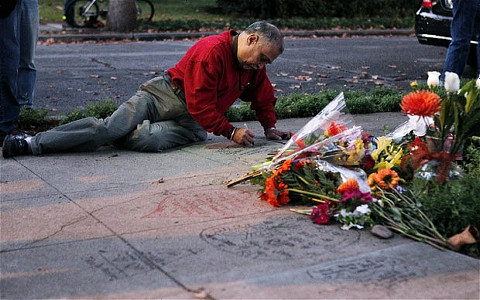 Some people decorated the rainbow-colored logo like a flower and some people put potted plants sandwiching a message card with illustrations.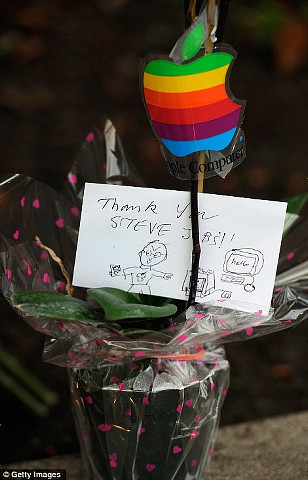 Before the Apple store in Pasadena, California there was an apple carved as "bye".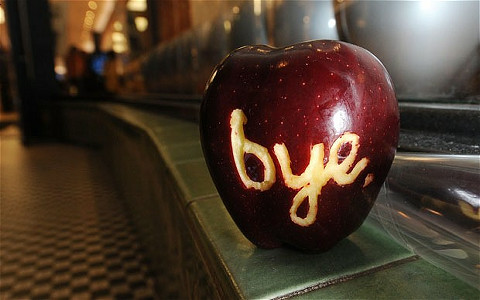 ◆ Spain
Barcelona's Apple store has a gorgeous arrangement flower that feels like Spain.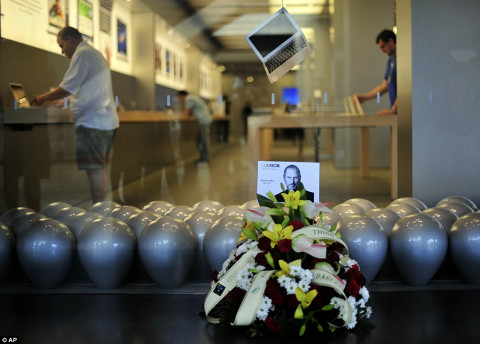 After that, I wrote a message on the attached paper around the bouquet and stuck it on the spot, so there were a lot of messages to Mr. Jobs being attached. And women taking pictures of the situation on a terminal that seems to be iPhone 4.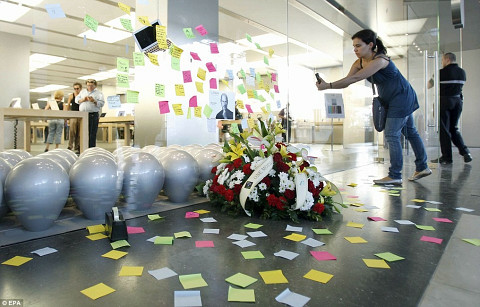 ◆ UK
In London 's Apple store, there was a message - filled portrait.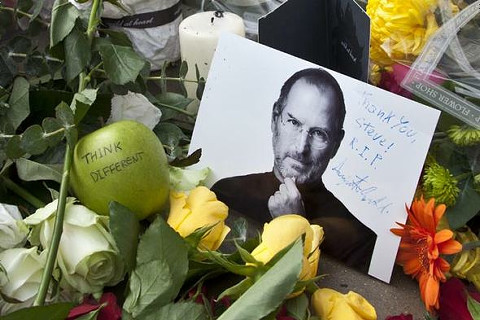 A bouquet, an apple, a candle, etc. were placed, there was a person shooting the picture landscape with iPad 2.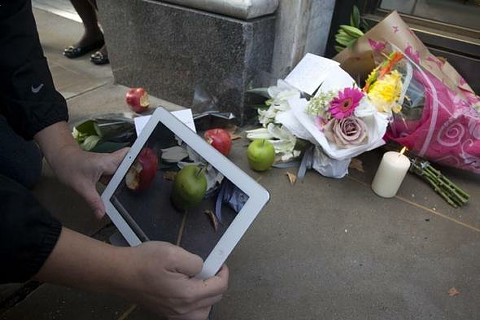 In the shop, 4 apples are gathered that got only a bite. Even people with four got caught an apple and left it gently.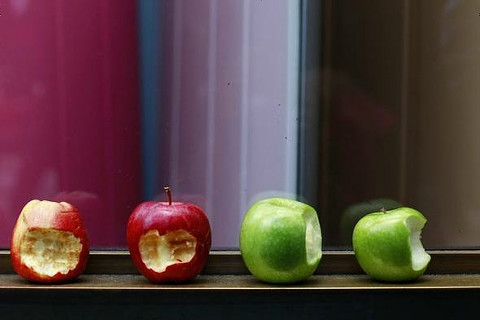 A lot of apples that were devised were seen in London. this isA catch copy of the ad in 1997 when Jobs returned to Apple "different different"An apple with written.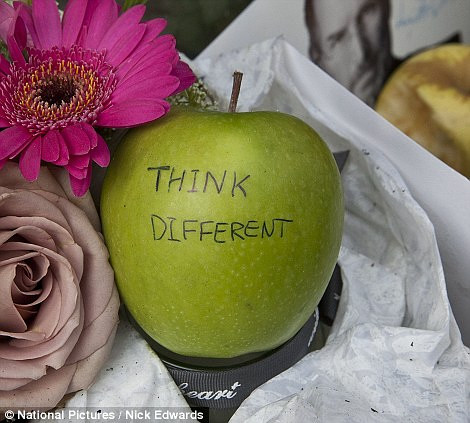 This is written "in the memory of genius". It seems that the flow of trying to turn an apple that has become a symbol of Apple again is a worldwide one.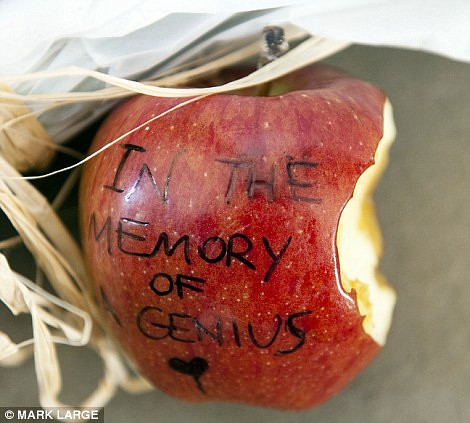 ◆ Malaysia
People who are attaching messages to Mr. Jobs in the special corner of Kuala Lumpur 's Apple store.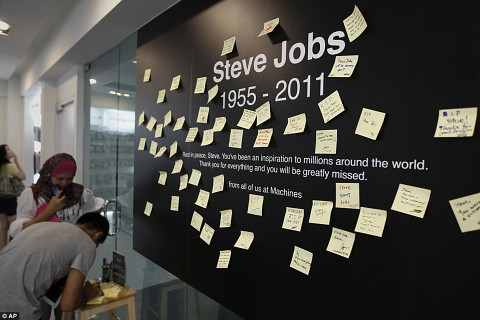 ◆ China
In Beijing's Apple store, Mr. Jobs' photo displayed on Apple's top page is stretched and placed, and bouquets and apples are placed around it.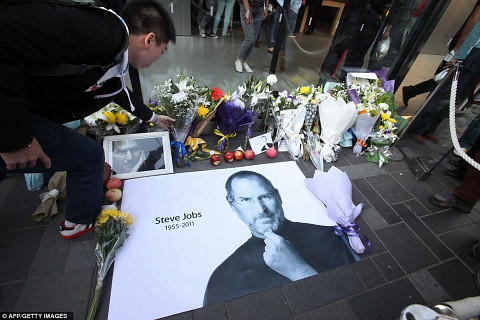 Some candle shaping Apple's logo mark.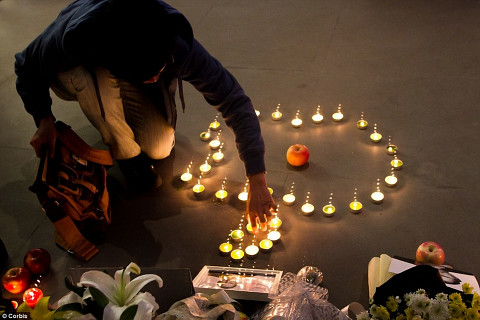 ◆ Italy
The chef of Naples burnt pizza shaped Apple's logo mark in mourning Mr. Jobs' death. Although it seems to be a somewhat cheerful manner of mourning compared to the flow so far, I thought that I shaped it in a special form and made time to make it to customers, but I thought that enthusiasm I can not help it.



◆ Japan
Before the Apple store in Tokyo · Ginza, an iPad or iPhone displaying a candle was placed, surrounding a card written as "Thank You Steve", and a lot of bouquets with message cards were handed.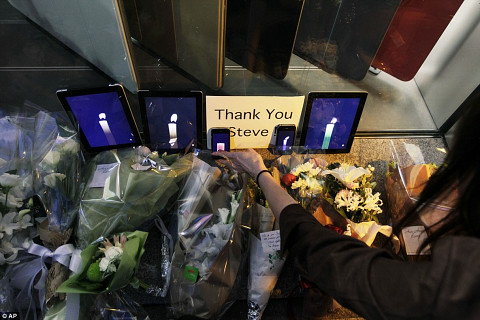 A clerk holding an iPad displaying a candle.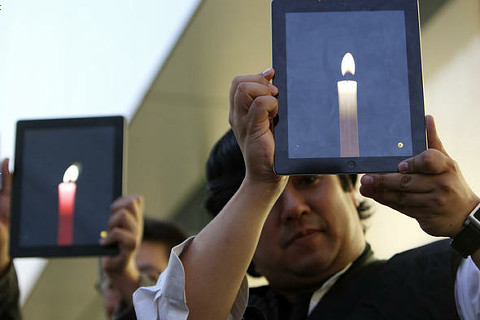 In the apple that was being covered, there was a message such as "R.I.P. (Please sleep peacefully"), Jobs's name, and Apple's logo mark with a silver pen.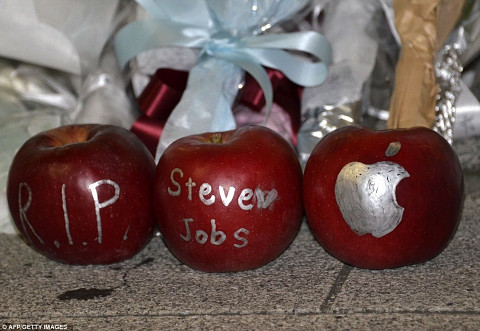 A woman who puts her hands together and prays. The state of praying together the palms of both hands is still a unique scene in Japan.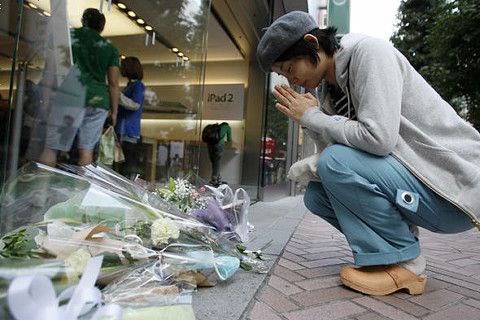 ◆ Russia
In the city of Moscow, obviously not a picture of Mr. Jobs that is mainly circulated this time is greatly stretched out, and it was added to the forehead and decorated. It seems that it is not even in front of the Apple store, but a passing male gently placed the candle.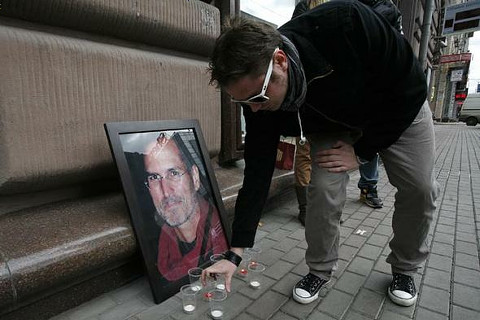 Hong Kong
Not only in Japan but also in Hong Kong, those who mourn the iPhone to display candles.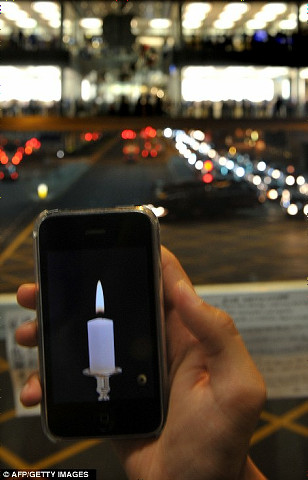 In addition to things like flowers and apples, as a strange placeSteve Jobs figuresThere seems to be a shop where the store is located. My child seems strange.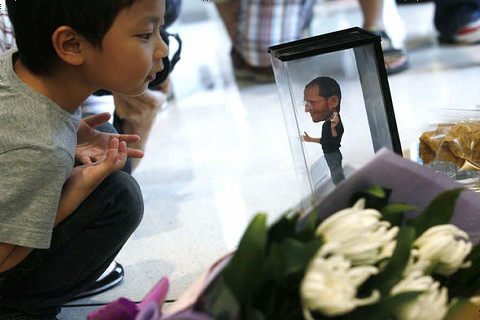 In the street there was an outsider reporting Mr. Jobs' passing away.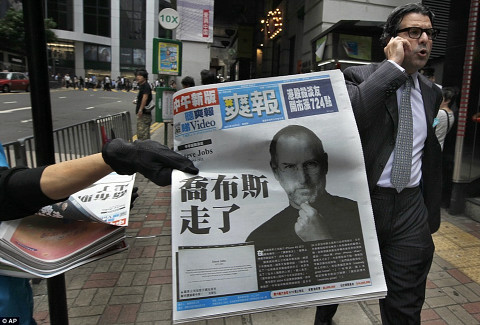 ◆ One more thing
In June this year, Mr. Jobs who was in the back of the last conference at the Apple conference and sums his wife with Mr. Lauren. While it is considered that the condition was getting worse, it was a piece that excelledly cut out the moment of his relief that had been presenting to the point of view.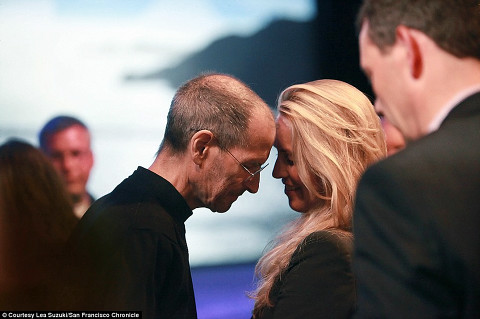 in Note, Posted by darkhorse_log