Interview with Yukihiko Tsutsumi, director of the movie 'HAYABUSA', 'Helping yourself when only one thing is terrible negative'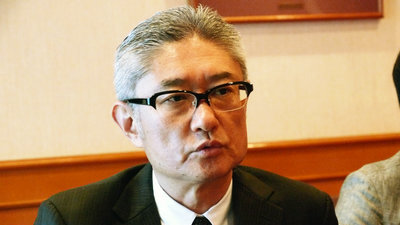 At one point, I dropped out of college and entered the film industry for some reason, and after a difficult time when I was called a 'telephone pole' and continued to be bumpy, I called myself '
YMO in the
industry' with
Yasushi Akimoto in
the middle of the bubble. In a sense, 'Hayabusa' has created a unique world view and shooting method called Tsutsumi, and has accumulated a career as a movie director while continuing to make things and fighting without complying with the system. What was it that continued to support oneself in a strange and turbulent life that was as good as it was?
In this interview with director
Yukihiko Tsutsumi,
who has worked on '
Kindaichi Shonen no Jikenbo,
' '
Ikebukuro West Gate Park,
' '
Trick,
' and '
20th Century Boys,
' and has produced numerous hits in the world as a director and film director. In addition to the various episodes of the film '
HAYABUSA
', he also talked about the director's own history in his own words.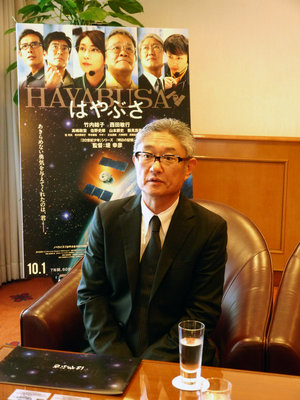 Kiyoshi Inoue, the producer of this work, was also present in this interview, and he talked about 'HAYABUSA' and director Tsutsumi together.



GIGAZINE (G):
Thank you. First of all, what is the reason why the director decided to make this movie 'HAYABUSA'? The Hayabusa project was a very attractive project that many Japanese people have been watching over with a sigh of breath. What attracted you to your decision?

Director Yukihiko Tsutsumi (hereinafter referred to as Tsutsumi):
I was born in the 30's of the Showa era, and I was a generation in which the universe surely existed in my dreams. As I mentioned in '20th Century Boys', I touched on the
Apollo program
when I was in elementary school, and after that I used the sci-fi puppet show 'Thunderbird', which used the outer space, and treated the universe normally. There were many science fiction works, including '
2001: A Space Odyssey
'. Growing up in such an environment, I have lived in the universe as a very close thing.
However, when I became an adult, the wall of reality stood up. In particular,
Japan's space development
was considerably delayed, although there were various circumstances. I somehow understood the circumstances around that, but Japan is only doing communication satellites and meteorological satellites, and although it is doing some planetary exploration, I have not heard of a very successful story. If I lived in such a situation, I would have had this feat of 'Hayabusa'.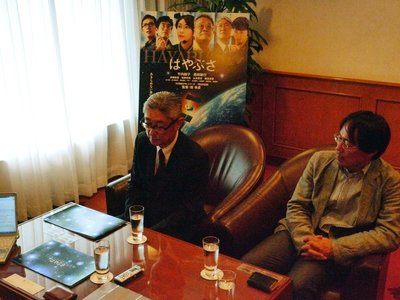 This is the biggest news that tickles the cosmic heart that I have forgotten, and I was overwhelmed by the fact that Hayabusa itself 'has arrived at Itokawa,' 'the photo looks like this,' and 'is missing.' I didn't follow the otaku Ikuse who appears in the play deeply, but somehow I checked it in the newspaper and when I came back, I was asked 'Is there any sand?' As an ordinary citizen, Showa 30 I used to care as a boy who loved space and as one of Hayabusa fans born in the 1930s.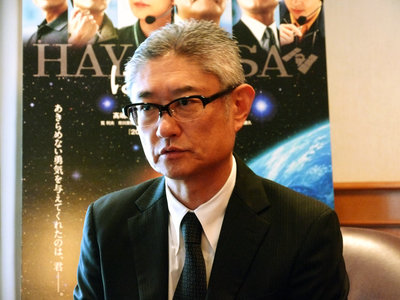 When this story came, I was a little hesitant. After all, this cannot be made just by being a fan. Even if we didn't go to space engineering, there were various events that we, the common people, couldn't reach, so I was a little worried about shooting this movie without any basic knowledge. Even so, the fans were more than happy and I decided to do it.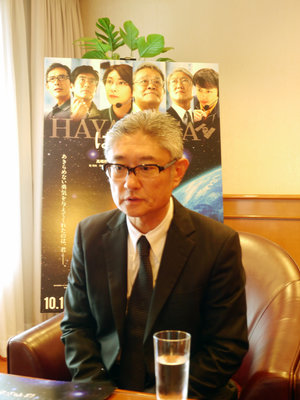 However, after deciding, I researched various things, and it is true that 'the trajectory of Hayabusa's seven years of operation' is a global achievement, and it is a very interesting and interesting event, but 'the scholars and research that supported it' The more I looked up things like 'becoming a member of a team of people and humanity,' the more interesting it was, and I could say, 'Then, let's go with the complete copy of these people.'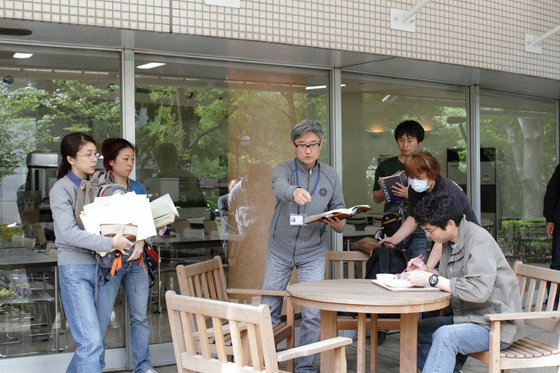 That made me want to relive myself, saying, 'I want to participate, I'll do it,' and I want people who are watching to relive it.

G:

The
main character played by
Yuko Takeuchi
is depicted as growing while interacting with 'Hayabusa'. Is there a special model for her?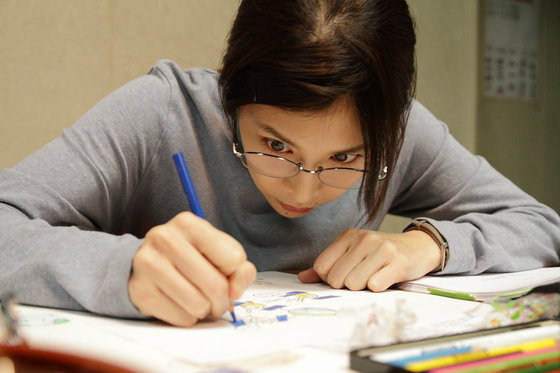 Tsutsumi:
There are several people. In many ways, our feelings towards everyone else in the Hayabusa project were very strong. It is shaped like that because I needed a character that could be viewed objectively somewhere. It is a collection of various people, such as those who actually draw illustrations of Yabusa and those who are like Ronin who are writing papers while working in the field.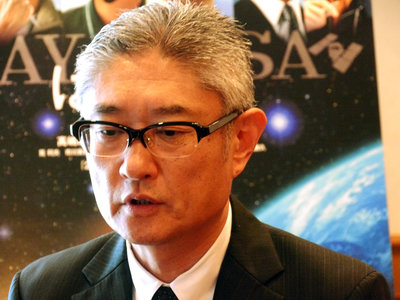 G:
I think that the image of the person selected this time is something that you can sympathize with as a youth image since the 2000s. Do you have that kind of image?

Tsutsumi:
Rather, it is 'the image of a scholar that I have.' I wanted to draw something like a human being who looks at me, is absorbed in research rather than a figure, and desperately tackles a given task, and my classmates are living an interesting life with scholars and professors. There are many people, so I thought it would be great if I could show something like that.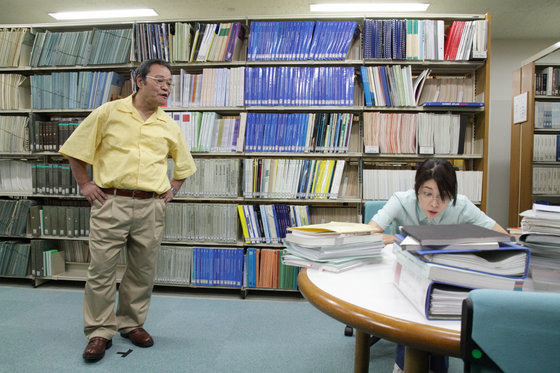 There are universities that even I use to say 'talk to me', and I meet with the teachers there, or go to lectures and meet various people, but I live as a researcher at universities. I like the way people live because it's so interesting.

G:
I think that those who come to see 'HAYABUSA' know the actual outcome of the Hayabusa plan. What did you think you should focus on when making this movie with such 'everyone knows the ending' content?

Tsutsumi:
It's best to ask Mr. Inoue, who wrote the script, to hear it.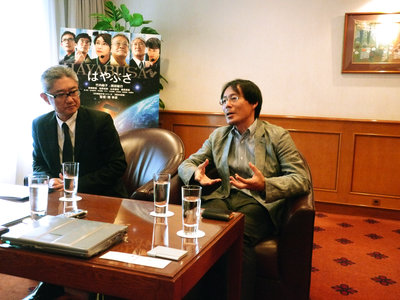 Kiyoshi Inoue Producer (hereinafter Inoue):
Realistically, when we started making this film, we didn't know if it was successful yet. Hayabusa came back, but was asking, 'Is there any substance in the capsule?' It was possible that there was nothing inside, so even if I made a movie, there was a possibility that it would be like a tamatebako, saying, 'In the end, there was nothing when I opened the lid.' It was at that time.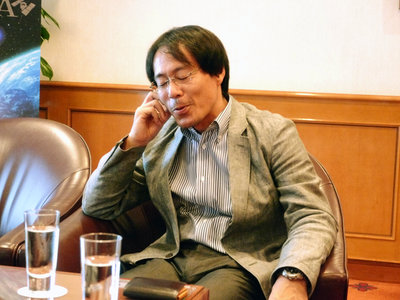 Tsutsumi:
I can't help feeling that emptiness.

Inoue:
It's a very thrilling place, like 'I'm asking you to come in.' It was really nice to have it, and not only that, it was very dramatic that 'it turned out that it was actually brought back from Itokawa' while making it.

Tsutsumi:
It's like a live broadcast.

Inoue:
However, what I thought I was making was, 'In this movie, even if Yabu couldn't bring anything back, I went to that place and touched down once and came back. And the story of the person who was responsible for it should be fully told. ' It's okay if the results come along, but even if it doesn't work, it can't be helped, and I should still tell.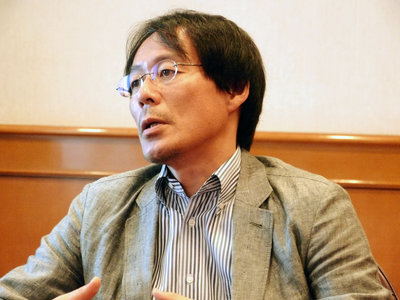 G:
The last scene was impressive, but in that scene, it was limited to 'Japanese technology and ingenuity packed into it' and 'Hayabusa team's detailed planning and enthusiasm to tackle troubles persistently' in the Hayabusa plan. It felt like it contained a message that went a step further, but what did the director want to convey to those who would see this in the future?

Tsutsumi:
Lastly, I think that Megumi Mizusawa, the protagonist, said something like the meaning of this project as a whole, and the saying of seeing, engaging in, participating in, and connecting individuals. It's the same with the people on the Hayabusa team, or with me as a citizen, and in the sense that I relived it through the movie 'Hayabusa / HAYABUSA'. This is not just a phenomenon that a machine like a box goes and returns, but it is a very multidimensional thing that makes me think a little more about what the universe is and what the earth is. I think it is an event with elements. I think it's a very good last scene.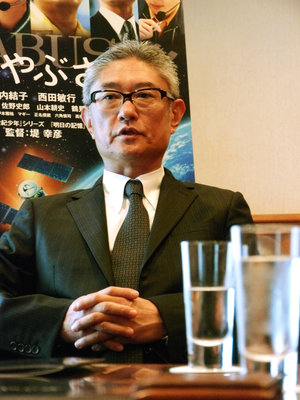 Also, I am surprised at the high level of science and technology. And I sympathize with the fact that it was made on a very low budget and inferior to the United States and Russia. For example, Sony develops the Walkman, and various automobile companies develop cars with ideas. It has a feeling of manufacturing similar to that, and I feel pride and pride as a Japanese person. ..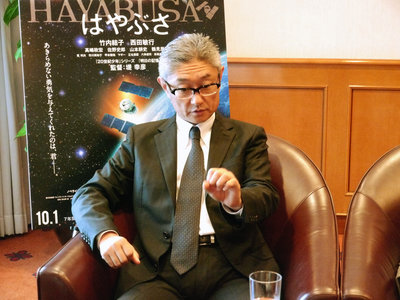 The other is the richness of the individuality of the team members who actually operated Hayabusa. If this was
NASA in the
United States, looking at 'Apollo 13' etc., I feel that various things have been done in a very dry relationship. In Russia, scientists are gathered to study in a place called '
the city of stars
', and in China, it is completely unknown who is flying.
They carry the prestige of the country, which is the same for Japanese projects such as Hayabusa, and they carry the mission of 'Japanese space development', but the more I investigate, the more I investigate, as Mr. Kawaguchi's leader. Perhaps it is a reflection of individuality, I really sympathize with the fact that this team was run without distinction between the top and bottom while keeping the dreams as they were like boys on the extension of the university laboratory. I felt that I could see something like the future of Japanese human society, which has become a little exhausted. I was very interested in what the team should be.
G:
Since it will be open to the public after the Great East Japan Earthquake, I think you will receive the theme of science and technology in comparison with the current situation.
Tsutsumi:
Now, there are various structural concerns, such as 'I think all Japanese manufacturing industries will flow overseas in the future.' Among them, 'What does it mean to make something as a Japanese person and utilize it again?' 'What should be the system that makes it and the relationship between humans?' I feel that I was allowed to study through Hayabusa.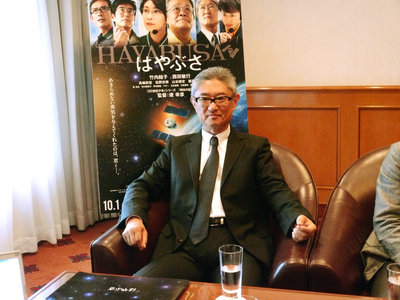 G:
Regarding this interview, some people may not know about Director Tsutsumi, so I would like to ask you about the history of how you have built up your career from the beginning of the director. First of all, what made you decide to get involved in the video industry?

Tsutsumi:
It means that you can only do this. Since I was a kid, I never thought of becoming a director or working on television.

It's a true lie, but when I was 21, I dropped out of college and had nothing to do, so one day I was sitting on a bench in Miyashita Park in Shibuya. Immediately before that, my father was in the construction industry, so I thought I would do a tiled part-time job on the subway and live as a worker, but soon I broke my body and thought, 'This is no good, what should I do?' It was by the way. A newspaper was rolling there in the wind, and there was a guide to a vocational school of the TBS group.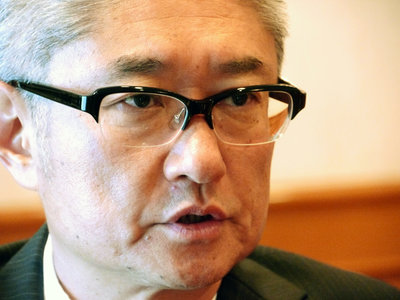 'I don't know this well, but if this is the case, I think I can do a job that I can't say about the length of my hair without wearing a tie for the rest of my life,' so I jumped into a vocational school in the media industry without knowing anything. , I learned from 1 that 'Television is made like this' with students around 18 years old. So, there is no such thing as 'I was shooting an independent film when I was in college', 'I was doing avant-garde theater', or 'I have a word about TV'. All I was doing was a rock band.

Immediately after that, I entered the scene and became an AD for a live program. I started my job while being beaten with a salary of 30,000 yen, but I liked the band, and the music program was also very upbeat at that time, and the
Southern All Stars
of the same age made their debut, and rock that was
twist
,
Godiego
,
underground
When I witnessed the major development, I started to think, 'I think this is a little interesting.' That's where I started the video.
G:
When I looked up various interview articles with directors, I often heard that the industry at that time was quite unreasonable. How unreasonable was it?
Tsutsumi:
It's unreasonable, like meaningless violence. But that's actually a meaningful violence against me, who was called a 'telegraph pole' who couldn't work. If you don't tell me instantly, you can't handle live broadcasting. However, even if you say 'Don't stand there, get rid of it', you can hear it in words, so if you kick it with your foot, it means violence that is meaningful in that sense.


It was something that was normal for everyone, whether in the movie or television industry at the time. Now that I do that, everyone quits, so it's a thing of the past. I have a word when I'm standing and it looks noisy. However, for that reason, when I worked, it seemed to be frustrating for my boss, and it was quite bumpy.

G:
At that time, your salary was 20,000, but how did you live with that?

Inoue:
Isn't it a woman?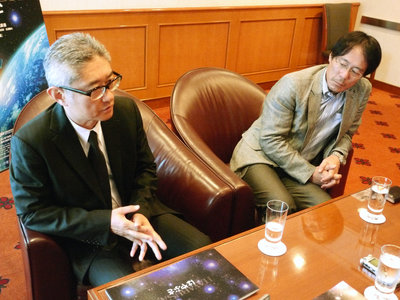 Tsutsumi:
I had no choice but to get married. He married a junior high school classmate in his hometown at the age of 24 and lived on her salary.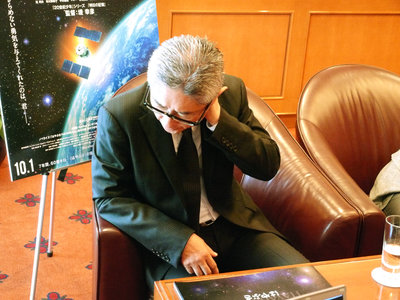 G:
Did the salary rise from there to some extent?

Tsutsumi:
It went up little by little. At the age of 25, I became the corner director of a variety of live shows in the morning. Then it will be about two digits. After doing it for about 3 years, even I, who didn't know anything, somehow learned how to swim. Then, I came up with the rough technique of 'making a little profit if I work in the office'.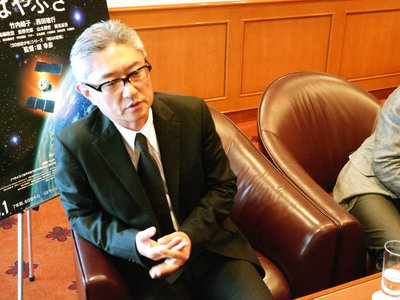 This is the point, but I met Yasushi Akimoto there. I was about the same age as Yasushi Akimoto, so I got to know him and introduced him to a part-time job as a broadcast writer, and as a director of a program sent to Tokyo on a late-night
radio
broadcast in
Kansai
, I gradually made a living by means of an internal job. .. It feels like freelance. In the meantime, I earned more money from my job, so I quit the company I was originally working for.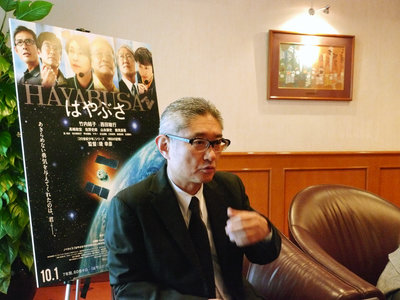 G:
It was said that there was a state where he was beaten unevenly by being called a 'telegraph pole'. How did you get rid of it?

Tsutsumi:
I just put up with it. Of course I decided to quit many times. However, when I think about it now, there is only a vague thing that says, 'If you stand here all the time, there will be something, and if you talk to people little by little, there will be people who will see and hear it.' did. There were a lot of people around me who were quite sensuous, and there were many people who made things without relying on something like the old-fashioned apprenticeship system. I used to talk to those people like, 'I can't work much, but I have something like this.'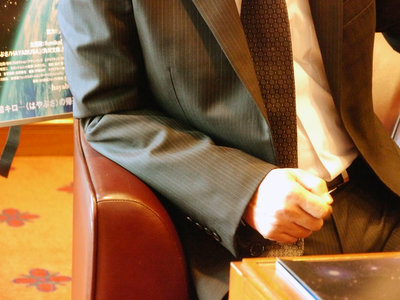 The best of these was Yasushi Akimoto, and after a while, it became a story like 'Let's build a company together.'
Tunnels
made its debut at the same time. As they started doing the Tunnels Tale program as an inside job, they also stepped up, and I gradually saw various things.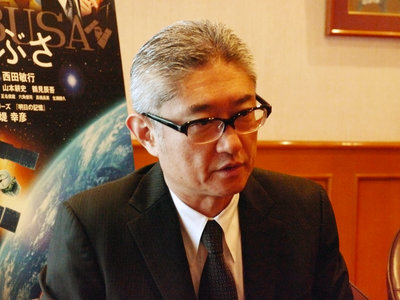 And when I started working as a director of making their movie with Tunnels nomination, director
Yoshimitsu Morita
who shot the Tunnels movie saw it, and after a few years, he said, 'You're a strange guy.' He said, 'Why don't you shoot a movie?' Various elements are intertwined, and I have gradually become able to swim freely.
G:
You said that you were talking about various things while you were beaten and defeated. What did you talk about at that time, for example?
Tsutsumi:
I'm here now, but I predicted that it would be like this a little later. I have already predicted anything. For example, when I was doing something like the AD and director of
Yuya Uchida
's annual rock concert, there was an unknown and very cool band. I like the
Telecaster
guitar, and although there are many Telecaster users in the United States, it's actually hard to find in Japan. But I thought it was cool because the band had a guitarist who used Telecaster.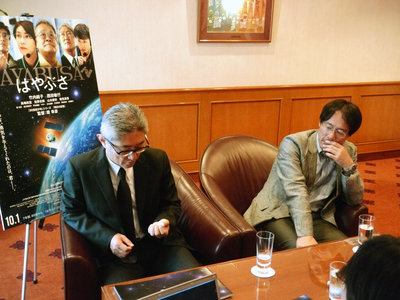 At that time, when I got along with a music publisher and said, 'That band is unknown, but you should definitely hold it down,' he says, 'Oh? That's dirty, so it's no good.' 'No, but I think it's okay. It may not be good now, but I think it's definitely good.' 'No, I don't know,' he said, and as expected, the band disappeared once. That is the later
BOØWY
.
Mr.
Nunobukuro's telecaster was really cool.
I've never made such a band bigger, but there have been occasions like this. Originally I liked underground rock, but after all, rock has the same shape, so I was saying that my seniors would get caught up in the new thing called J-POP with the sense of smell around that. That's the only genre I'm good at.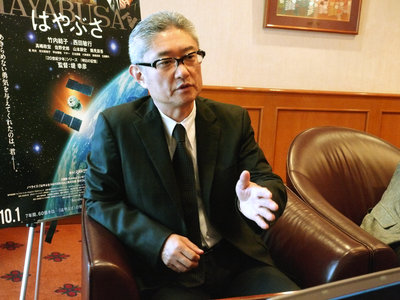 After that, I said something like the form of the mainstream program at that time, 'I think it would be strange if I did this a little more.' It's not 'it's fun' or 'it's fun for people', but 'it's going to be strange'. At that time, things like
punk
and
new wave
were doing a lot, and in an era when the
bubble
burst, just before the
bubble
burst, 'should be strange' was a kind of keyword. So what Yasushi Akimoto and I started doing was to make strange works.
G:
It seems that music, TV dramas, etc. are moving in order from variety shows, but what happened at the timing of the turning point when moving them? Is it?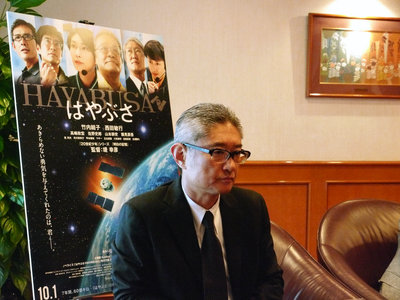 Tsutsumi:
When I think about it now, it's all every four years, but I'm not particularly conscious of it, and it doesn't flow so cleanly. I had to do everything in variety, so there was a drama sprout, and there was also a documentary sprout.

In the worst case, I made a video for Gammania while doing a special
program for Hibari Misora
, and I took a video of an idol while taking an introductory video of San Francisco for many years. I learned there that 'it shouldn't be limited to just one', but I spent such a messy early to mid-1980s.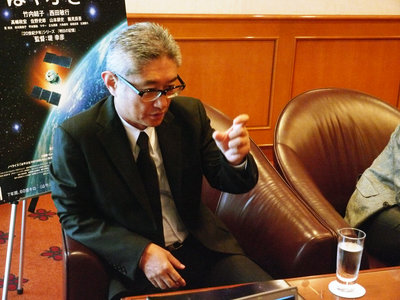 It is important from 1986, but this year I started a company with Yasushi Akimoto. So, for the first time, I decided to make something a little Tongari, like 'We are YMO in the industry'. There is
Hoichoi Pro, and
there is a company called SOLD-OUT that we were doing, but no matter how strange, punkish, and material-like work we are doing, it is the same, so there is variety. What we have cultivated from the times has blossomed all at once by converting it to music videos that started at that time, to stage production, and to drama production.
In 1988, Mr. Morita said, 'Take a movie,' and it was decided that
Tetsuya Nakashima
, myself,
Eriko Watanabe
, and
Takahito Hara
would do some short film. For me, making a movie was just a pleasure in old age, and I thought it wouldn't matter for the rest of my life. At that time, movie art was made by people above the clouds, and it was probably a sideshow to order from me, and it would be over if I shot it with a super-changing ball.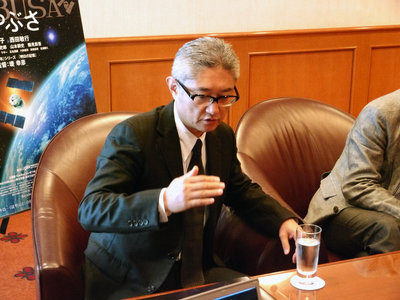 The scene was so scary that no one listened to me, and there was a test from the producer to write a report on 'What do you think about office workers?' I thought, 'It's kind of annoying,' but I said, 'Oh no,' and I was in good shape. At first, the top batter out of the four batters said, 'I'll show you the first one, yours', so it felt like 'well, it doesn't matter if it's unfinished.' But when I made it, it seemed that I was the most interesting, and suddenly I was told, 'I'll make it your bird,' and said, 'Oh yeah, movies are pretty easy.'

For some reason, I moved to NY in 1989 for a year and a half. So when I moved to New York, I was informed that the movie was a big hit. But I don't know the image of a big hit, what is the hit? 'No, a lot of customers are coming.' I was like, 'Oh, that's right, I wonder if there's something good about it.' I thought it was all right, but since it was a big deal, I teamed up with Mr. Akimoto to take another one, and since it was the heyday of the bubble at that time, I really collected money with Muteppou and brought the script to
Yoko Ono and
proposed it. Then, I shot a movie of Yoko Ono in NY.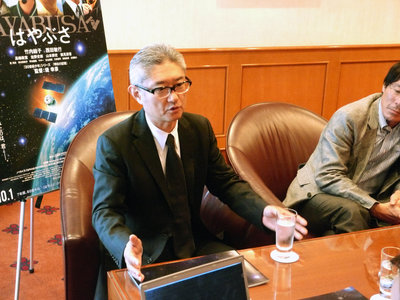 So I don't know why anymore, and I may be lucky to be able to do it, but I feel like I came that way. So it doesn't mean what happens each time.

G:
In the past, you have been wondering about the shooting methods of TV stations and searched for various methods and productions. Which of these do you think was particularly successful?

Tsutsumi:
This is 'The Kindaichi Case Files'. When I was in the heyday of making a drama that really pushed me in the format, I made one serial drama in a week, including the work I was doing, 'The
Pokebell didn't ring
.' It rolls in 2 days location, 2 days studio, 1 day editing, 1 day MA (multi audio), 1 day script writing. In order to raise the studio in two days, the studio must not be entirely. There is only half of the house from here, and the other half is the studio. There are a lot of cameras there, and when you eat rice, there is no one here and everyone goes to the other side.
I wondered, 'But what about that?' Of course I do it because I want money. However, the question was bigger, and it was 'Kindaichi Shonen no Jikenbo' that I accepted, 'Please let me do it if you like my shooting method.' A female producer of NTV, who was younger than me and wanted to make ambitious things, offered me 'How about this work?' And answered, 'I wish I could shoot with one turtle.' You say, 'Why is one turtle?', But you can tell by looking at it. 'Isn't it interesting that everyone can't take facial expressions properly with such a multi-camera? It's not interesting. Then let's do it with one camera.' The beginning of my current shooting style was when I was told, 'I think it will take time,' and said, 'I will do it so that it doesn't take long.'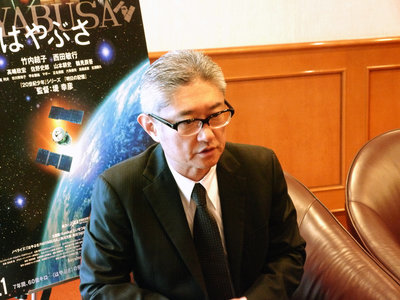 However, there was no theoretical backing, and the only way to do it so that it wouldn't take long was to be enthusiastic and gutsy. The photographer who makes it good, this time 'HAYABUSA' photographer, has been connected to that person all the time. After conducting various experiments there, I happened to get a tremendous audience rating of nearly 30% for the 'Kindaichi Shonen no Jikenbo', so I have gained some kind of citizenship to this day. From there, you can do ' Keizoku ' and 'Trick' with a changing ball, and so on.

G:
On the contrary, are there any of these new methods that have not worked for me?

Tsutsumi:
There are many things that have failed when trying to do the same. Immediately after 'Kindaichi Shonen no Jikenbo', I did a drama called ' Christmas Kiss ' on TV TOKYO thinking 'This is a squeeze, I can go with this', but I got only 2.8% the week after I took 29.9%. did not. Even if you spend the same amount of time, you can't get numbers with your own method. I also learned that you can't win unless you have comprehensive strength, including the idea of the project itself and casting.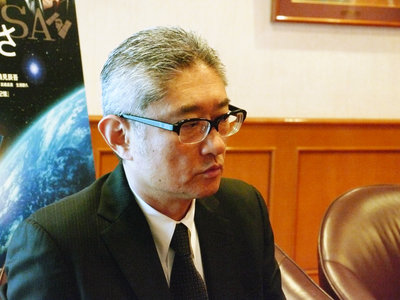 G:

It
means that you made a clapperboard by saying 'Why is it a clapperboard!' To use a clapperboard. What is this?
Tsutsumi:
I don't need it because it's digital now, but film doesn't fix the sound. There is a staff member who records the video separately from the film, and if the sound and the video do not match exactly, it will not be one. The part that snaps in the image and the part that snaps on the sound side are connected and edited. For that reason, one of the assistant directors has a clapperboard with the scene and cut number written on it and hits it with 'Yeah, yes' to start the play, which is a very craftsmanship.
Nowadays, in Hollywood, there are high-tech goods called digital threads that display everything digitally and the camera turns at the moment when it clicks, but it is expensive and we cannot borrow it. That's why I do it with a clapperboard, but the assistant director writes the number etc. with chalk. If you write with chalk, the chalk will fly softly when you click it, and the chalk powder will suddenly fly in front of the beautiful actress, creating a surrealistic picture.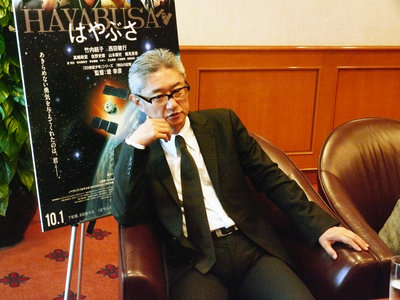 So I said, 'Stupid, the chalk is flying, octopus!', And I have to take the chalk clean with a cloth and do it again. So this time, the impatient assistant director was too close to the frame and couldn't see the scene number, and he had to do it again while saying, 'Stupid, I'll kill you!' I don't like that. It's something that has been going on for decades.

Inoue:
It has nothing to do with creative.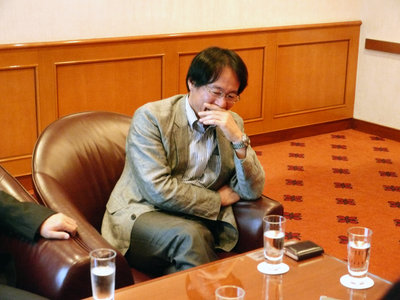 Tsutsumi:
There are no people in the assistant director because it is a tough workplace. Even though I can only hire a few people, the clapperboard staff does that much. I do it until my stomach hurts, but if it doesn't work, everyone quits. Isn't it stupid? I wanted to get rid of that situation. If you think about it carefully, you just have to make a sound and leave it as an image so that the sound and the image fit perfectly. I wondered if there was a way to do that without using an assistant director, so I asked him to make a picanco that just flashes when a button is pressed in a metal box like this.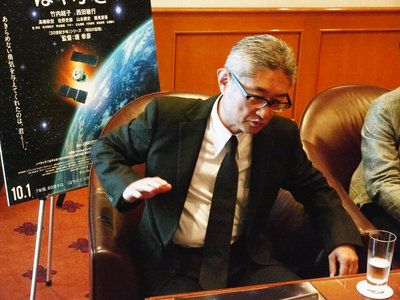 There are a number of staff members in the shooting group next to the film camera, and they ask the assistant's child to hold a picanco and spin the film. Then, there are moments when the film shines and moments when the recording sounds, so it's the same as doing it with a clapperboard. Of course I can't write the number, but I don't have to write it because the time never goes back. Next to 2 is 3. If you fail 3, it doesn't matter if it's 3.5 or 3A, but you always go next. It would be good if Mr. Record took a close look and wrote that he went up to this point and returned again because it was no good.

So when I started doing it, everyone said, 'It definitely won't work,' but I was able to shoot one work without any problems. That is '
tomorrow's memory
'. That's why I said 'I don't need a clapperboard'. I always try to fight such a system. It's also my imaginary system.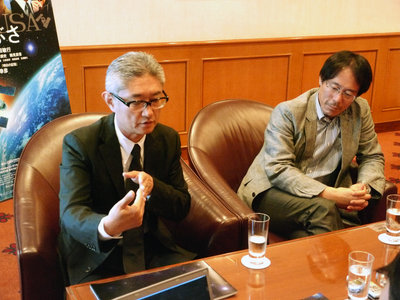 G:
It's said that this Picanco also had multiple versions.

Tsutsumi:
It's up to version 4.

G:
How has it changed that the version goes up?

Tsutsumi:
Simultaneity of light and sound. The first one had a beeping light, and then the sound was delayed by about 10 frames with respect to the light. Therefore, we will connect by assuming a delay of 10 frames. It gradually becomes 8 and the accuracy increases to 6. This is handmade. Mr. Inoue was very happy.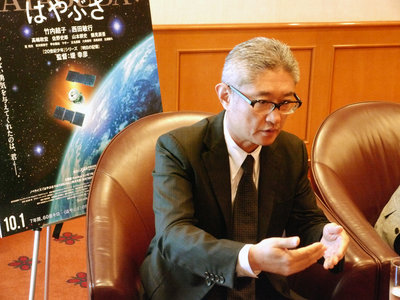 G:
Nowadays, it has been said that Picanco is digitally processed and is not used.

Tsutsumi:
Now that I'm shooting with a video camera, I don't need it.

G:
I'm retired now.

Tsutsumi:
I agree. You went somewhere.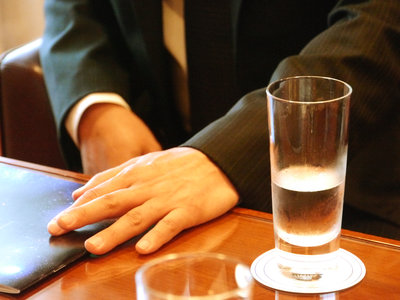 G:
Earlier, there was a story that the photographers of 'Hayabusa / HAYABUSA' have been together since the time of 'Kindaichi Shonen no Jikenbo'. It is said that the staff regarding personal photography hardly changes, but what about the actual situation?

Tsutsumi:
There is no need to change it, but it is difficult to do unless you know it. The reason is that the speed is fast. So if you don't know how to do it, you're afraid to slow down by being confused. That's why I use people who know my way many times. Mr. Nozaki of CG and the person who recorded it have been with me for about 30 years, and the female staff who edits on site has been the same person since I first started editing on site. Mr. Lighting is busy, so it may change in order, but I will focus on people I know. I was angry that the family was a little exclusive.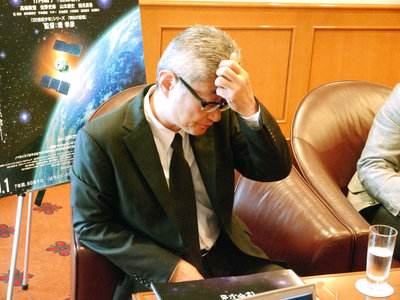 G:
Does that mean that it looks exclusive from the outside?

Inoue:
I'm relieved that the director is very easy to do. However, the next question is 'how can we come up with a different idea from that team?', So in that sense, we also propose 'why not try teaming up with another team?'

G:
What will happen to the proposed result?

Inoue:
It may or may not be accepted.

Tsutsumi:
This time, I couldn't go on an adventure because it was a speedy life. When I can take time, I do it without using my own group. The Nagoya movie I shot before and after the March earthquake this year was made only by my personal feelings, and I didn't have to think about commerciality, so I did it with people I had never made before. It was exciting, fun and stress-free.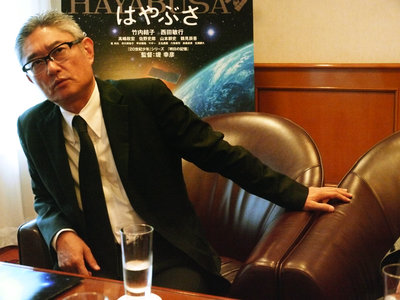 G:
On the contrary, do you sometimes feel the disadvantage of having staff who have been familiar with it for many years and can speed up?

Tsutsumi:
If you keep working with the same person, you can see the good and bad points. Sometimes it can be tolerated, and sometimes it's okay for each other to grow up. It's like a marital relationship, and there are minor changes little by little.

G:
There was a story in the past that we had a system in which even simple editing could be done immediately at the shooting site and confirmed, but is that still the case?

Tsutsumi:
That's right now. That was very effective in this work.

G:
What are you doing specifically?

Tsutsumi:
Just connect with the final cut or abit. All you have to do is record what you have taken, record it, and have the operator grab it on your computer.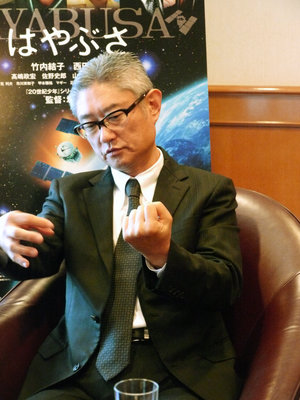 G:
Do you see it and see if you want to keep it or retake it?

Tsutsumi:
I don't have to retake it, but I can give instructions on the spot, 'How should I edit it more effectively?' I will. This is also for myself, but not only that, but I also show the producer 'How is it, is this right?' There is also an intention to make people think 'I see.' This time, the scholars and researchers who were supervised were always on site, so I asked them to look at it and decide whether or not they matched.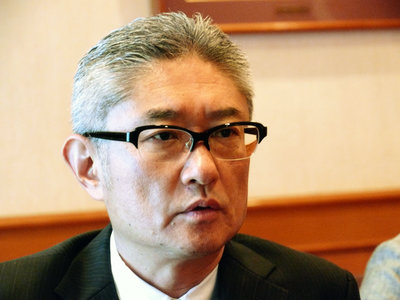 G:
It used to be difficult to prepare for that, but is it evolving and improving?

Tsutsumi:
It is an improvement next to the improvement. We are making improvements for each work. At one point, it was compatible with ultra-low-budget dramas, and at another point, the processing speed increased tremendously by setting up a store on location, and sometimes it was just like eating power and flying many times. After that, I shoot about 200 days a year and live in a tent for 100 days, so I'm doing various things such as how to respond so that the machine works in the same way when it's hot or cold. I will.



Inoue:
It's like a moving study. You can spread the script.

Tsutsumi:
Mr.
Coppola
remodeled the bus to do so, and there is a jacuzzi at the end of the bus. If you do it anyway, it's good to specialize with such a stupid kanji. 'It's a director's bathroom,' 'I'm not stupid.'
G:
Would you like to try it someday if you can afford it?
Tsutsumi:
There aren't many relationships that make people laugh at it, so I'm doing it seriously.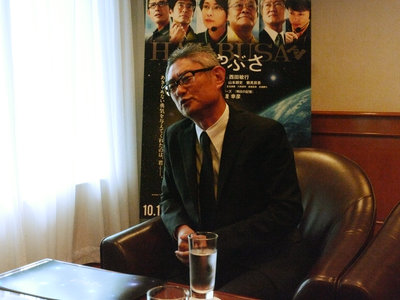 G:
In this 'HAYABUSA', what kind of scene is 'I wanted to shoot this scene like this and shot it exactly as it was'?

Tsutsumi:
I like Thunderbirds. The last time I came to rescue Thunderbird, there was a scene where my family got together and said 'I'm glad Jeff', but what I like most is that when an accident happened, my dad said, 'Then everyone asks.' There is something like so-called ' launching moe ' in the scene where everyone goes down to a strange place saying 'Yeah!', No. 1 goes to Dawn and No. 2 goes crazy.



In that sense, the launch scene of 'HAYABUSA' this time was more than I expected. Of course, I had a lot of trouble processing it, but after all, the residents near the
Uchinoura
Space Center
, which is a realistic launch site, gathered in the same way as when it was launched, and said, 'I'm glad I got up! At the time of launch, we were in a state where we couldn't go fishing, so we asked fishermen to fix the nets next to the boat, and children gathered on the rooftop. I think the launch scene went well with the help of that kind of power.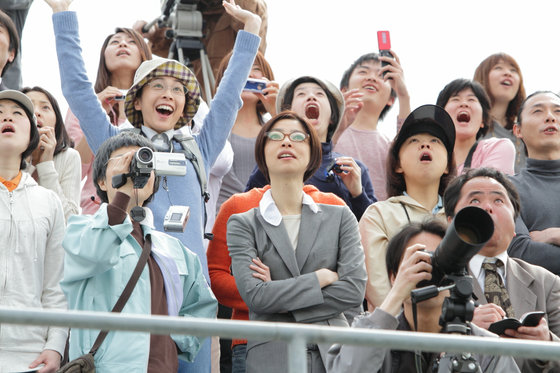 Others are doing what I want, but especially in that scene, I'm the first to be impressed.

G:
Is there a scene like 'I actually made it better than I originally thought' with the help of luck than I had imagined?

Tsutsumi:
It's pretty much in the whole story. The same is true for Australian kangaroos. On the contrary, there are also big mistakes. Making it once is a big mistake, which is also my own misunderstanding. There is Itokawa, and Hayabusa comes there. Looking at the pictures of Itokawa at that time, you can see that they are taken from various angles. Then, I thought that Yabu was taking pictures by turning sideways and taking pictures over here, so I made that kind of CG. It's a cool scene.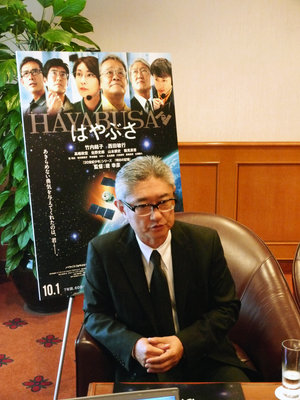 But the scholar's teacher saw it and said, 'This is a mistake.' When asked, 'Well, why?', Hayabusa has a solar panel, and that panel must always face the sun.

If you turn sideways, the energy efficiency will be poor and the engine will stop, so basically you have to move only in the vertical direction, whether it is near or far. When I asked, 'Itokawa is facing various angles ...', he said, 'Itokawa is spinning.' It was a shame in a very basic place. So the CG was dead. After all, I was ignorant of the science and mathematics system, and with such shame, it was gradually completed.



G:
Is there a scene like 'I thought this would be easy, but it didn't work and it was harder than I expected'?

Tsutsumi:
I think the launch scene I mentioned earlier was the best in the end, but in order to reach that 'well done', I tried again to the very end. I couldn't get the feeling that the rocket crossed the atmosphere, so I repainted it many times. I have never seen the smoke and flames emitted by a rocket, so from the point of 'I have the image that a rocket has a red fire in the absence of oxygen in outer space, but is that true?' started.

Since it was 'There is some flame', how fast it is coming out, what happens due to the friction between the surface and the air where the aircraft rises where there is some air. I made it while investigating various things such as. I went back and forth quite a lot to match the image in me with the real thing. I wonder if there was anything else, where I had a hard time.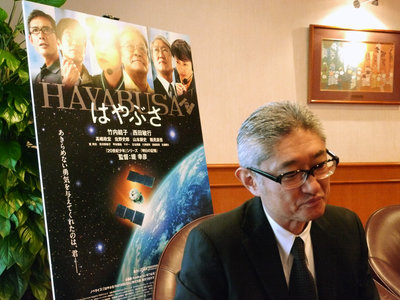 Inoue:
I had the image that things went smoothly. If there are always teachers and something happens, let's do this while discussing, let's do it. I think the preparation part was difficult.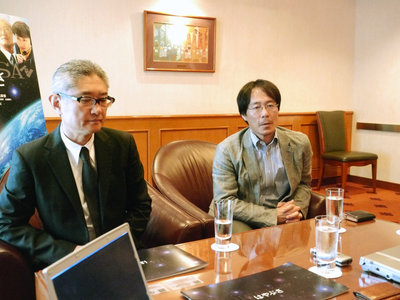 G:
Did you say that the preparation was more difficult?

Tsutsumi:
The control room was really made in the studio. It's a fake, and it's a perfect copy. It was rather difficult or interesting.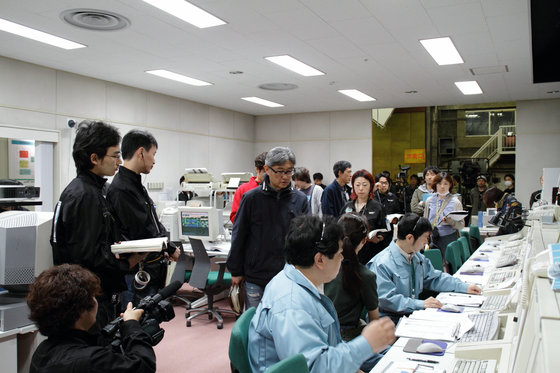 There was always a drawing of who was where at that time that day, and responded by saying, 'You and you are here,' and 'I'm doing this here. Looking at the computer, my right hand is here.' I did it while looking at the photos. It's hard work, it's not cinematic.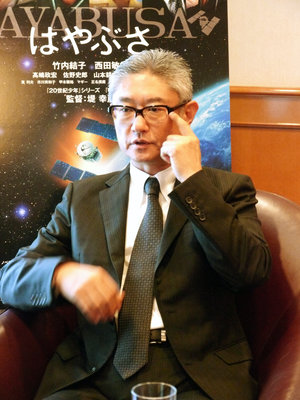 For example, leaders are usually positioned where everyone can see them, but
Shiro Sano
isn't very leader-like because he's just wandering around in the middle.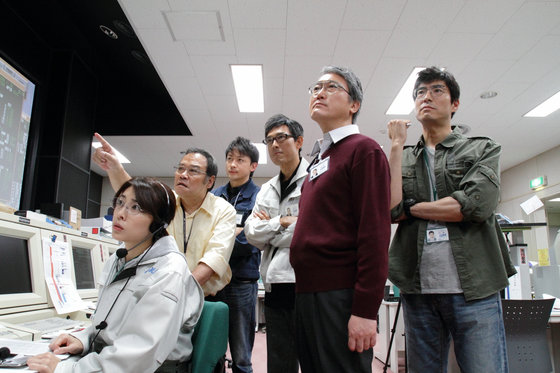 Inoue:
Where is the main character?

Tsutsumi:
Mr. Takeuchi is the main character, but things like 'Please keep quiet behind the glass' are not common sense, and it took some time to get used to it at first. But after getting used to it, everyone was playing that character, so it became more and more interesting.

G:
Then, the scene around that is done to a level that is almost reproducible rather than a documentary.

Tsutsumi:
Yes, it's already reproduced.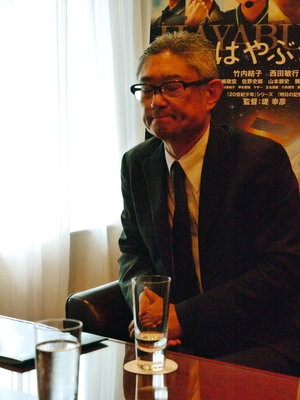 G:
You say that you are taking on new challenges every time, but is there such a challenge in this 'HAYABUSA'?

Tsutsumi:
It's a complete copy of the scholarly profession. In a nutshell, I was outraged to 'completely copy people I don't know.' Of course, there are people who are enthusiasts and know, but the general public does not know even if this person is said to be Mr. Kuninaka. However, the actor imitates every move of a scholar who is actually in the real world.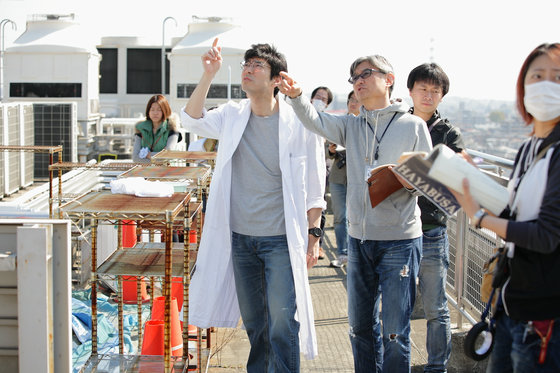 For example,
Karasawa-san
, who imitates Kenji in '20th Century Boys,' and
Hiro-
kun, who imitates Ryusuke Minami in '
Beck,
' do not copy anything that everyone clearly knows. I thought that the true hero of this Hayabusa was a person, so I copied a large number of scholars and researchers who were actually active, not just one or two. This was a new trial like never before.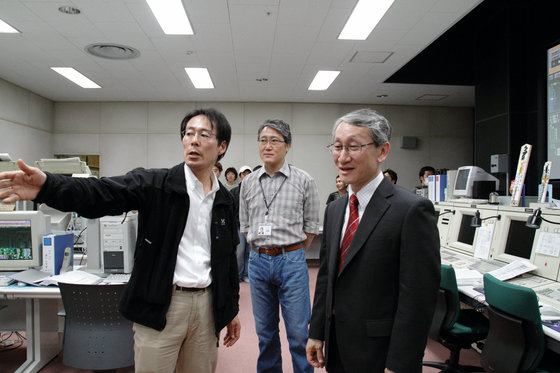 G:
He said that he was copying everything so that people who knew him could understand, 'Oh, this is this person.'

Tsutsumi:
It may be the most unreasonable setting, but it was natural for me.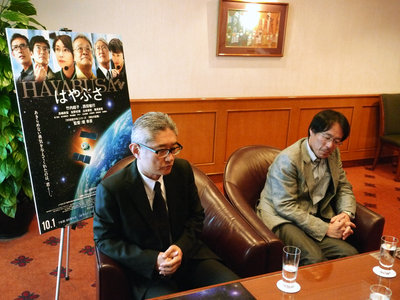 Inoue:
There are many people who are not written in the script. I didn't write it because if there were a lot of people, the customers wouldn't understand the reason, but I didn't write it, but 'Isn't there any teacher?' 'Yes, I don't.' 'No, but it came out. I said, 'Oh? I didn't see it, I didn't write it in the book.' But it really does.

That's because the director and assistant directors talked to each other on the spot, talked to the casting, and said, 'Let's have this kind of person in the picture here,' so it's included properly. It was proliferating, and before I knew it ...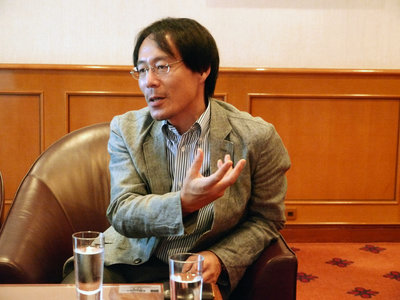 Tsutsumi:
It's an evil glue.

Inoue:
There are also real teachers. Before I knew it, I would come out and talk to the lines.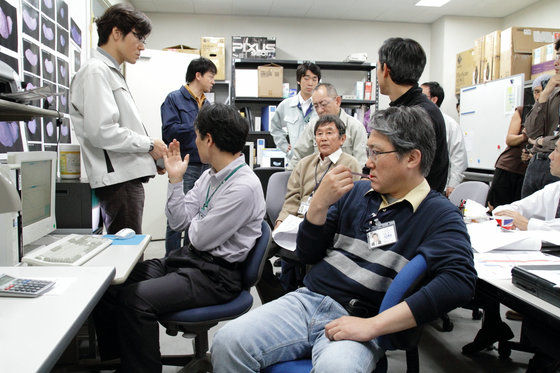 Tsutsumi:
There was something like that kind of mischief in making a movie, but that's what the Busa team itself is, so that's the most appealing point. That's
why Mr. Kuninaka
silently put in one diode.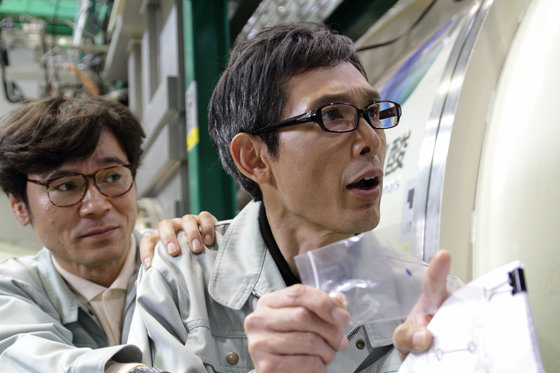 The capsule collection team had the name of only the capsule collection team written on the back cover of the capsule. When I came back to Australia, I brought it airtight, and when I opened it in the laboratory, the name was written on it, and everyone below Mr. Kawaguchi sat down. I feel that it is very suggestive that these playful people have survived the serious crisis. I don't think this is easygoing in Russia, where this encloses scholars in NASA and the 'city of stars,' let alone in China, where you don't know who is flying. Isn't it fun?

G:
Lastly, I think that there are many people who want to be like Tsutsumi, but for those who are aiming for such an industry, something 'should be done' Or is there anything you should know?

Tsutsumi:
I started from a place where I didn't know anything at all, so I don't have to know anything about this kind of system. I have to be familiar with montage theory and know about imaginary lines, but I'm still not sure. I think that you can learn as much as you want to learn from today. If you need to learn, you should definitely do it, and of course you need to pay attention to various acting and images.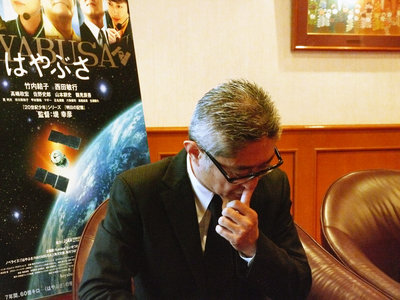 But, as I said earlier, it really means 'helping yourself when only one thing is terrible negative.' That's it. I believe that having something that is indivisible within me, something like the last remaining one, is the only basis for survival.

I think it's rock. I somehow survived because I liked rock, and I still like rock, so by relying on it, I was able to take interesting pictures of 'Beck' and '20th Century Boys', for example. Also, rock is not just a form of music, it's also a way of life. The way of life of the ancestor musicians is very attractive, and it is not limited to rock, but is derived from various things such as art and fashion.



By learning such things, I managed to survive in violence for a reason. It is often very strict. I'm saying it happily, but it's hard to get the audience rating. It's hard to call a customer to a movie theater. Even though there is no such pressure, I'm worried about 'Are you okay? Are you in Aomori?' And the audience rating is so high that I can't sleep on Monday morning. I'm relieved if the producer calls me around 8 or 9 o'clock, and if it doesn't work, I may not be able to get up for about 3 days. But that's a matter of course as a member of society, and it's in every industry and every type of business.

There is nothing like 'I'll tell you' because I think it's necessary to have something that I can't give up in order to survive it. Not at all. Rather than that, he said, 'I think it's better to make one more place as a person.' Everyone says, 'It's hard because I don't understand it,' but I think, 'No, I definitely have one.'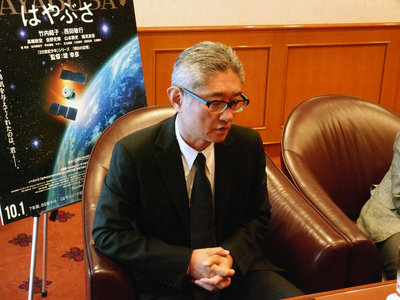 Inoue:
That's exactly what this movie is.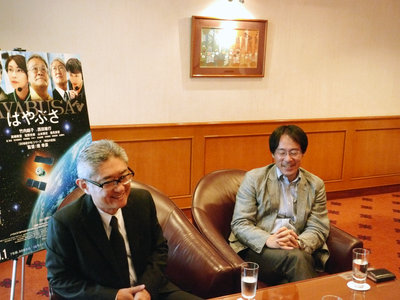 ◆ 'Hayabusa / HAYABUSA' work information
Distribution: 20th Century Fox Movies
National road show from October 1st
©2011 『はやぶさ/HAYABUSA』フィルムパートナーズ