NTT DoCoMo, Fujitsu and Samsung establish joint venture and report, NEC and Panasonic also contribute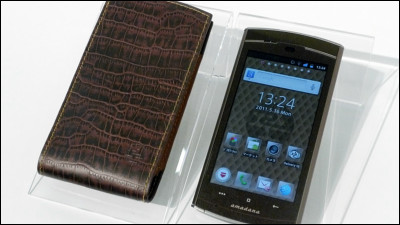 It was reported that NTT DoCoMo and Fujitsu are planning to establish a joint venture with Samsung.

It is aimed at cultivating the world market, and it is said that NEC and Panasonic will contribute as well.

Semiconductor development for DoCoMo / Fujitsu, Samsung and smartphones: Nihon Keizai Shimbun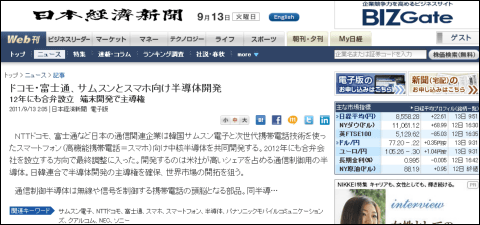 According to the Nihon Keizai Shimbun news report, NTT DoCoMo and Fujitsu will jointly develop a "communication control semiconductor" for smartphones using Samsung and next-generation mobile phone technology "LTE" to establish a joint venture in 2012 as well It seems that we entered the final adjustment in the direction.

Communication control semiconductor is a part of brains of mobile phones that control radio and signals, and in the semiconductor market QUALCOMM in the United States, which has fundamental technology in the current third generation mobile phone, holds about 40% share. It is said that it accounts for around 80% in smartphones, and there is a possibility of hindering flexible terminal development, so it is aimed to secure leadership in semiconductor development.

While LTE communication control semiconductors can process larger capacity data than conventional technologies, development costs are increased and NTT Docomo's communication expertise, Samsung's mass production technology, Fujitsu's design technology, etc. are combined to share development costs .

In addition, the joint venture places its headquarters in Japan and NTT DoCoMo invests a majority of the capital, which is estimated to be around 30 billion yen. In addition to Samsung and Fujitsu, NEC and Panasonic Mobile Communications are making adjustments in the direction of investing the remainder, the new company specializes in the development, design and promotion of semiconductors, and the fabrication form outsourcing actual production Prospects to be.

In addition, it is said that each of the invested companies will be incorporated into their own smartphones, the developed products will be sold to mobile phone manufacturers around the world, and they will work on adoption by Chinese telecommunications companies looking at the Chinese market. In addition, we are planning to consider installing it in Samsung's next Galaxy series as well.

The establishment of this joint venture is actively promoted next-generation high-speed communication service "LTE (service name is Xi, Crossy)", and NTT docomo wanting to take the initiative as a top player, communication control technology is far away from QUALCOMM It seems that Samsung's agreement matches, but on the other hand, the domestic handset makers that are planning to make a contribution are worrisome.

Although it expanded its scale by integrating Fujitsu and Casio Hitachi Mobile Communications, which had hardly handled the smartphone division until it absorbed Toshiba's cellular phone division, at around the time of the breakthrough battle in the mova terminal "N502i" The situation where manufacturers are placed in smartphone era such as NEC, Panasonic Mobile Communications which can not deny the feeling of lagging in the smartphone market is not a good thing at all.

In other words, in the future, domestic manufacturers should keep developing costs down, fight against smartphones of the global model that flows into the domestic market a lot, and consider the need to expand not only to the domestic market, which is further stagnant, but also to the international market , It seems that there is also the aspect that it is forced to invest in a joint venture company to be established.
in Mobile, Posted by darkhorse_log