A near future image that Google's Chromebook can access anytime anywhere "Nothing but the web ~ To the world of 100% web ~"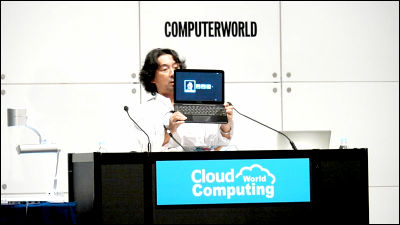 A new notebook PC that starts in just 8 seconds "ChromebookAll software that runs on it is Google Apps such as Gmail and Google Docs, all necessary data is stored in Google's cloud, and you can access it anytime from anywhere you like from your favorite computer · smartphone ...... The appearance of the future "Nothing but the web ~ 100% to the web world ~So, at the Tokyo International Forum held "Cloud Computing World Tokyo 2011"&"Next Generation Data Center 2011"Google gave a lecture with an actual demonstration. It clearly shows things such as the future life and work style that Google is aiming for and it is easy to understand.

The following is a reproduction of the lecture.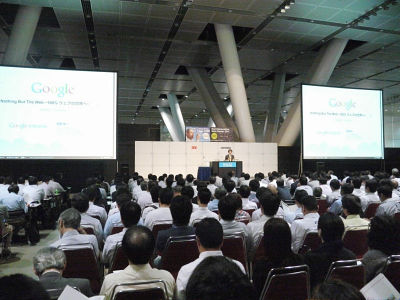 Announcement: entitled "Nothing but the web ~ To the world of 100% web ~", Google Inc., Enterprise Division, Managing Director, Shinichi Abe. Google Corporation, enterprise department, sales engineer, Izumi Atsuhiko. Well then, Mr. Abe, Izumi, thank you.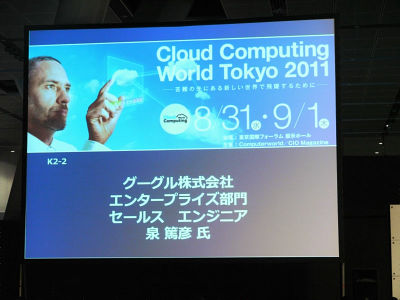 Abe: I am the enterprise division of Google, Abe, who is in charge of business in Japan.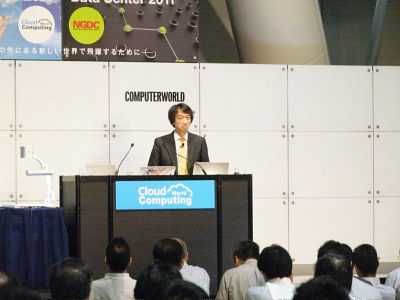 As you all know, Google wants to tell you what the enterprise department is doing.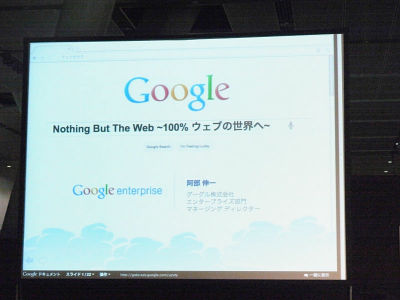 Google develops and provides useful services for consumers such as search, Gmail and YouTube, and many users gather and use it. And from that there is a variety of big advertisement opportunities from enterprises, it is a normal Google model that advertisers receive business income from our business income, but often talk to the same customer In fact, Google embraces not only D2C but also D2B. The D2B is a enterprise department that is doing hard work.

What is the cloud that Google's enterprise department thinks today. I think I will talk about it. When it says somewhat when saying the cloud, the design of a very technical idea came out, and it is not a sudden talk in the form of whether it is taxonomically private, public, or hybrid, but as we are still thinking We insist that it is not such a thing, it can be used for business that everyone can use intuitively. Actually today I would like to take a look at the demo for a considerable amount of time.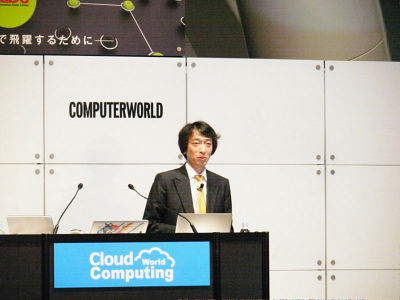 Although Google itself is officially announced, the enterprise department shows a rapid growth thanks to it. Although there is no numerical value on the horizontal axis on the vertical axis in this graph, the horizontal axis shows time and the vertical axis shows the actual number of active users of Google Apps. It seems that you understand that it is growing rapidly.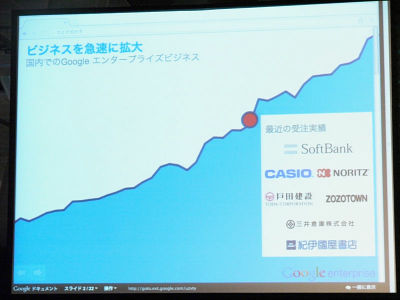 As a recent big trend, as far as the cloud has been cognized as a service for small businesses or individual business owners who can not possess IT, recently even very large companies It is getting to be seen. It is also realizing that feedback performance is obtained that the performance of the big company is even mid-level, or even the actual individual business owner or even small companies spread.

SoftBank, Casio, NRITZ, Toda Construction, Mitsui warehouse, etc. that posted company logos of actual orders here are Google Apps customers. In addition to Google's enterprise product, it is a search solution for site installation etc, but it is also used in ZOZOTOWN of mail order fashion site, and also at Kinokuniya Shoten. We are aware that the current situation is that the cloud begins to be used by our consumers first, then by small publishers of small businesses, and that waves are coming to large companies even in Japan .

As we frequently talk with customers and asking about various things, we will talk about finally the details of the request from customers, "What is being asked". IT has such a problem, IT has eventually received considerable instructions from the manager 's request, or desires from business managers. Among them, the keyword "speed" comes out quite a lot. You may think that this "speed" is included even when there is a change. And although I talk about this "speed", it is a story that I often listen to,Mobility (mobility, mobility)"is. As a company gains globalization, there are business trips to overseas, etc., and we have to work anywhere due to time difference issues. Or from the perspective of BCB, if there is something big disaster or the like, I can not come to the office. But I still have to do the work I can do. The demand for mobility technology is increasing in such places.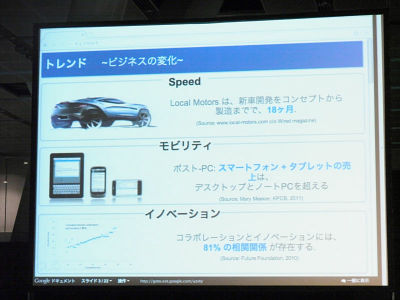 The third point is innovation. Originally, Japan has been a technology nation thanks to innovation, but I think that productivity and logistics are also very advanced. That is how we are improving day by day, but when considering productivity from collaboration in terms of international cooperative routes, we do not come to the top in Japan. However, looking at global companies that have recently made significant achievements, in fact, innovation, good performance, and another correlation will become collaboration. How can you collaborate in-house and everyone? Or can you collaborate with customers and such people in society? It is our awareness that this is greatly related to the business performance of the company, and it is also the recognition of customers who are actually talking. However, if you try to actually collaborate, various obstruction factors will come out.

I will explain the inhibitory factors from a single point of view, but one is the system. The mutual system has become very enriched, but recent development software is very slow evolution speed itself. The upgrade is several megabytes, patch is also very slow, it takes 48 hours to patch out after a security hole is found, or it takes several days. Even with the application, even with the customer to repair it, it takes some time to repair. I think that it is one thing that software that was supposed to accelerate business originally or IT technology is actually an impediment to change.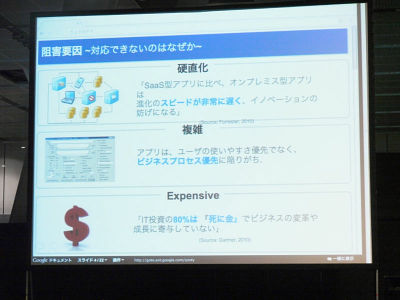 Secondly, the system so far is complicated. As I said earlier, the cloud itself is actually complicated, it is difficult, but it is very easy to understand, or Google can do it, but complexity is a very big issue. Also, if a new system runs, it will produce excellent results, but if you actually run it, you will have to write quite a long working process, you have to read a very thick manual, who actually uses it I think that it is the current circumstance that there is almost nothing.

The third point is the cost, this is important. This is also common in the world, and there are places where it is necessary to lower the cost more and more, but as you all know, we must continue to mainly turn "enriched system" mentioned earlier. Actually I would like to spend money on innovative things but most of the real IT budget is not investment but I think that it is actually that we are going to maintenance and maintenance people.

There is such a problem. Various companies participating in this conference propose various things, but the solution to solve various solutions, or the theory or the theory of "actually providing the solution to customers and providing them to customers" or "vision" Although it may be better to say, that vision was introduced earlier in the title"100% web"It is.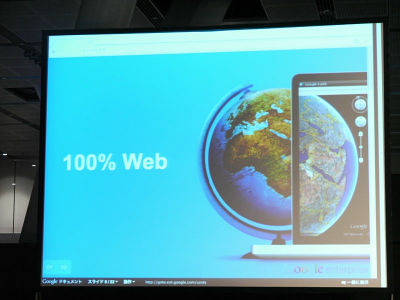 What is "What is 100% web"? However, if you ask a question "Do you use the Internet browser considerably?" I think that there is no one who is "no". Google's cloud is that all users will use the browser to make all applications available on Google's base. In other words, it gathers all applications, software, data, anyway all in the cloud. Collecting in the cloud not only improves the obstacles that we just said, but also makes it possible to collaborate in real time, various merit of scale, scale merit that could not be achieved only by users and contents, reliability, We believe that security can be realized. We believe.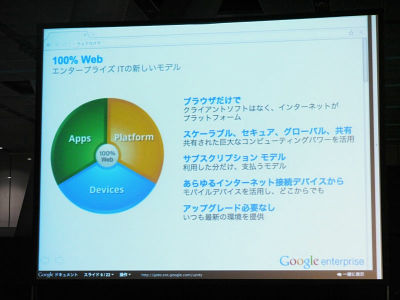 I feel that "the world of 100% web" is not "our only Google" but "Google so it's possible". There are several reasons. The first one, we mentioned as "all over the web" by us, but this is the obligation of the person in charge who was born at the web. There is a way of saying past assets, but I do not have anything like past traits or debts, so I can think of the stage from the beginning from the web. And we already have a very large customer with WEB, so we are preparing a user interface that can be used by anyone, a sophisticated user interface, using a very large user base. The second one is also big, but we think that we are using it for our cloud, but we have a foundation with overwhelming scale. Not only overwhelming scale, but very high diversity. Last year we achieved 99.984% occupancy rate, 99.984% occupancy ratio after counting instantaneous items.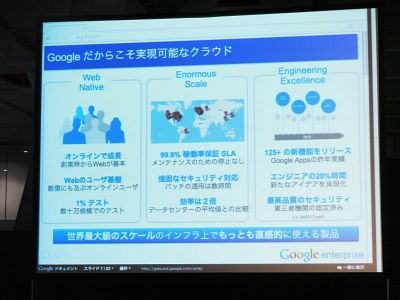 And security. We put all kinds of data and software in the terminal, we do not respond in such a way that it takes time and cost to manage, which can not be managed only by the end point, we will keep it all in our data center . And the data center there has the world's top class people, mechanisms and facilities, so you can trust your data with confidence. In order to do this, from the energy consumption efficiency perspective, we are extremely efficient in terms of scale, so efficiency is double.

In such a place, our Google can not charge the world's largest scale and we can offer another important "service that can be used intuitively to customers". I think that this is only Google. Actually it is actually the theme of "Google Apps and Business" among products and solutions that we have several things to introduce in the demo today.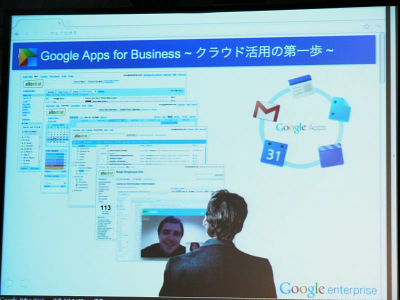 Details will be introduced later in the demonstration, but recently we have been out in "ChromebookActually, I would like to explain. The Chromebook itself will be a product of the future that supports "100% web".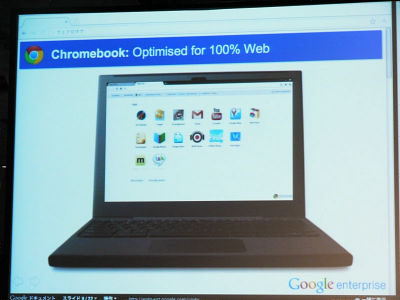 First of all I think that it is best to see more than talk about it, so please take a look at our "Google Apps" demonstration mainly. Let me introduce you to Izumi, our sales engineer.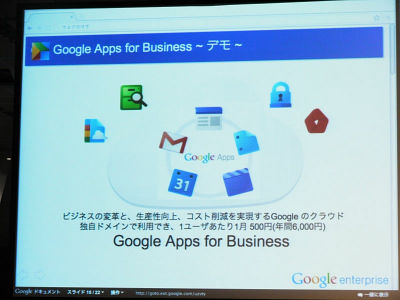 Then Izumi please.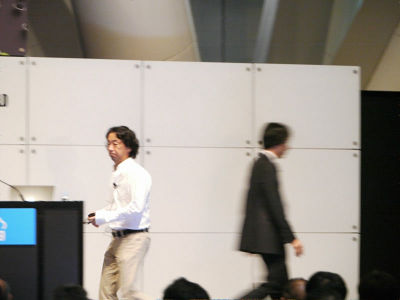 Izumi: Well then, I'd like to explain things like "Google Apps" in about 20 minutes.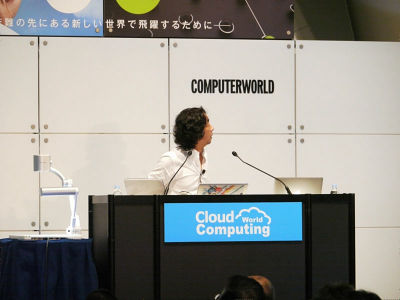 It is as long as time allows.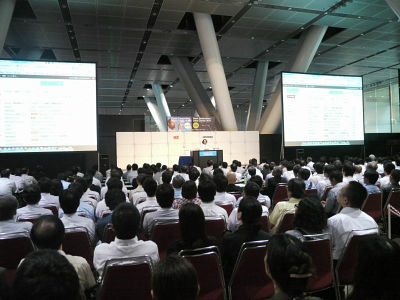 As for Google Apps, I have been performing SS activities for about 2 years, and recently cloud has become a general term, so I will put it in the product description right away so always introduce it to the customer I would like to do things that exist as it is in this place.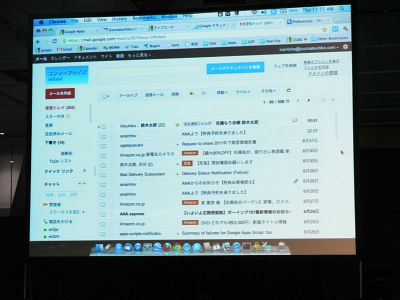 There are about 8 to 9 services from Google, but this time I would like to explain the core service in terms of time.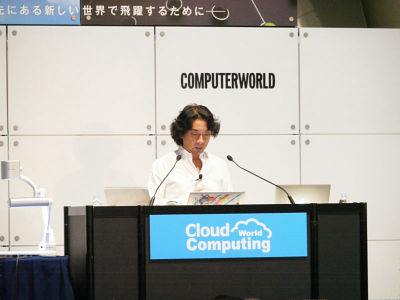 First of all, it is mail. The mail is basically Gmail. Would you please give a hand if you have a personal Gmail account on this occasion? ……Thank you. About four years ago, about 10% of the venue (about the venue) was about to be used, but now more than half of the people (mostly at the venue) can use it. In that sense, that means you can use what you've used to in the past as well. That means you do not need training. This can also correspond very quickly to business. The most popular guests went to customer's place is that SPAM, viruses, and spam filters are almost 100% effective for these. Until now I really was bothered by SPAM and viruses that it is very good for mental health now and I am able to do a very wonderful work so that I can say the very first thing about SPAM is really powerful I will.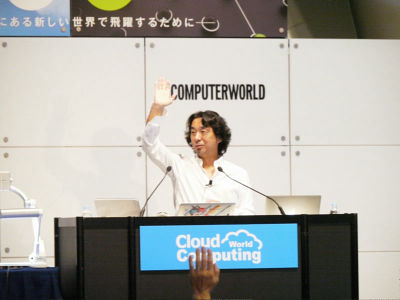 Another thing is thread management. It is how to display these threads. In short, if the topic is the same topic, you can seamlessly display quotes on quotes on the list. If this is up to now, you will have to search for it when you get time with cotton kettles, but since all the interactions can be seen in an orderly fashion in this way, it is easy to see the progress of the interaction very much .

Another thing you should not forget is that, for example, when the mail is full, thisGoogle Apps for BusinessSince a mailbox can be used up to 25 GB per person, if it is that big mailbox, it is preserved well even for three to four years ago. And you can search quickly with a single shot. This is also very popular. Until now, in order to find e-mails, I was doing filtering, making folders, sorting and searching for it, but now I do not do such a thing so far in the cloud If you can remember the name of the other party, you can immediately search for emails.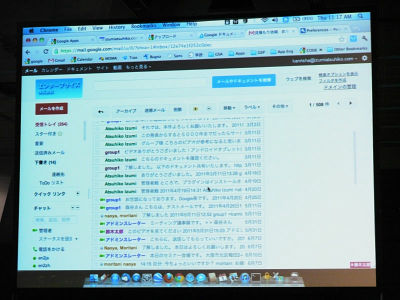 We will inform you of not only mail, but we will inform you later, but we will search for such things such as organizing our office documents, preparing sentences, spreadsheets and so on. The rest is Google Sites ...... I will show you this later as well, but it's a simple web interface. The point is that it is a service that makes it possible to set up an intranet, but information on such intranet is not an era of only searching for mail, but also searching for office documents properly. I will search for mail by e-mail. The office document is an office document and I will search for it. Otherwise it will search on the Internet. I had to do it as much as 3 times, once it was done. The part around here is also very popular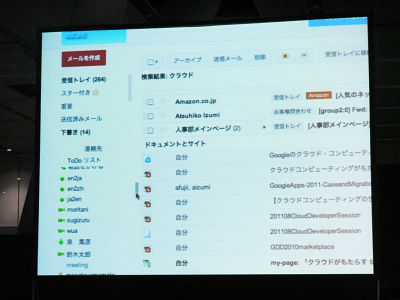 Also, turning your eyes toward the left end (screen), this is a chat box. These things are also useful. Everyone who is on this green lamp is working (a person logging in to Google Apps), so we can have a conversation right now. Before thinking about putting out mail, it is a translation that you can check if you see a little in the chat and a reply comes. If you do, you will soon get through the chat box ...... Well it takes time to connect a little, but with this kind of feeling, when you send an e-mail, you really have to wait for that reply As soon as you can say "Good work, content is okay."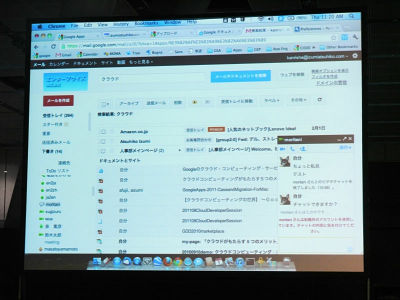 It is good to properly handle such texts (interaction with), but again after interacting with the text, as soon as the markets become obvious, the last resort is a direct talk. Actually catch the person in charge and the other party comes out (Connecting the chat box and the other side starts voice chatting with)

Izumi "Good morning"

B: "Thank you for your hard work."

Izumi:
Although it is a large screen with such free (I enlarged the opponent's camera screen on the screen), I can do it in chat in the form like this (even from a remote place) Is it yes, no, it is black, is it white? "Answer is obtained. You can also do around here via Google Apps for Business. Is it possible to negotiate after throwing an email? I will cut it.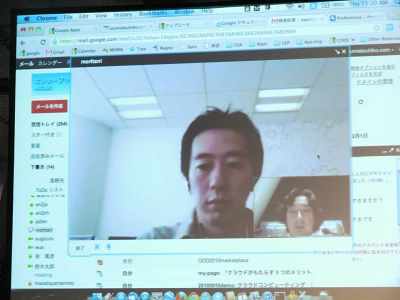 In this way, it is a merit of various work efficiency improvement in mail interface. Thanks to Google Apps, these clouds allow you to manage your data at one place and make the most of it.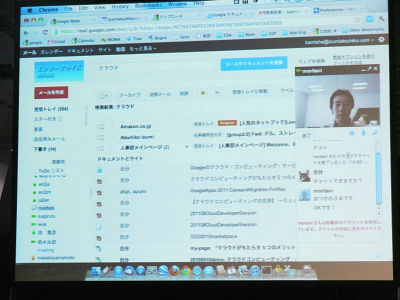 I do not have time, so I'd like to go to the calendar next time. As for the calendar, since you are using Ajax this time, you can also drag and drop.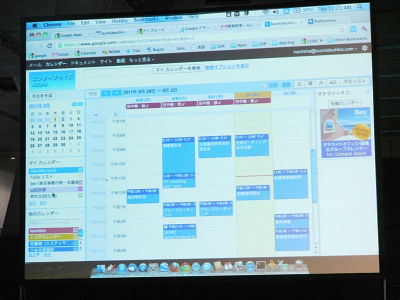 Open up the calendar like this ... For example, as a way to use the calendar well, check the schedule immediately to check availability, then take the meeting room and set up the meeting is a hard work However, if this is a Google calendar like this, it shows the schedule of people in charge repeatedly and these three people's schedule seems to be a very busy schedule, so we can only schedule the schedule here, You can say that.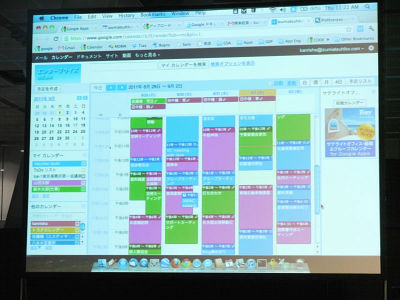 And although it is a paid version introduced this time, this paid version calls conference rooms etc. as resources, but it is possible to register the conference room at any time. Besides, it is also possible to display only the vacant part at this time as before. If you uncheck the check box like this, you can also display the unoccupied areas, but this alone will show you the vacant meeting rooms during this time. "Since the meeting room in Osaka is vacant, let's add it to the schedule of the conference room in Osaka", so we took the meeting room and saved it. Since we will assign people, we have two guests the other way ago (actually Ms. Sato Suzuki). I will also save the schedules of these two people. If you do, your invitation will be sent automatically. I will also search for the busy schedule of these three people, and the emptiness of the conference room, and will also send out an e-mail. You have already set up the meeting. You can manage the schedule like this. This is the calendar.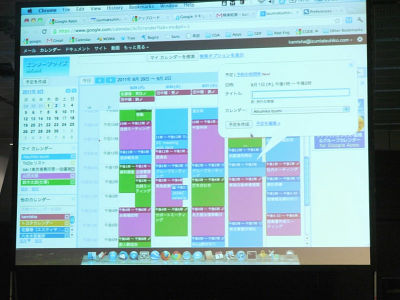 Next I will move on to the document. I mentioned this document a little bit ago, but we offerOffice suiteis not it. So-called words, Excel, PowerPoint. These things are available only on the browser. Although this is the actual interface (it is displayed on the screen), for example, in such a form, a thing like a preview is displayed on the right end side. This is a public folder on the so-called catalog. In short, in addition to this document, the office document sorting mentioned earlier, any file type as long as uploading is okay. You can upload such PDFs and PowerPoint files as they are, and you can upload things like still images like JPEG images, and you can also upload videos etc. You can also play Windows media files like this without uploading each one and launching the player. This is a very useful function, is not it? For example, you can create such a folder hierarchy, grant privileges to this folder, make it visible, and share it safely. You can expand it in the cloud instead of the Windows shared folder or windows folder. And regardless of where you go, you can see the same contents, even if you look at it on a person's computer, I think that working efficiency gets very high in such a form, and file sharing (file sharing) can be done.

I would like to take a look at the business report as an example in this issue this time. This is called a spreadsheet, but this is Excel right now.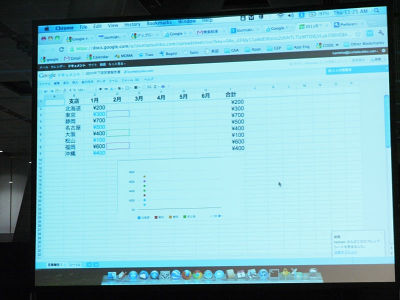 In general, how you use Excel is that each branch must enter something like this business report, the first thing to do is to make this file itself with Excel, and its power point and Link Excel by email and send it to everyone. Then wait for a while, if a reply comes from the other person, it is also necessary to report it together by me. If you take such a procedure, there are some people who are late, so if you do bad jobs it will take about a week.

So what exactly is the spreadsheet of our excel? I would like to look at it. I think that I would like to invite a charge once again because I would like to display a little input on the monitor just like before.

Izumi "Hello?"

B: "Good morning."

Izumi: "Since I start entering the form earlier from now, please do it if you say" Please "
B: "Okay."

Since there is a table here, I think that you can see here a bit. There are about nine items in this kind of portrait in length, but from now on I do not want to manipulate anything and I would like you to enter it on the other side (from the other party).

Izumi: "Well then, please."

At this point, input has already started on the back. It is about four people now.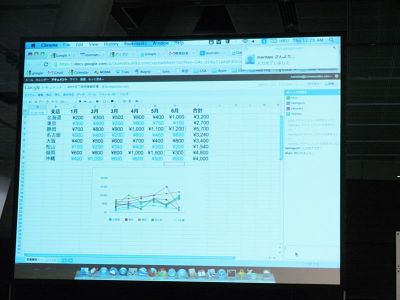 This color is different, awareness is different. When you turn on the cursor like this, the name of the person in charge will be displayed. In this way you can see that information is updated from each viewpoint in front of yourself. The total will also rise, the graph will also follow. The point is that negotiations of e-mails that may take one week in a moment will take place in front of us. As I said before, I'm also talking on video, so I'd like to ask you now, how is it going? Since this chat can also be converted on the screen side, it means that it was completed by making a confirmation while doing text chat like this and confirming "This is the latest data?" You can do this kind of usage.

For example, with the surrounding earthquake disaster, this spreadsheet showed outstanding power. I got an e-mail saying thankfully from our customers. Safety confirmation can also be done in a moment with this. Although I did not have such a safety confirmation system so far, I can confirm the safety of all employees in an instant by sharing, thank you. I gave thankful words. You can also use such a way. In addition, make estimates in front of the customer as various step folders, together, make estimates immediately, submit it on the spot. This speed feeling. Is that a combination with this speedy company and a company with you?

Next is Google Sites. In simple terms, anyone can launch a site with a simple interface like a word. We call these services Google Sites. For example, I tried making it with a theme called agent portal, but it is easy because I can launch it myself on this edit page. I will write sentences. In other words, without making content from scratch, it was a document like the one above, it was something like a table. You can also use gadgets etc. You can use calendar and tab.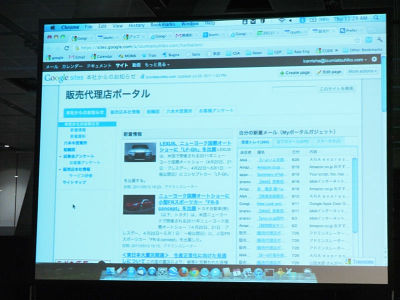 So even if you do not make the contents from scratch, since there are various materials that you share like the one you just mentioned, you can distribute the information on meaningful web pages simply by pasting it as the backbone . For example, you do not have to make every expression like this, every time. Since there is a tab in this template, it can be expressed in this tab. As an insert function, you can also paste the spreadsheet as before.

Since the map (Google map) is something else, we can express this branch office branch in such a place, and in this way we can create a map showing branches .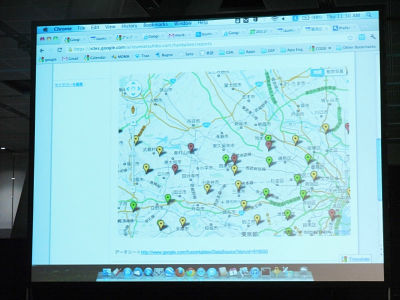 Recently, there are many requests at Google Sites, Notes. "I am making a Notes application on Google Apps at my place, but is there to receive a request for what to do?" At that time there is Google Apps Script. I also made this expense application form, though. Input and e-mail like this, and input data is saved in the spreadsheet, so you do not need a database.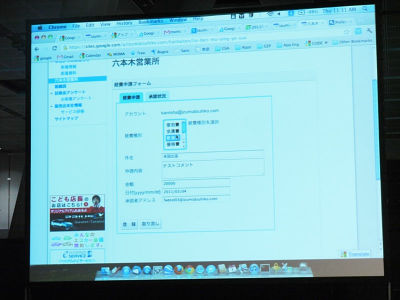 So you can create simple applications only in the application. How about using this? I will make a suggestion of saying. This is also available for one account, six thousand yen a year. Actually, for example, there is something like an engine (Google App Engine), you can use it, but you can do something like this without preparing such a new one. If you share information at first, you can do it with Google Apps Script to create gun gun processing and automate it. We introduced this by saying that these things are very useful.

This time it will be a movie, but you can publish the video in the company in a closed state like inside YouTube. In YouTube, it will be open to the public and only short video can be uploaded, but at this it is possible to upload and share training videos for a very long time.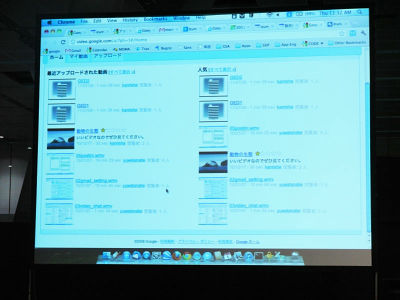 Next I would like to introduce the mobile people. This time I would like to use Android terminal.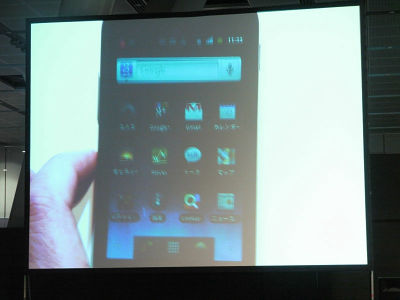 For example, in the document I saw earlier, there are things I saw from my computer.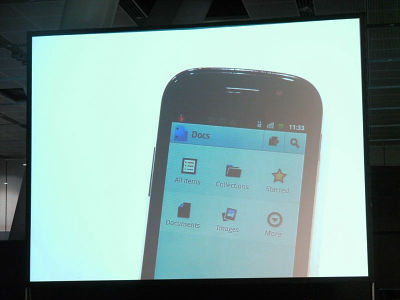 It is also such a mobile phone, you can easily see and edit the spreadsheet from the outside from the outside.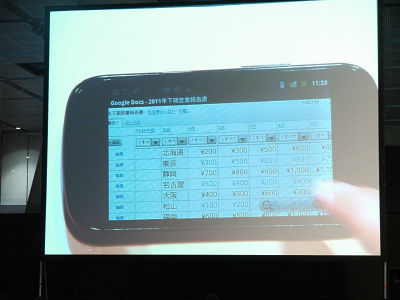 The previous one is Okinawa from Hokkaido. You can see your files more and more. You can also type in this way, so when you do not have a computer outside, just forgotten, you have to do now, when the phone calls from the superior and put it in immediately, There is nothing to panic. If you have such an iPhone or Android, these things you can work from outside.

For example, "Google Talk" this time. I just chatted from within Gmail. There is no additional fee for that. The same thing can be done on Android. People who have a video mark here are in the place where the camera is located as before, you can see that it is online because it is a green mark.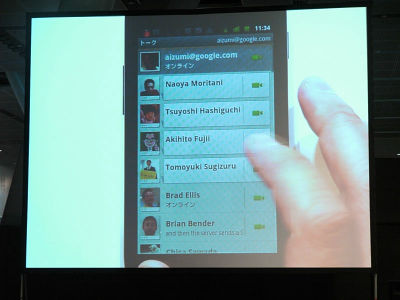 Looking at this downward, you do not have a camera mark. If you are busy or not logged in, you can say text chat with this, say to friends, for example.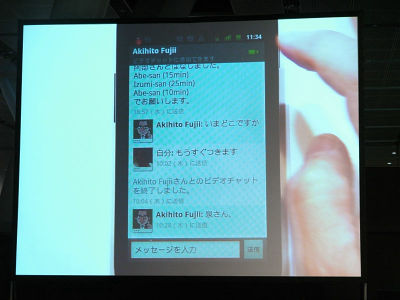 By doing this, you can call from these smartphones and chat with video. This kind of thing can be done only with Internet facilities.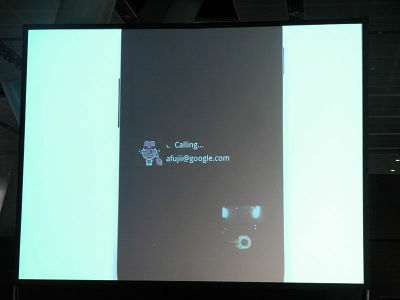 I am sorry for the talk of the disaster, but it was also active during the earthquake. Even in a situation where mobile phone carriers can not be used at all, it seems that those who could use the Internet could use this.

(Video chat is connected here)
Izumi: "Hello? Can you hear me?"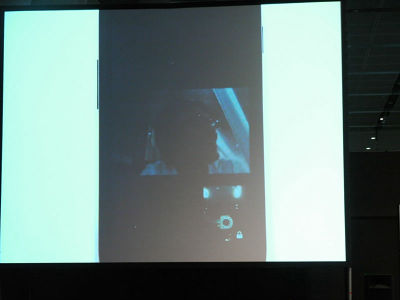 I do not seem to be able to pick up the sound right now, but in this way video chat etc can also be done with this mobile. This can be an iPad, it can be Windows Mobile. We support these various devices. Since we also deal with this, we do not have to worry every time new devices come out. We responded soon and the iPad finally responded. Since we provide such an interface, it is a translation that you can feel free chatting just by using it.

Is it providing these many functions? Also, although only one talk returns, in the e-mail interface, as merit of making IT correspond to the cloud introduced earlier, for example, it is possible to search and send it by e-mail from Google Doc on the previous Power Point I can do it. In the usual case, we do search using dedicated software, but from now on you can easily search from the mail interface.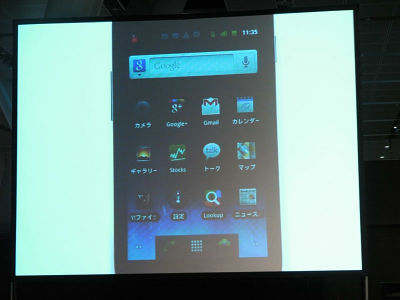 Finally, I would like to show you a Chromebook. This time it is Mr. Samsung's Chromebook.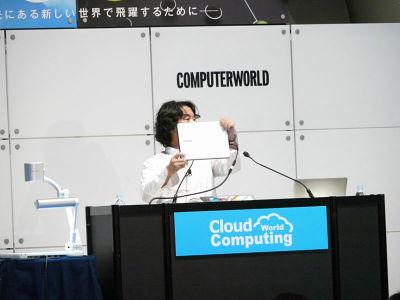 Although it is sold in the USA itself, it is also on sale in Japan, this is the PC of Samsung with the logo of this Chromebook, end staff.



I would like to show you a little bit of this one.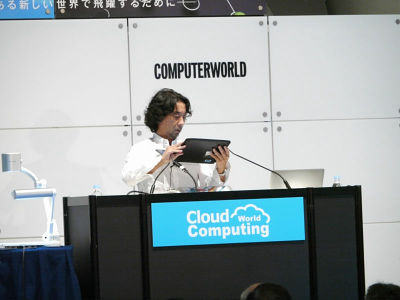 The power supply is in a state of being dropped now. I'd like to switch the screen to Chromebook now. From here, I wrote a startup speed nominally 8 seconds on the WEB page, so I would like to try it a little.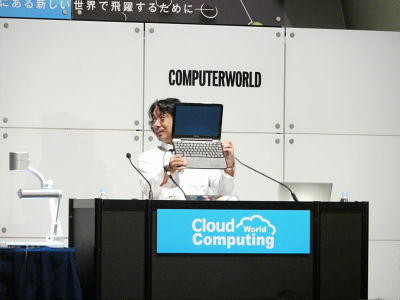 Press. 1, 2, 3, 4, 5, 6, 7, 8 ...... How about? It started now in about 8 seconds. You can start up with this speed even from the state of power off in this way.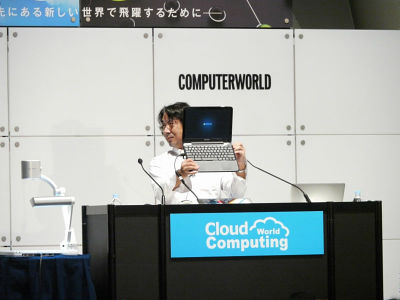 Please note that Chromebook requires Google Apps ID when logging in.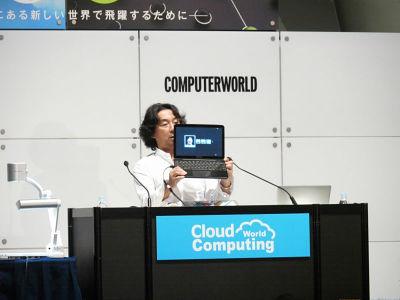 (Screen disappears on the screen due to equipment problems)
I try to turn off the power once more.

That's the spreadsheet I did earlier. This is shared, and after editing, the same thing is displayed firmly. Even if you lose your machine, for example, you do not need Windows with such lightweight OS of Google. This series of actions can be performed only by the OS provided by us. Until now, important documents and other things became pale blue when I dropped a personal computer. Everything we have made so far will be zero. On the contrary, if it is stolen and picked up by someone, the data contained in that computer will hack and possibly be stolen. With this Chromebook, it is encrypted, so even if you drop it, even if you set your ID and password securely, you can not log in even if it is stolen. The worry of being stolen is also greatly alleviated. And the material does not go away, it is said to return to hand in a moment. I think that one kind of Google Apps should be considered as a "100% web world" that such a world already advocates. I would like to terminate by myself above.

Abe: Izumi, thank you very much. Everyone, how was it? It is one of the things that Google Apps embodies "100% web".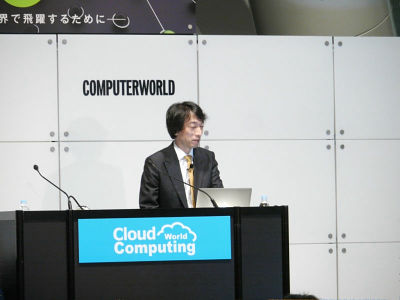 This Google Apps, which is often said, "It's just a mail, is not it groupware?", But there are some very different things. That is all clouds earlier, and it can be done in real time. Also, if you are doing hosting etc. normally in the data center, it is limited by hardware size, scalability, performance etc, but in a sense, we will do it using Google's plan entirely There are places where you can use it in the blue sky. I want to emphasize that mail is mail, chat is chat, or the office suite is not used as an office suite, but I use it all as one. Instead of conducting searches separately, we will find the necessary data in one place in a short time. By doing so, we are going to make it from productivity of collaboration. The core is our task of "searching for information". The task of "copying and pasting" and "presenting" is non-core work, it is a work that is not a core. By transferring this to the cloud, collaboration in real time means that when you are truly customers, you look at the data, judge it, and execute the idea at a later time. I think that the solution that supports that person in real time is the business of Google Apps. And that you can do anywhere, that is, you can do it on Android or Chromebook. We do not identify the device. It is a merit of "100% web", it will work with this cell phone, there is nothing at all that this tablet will work. For customers, I think that there is not a core there. If it is not a core, it is possible in the world of "100% web" to choose convenient ones without thinking anything unnecessary.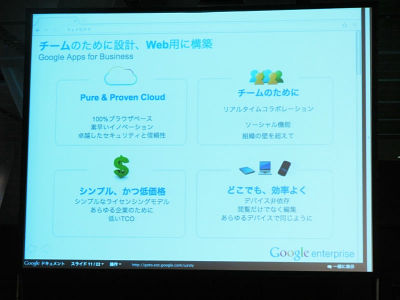 Another thing I would like to tell you is that we are "browser based", but it is the achievement of the cloud. When used in a company, reliability is asked. We have been doing this cloud service for a long time, but I think that no company has long been doing cloud services over us. As I thought,OpenXEven if you pretend that the software for the cloud service is provided, I think that reliability and quality so far can not be provided. One of us "Google Apps for Business" has a very simple price. As long as you attach this, it is not a story that you can not affix it, the device will of course be arranged separately, but everything you see earlier will follow. One that attached all that one can be used at a fixed price at 6,000 yen per person. I think that it is a great merit that we can use this as a subscription. Again, as the company gets bigger, I think that it is logged in under a larger agreement so that you have an existing big solution vendor, which is also a big break in the vendor, but we I do not want to bind customers in such a point of view, so I'd like to rest assured.

As I mentioned earlier, it is only at the stage where you got permission from the customer, that is, it is only one side but this customer is also in Japan.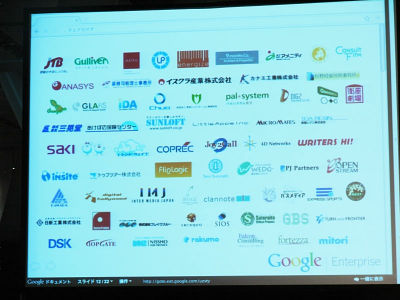 Although it was 3 million companies a while ago at global level, I think that we are going to about 3.5 million companies already, but this is our unreliable achievement. I have not heard from you that Google's email has stopped working or an accident has happened since I entered Google and probably will not stop Google as a whole from now on.

Next is further your advertisement, but not too many cases here. What we would like you to see is Mr. NORITZ, Mitsui Research Institute, Mr. Thane of Sakata, Tomi Dot, but I would like to draw attention to the expression of every customer. There is not a difficult face in common case articles, which is common. Everyone has a smile. It is not that we forced a smile, again Google Apps is simple, intuitive and fun to use by yourself. I would like to learn more if there are interests in the customer's facial expression of Google Apps, that is what we are seeing and what our products and services are from now.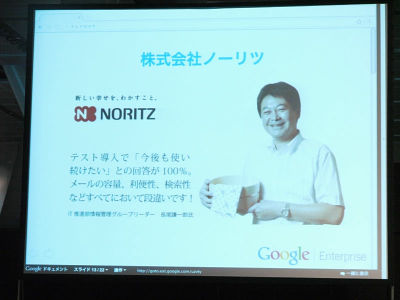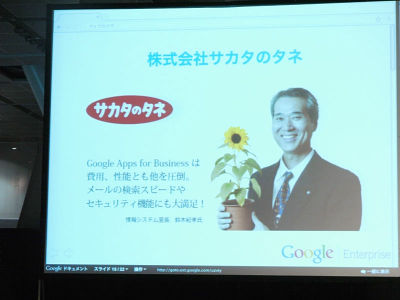 I would like to mention a couple of things at the end, I would like to tell you about "100% web" again from the first. "100% web" is a service that you use on the web, on a web-based basis, and all the data is kept in our cloud. Since this is not our belongings, since it is your belongings, if you are told that you can return it, we will return it at any time and because it's yours, we will keep your best security with great care. As I mentioned earlier, Google Apps, we are working on the basis of Google's big cloud. One way that the phrase "the foundation of this cloud" is said that I really like it. In addition to Google Apps, partners are developing various applications. Although it is said that it is hard to use halfway at this point, Google can use this foundation to develop your own software and system. This proprietary application also provides a platform called Google App Engine so if you want to do it, you can say "from Google" from top to bottom.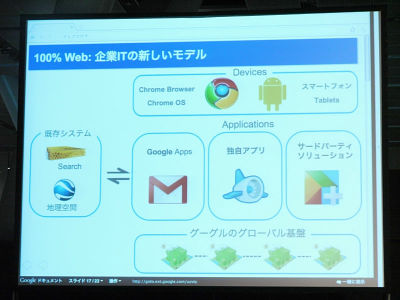 As I mentioned earlier, it's Google base, so I do not choose devices or browsers at all. It will be released from being caught by what customers do not need to be caught originally. In other words, "Is it going to be separated from all things so far as to go to Google?" That is not the case. Please start from where you can start from the place where you want to do this in the future, please come to our cloud. From there we write a roadmap and we think that we can come from our existing system at any time to our cloud. During the transition period so far, each of our cloud services are open to the API, so it is possible to pass the collaboration of your system using an open API. I would like you to remember this point and remember.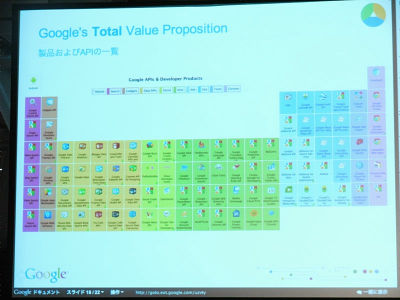 As I mentioned earlier, there are various ideas. Map in the site as before is also an API and there are various other APIs so you can see various images on Apps and use all the time when making your own software, It is mainly to be able to develop software at the top (meaning one stop service).

The second point is that we have also offered to quite a large customer, but now we have a partner who can propose Google Apps for Business with us especially for organizations with 150 or fewer employees We are recruiting. Although some entry qualifications are written, if you are interested, if you search on Google with "Google Apps agency start", it will come out with that, so thank you.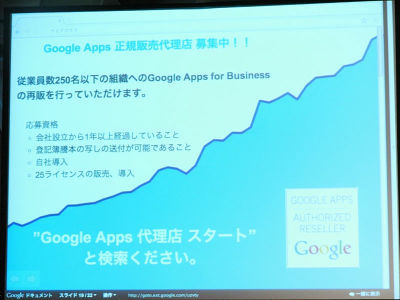 Finally, everyone, thank you for listening to our story so far and seeing the demo so far. We will distribute the questionnaire along with the materials at hand. There may be a part that we are still not sure about, story talkers and demonstrators, but I think that we would like to keep it alive next time, so I would like to receive a frank opinion .

Really thank you for today.