Sony is officially announcing "Sony Tablet S" and "Sony Tablet P", also 3G model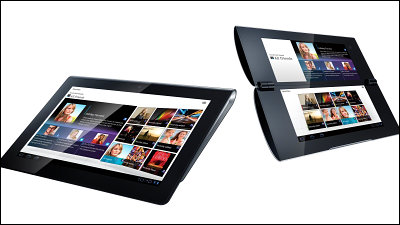 The tablet terminal that Sony announced as "S1" and "S2" this April was officially announced as "Sony Tablet S" "Sony Tablet P".

Sony - Sony confirms launch dates for "Sony Tablet" S and "Sony Tablet" P:: News: Sony Europe Press Center

According to Sony's press release, the company is said to release two models "Sony Tablet S" and "Sony Tablet P" in Europe from the end of September.

Both models are equipped with NVIDIA's Tegra 2 processor (1 GHz), a 300 thousand pixel front camera, an HD-compliant 5.1 megapixel camera adopting backside illuminated CMOS "Exmor" that is also resistant to shooting in dark places, IEEE 802.11 b / g / N compatible wireless LAN, Bluetooth 2.1 + EDR, infrared remote control function, 3 axis acceleration sensor, gyro sensor, electronic compass, illuminance sensor.

With "Qriocity (Curio City)" amended "Video Unlimited" of "Sony Entertainment Network", you can enjoy abundant video content, you can play original PS masterpiece titles etc on "PlayStation Store". In addition, Sony's unique tablet terminal is also possible to easily download e-book content at the online book store "Reader Store".

"Sony Tablet S" is equipped with 9.4-inch WXGA (1280 × 800) display, microUSB 2.0 terminal compatible with connections such as USB memory, SD card slot etc, battery operating time is 8 hours. The main body weight is 598 g for the Wi-Fi model (16 GB and 32 GB models) released in September and 625 g for the 3 G-compatible model (only for the 16 GB model) to be released in November.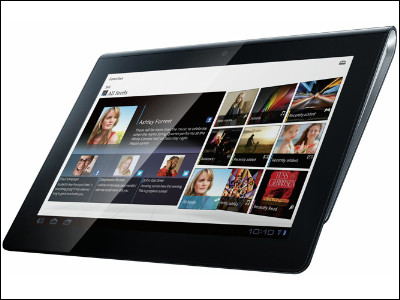 By adopting "eccentricity design" devised the center of gravity of the main body, it is possible to have the main body stably with one hand, making it easy to use even for a long time is a big feature.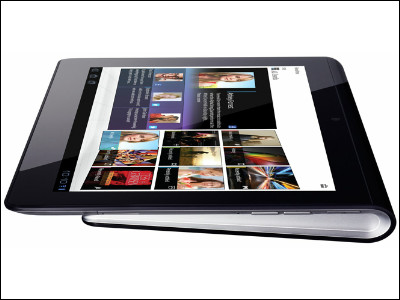 "Sony Tablet P" has 5.5 Ultra WVGA (1024 × 480) display, 4 GB flash memory, microUSB 2.0 terminal, microSD card slot, etc. It supports 3G communication and battery driving time is 7 hours. The main body weighs 372 grams. The release date is November.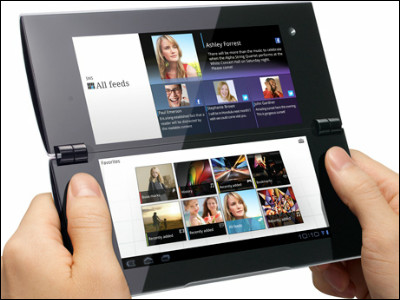 The OS will be released in Europe at the end of September "Sony Tablet S" Wi-Fi compatible model is Android 3.1, will be updated to Android 3.2 at a later date. The 3G compatible model released in November and "Sony Tablet P" has adopted Android 3.2 from the beginning.

· 11 o'clock 8 minutes additional on September 1

Two Android (TM) Tablet Terminal "Sony Tablet" released 2 models | Press Release | Sony

According to the press release announced by Sony, the Wi-Fi model will be released on Sep. 17 (Sat) together with the 16 GB model and the 32 GB model "SGPT 112 JP / S" on Saturday, September 17. The estimated market price of "SGPT 111 IP / S" is about 45,000 yen, "SGPT 112 JP / S" is about 53,000 yen. 3G model is open price.

· Next article
NTT Docomo Launches "Sony Tablet S" and "Sony Tablet P" - GIGAZINE
in Mobile, Posted by darkhorse_log