"Recording Association of Japan publishes survey results that" video site is negative influence, music illegal downloading is 1.2 billion files a year "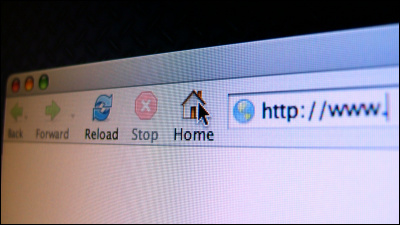 The Recording Industry Association of Japan, an industry organization representing record producers, released a report by "Committee on Survey on Utilization of Video Sites".

Publication of "Report on Usage Survey Investigation Committee on Video Site"
~ 70% of citizens use video site, music file illegal downloading Annual 1.2 -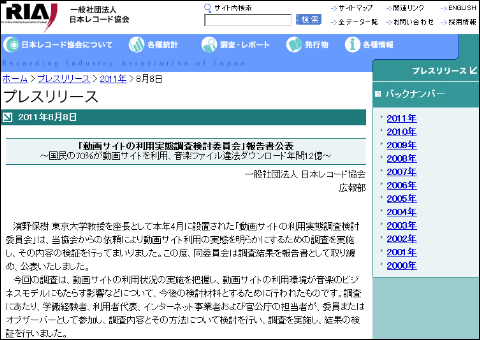 The purpose of this survey is "to grasp the actual condition of the use situation of video sites and to analyze the impact of the use environment of video sites on the business model of music etc. for future consideration."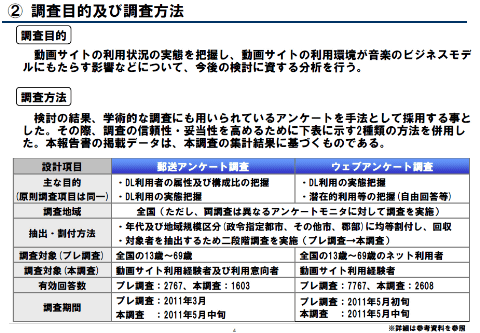 About 70% of citizens use video sites, and they have already grown into media that can be said to be social infrastructure, but half of them are experiencing downloading files from video sites.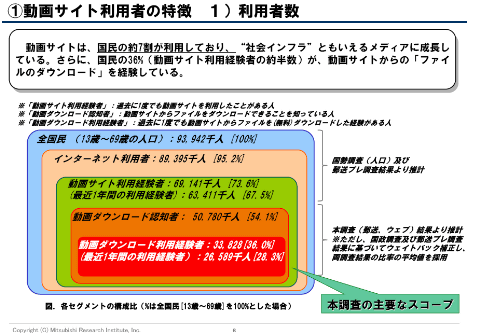 Although young people are mainly focusing on the use of video sites, as usage frequency and viewing time of video sites increase, consumption trends to music such as music software and paid distribution are said to be higher.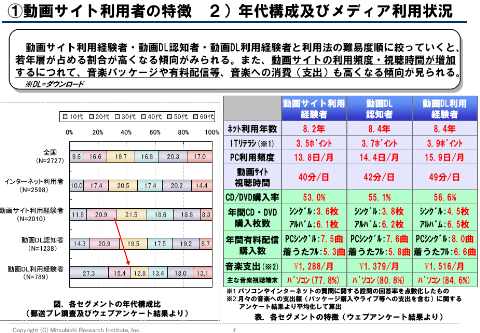 The video site you are using is YouTube, Nico Nico video, Gyao! There are three strong.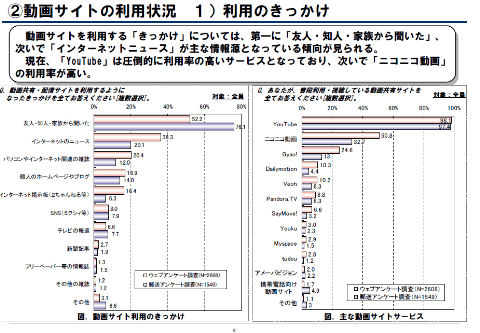 Commercial music accounts for about 60% of the viewing time of video sites.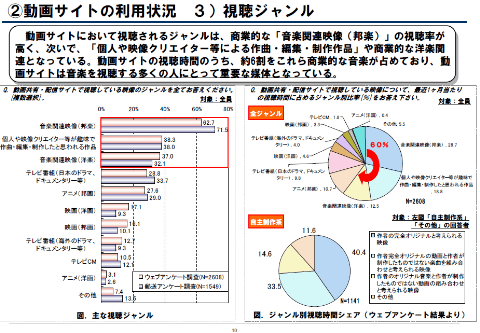 Recognized that over 70% of video site users can download files.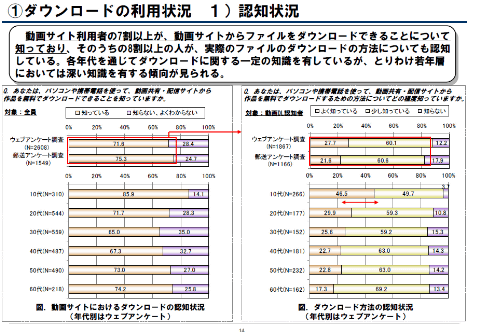 70% actually experienced the downloading while being aware. Teenagers' experience of use is the highest.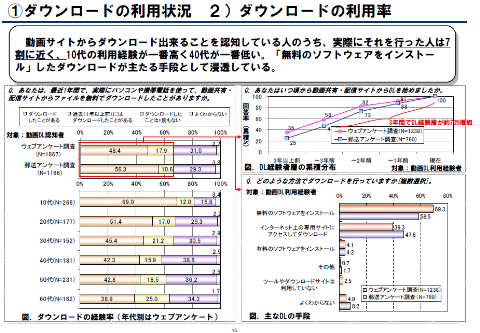 The reasons for downloading are "Reasons to watch whenever you want" and "I want to keep it at hand" occupy a lot, and reasons such as "High price of CD and music DVD are high" are cited.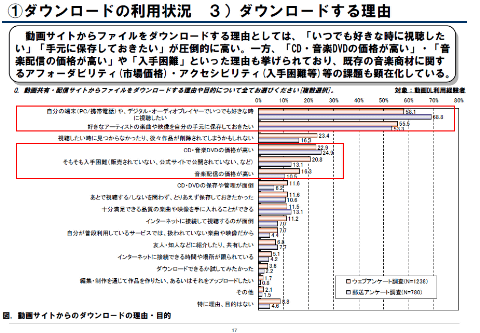 The annual average of Japanese music downloaded from the video site is 63.4 files per person. The total of commercial music files is 116.8 files.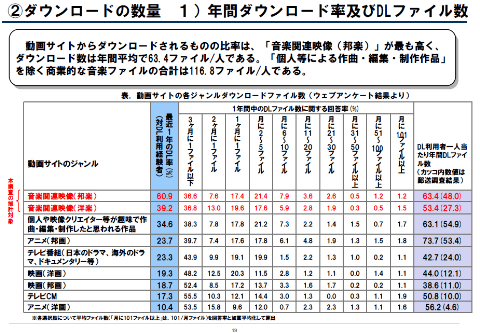 Estimated that files assumed to be illegal downloads account for 50 to 80%.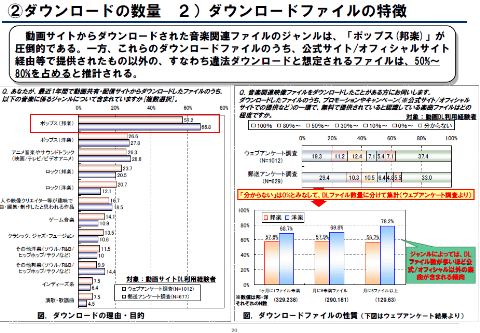 The estimated commercial music files estimated to be illegal downloads estimated from these data are estimated to be 1.2 billion a year, and it is expected that they will continue to increase in the future.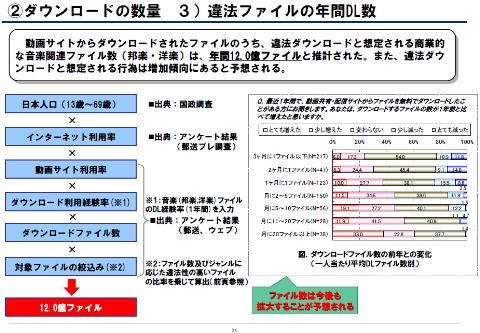 Influence of video sharing site. Opportunities for contacting music through the use and viewing of video sites are increasing, and in particular, active users against music contacts tend to have an increase in spending on music, but as a whole, There is a change in purchasing behavior that a decreasing tendency is seen.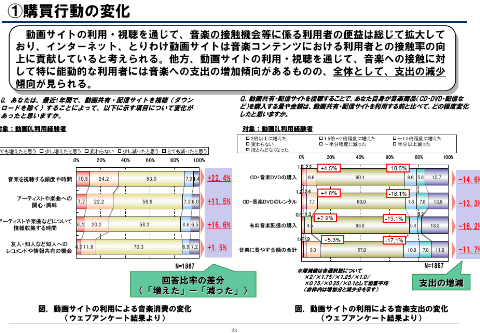 Regarding the layer "I am acquiring music as much as possible" of music, the result is that expenditure is decreasing, among others.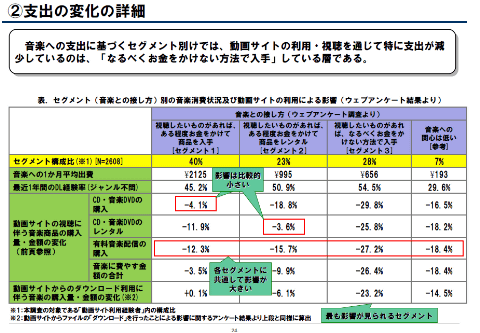 The positive attention and interests of music are expanded with respect to music by video sites, while for passive users, it is thought that a moving image site is "happy just by using" a situation that is born .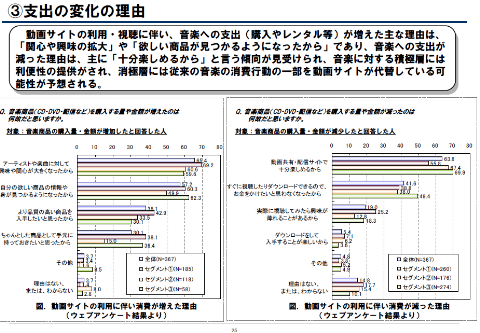 Taken together, "As a whole, offsetting plus and minus, it is speculated that movie sites have a negative impact on purchase of music CD / DVD, rental, expenditure on paid delivery To say that.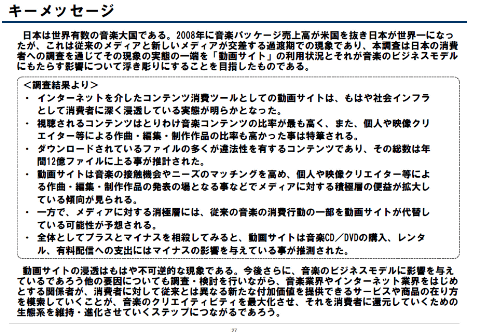 Also, regarding the future, the report concludes as follows, not complaining about video sites, but appealing to seek out services and products premised on existence.


Penetration of video sites is no longer an irreversible phenomenon. In the future, while investigating and examining other factors that may have an impact on the music business model, people involved in the music industry and the Internet industry and others are different from consumers in the past Steps to maximize creativity of music and to maintain and evolve the ecosystem to reduce it to consumers is to seek out services and products that can provide new added value Will lead to.
in Note, Posted by darkhorse_log