"Doubtful Rice Cesium" appears erroneously during program broadcasting, Tokai TV apologizes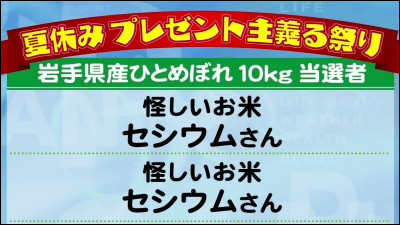 Tokai TV apologized for the display of 'Suspicious Rice Cesium Mr.' during TV program broadcasting.

Inappropriate description on "Pekin TV" | What's New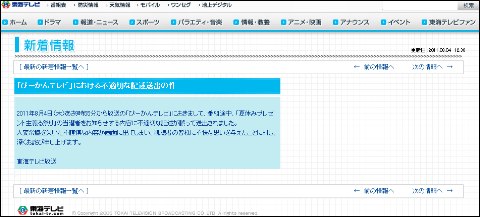 On Thursday, August 4, 2011 from 9:55 am Inappropriate description was incorrectly sent to the content announcing the winner of the "Summer Vacation Presentist Festival" on the program "Pekan TV" broadcasting It was.
We apologize deeply for the unscrupulous content lacking very common sense to appear on the screen and giving an unpleasant feeling to the viewers.
According to the apology sent by Tokai Television on the official page, the local wide program which broadcasted today from 9: 55Peekan TV"Inappropriate descriptions are displayed in the contents informing the winner of the" Summer Vacation Presentist Festival "in the middle of the program.

Contents actually broadcasted. Iku Prefecture "Hitomebore" 10 kg winner is displayed as "Suspect Rice Cesium" and "Contaminated Rice Cesium". Why on earth did this happen ...?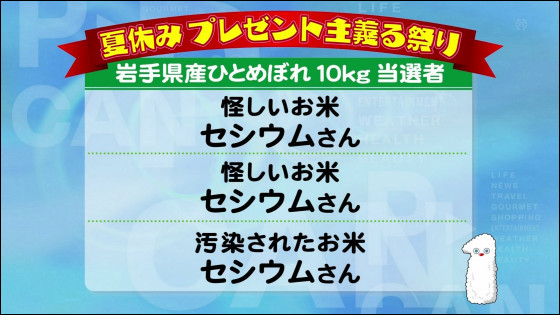 The ticker in question flows for 23 seconds during "Peekan TV" broadcasting, and the whole movie contains the whole story.

Tokai TV's joked ticker "Doubtful Rice Cesium" - YouTube


By the way, the character displayed on the lower Sumi of the telop is not only this program but also the mascot "Wando" of the whole Tokai TV, its identity is explained at the special site. When accessing the site, it sounds like "Wandho" crying continues ringing endlessly, so please be careful when you browse.

Tokai TV | Wando Tokai TV Character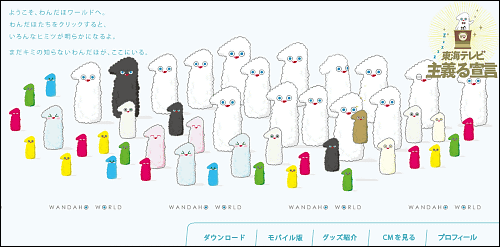 The form of "Wanda" is not a model of rice balls, but an image of clouds. It simulates "1" of Tokai TV's channel key number, it seems to be soft and can change into various forms.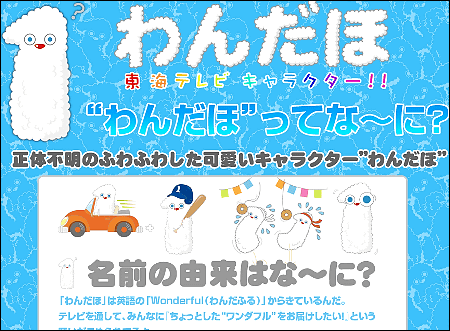 August 4, 2011 16:46 Addendum
Tokai TV announced a press release at fax to each media company. There is a ticker that includes phrases such as "Doubtful Rice Cesium" as a cause of "Since the tentative telop for rehearsal created before the telop producer was decided by the winner was sent with an operation mistake"It is clearly stated.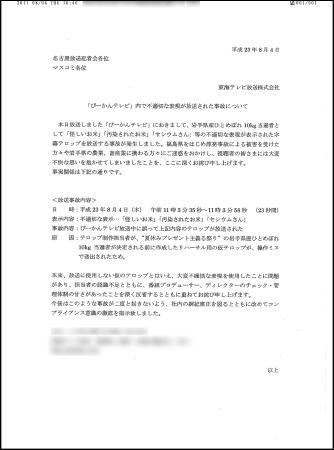 · Next article
Iwate Prefecture strongly protests to Tokai Television as slandering slander "Doubtful Rice Cesium" - GIGAZINE