Hitachi withdraws from its own production of television, production at the domestic factory ends in the current fiscal year


Hitachi withdrew from its own production of television, finished the production of television at a factory in Japan, entrusted it to all overseas manufacturers, and found out that it was a policy to withdraw from in-house production.

Hitachi Television to withdraw its own production NHK News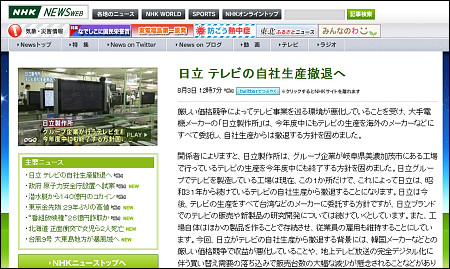 According to stakeholders, Hitachi has solidified its policy to terminate domestic television production in the current fiscal year.

The plant currently manufacturing televisions at the Hitachi Group is currently working only at factories in group companies located in Minokamo City, Gifu Prefecture, and it is said that this factory will be operated for the production of other products, and employment of employees will be maintained I will. By showing this policy, Hitachi will withdraw from its in-house production of TV, which has been in effect since 1945.

Hitachi plans to outsource all TV production to Taiwan and other manufacturers in the future, but since Hitachi is going to continue to sell television and to research and develop new products with the Hitachi brand,High-definition television "Wooo" seriesIt is supposed to be survived.

Hitachi's withdrawal from its own production of television is due to worsening profit due to severe price competition with Korean manufacturers and a decline in replacement demand due to complete digitalization of terrestrial television broadcasting, There is concern that reduction is a concern.

The business environment of major electronics makers' television business is becoming stricter, such as Panasonic, SONY, and Toshiba will be in the red due to the settlement of accounts from April to June this year, and concerns about future companies are also an issue is.

Posted August 3, 2011 16:37
When I contacted Hitachi Public Relations, I was not able to say that it was decided (about the contents being reported), but it is currently in the stage of consideration ", so the official announcement from the head office Although it is not, there seems to be contents that are considering on-house production of TV.