NTT DoCoMo is also considering launching Windows Phone, but after the summer of 2012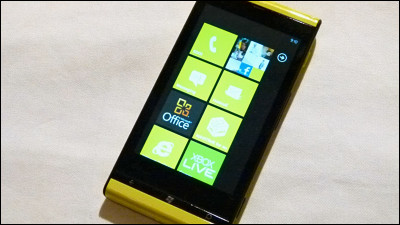 The other dayKDDI released the first Windows Phone 7.5 smartphone in Japan "IS 12 T (above picture)"However, it became clear that NTT DoCoMo, the biggest in Japan, is considering to launch.

DoCoMo President, Windows version Sumaho "On sale next summer": Nihon Keizai Shimbun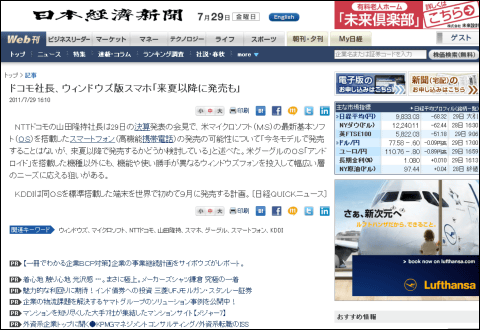 According to the Nihon Keizai Shimbun news report, President Yamada of NTT DoCoMo mentioned the possibility of launching a smartphone that adopted "Windows Phone" at the financial presentation today.

President Yamada said, "We will not release it in this winter model but we are considering whether it will be released next summer or not" and even if Windows Phone smartphone is actually released, from KDDI It will be about a year later.

Despite actively deploying Android smartphones with the catch phrase of "Android au", President Tanaka of KDDI explained about the reason why Windows Phone smartphone was introducedI think that it is the user to choose, it is necessary to arrange various things not only form and platform"Although I answered at the recital, I am worried about the reason why NTT DoCoMo is not very active in introducing this smartphone.

Apparently the key was held in JuneThe following comment which the company's Tsujimura vice president answered as reason for not introducing iPhone at shareholders' meeting of NTT docomoIt seems to be in.


DoCoMo wants to offer services that i-mode realizes when customers using i-mode are migrated to smartphones, because it is impossible for iPhone, iPhone I do not think about offering.
Like the iPhone, Windows Phone also said that "i-mode service can not be installed" is a bottleneck for NTT Docomo's introduction of these platforms ... However, since the summer of 2012, When Windows Phone smartphone is released from NTT DoCoMo, attention is likely to gather attention in what form to see the settlement.
in Mobile, Posted by darkhorse_log