Burger King Kansai's first opening store commemorative limited edition product "Dora sauce Wapper" tasting, "Spicy crisp chicken" etc.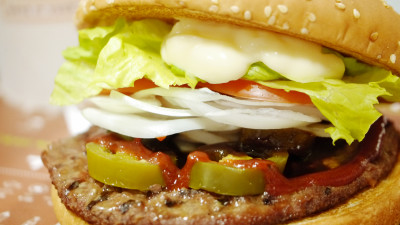 "Burger King Namba Center Street Store" that will be the first store in the Kansai area for Burger King will open on Thursday, July 21, 2011, but we have been watching the inside of the store a while before. In this store we will also sell the "Spicy Crisp Chicken" which will be released on Friday, July 29, with the limited source of the Kansai area "Dora Source Wapper" released for a limited time.

BURGER KING: Burger King
http://www.burgerkingjapan.co.jp/

Arrived at "Burger King Namba Center Street Store". It is a fancy appearance.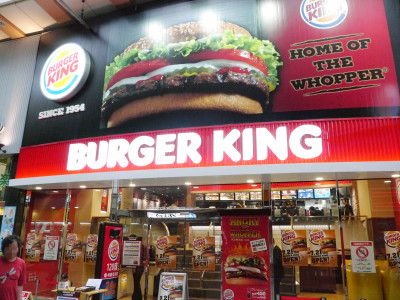 It is 24 hours business.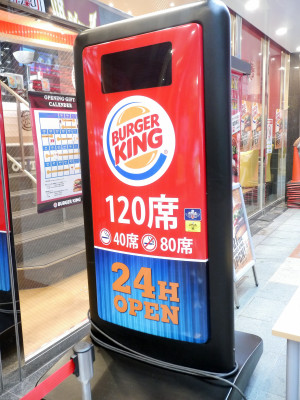 At the entrance there was a poster of "Dorora Source Wapper".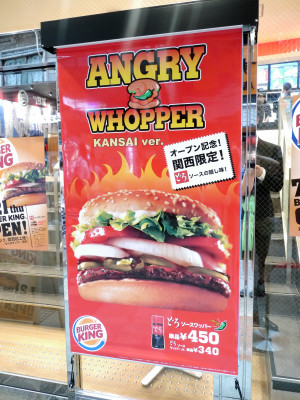 A counter at the place just in the shop.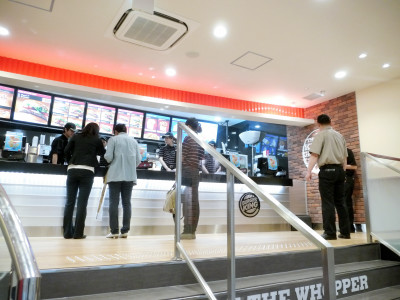 There are not many seats on the first floor.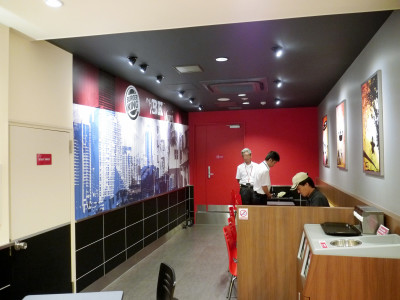 A state of the first basement floor.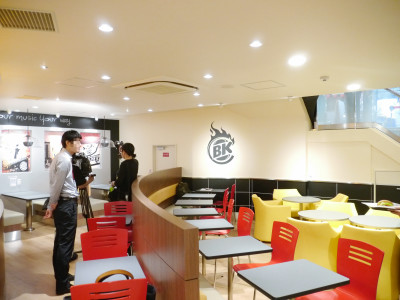 Smoking area is like this.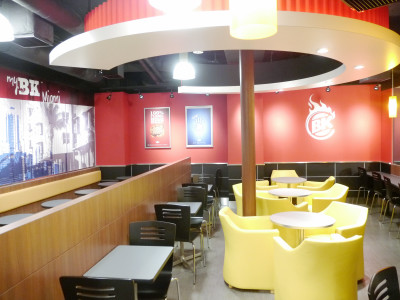 A red seat.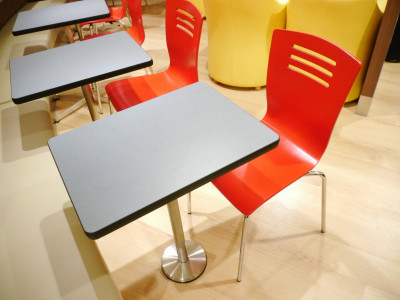 Yellow chair.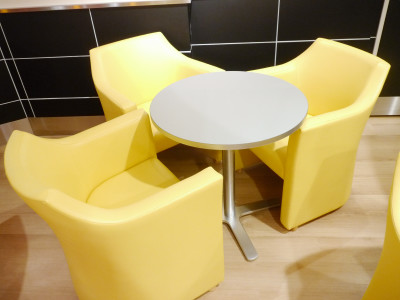 And on the wall "BK" mark.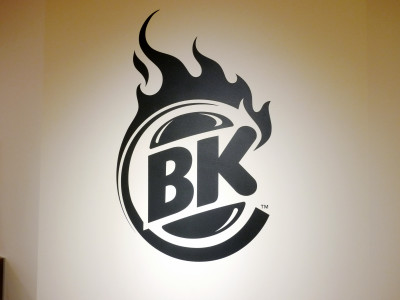 This slightly strange seat says "sound spot" and if you insert your own iPod or iPhone you can experience music like a shower.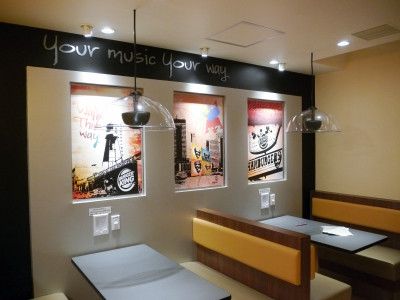 Plug an iPod or iPhone here.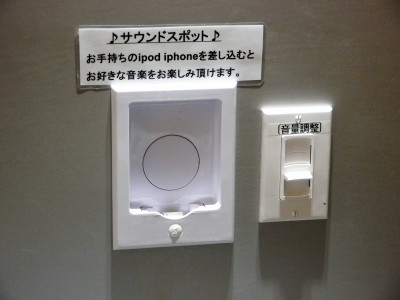 Then the music flows from here.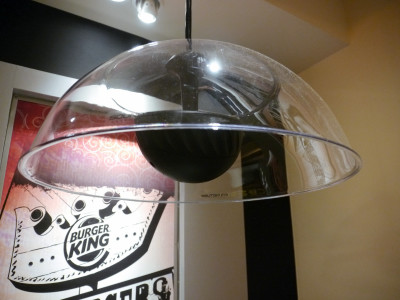 I actually inserted it.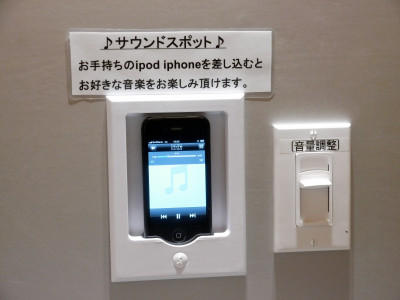 It feels like I can enjoy my favorite music even in the crowded restaurant with Zawazawa.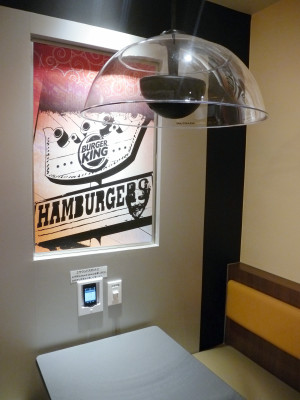 We visited the shop inside, so we will finish ordering.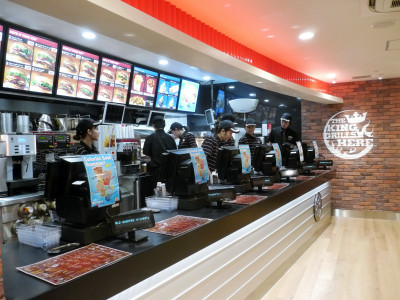 Here is the menu.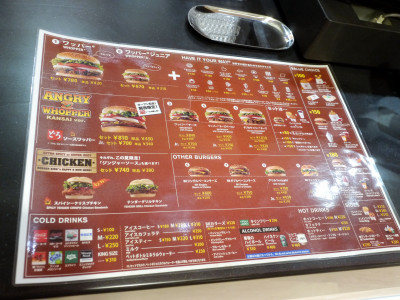 There was also a menu at the top of the counter.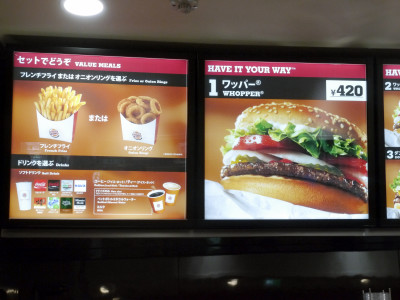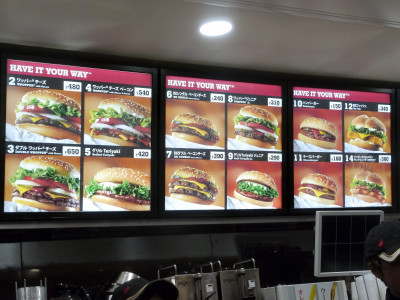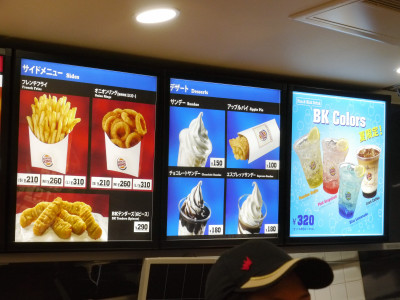 This is "Moro Source Wapper" MM set, 780 yen. By the way it is 420 yen if it is a single item.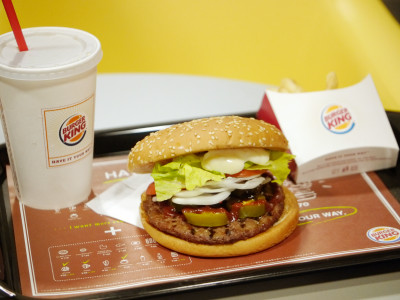 Used for angry sauce and okonomiyaki etc used for popular "Angry Wapper" all over the worldToro sauceIt is said that it is blending.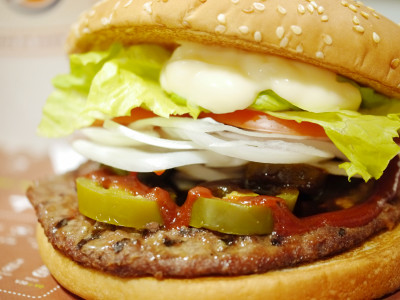 The buns are also bigger only for the wappers that have a diameter of about 13 cm.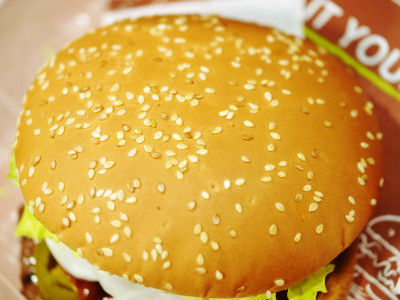 I felt a heavy weight and I grabbed it with Gabri opening a big mouth. Because the spicyness derived from Angry Sauce is quite strong, it will be touched a bit, but in spicy you can certainly feel the sweetness like sauce. It is an impression that beef patties, which has about 113 g of vegetables including pickles and tomatoes and pickles with plentiful vegetables abundantly emanating them as well. When I taste the harmony that buns, patties, vegetables, sauce produces with Musshamsha, I realize again that "Wapper is a hamburger seemingly like a hamburger".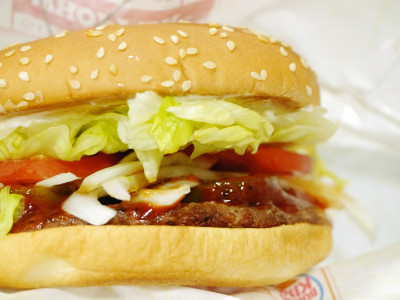 "Spicy crisp chicken (original sauce)" 380 yen to be released nationwide on July 29 (Friday). It is said that fried chicken meat is pickled in original spices such as chilli and rosemary.



I use powdery buns.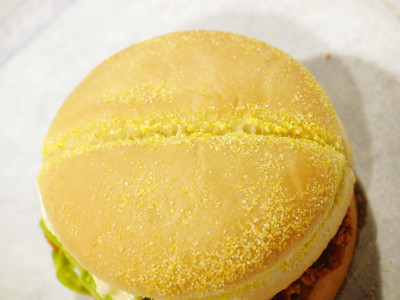 When I tried it, the crisp clothing is very good as a crisp touch. The chicken wrapped in it is quite soft and with spicy chili, the spicyness is weak. Compared with Wapper, the whole is small and there are not many vegetables, but it is a burger that you can taste the umami of chicken to its full extent. Is not it a satisfactory finish if you like the texture of a crisp clothing?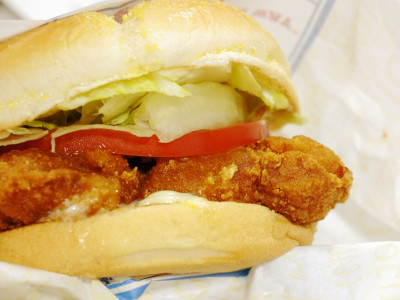 And "Spicy crisp chicken (ginger sauce)" using ginger sauce 380 yen.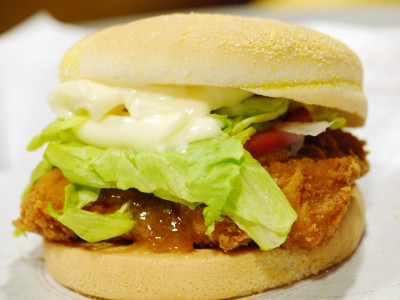 Ginger sauce is grated on soy sauce based sauce and apple is added and two kinds of ginger are used.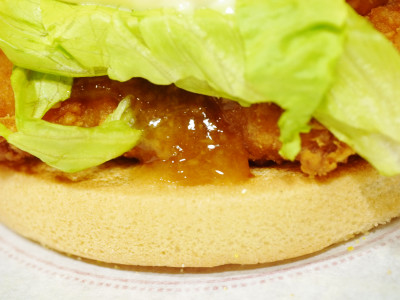 As the only source is different, the same as "Spicy Crisp Chicken (Original Sauce)" above is the same as before. However, the scent of ginger released by the source arouses appetite, so Japanese sauce-like sauce-like sauce goes well with crispy chicken. Because it is a feeling that the flavor of ginger is not too strong or too weak, even people who are not good at ginger may be deliciously eaten.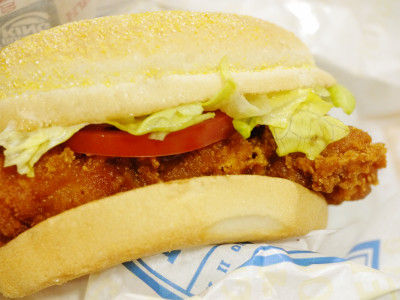 This is a classic menu "Tender Grill Chicken (Original Source)" 380 yen.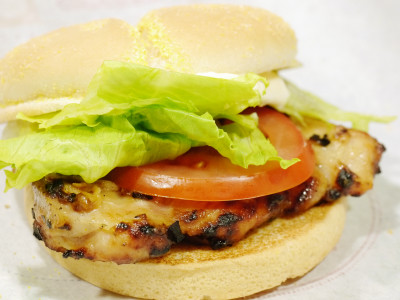 I was surprised by the softness of the meat that he burned in direct fire as I gouged it. The taste is diluted compared to other burger, but the chicken has a taste firmly, you can also enjoy the aroma of grilled eyes. It was the impression that as a whole it was a light burger.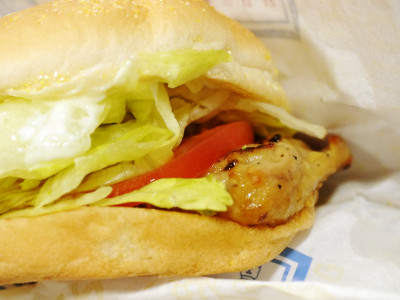 The final is "Tender Grill Chicken (Ginger Source)" 380 yen.



Plenty of ginger sauce is sprinkled.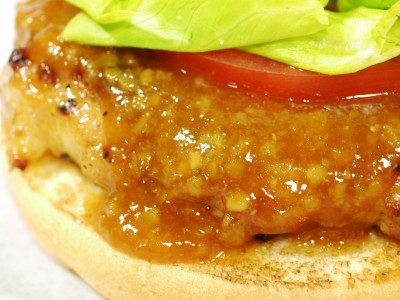 Again the scent of ginger emitted from ginger sauce makes me appetite, but sometimes "Tender Grill Chicken (Original Source)" was slightly thin seasoned, so the taste of chicken is good with the taste of Japanese ginger sauce. It is an impression that stands out. Personally, this person pretty much liked the original sauce, so it may be worth a try even if someone says that "Tender Grill Chicken (Original Source)" did not match.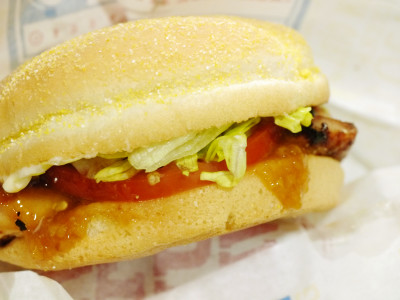 Furthermore, over the three days from the opening, 100 people in each day arrived "Original desk fan with BK logo" will be gifted. It is the person who entered the store after 9:00 on Thursday, July 21 (Thu), after 8:00 on July 22 (Saturday) July 23 (Sat) after 8:00 on July 21 (Thursday).