Sony's new rechargeable battery "Nexelion" to achieve ultra-long-term driving notes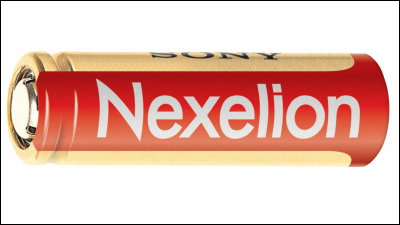 Sony's high-capacity rechargeable battery for notebook computers "Nexelion (Nexerion)"Was developed.

Sony Japan | Developed high capacity lithium ion secondary battery "Nexelion" for notebook PC market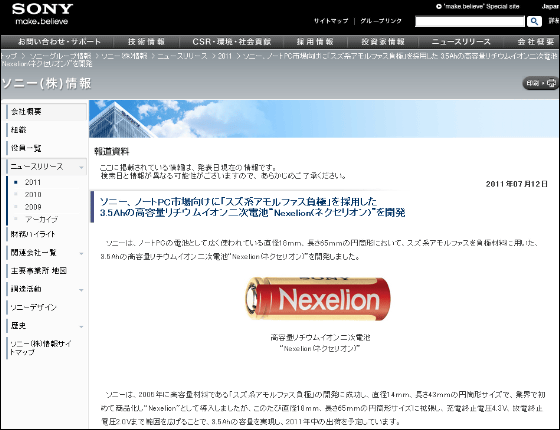 According to Sony's press release, the company has developed a new high capacity lithium ion rechargeable battery "Nexelion" for laptop computers.

"Nexelion" body. It is a lithium ion rechargeable battery that adopts a "tin-based amorphous negative electrode" that realizes high capacity, when it was first commercialized in 2005, it was a cylindrical size with a diameter of 14 mm and a length of 43 mm, but for a notebook computer Extended to cylindrical size of 18 mm, length 65 mm.



By optimizing the shape of the negative electrode particle from 2005 and adopting materials that have improved practicality and mass productivity, we expanded the range to the end-of-charge voltage of 4.3 V and the end-of-discharge voltage of 2.0 V, It also achieves a large improvement, 3.5 Ah large capacity has been realized.

In addition, the tin-based amorphous negative electrode of "Nexelion" has high charge characteristics, it is said to be capable of rapid charge, and it is said to realize a high capacity retention ratio even in a low temperature environment of minus 10 degrees to 0 degrees, shipment is Scheduled for 2011.

Comparison with conventional products. Since it achieves a large capacity of 1.5 times or more, it seems that a significant increase in driving time can be expected by combining with a power saving CPU.