What is retort curry and the difference of clouds, a new curry of Roiho "Maharaja style indian chicken curry" "tasty cattle meat and radish curry"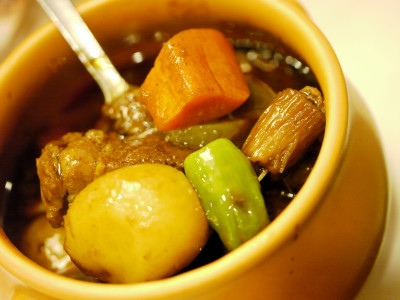 The Royal host, which has been 29 years since the start of the curry fair, sells all six curries from the "Feeling" from the bottom of the curry "from June 20 (Monday), but one day ahead At the tasting party "Maharaja style indian chicken curry" "Shrimp · Scallops · Funaki seafood curry" "Kashmir beef curry" "Beef fillet and radish curry" "Thai style green prawn curry" "Royal Tari" (Madras Wind prawn curry + spicy beef curry + yoghurt chicken curry) etc. Even merely by arranging the names, it is diverse, but the taste is also rich in variations and all are different, and it has become a curry firmly established personality.

Tasting meeting report of curry making is from the following.Family Restaurant Royal Host - Royal Host -
http://www.royalhost.jp/

Royal host curry fair starts on June 20 ♪

Arrived at Leojo.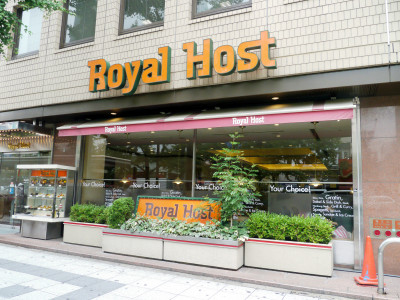 There was a curry fair menu in the tasting venue.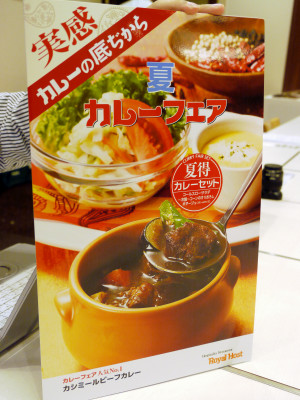 The curry has 6 items in all.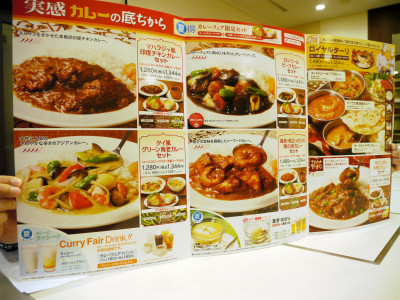 And the summer desserts.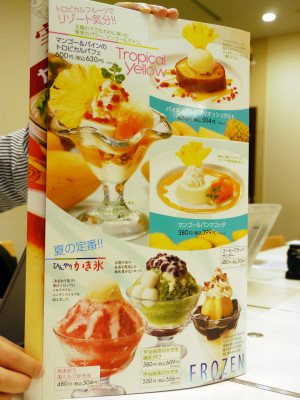 There was also a page that felt the history of Leujo's curry fair that it has offered about 30 million meals in 28 years.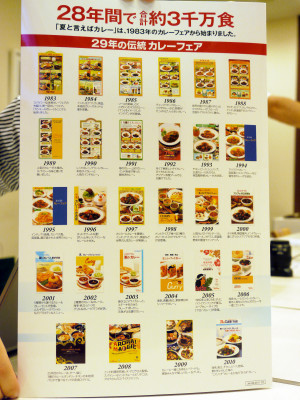 The first thing that was brought to me was "Callsaw Salad" which comes with curry as a fair set and "~ Cold to Corn Grated Potage" (315 yen including tax, total 145 kcal).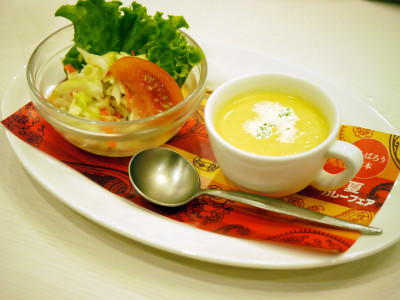 "Callsaw Salad" is.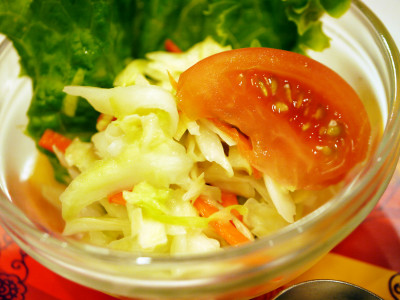 Although it is a honest call throw, there was a fresh impression as vegetables are fresh or shakiyaki.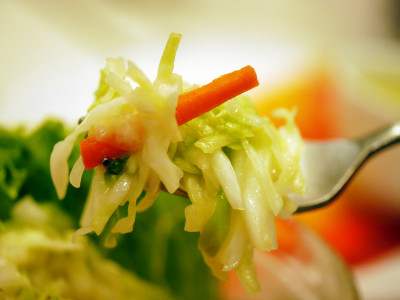 And "~ cold ~ corn grated and potage".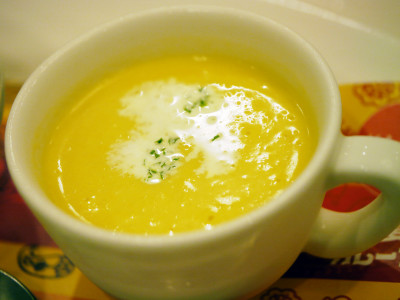 Potage has a feeling of grinding of corn considerably so it seems like a side dish. The taste is quite sweet. On the whole it is a level comparable to a cold corn potage coming out in a slightly upscale hotel restaurant, I highly recommend it.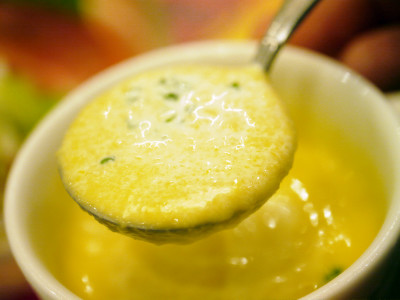 Next on is "Royal Tari" (1554 yen including tax, 1171 kcal).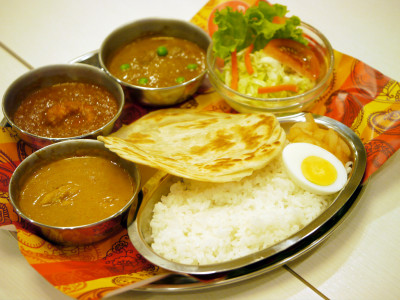 Eggs are included with rice.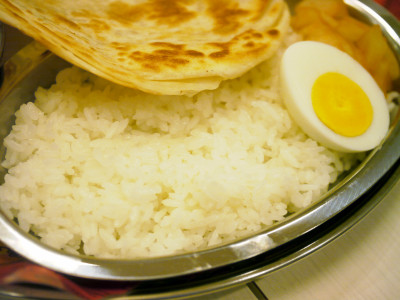 Apart from rice, the staple food is Palota (flat bread) imported from southern India, which is like a baked two-sided pillow round the pie dough.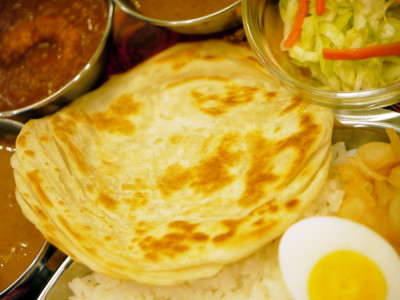 There are three kinds of curry, this is "yogurt chicken curry".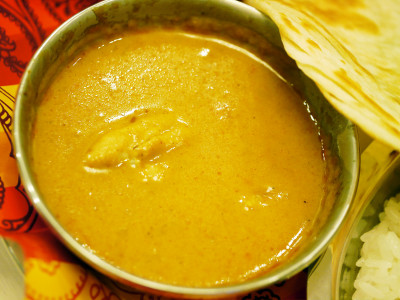 It is said to have finished with 5 kinds of fruits and yoghurt, sweetness and acidity of yogurt match very well with curry, yoghurt is melting in without feeling anything uncomfortable. Slightly mild, it seems to be okay for those with poor weather.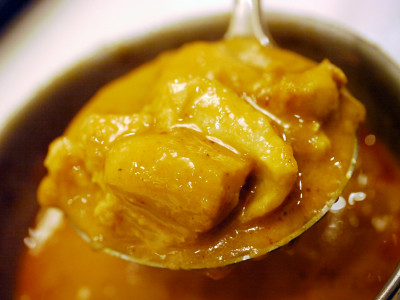 And "Madras style prawn curry". Tasting was not possible here.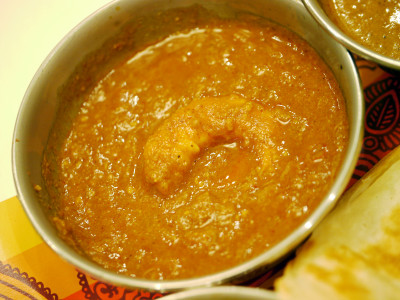 "Spicy beef curry" at the end.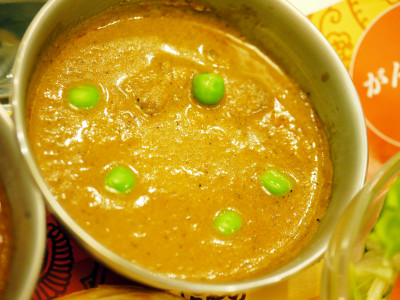 Sour taste is slightly strong, there are a lot of pepper, there is umami in hot. Beef is also very soft, if you like spicy curry, it is a taste called strike. Everything fits very well because it is based on matching with Palotta, but it is completely harmonized with Rice.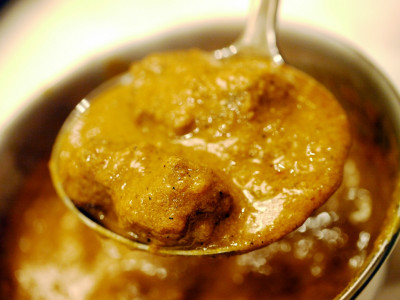 Plain Lassie (378 yen including tax, 143 kcal) is brought to you, and the tasting starts in earnest. By the way, Lassie was a nice sweetness and it was a perfect drink for the summer.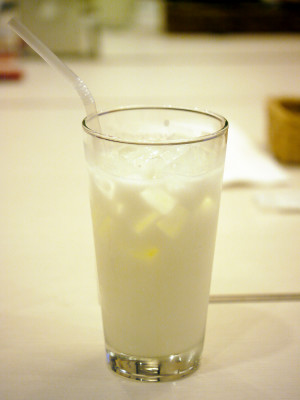 This is the curry fair of the curry fair this year. Since it can not eat everything if it is in the amount shot at the shop, it is divided in small quantities. "Maharaja style indian chicken curry", "Shrimp, Scallopes, Funaki seafood curry", "Kashmir beef curry", "Beef fillet and radish curry" in clockwise order from the far left. What is served in the silver vessel is those of "Spicy Beef Curry" and "Yogurt Chicken Curry" that comes with "Royal Tari".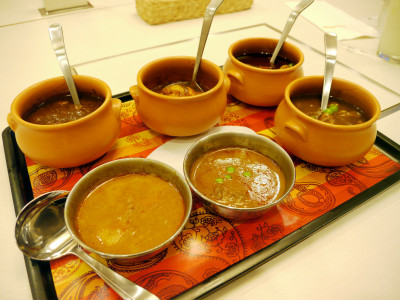 This is "Maharaja style indian chicken curry" (1029 yen including tax, 948 kcal).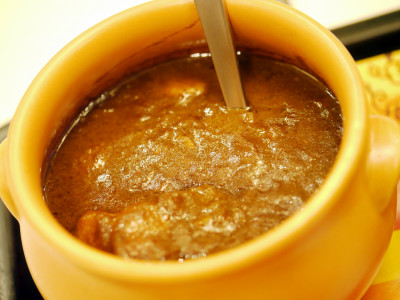 BouillonThe rich body of luxury is born by, and the balance of spicy is exquisite. It was an impression that it is probably an orthodox curry which seems to accept a million.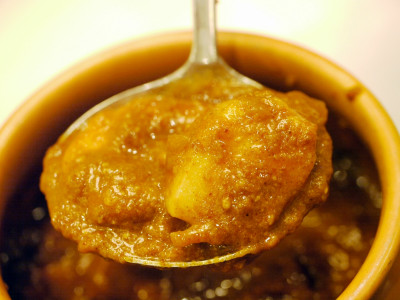 In addition, an example of the actual meal is like this.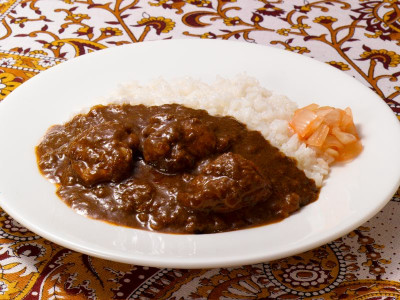 Next time, "Shrimp, Scallopes, Soup Curry of Mekazaki Sea" (1239 yen including tax, 807 kcal).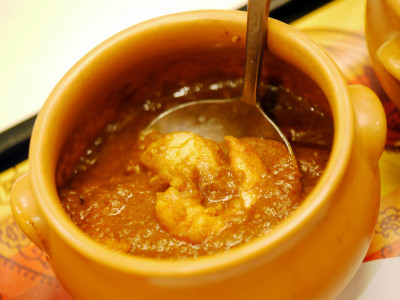 It is a taste of seafood curry based on seafood and almonds, nuts such as cashew nuts, but it has a good flavor with sweetfish chewiness and a good texture of scallops and shrimp. There is quite spicy hotness, but those who like seafood curry have had a satisfying taste.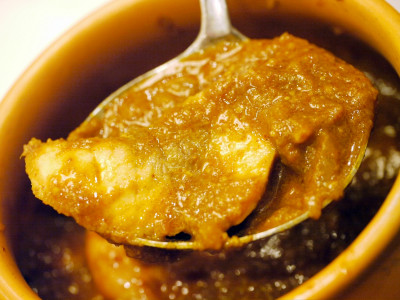 Here is an example of a dish.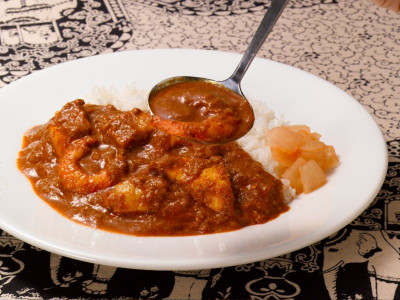 Then "Kashmir Beef Curry" (1134 yen including tax, 883 kcal).



Since it first appeared in the first curry fair in 1983, it is said to be the most popular curry. Although it is impression that it is a classic taste only in the popular menu, since it uses 21 kinds of spices, there are spicy and umami with a very luxurious feeling and the taste of the spice mixes complicatedly in Sarat The depth is born to the taste.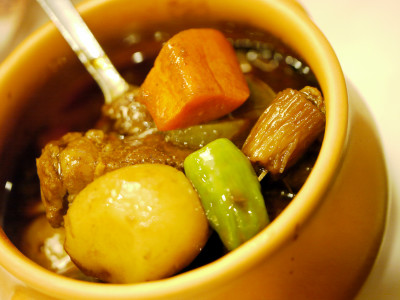 An example of a dish is like this.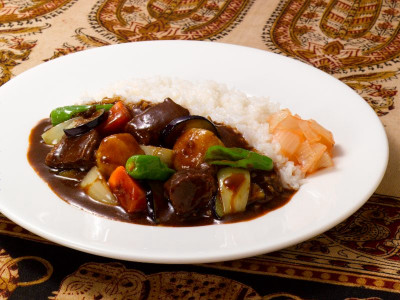 This time "Beef fillet and radish curry" (1134 yen including tax, 663 kcal).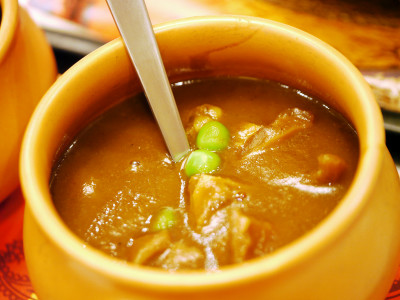 The stewed beef streak is the main.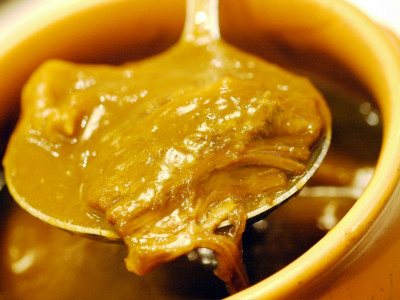 Very Japanese style with melted radish and mellow. Beef streak meat is soft and stewed, and the taste is properly stained. Unlike buckwheat curry etc, it was quite fresh taste. In addition, it seems that there was also a plan to put in konnyaku and burdock too.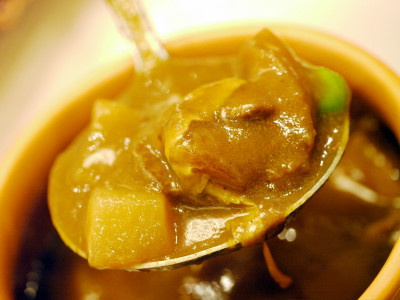 Actual concert is like this.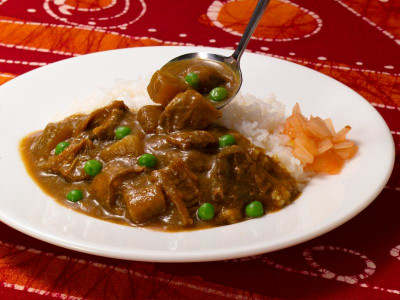 And this is "Thai style green prawn curry" (1029 yen including tax, 982 kcal).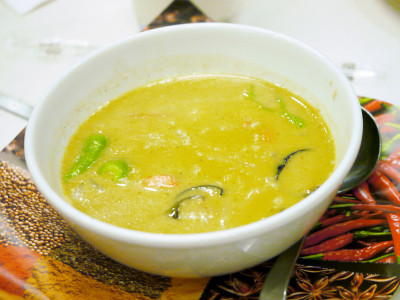 The shrimp was going down.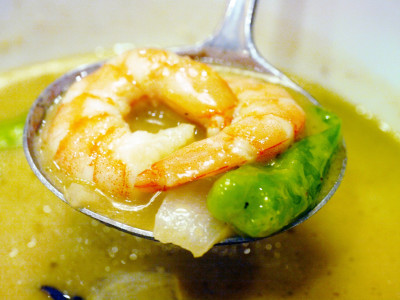 It is a taste with spicy hot pepper in the scent of coconut that seems like green curry, but it is impression that there is a refreshing spicy even for creamy or for Nampura. It seems that emphasis is on umami rather than spicy, it tastes quite deeper than general green curry. And the compatibility with Palota was very good.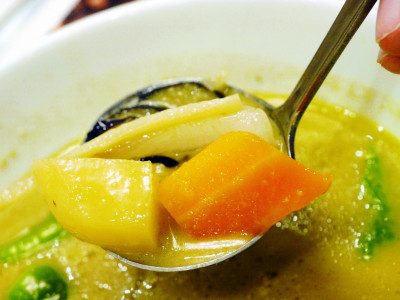 This is an example.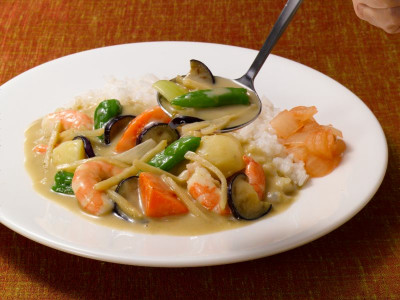 Every curry has a satisfactory finish as all the taste tastes are steadily shifted, and as a whole it was the impression that "the curry of the taste not quite able to be made at home". Even those who like curry, as well as those who do not eat curry too much, there are a lot of curries of fresh taste, so is not it worth a try?