Bonds SF battle action can be seen "Towanoquion" Chapter 1 Completion Show Preview Schedule Report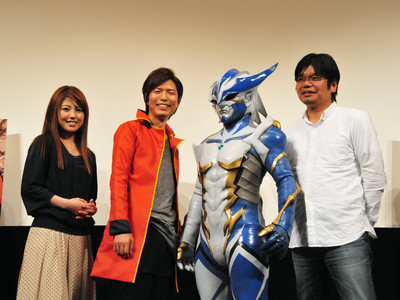 From June 18thOriginal animation movie "Towanoquion" releasing all 6 chapters for 6 consecutive monthsThe first chapter of the publication will start.

Prior to this, a preview show preview was held on May 28th inviting fans. As a guest, a talk was held about voice actors Hiroshi Kamiya, Mr. Ryoko Shiraishi, and Ms. Mamihiko Minami of Bonds who was in charge of animation production, and struggling to work and acting in the act. According to South Producer, although it is said that staff members who are good at actions at Bonds are participating in this work and production is tough, but "Make a work that matches only the serious thing I will be able to listen to the mighty words that I'm going to go. "

Details of the event are as follows.
Towanoquon official website
http://www.towanoquon.com/

Completed show preview was held in space FS Shiodome.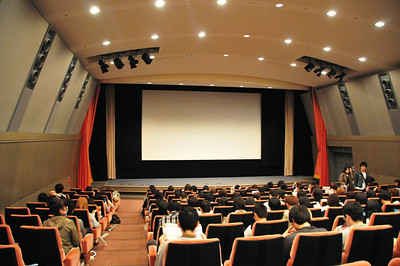 The poster is a design like this.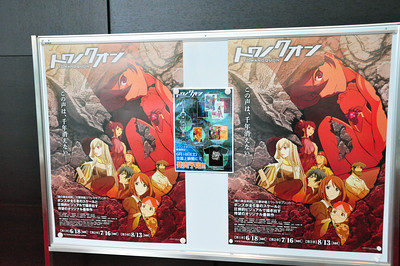 List of products to be sold at the theater. A4 clear file set (700 yen), strap (1000 yen), book card (1200 yen), setting material collection (1500 yen), T - shirt (3000 yen).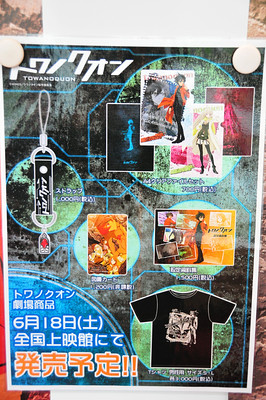 First of all the screening of the completed first chapter was done, followed by a talk by Hirofumi Kamiya, Mr. Ryoko Shiraishi, Yuri, Mr. Minamihiko Minami of Bonds, acting as Quon. He served as a moderatorAizu KobayashiMr.

Kobayashi:
Although it was about 40 minutes to 45 minutes of seeing the main part, it seems that the feeling time was like a longer feeling, or the action and the impression were the same as the work which exceeded one hour ... .... Is he who does not speak?
(Venue lol)

Let's call today's guest. Please welcome with a big applause.

Kamiya:
Hello everyone. It is Kamiya Hiroshi who is responsible for Kuon 's voice. Thank you.

Shiroishi:
It is Shiraishi Ryoko of lily role. Thank you.

Minami:
Producer, south of Bonds. Thank you.

Kobayashi:
I think that there are impressions of the work etc, so I would like to ask you about it first.

Kamiya:
I also showed you for the first time with you in the first preview of the previous time. In the action scene from the beginning, when the work title comes out, it is overwhelmed by the action to about goose bumps, and when I notice it, I heard the voice of Mr. Kageyama Hironobu who is shouting .... It was such a melodic song, "It will not be able to sing only Kageyama san" but it was a really hot song.

Shiroishi:
There were quite a lot of action scenes, there was a sense of speed. With the sound entering and the color, different from the Towanoquion that I know, I thought "It's real, this is done!" I was touched knowing today too.

Kobayashi:
There are also producers who made it, but how are you?

Minami:
Eh ... ... bully? (Laugh) I am a bit sleepy because I was working until 10 o'clock in the morning to see everyone today. Everyone, have you enjoyed it?

(Clapping at the venue)

Minami:
There is one apology for everyone. What I looked at today saw the sound relationship on 2ch in stereo. This is because why I could not do 5.1 ch even until 10 o'clock in the morning. Excuse me. I think that power was transmitted very much also on 2 ch, but I think that you can see it with 5.1 ch at the theatrical release with sounds and images with more volume feeling, so please have a censure. Also, I am sorry that the color is not attached at the time of dubbing!

Kobayashi:
Even if you leave color, etc. at the time of dubbing, BGM and SE are not attached, so today is the finish.

Shiroishi:
Well, so, "There was such an action!" There are also, and I do not think that the background is so beautiful, I was moved to see the scenery.

Kobayashi:
I thought that I was watching this is the landscape of Tokyo's future.

Minami:
I agree.

Kobayashi:
So, as you look while thinking that it is the place you know, "It's a bit different from the reality." It's the same name, but it's a different design.

Kamiya:
You could see a landscape that the earth was eroding to Tokyo Bay.

Kobayashi:
Acting in such a world is the character that the two play, but first, Mr. Kamiya. How was the role of Kuon made?

Kamiya:
Before I read the script, I got the materials of the work summarized by Wakabayashi Aco Director and the scenario up to 3 stories. Before seeing the story .... There are things to get the scenario first, but there is little to receive the materials summarized by the director himself. While everyone was watching, I thought that many words flied around and I was surprised, but when I got a note about that word or when I met a sound director at another site I was asked to set up details.

Because there was no audition, it was the form that we all looked at each other for the first time in the drama of the first episode and showed off the voice of that role. Of course there were pressures, but I think that I was going to do dubbing in a nice tension. About Kuon, "Because it is such kind of thing that is kind hearted, the reason is this kind of thing because it was explained by the sound director beforehand" Because of that, I am intending to do so, and for insania · kuon it is perfect beast, well Because I was told that you should give me a voice.

Kobayashi:
It is from the first scene.

Kamiya:
Yes, because I was already doing my best from the first scene, the completion system is like this.

Kobayashi:
It may be because "I know the story of the past", but Kuon is a character that should know various things of the world view.

Kamiya:
Well, if you go deeper into the story about that, it may be that there is too much information in the first chapter. If there are fine hints scattered in various places and if you are sharp one's intuition, there may be places where you can guess "is this kind of thing like this?", But please look forward to Chapter 2 or later I think that you would like.

Kobayashi:
That kind of gentle calm Kuon is kinda damn ...... It is lily Yuri which Mr. Shiraishi performs quite appealing.

Shiroishi:
I did not think that it was there until I got a script, but when I actually saw it, only the scenes that Yuri was involved in Kuon came into my eyes and said, "What kind of power was that Yuri? It was sometimes thought that it was serious. Lily is Kuon and two members who can actually fight in the attractor. Everyone has their own abilities, but lily is the ability to run fast. According to that ability, her behavior is "momentum".

Kobayashi:
Do you make such a character?

Shiroishi:
I agree. Also, in Chapter 1, I think that there are places like girls that are involved with Kuon. Were not your sexual ass or posteriorly?

Kobayashi:
That angle or layout is wonderful, are not you?

(Venue & Kamiya Laugh)

Minami:
It is wonderful. That is probably the most sexy cut in my animation. As it is usually only robots and wolves, it comes out.

Kobayashi:
It seems to be the best in Bonds.

Shiroishi:
I did it, I am happy. Yuri had changed clothes considerably as well.

Kobayashi:
There were about 3 patterns even for the first chapter we saw today.

Shiroishi:
Originally I was wearing a sexy appearance, so I thought that I wanted to give out such girls' likeness and good-looking.

Kobayashi:
When I have this appeal, when I connect with Chapter 2 and Chapter 3 in the future, I think that there are love romance between Kuon and Lily, too ... ....

Shiroishi:
Yuri is pretty aggressive, but .... But suddenly the number of girls is increasing in the first chapter.

Kobayashi:
Kuon is sending out to other children a bit.

Kamiya:
What is it like putting out a huge amount of money (laugh)

Kobayashi:
I heard that they are using friendly words.

Kamiya:
I agree. As you can see posters or seeing it, there are lots of pretty girls besides Yuri so we would like you to also notice how the heroines will be active in the future .

Kobayashi:
We have chapters six. What kind of things can you tell me, what is it like in the second chapter, the third chapter in the drama development that Minami-san, that place, up to Chapter 6?

Minami:
This is Kuon's drama, is not it? I think that it was a mysterious boy, except that it was transforming a boy named Kuon, as I looked at Chapter 1. Especially since there are various things like his essence ...... especially the last scene of the A part.

Kobayashi:
By the way, what is the last part of today 's A part?

Minami:
Oh, do not you understand in "Last part of A part"?

Kobayashi:
I do not know, because there is no commercial.

Kamiya:
I think that everyone in the venue does not understand it (lol)

Minami:
The work is made up as Avan, A part, B part.

Kobayashi:
Aban is the part before the title comes out. I know the title comes out, but where is between A and B?

Minami:
B is from the place where the owl flies flying away.

Kamiya:
The scene before that is the end of the A part and it means that it was a place that was saying something very meaningful.

Minami:
If I planted persimmon trees where there are cherry trees ....

Kobayashi:
Everyone, remember!

Kamiya:
Or, if you visit the theater next time, you can think of "Being here, here!" At the scene in front of the owl.

Kobayashi:
By the way it is an owl, is that that you are on good terms with Kuon?

Minami:
There is a child named Miu who can speak the words of the animal, but one of the animals that is always with this girl.

Kamiya:
It is also drawn on the poster, but all the animals wearing a bow tie at the neck are her friends.

Kobayashi:
Surely it turned on.

Minami:
This time there are 3 animals, owls, cats and birds appearing. When Kuon and Kiri first meet, they say good luck.

Shiroishi:
There was!

Minami:
That meant that Miu "keep watching Kuon" for a while.

Kobayashi:
People who are a bit thin from memory now go to the theater. ... ... Or maybe you have a chance to see it, right?

Shiroishi:
That's right.

Kobayashi:
This "Towanoquion", the special number broadcast was decided.

(Clapping at the venue)

Kobayashi:
From Tokyo on Friday, June 10, from midnight, "Towanoquion theater screening screening show pre-screening Show allThe broadcast of the program called "The program was decided. Apart from Tokyo, it is decided that it will be broadcast from time to time in the five major cities where Towanoquton will be screened.

Shiroishi:
Well, it can be seen just before the theater screening.

Kobayashi:
Therefore, perhaps it may be able to confirm the content of the story that came out now.

Shiroishi:
It may be possible.

Kobayashi:
By the way, does this special number have a navigator or something?

Shiroishi:
Navigator is lily Yuri, Shiraishi Ryoko and Miu Komigawa Chiaki chan, we are navigating with two people. Since it is main to see the video, I have taken a lot of hard work during this time.

Kobayashi:
Does it appear with a face?

Shiroishi:
Yes. Oh ... was it okay if I said this?

Kobayashi:
I told you right now.

(Venue laugh)

Kobayashi:
There are times when the voice actor's navigation program only has a voice appearance.

Shiroishi:
I took a picture with a look.

Kobayashi:
Even people who are a little far away at today's venue, TV can see the beautiful face of Shiraishi in more ups.

Shiroishi:
No problem. It is a wonderful special number that makes me want to go to the theater as soon as possible.

Kobayashi:
Everyone who came today wants their friends to see the special number and to the theater.

Shiroishi:
You may also be able to see small birds.

Kobayashi:
You may also see important lines of the last in the A part. It would be nice to get out.

Shiroishi:
However, the time of the program is limited.

Kobayashi:
Flowing images are not all there.

Shiroishi:
I do not have the meaning to do at the theater if I do everything.

Kobayashi:
Tokyo is the 10th, please check the official page.
So, at the end, I would like to ask you a comment one word at a time.

Minami:
Thank you for your participation in the rain today. This work is original work, many staff, especially from the good members of our action system, designs are done by many people, making a very hot work. To that extent, various things are serious but I think that we would like to build up a work only for a great amount of work, so I think that you can see through all 6 chapters. Thank you.

Shiroishi:
This time, SF battle action, the action scene is really wonderful and it is a cool work. It has become a work full of various children's feelings of various people, so I'm happy if you go and visit the theater by all means. Thank you. Thank you for today.

Kamiya:
Thank you for coming in the rain. I think that I have seen various comments today but I think that it is overlooking that this is the earliest work of development and that there is a different way of looking just by knowing one word. So, if you are interested, if you visit the theater once again to see the technical terms on the official website, I think that there is another way of looking.

Also, since it is a work that will continue with chapter 2, chapter 3, naturally various hints are scattered in the first chapter. If you let me speak with the main focus on the character Kuon, if you can see a little attention to what the heart calm boy is reacting to "Eh" "Ah," after all this I think that you know that 'This was kore!', So if there seems to be a chance to see it again, I wish I could pay attention to the scenes of the previous birds etc. I will.

After this photo session was held. Special guest of photo session is Insania Kuon.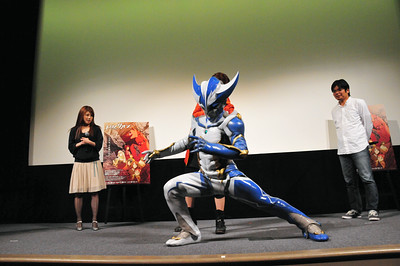 In addition, Mr. Kamiya became a photographer wearing the jacket that Kuon had come over. Does Mr. Shiraishi wear a lily costumes? There was also a voice saying, because it seemed to be a very expensive costume, so if you have the opportunity to stall it. Next is expected.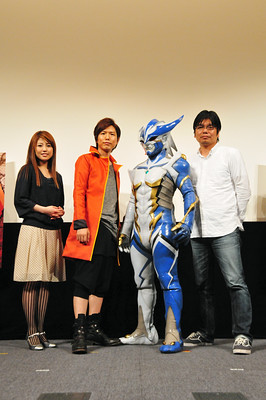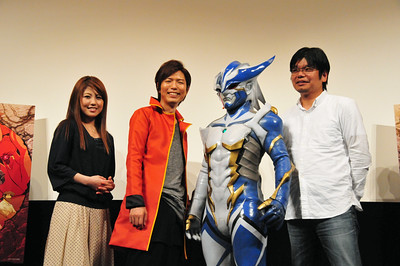 The first chapter of the movie "Towanoquion" is released June 18 (Saturday). Common viewing tickets of chapter 1 · Chapter 2 · chapter 3 are currently on sale at the screening theater window. Kore is a viewing ticket with DVD.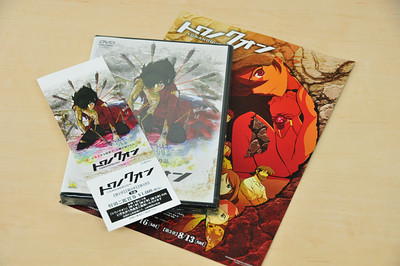 DVD is "prologue", and the work explanation by staff and cast is recorded.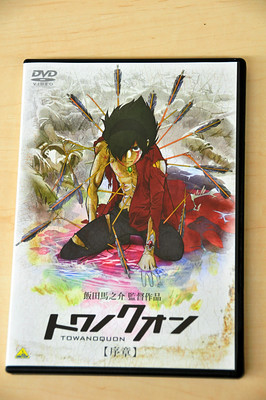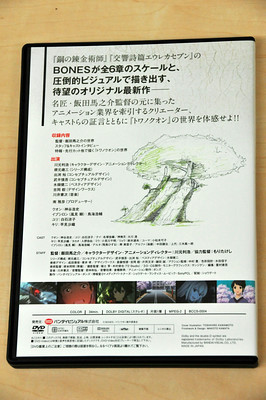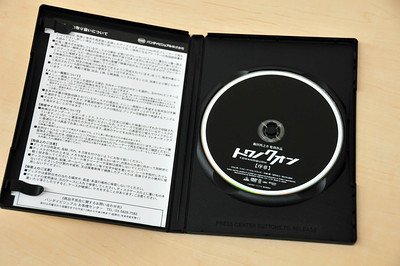 Cast cast is Hirofumi Kamiya, Kosuke Toriumi, Ryoko Shiraishi, Saori Hayami. The casting staff is pretty gorgeous with Mr. Toshihiro Kawamoto, Mr. Kozo Nemoto, Shingo Takehun, Mr. Yuji Mizutabu, Kenji Mizutabata, Mr. Tsuyoshi Yoshioka, Mr. Kenji Kawai, Mr. Minami Masahiko. Regular common viewing tickets are 1000 yen with IC card sticker as bonus and 2000 yen for viewing tickets with DVD.

Anyway, speedy actions and accumulated hints are charming works, so if you are interested please visit the theater by all means.

© BONES / Towanoquion Production Committee