Sierra Leone in West Africa with gigantic trees and okada, I saw the potential for a bright future in this country being recovered from the civil war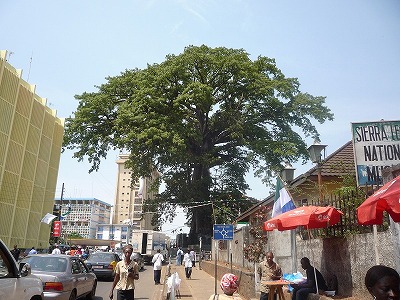 Hello, Bike around the worldTakuya SAITO @ Chalidermanis. The image of the civil war remains from the capital of Guinea ConakrySierra LeoneI was running on a bicycle. Domestic was peaceful.

capitalFreetownIs a city with a slope and sea, and there is a huge cotton tree in the center. I can go sightseeing. Sierra Leone felt the possibility of development unlike West Africa so far. I summarized the charm of Sierra Leone with few visitors. And "Okada". Do you know everyone okada? Okada.

For details, click here.
Sierra Leone is around here

View Larger Map

We will aim for the capital city of Sierra Leone from the capital of Guinea, Conakry, to Freetown.

It was a new paved road near the border between Guinea and Sierra Leone. It is as pleasing as a charrider, as most of the cars do not pass.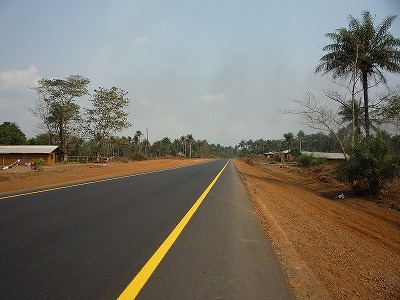 Such happiness will not last long. It became a dirt road.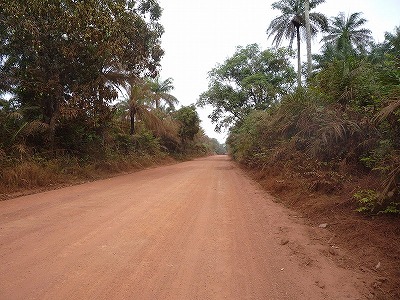 Children who chase after passing the settlement.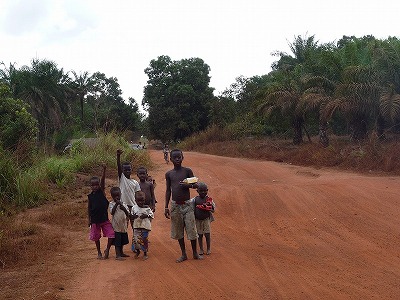 A child in a shop that took a break.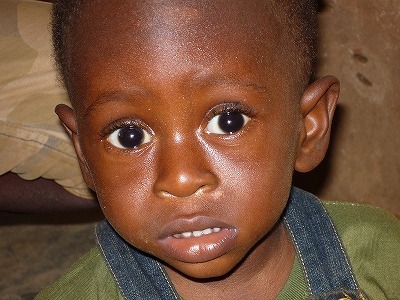 Children of the same shop.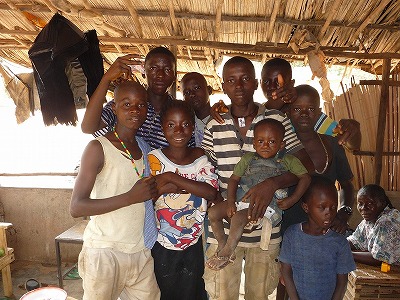 And I will cross over to the free town by boat.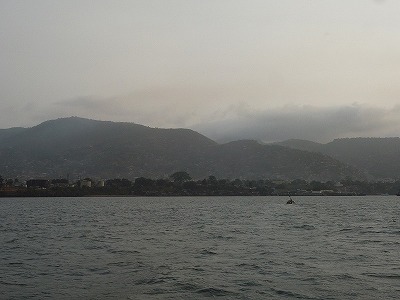 It was hard to be surrounded by people while waiting for the ship. When talking all the way, a new person joins the question. Then the person heard said, "This guy ran from Japan for two years," "It seems that 60 countries are traveling, too." Somehow. It was a bustle that was impossible. A voice calling name "Takuya" just before getting down. Who is it? It seems that somehow it became very famous. It's embarrassingly ticklish. People's reactions are different until now.

Freetown is a slope town.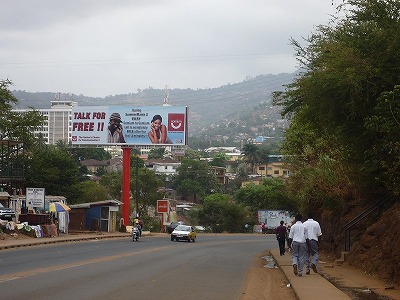 I see up and down even in the streets.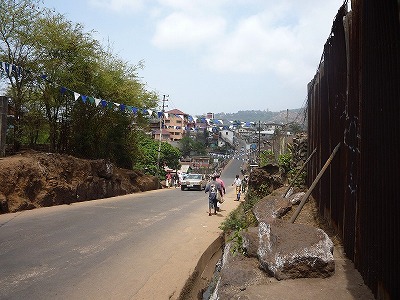 Many houses.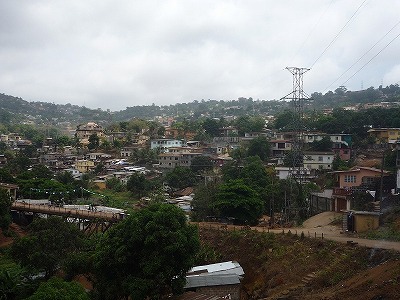 Palm trees and private houses.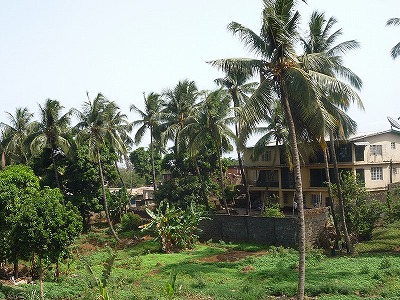 The church in the city.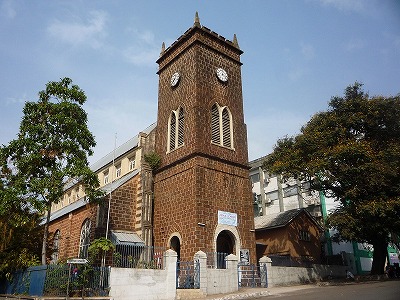 The sea is spread beyond the road.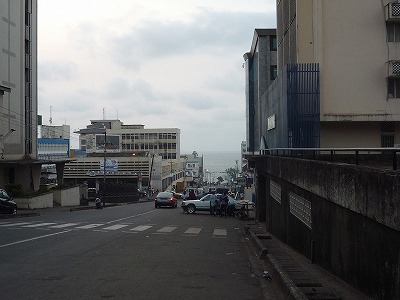 A large number of bats were hanging.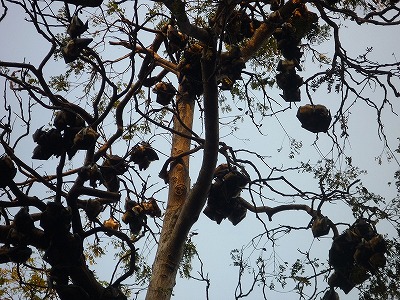 And this is the cotton tree which Freetown boasts over 500 years old.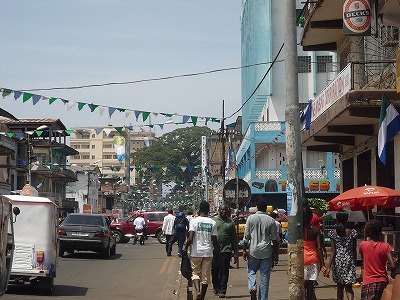 Looking at the image on the Internet, I was surprised to hear that it was not a big deal, but in reality it was overwhelming with great power. I never thought that it was so big.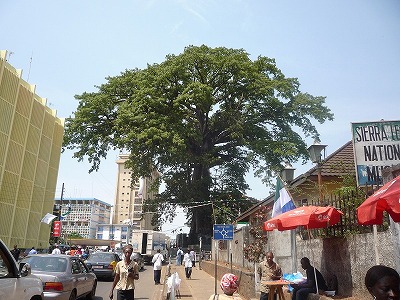 A large green covering the blue sky.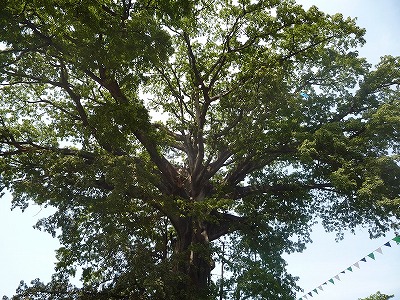 Cotton tree taken from another angle. I am overwhelmed after all. When you go near the tree, you feel the mystery to its huge life force. It is a very nice sightseeing spot.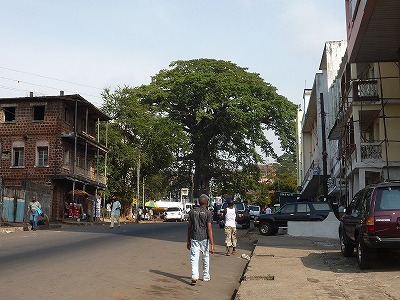 One day I looked for a place I could walk through and see the city.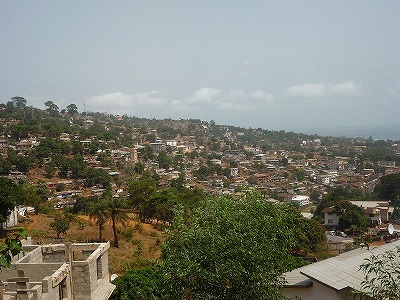 The sea spreads beyond the city.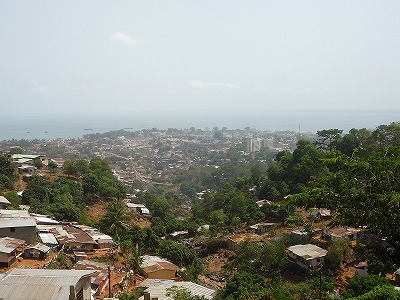 The houses made on the slope of the mountain.



A house is built full of hills.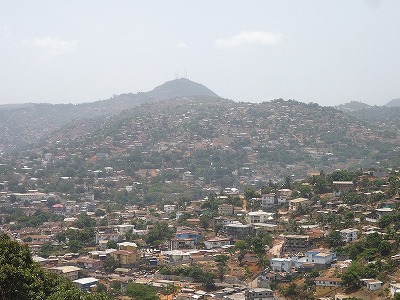 Visibility expands pleasantly. Would not it be a wonderful sightseeing spot by setting up an observation deck?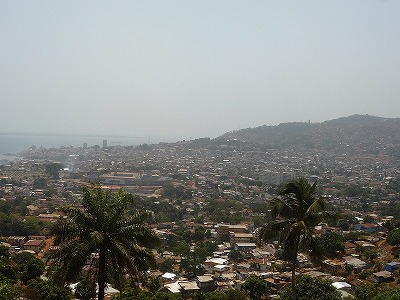 A huge cotton tree, the city and the sea where you can see from the slope, and the possibilities of sightseeing in Freetown. Now I am in a situation where the civil war and the infrastructure does not remain, but it may become a place where many people visit in the near future.

There is a market near the inn, and it is crowded.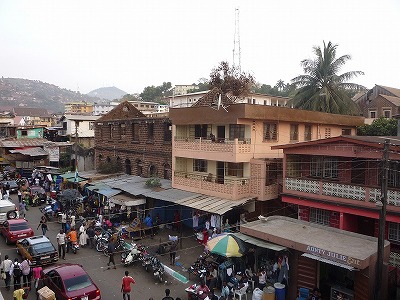 Under the umbrella, each sold something. As I head to the market, I am at the mercy of the flow of people like a whirlpool.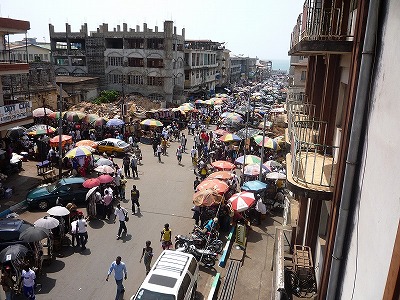 And here the car is not advanced and the traffic is congested. The wagon car taxi passed with the oncoming car while making a noise with the burrigari. Then the door that should slide next is falling. I quickly came to pick up. People in the city who react quickly to their reactions. Well, that's funny.

The cheap hotel staying at Freetown is press guesthouse.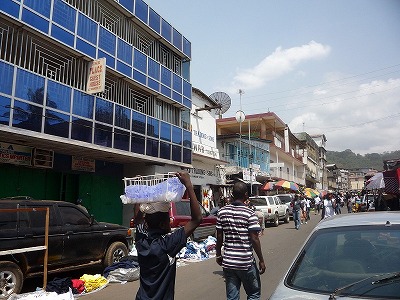 I stayed in this cheapest room.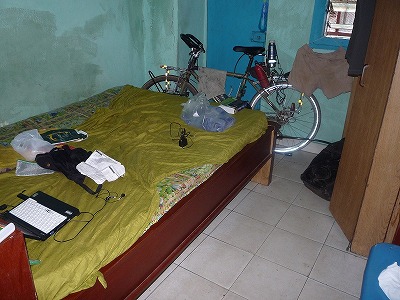 Bucket shower. There is no water supply yet. But we had a blackout, but there was electricity. It is supplied from the country, not from its own generator. In the old travel book I heard that Sierra Leone has only its own generator, so it was a pleasure that electric infrastructure was in place. You may be able to use the water supply after a while.



A 10-year-old boy who was nice, but firm.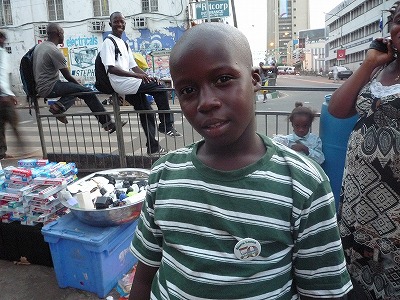 Small children who were shopkeeping.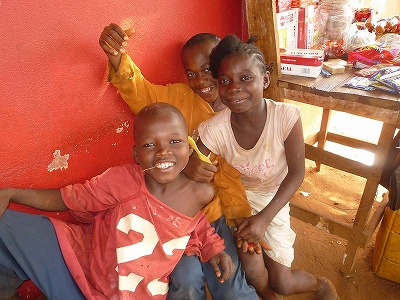 When you leave the capital city Freetown, you run a bicycle north.

It rained in the city of Makeni. In the evening, a strong gust with a doubtful cloud will blow off the umbrella in the stalls. One day the sky was covered with clouds and it began to rain heavily. Either one is big, It is descending rain. It has not been raining since Marrakech in Morocco. It was raining for the first time in 3 months.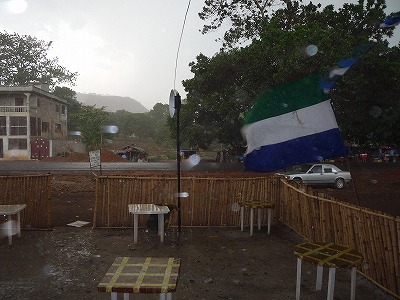 Rain will rise in an hour. The same squall came the next day. It seems that the rainy season will come.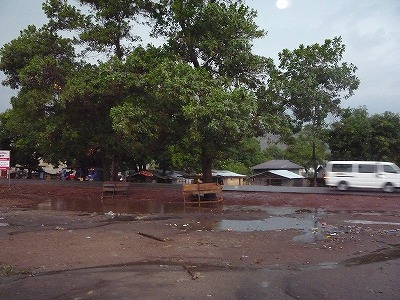 It has become a mountainous landscape. I will gradually raise the altitude.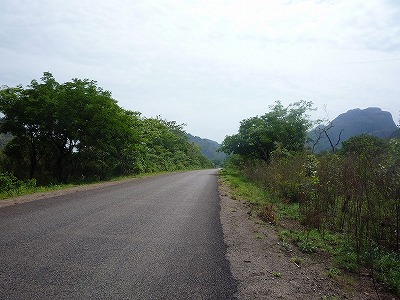 Tropical landscape.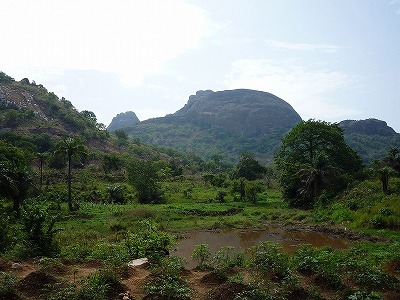 A traditional house with a straw.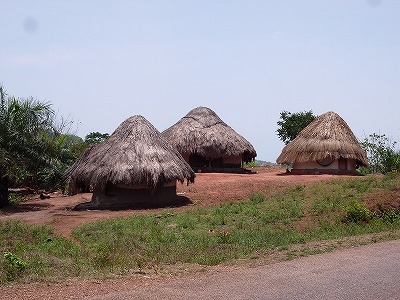 Covered with strong green.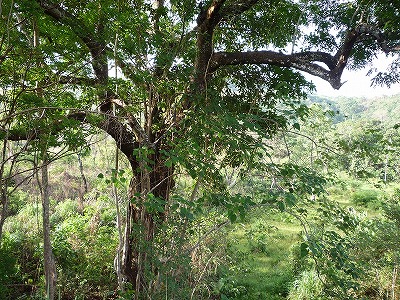 Sierra Leone always gathers people on a bicycle. At this time I was eating also at a stall restaurant.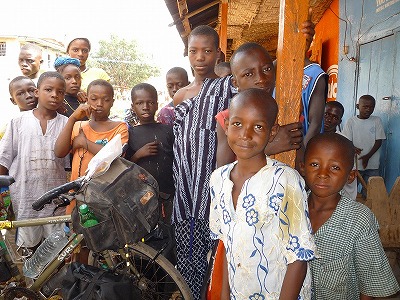 I can see a movie. Ninka Academy, Jackie Chan and kung fu movies seem to be very popular. The entrance fee 500 Leon will be about 10 yen.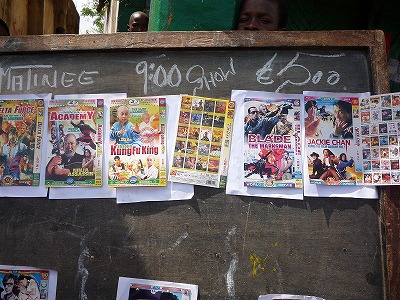 Mr. Okada.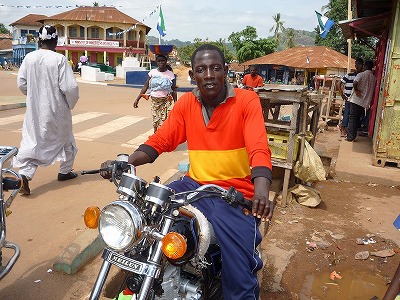 Here in Sierra Leone we refer to motorcycle taxis as okada. When I was eating a stall rice while thinking about something unreasonable with unemai okada, okada robbery, individual okada, okada driver, I changed taxi to okada, and the next door called "Okada" and a motorcycle. It seems like a lie. I heard about "Okadar" that seemed to pass by so, I call it with a strong tone "Okadak", repeated "Okada, Okada" and many "Okada". It seems to be fun if Japanese okada travels this country.

I also got on the Okada only once. I went to the Guinea embassy to acquire a visa in the capital city Freetown. Easter's long vacation seems to start from the next day and I will not fail to fail today. I can not turn my time into Okane, or Okada. I got on the rear seat of the Okada bike. Okada runs in the middle of the one-lane one-lane road where traffic is jammed. It was cold and chilled as "Ooooo me".

It is still unpaved.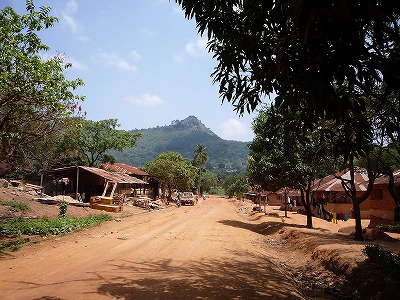 I just called "White Man". The more poor the area, the more you can talk to the little children. Black Africa from Laos, Kyrgyzstan, and Senegal. Sierra Leone is also similar. This is old English so it is called Whiteman.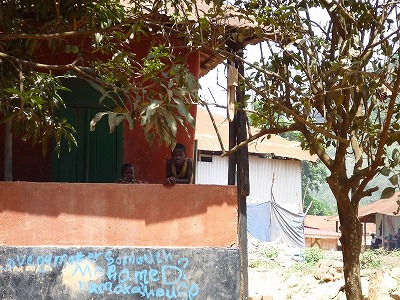 But occasionally, if you pass by a small child, you run away as you make it. "Yes, but it is doubtful, it is not a bad person," it makes me feel pleasant. The warmth figure is cute. The surrounding villagers are also laughing.

There are big trees to protect the village.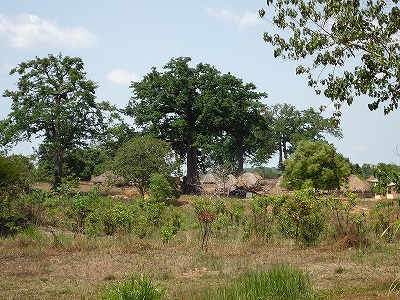 This is also the same. It is a sunny place, so you may be working under a big shade of trees.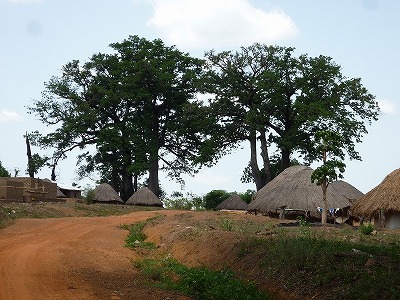 I am running in the dirt.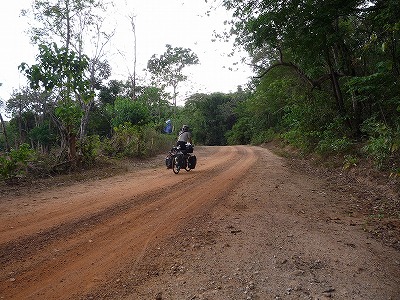 The stormy dirt gets tired.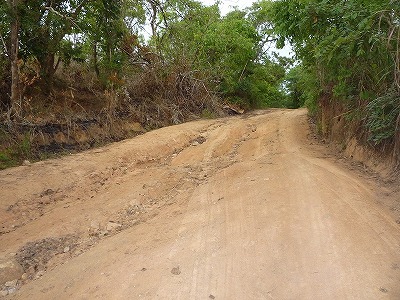 I am pasting peanuts. A good fragrance was drifting.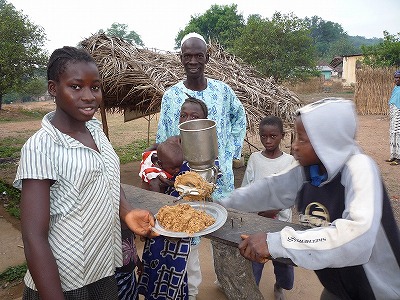 When asking the way, children gather from somewhere. It made me enjoyable and I took a picture.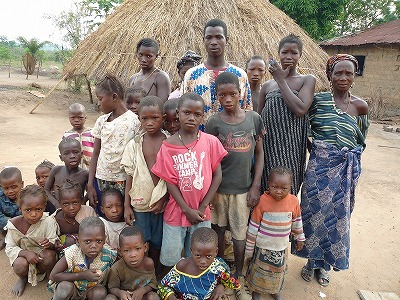 I am heading towards Guinea, but I am worried that the road is thin and slim.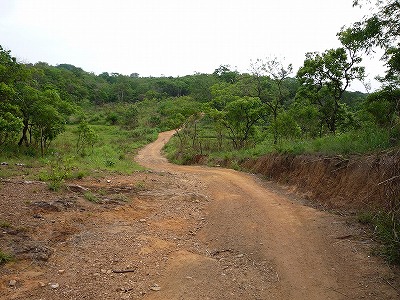 A black strange line that appears on the road.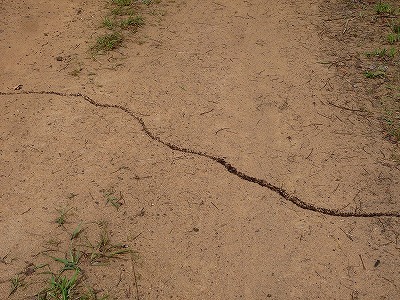 It was a wide line of ants. I have never seen such a thing.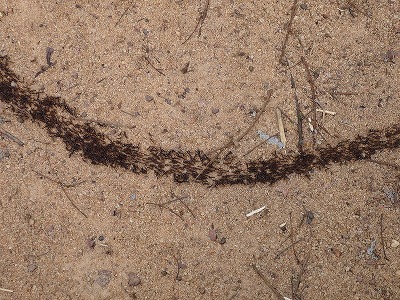 I often saw a tree with bright red flowers on one side.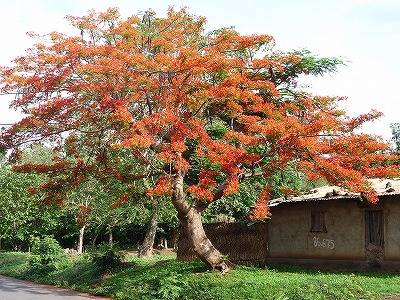 I will introduce Sierra Leone's food. It is slightly tasteful with West Africa so far, it was fashionable and tasty.

Chicken meat set. I was surprised because I had not had a meal with a couple of pasties.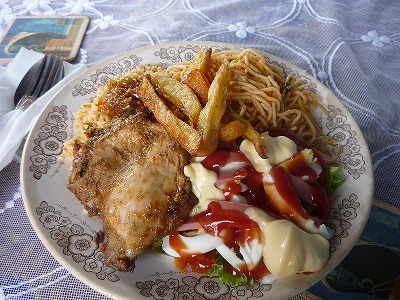 A dish like a chilled Chinese dish. At the bottom is couscous, spaghetti with eggs for vegetables, and chicken (or fish). Food that is not warm is unusual.



Even buffet at Sierra Leone.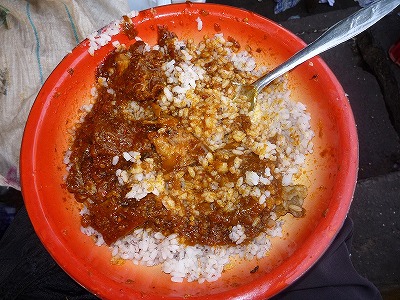 Alico is a lot of beans.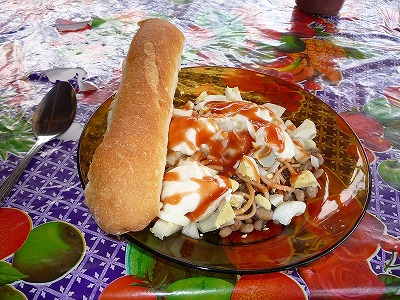 Sierra Leone Star beer with a tremendous share.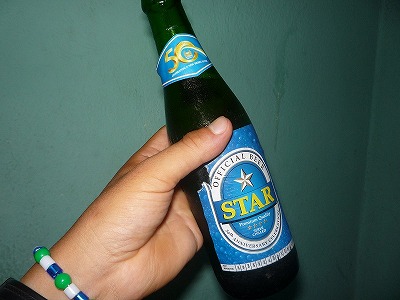 Sierra Leone became a British colony in 1808 as an immigrant place for blacks who were released from slavery and made independence in 1961. Since the 1990s neighboring countriesLiberiaTogethercivil warThe land is exhausted by. We saw many ruined buildings even in the street which passed by. To know about this civil war, the movie "Blood DiamondWe recommend you. Juvenile troops, conflict diamonds and the world were crazy. I thought that it would not come visiting forever, but I was able to visit because it was peaceful.

This is the flag of Sierra Leone.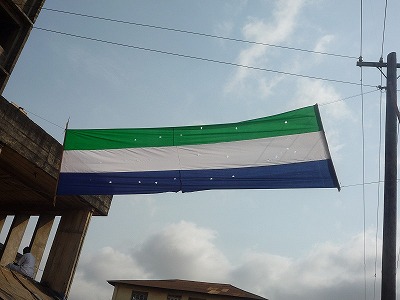 Sierra Leone is independent in 1961, and it seems to be the 50th anniversary of the foundation this year in 2011. When I visited, it seemed to be close to Independence Day and crowded with people in various places.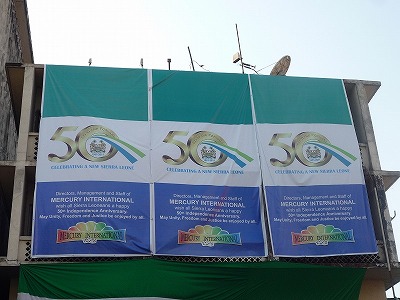 I also ran up with the Sierra Leone flag. "Thank you for celebrating the 50th anniversary" was popular.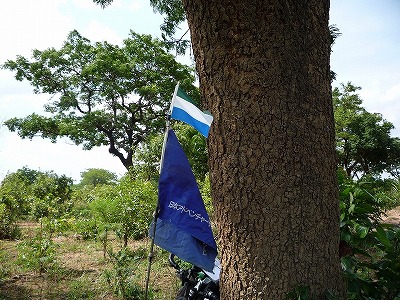 I was also braceling.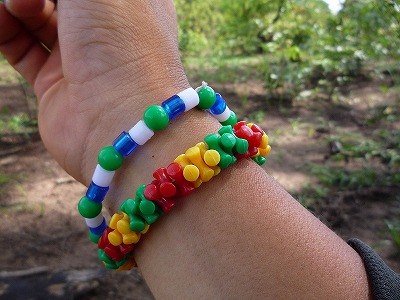 Sierra Leone is different from West Africa so far. I feel the possibility of the future there. "I think Sierra Leone may do it in West Africa."

Signs notifying that groceries are not taxed.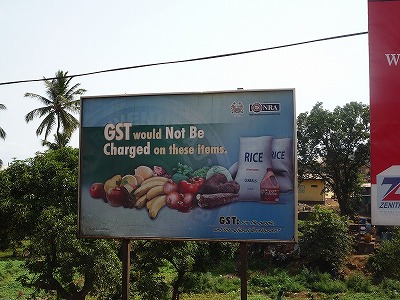 THE TEST IS FREE AND CONFIDENTIAL, a sign for recommending HIV / AIDS testing, the examination is free and the inspection is confidential.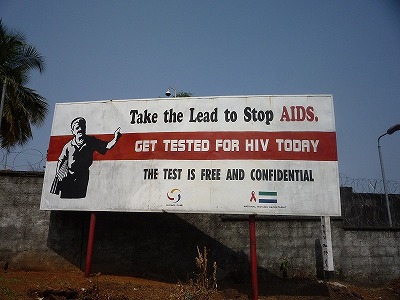 A hotel tax of 15% is collected.



Signs of Sierra Leone Vision 2025. Sierra Leone has formulated a national long-term plan until 2025. This is terrible to the enthusiasm of Sierra Leone, close to Saurwasan (meaning vision in Malay) in Malaysia, one of the leading industrialized countries of Southeast Asia, 2020.



Carbonated juice made in Sierra Leone. It is cheaper than Coca Cola. Juice can be done with water. You will need your own capital there. I did not see it in Guinea or Guinea-Bissau. This sierra leone juice is also distributed in the city of Guinea near the border.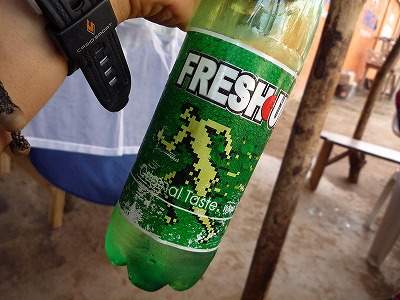 I admired the sanitary idea of ​​the stalls that covered the covers. It is natural, but there is not much to see. It was only here to put a piece of tissue on a bottle cola or bag juice.



A street merchant in Freetown carries the item in a draft. It is durable and suitable for waterproofing.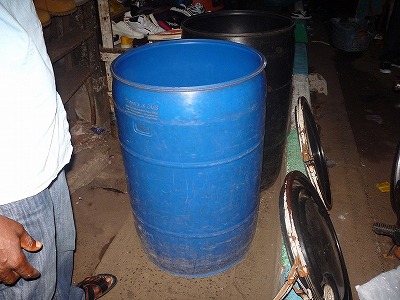 That's not all. I will not carry this water turtle. He said that he would carry it while rolling the bottom side well. The Sierra Leone people do it.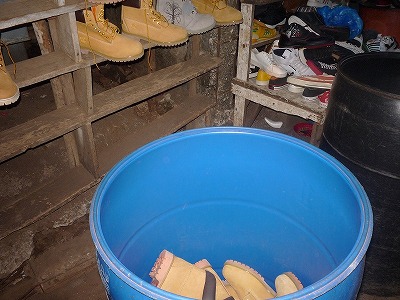 What do you think.

If it gets broken until it breaks down, there is only restoration afterwards. A lot of children lived in good health. I wish for their success without knowing the civil war. I am looking forward to Sierra Leone ten or twenty years later.

From Sierra Leone, we will enter Guinea again and aim for Malaca Bamako. Mary seems to be hot because it is an inland country.

(Sentence / picture:Takuya SAITO @ Chaliderman
While cycling around the world bicycle,http://shuutak.com)