Owner who owned my own living room where I love Ferrari too much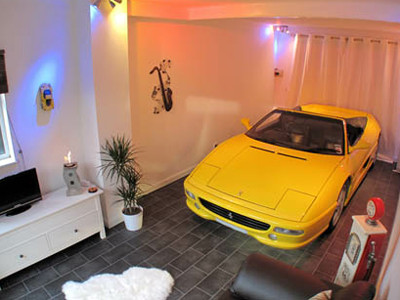 I thought that I do not want to leave with Ferrari / F 355 of my favorite car at any time, or an owner who made the living room for my own hands with his own hands.

Because he possesses a luxury car he seems to be rich, he is an ordinary company employee, realizing a precise dream within the range of ordinary people, such as accommodating the cost of remodeling the living room to about 110,000 yen It is transmitted to you.

About the living room where Ferrari · F 355 is the leading role is from the following.Living vroom: Ferrari fan parks car in lounge | swns.com

Jon Ryder (28) has owned yellowFerrari · F 355I parked it in a garage that was remodeled like a living room.

Ferrari · F 355 was produced between 1994 and 1999, and it is highly evaluated among car lovers. It was originally 83 thousand pounds (about 1.106 million yen) at the price, but the current value seems to be settled to about 35,000 pounds (about 4.66 million yen).

It is a structure of a room where you do not know where to put the car from, but the door for the car is hidden behind the curtain.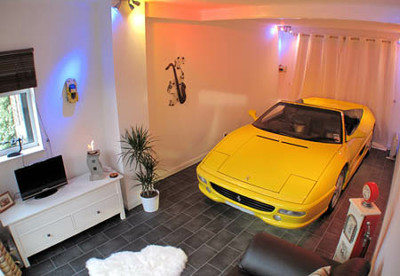 Ryder says, "It's been three years since I bought this Ferrari, but the exciting feeling that this car still gives me never wears out Every day" I got a dream car, " Every time I actually feel it, the smile is enough to spill out. "Even if you just listen to it for a while, you can see that censure for the first time. Moreover, that car car boast does not know where to stay, such as "I like the most among the Italian arts and I like the most, this is the most challenging one in this house."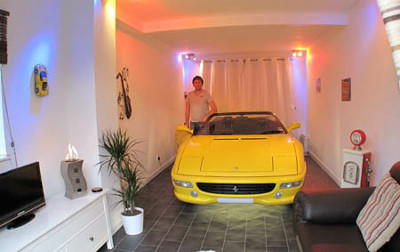 It was the time for him to make this living room by moving last year and immediately considering whether it is possible to change the moving garage into a living room and sewing the work between daily work and proceeding with construction on his own That means that. He is not a wealthy wealthman, he seems to have been considerably difficult for cash flow because he is a man of a normal steel mill and he is married.

For that reason, at first glance, the furniture in this room, which looks like a living room cum garage with a sense that is sensible, seems not to have bought newly, as it coordinated well with the furniture that was left out when moving out.

When a man is immersed in a hobby with the pretext of "man's dream", he spends too much money using his money, but despite remodeling the garage, Mr. Ryder keeps the total construction cost at 900 pounds (about 110,000 yen) I am particularly successful. It was said that his continued stabbing with his wife "This is just a garage," he said. But she seems to like the living room that she has completed.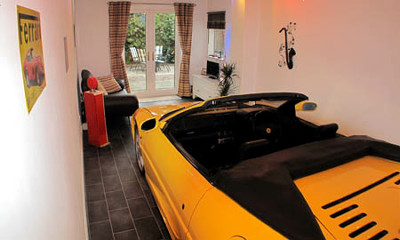 Mr. Ryder gathers people who love cars like him "Supercardriver.com"We organize charity events at the site called" Social Contribution "by collecting funds of 2,500 pounds (about 330,000 yen) at the latest March event and contributing to society through that hobby, such as donating to hospice for children in Sheffield It is. Ferrari's manufacturer also spare no praise for his actions, and at the same time, "I am proud that Ferrari is not just a passenger car" that the enthusiastic owner like him has it. .
in Ride, Posted by darkhorse_log