A woman who cleared his / her abdomen with a kitchen knocked out for medical expenses, was taken to a hospital for free treatment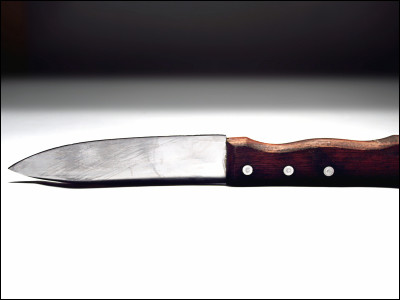 A woman who had covered medical expenses in China · Chungqing opened his own abdomen with kitchen knife and was taken to the hospital.

The woman had a sickness that caused water to accumulate in the abdomen, but the surgery took a large amount of surgery expenses, so it could not be put into practice, and he took the action of cutting his own stomach by myself.

For those women who have put into practice acts that would make themselves feel bad just by thinking from the following.Woman cuts own belly in self-performed surgery

Mr. Wu who moved to China and Chongqing in 1989 accompanied with family asking for a good job of paying will accumulate body fluids in the stomachBad Chiari syndromeI was troubled all the time. In 2002, Mr. Wu and his family hit the savings and removed 25 kilograms of water that had accumulated in her peeling part.

However, the symptoms did not improve and it was almost impossible for Wu family to make 50,000 yuan (about 630,000 yen) necessary for receiving the second operation, because of its poverty. Mr. Wu who realized that it is almost impossible to eliminate the feeling of pressure on the abdomen coming from the disease opened his own abdomen with a kitchen knife on May 8, 2011. At this time, her husband had gone to work, so there was no one at home, Wu lay on the bed and endured pain alone with just one person.

One to two days later, the husband who came back from work confirmed that there was a wound of 10 cm in Wu's stomach, and the yellow liquid spread like a puddle. She was immediately taken to the hospital and took the whole life. Mr. Wu says "I thought it would be unnecessary for my family to take care of me at least if I died," he says a painful motive.

Wu who is in the hospital and medical staff who is treating her.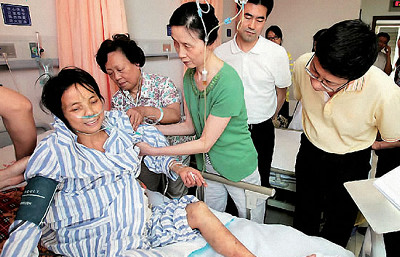 Wu Ming, a professor at the Beijing University School of Public Health, said, "It is a case that poor families in the country rushed to bankrupt because of medical expenses, but it is quite a situation by introducing National Health Insurance I am improving it. " In China, the National Health Insurance introduced in 2003 is that nearly 70% of medical expenses will be returned if you pay insurance payment less than 50 yuan (about 631 yen) per year.

In order to subsidize people who can not pay insurance premiums, policies called "regional collaborative medical planning" have been enforced and they are also paying subsidies of 200 yuan (about 2524 yen) to the poor people. Because Wu family does not receive this assistance, monthly income is 3,000 yuan or less (about 37,830 yen), so it is very difficult to bear all medical expenses of Mr. Wu.

My husband tried asking local governments for medical expenses, but the government said that the government was unable to accept unless procedures were in accordance with certain procedures and that Wu's illness was not covered by the subject . The local governments are advising them to apply for a "regional collaborative medical plan", but the husband did not do that procedure after all, as it is ridiculous to conduct the procedure while the treated diseases are not covered.

The local media in China reported this, she said that someone could receive treatment for free in some way. It was not written about the reason why medical expenses became free, but was it that we were able to cover medical expenses with donation money ... ....
in Note, Posted by darkhorse_log