KDDI offers 'easy location search (beta version)' where family and friends can be found where usage fee is free


Service where KDDI knows where family and friends are located "Quick location search (beta version)"We announced that it will start offering.

The usage fee is free, it is a service that seems to be useful at meetings etc.

Details are as below.
About launching "a quick location search (beta version)" application for smartphones equipped with au by Android (TM) | 2011 | KDDI CORPORATION

According to the press release announced by KDDI, the company will register up to five other party's telephone numbers to notify the au smartphone from the location information from today, and if there is a search from the registered party, the company will update the au smartphone's location information It is said that the application "Beta location search (beta version)" notifying the registration destination will be provided at "au one market". The usage fee is free (communication cost is user burden).

What is targeted is an Android smartphone that supports C-mail reception, transmits map information when the other party notifying location information is a smartphone, in the case of a feature phone, latitude based on the positioning result And longitude, address provided by C mail.

The usage image looks something like this. You can use the service if one of the users is using the smartphone.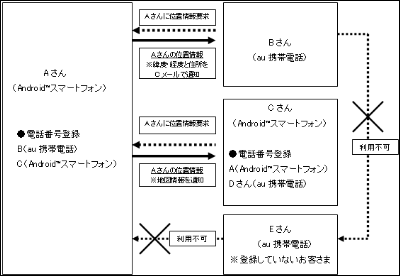 Registration screen and search result notification screen. Since it is possible to choose whether or not to display the confirmation screen when receiving the position information request from the other party, it seems that it is possible to avoid "the situation where my position information !!!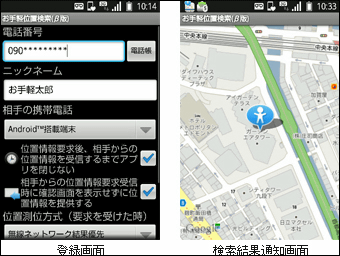 In addition, it can be used overseas for models compatible with international roaming service "GLOBAL PASSPORT CDMA", but it is said that 100 yen will be taken once for C mail transmission when using overseas.